& Sons is celebrity sommelier André Hueston Mack's first-ever restaurant and wine bar of his own. The wine expert, winemaker and author spent years working for Thomas Keller's famed French Laundry in Napa Valley before moving to the east coast to run the beverage program at Per Se—one of New York's most prestigious (and expensive) tasting menu ventures. Now, Mack, who was the first black person to be bestowed Best Young Sommelier of the Year by the gastronomic society Chaine des Rotisseurs, is leaving behind fine dining in Manhattan for something new, something more approachable in Prospect Lefferts Gardens. It opens on January 16th of 2020.
"Why do we need our waiter to be wearing a Gucci suit?" he says, the implication being that one of the world's most formidable experts on wine can do his job without donning a penguin suit.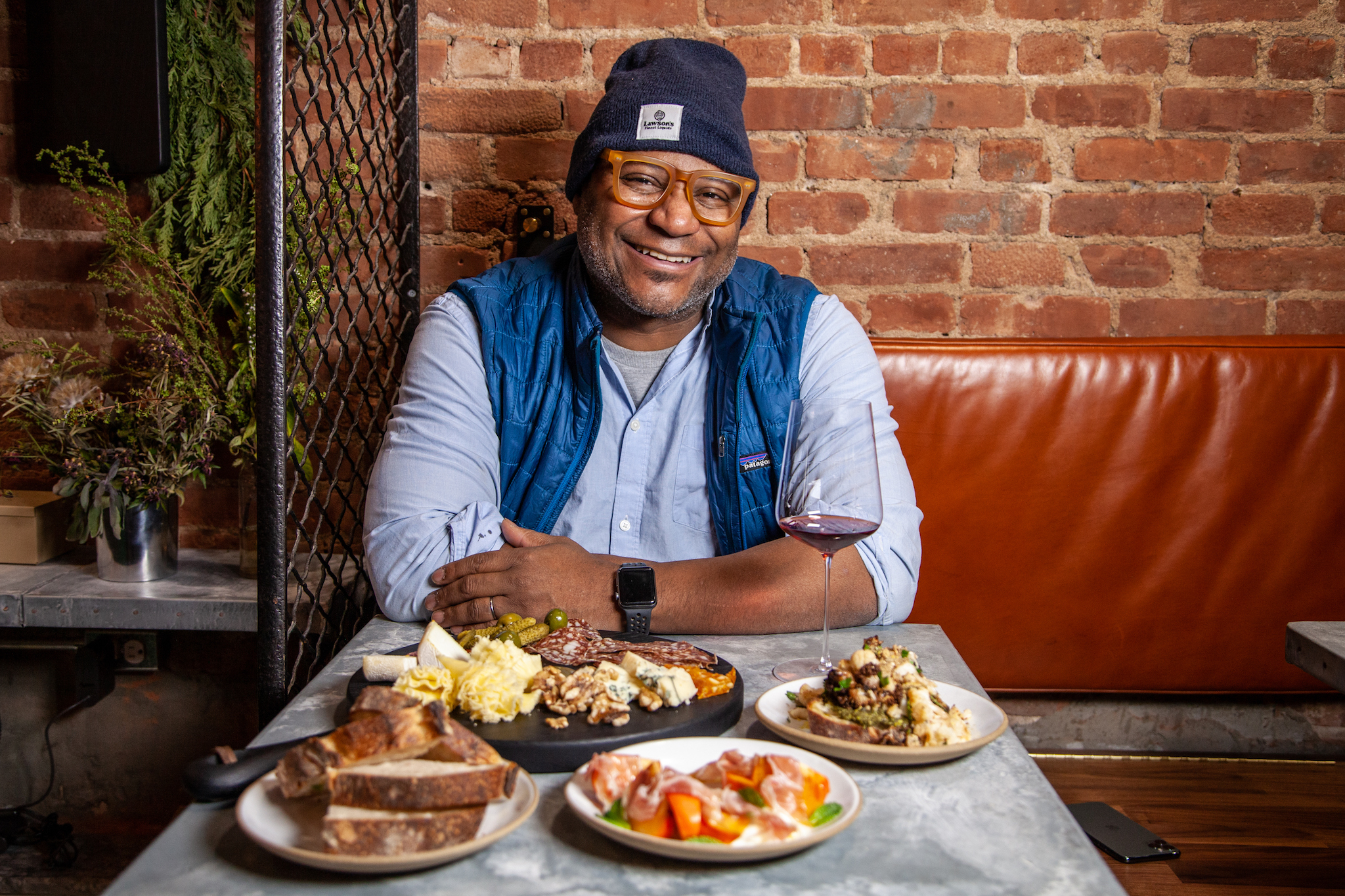 Unlike at Per Se, there are no white table cloths at & Sons, and customers can skip tasting menus and order à la carte. This "ham bar" in Prospect Lefferts Gardens is a project Mack has been working on for several years. It's a departure from the world he's come to be known for and is more casual, including an attempt to make learning about wine not feel so elitist.
The idea for the restaurant, came about, in part, from Mack purchasing an antique Berkel meat slicing machine for his home from 1910: it quickly became a centerpiece for parties.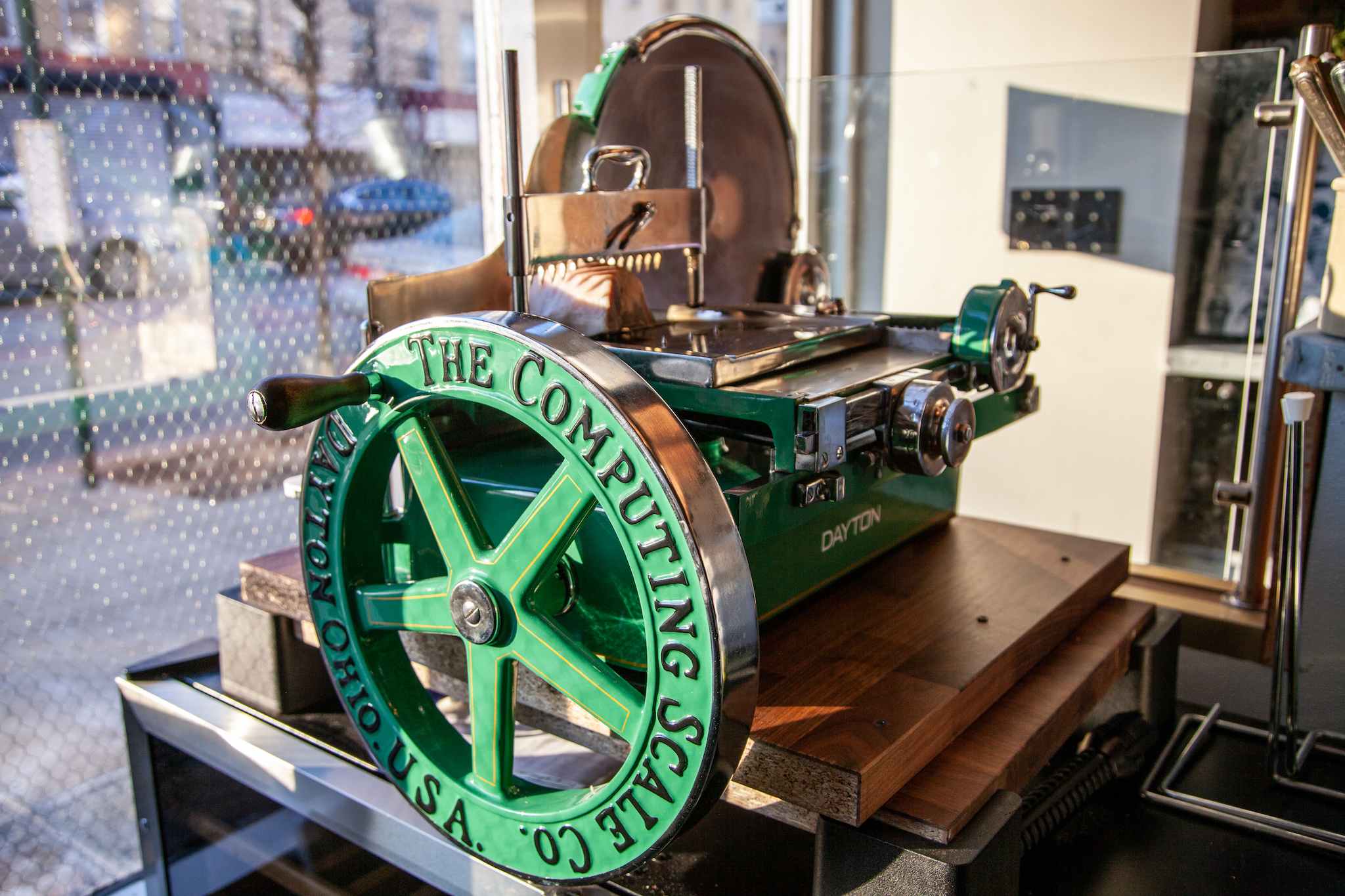 Now, an emerald machine is the heart of & Sons, where everything from the wines, meats and cheeses to the cutting boards used in the charcuterie and pottery are American made.
"This is a celebration of American food heritages," says Mack. "As Americans, we romanticize about a lot of cultures. We need to preach and tell the people: Tennessee and Kentucky are like our Spain and Italy, when it comes to curing meat," he says of his mission.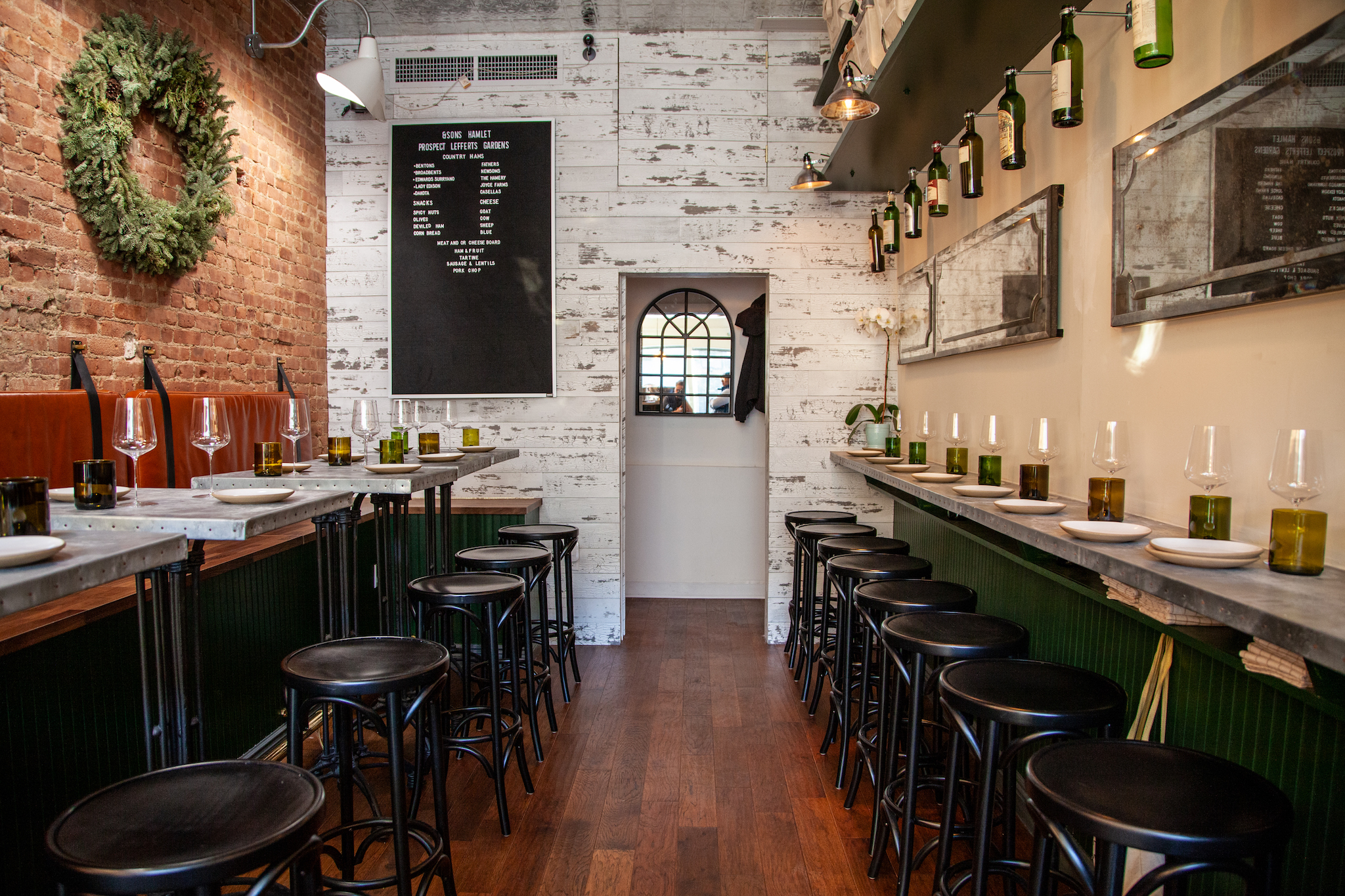 Overall, & Sons seems to be a project about pride: having his sons be a part of the process, a way to take more responsibility for one's neighborhood, and, in a more grandiose way, a platform for appreciating those working on the land and the pride of American-made products.
Get ready to go HAM.
To achieve this, the menu's focus is on build-your-own charcuterie boards that will include sliced American ham, each $14 or in "ham to ham combat," $55, for a tasting of several selections. Other meats on deck include soppressata, chorizo, a paté-of-the-day and pork rillettes, each $9. From there, you can add items like "spicy nuts" ($5), olives ($5), deviled ham ($8) and cornbread ($5), not to mention an excellent selection of goat, cow, sheep, blue and, yes, vegan cheeses, each $8.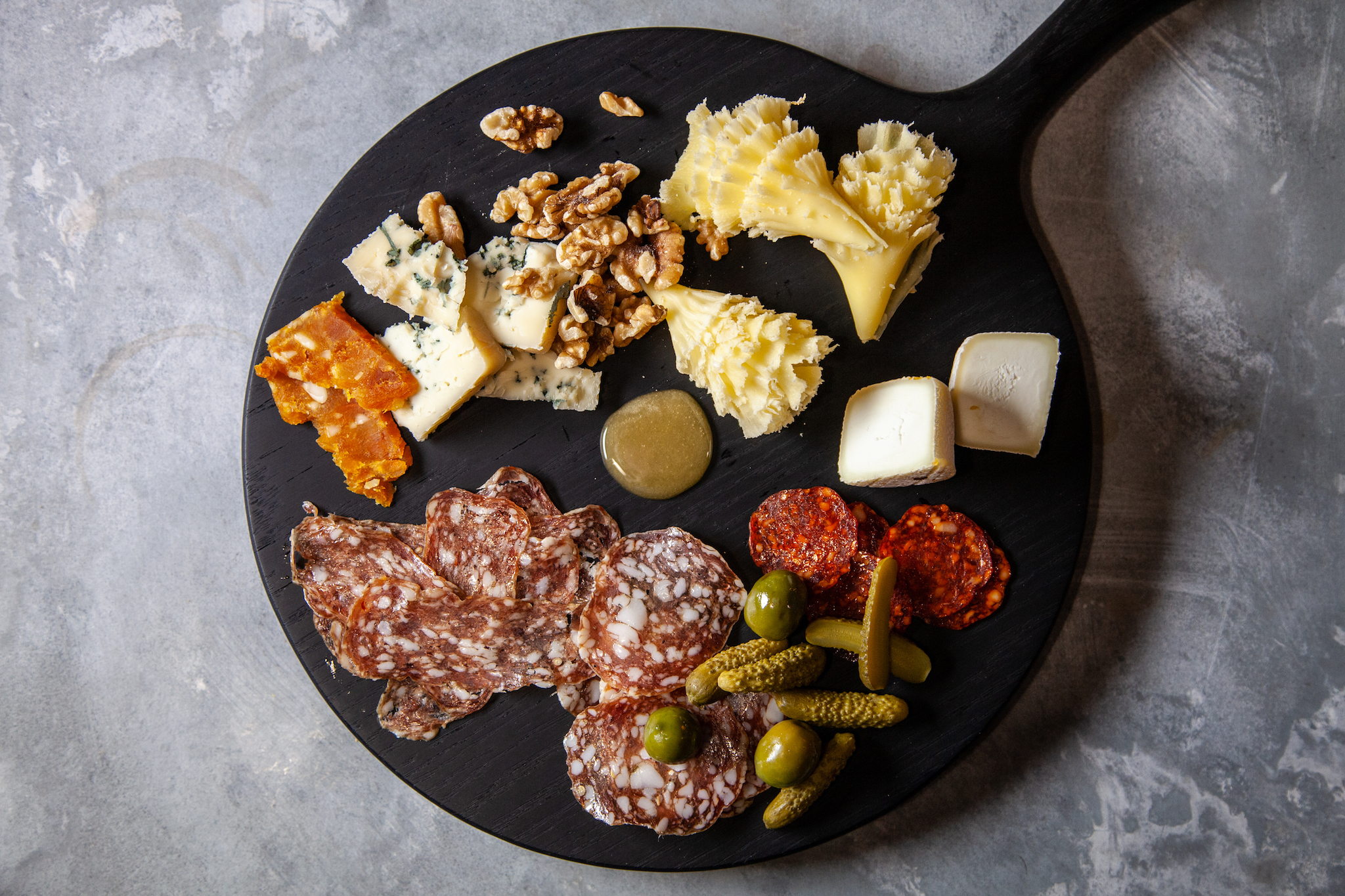 In addition to the boards, you can try prepared dishes. The debut menu is set to include: a plate of country ham and winter fruit (Dakota Farms country ham, fuyu persimmon, domestic burrata and mint); a cauliflower tartine with collard green pesto, almonds, garlic confit, lemon juice, shaved parmesan on Runner & Stone bread; garlic sausage with bacon and green lentils; and, a smoked pork chop with braised cabbage and shallots. Mack thinks the menu will evolve to be to "omakase but with ham," meaning revolving chef's choice items.
But there is no "chef." & Sons, named after Mack's sons, will be a family affair behind the counter and in the kitchen: his wife, Phoebe Damrosch, whom he met while working at Per Se and who penned the book Service Included, about the industry, is also a showrunner.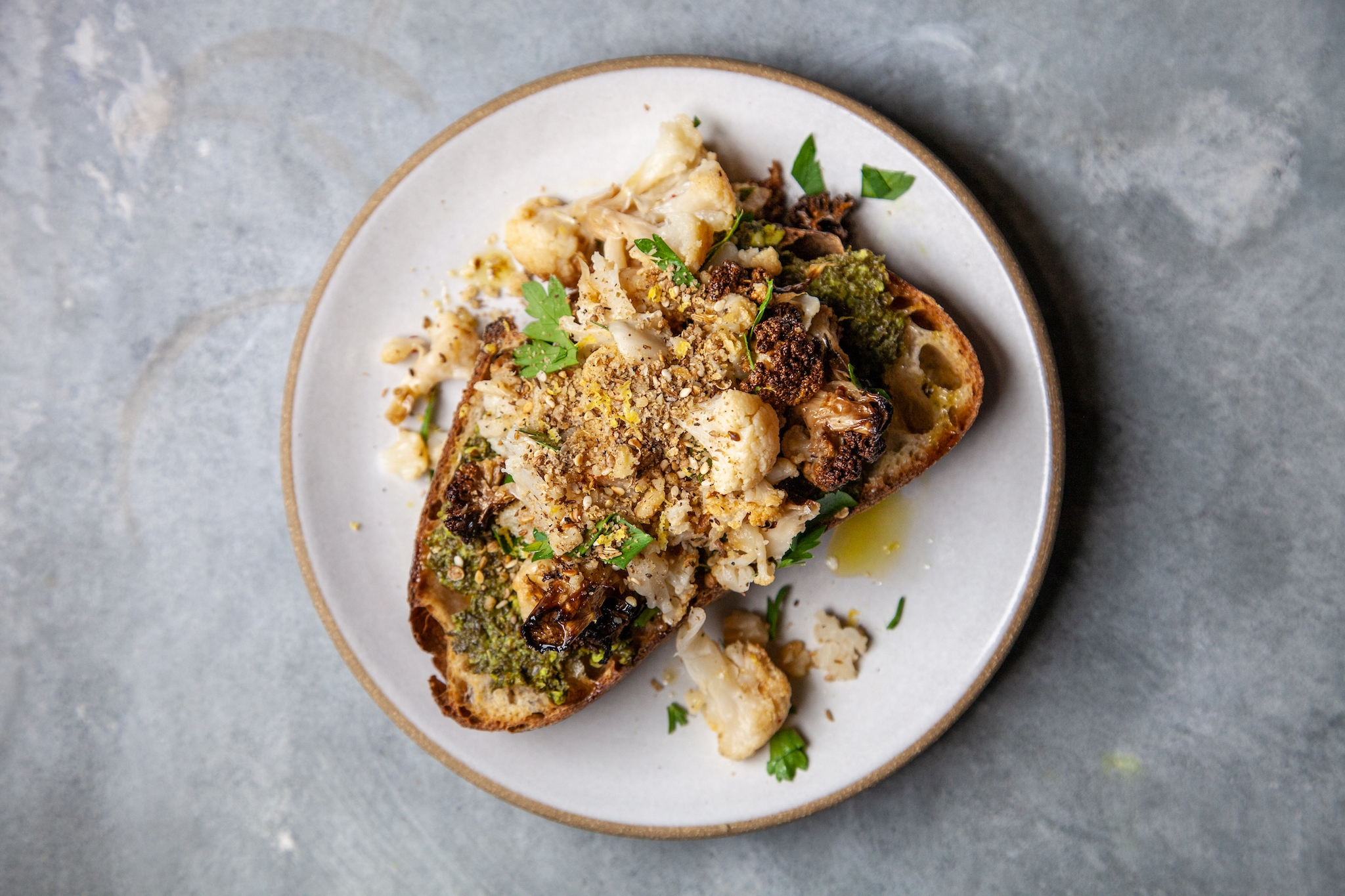 Perhaps, the shocking part of & Sons, is that despite Mack's wines being on the menu at many of New York's hottest restaurants under his label Maison Noir Wines— restaurants by Gabriel Stulman and fancier spots such as Daniel—& Sons' wine menu focus is not about padding the shelves with his own bottles (though there may be a few, since the menu has 300+ options). All of the U.S. wines by the glass or bottle are vintages that Mack has been stockpiling and sourcing, in anticipation of the opening.
The space itself is small—according to Mack, only 21 seats—located across the street from Pels Pies and Mo's Original, Glady's restaurant that opened earlier this year. But it is only one part of Mack's larger mission to "keep the money in the neighborhood," and create more jobs, particularly in the face of gentrification.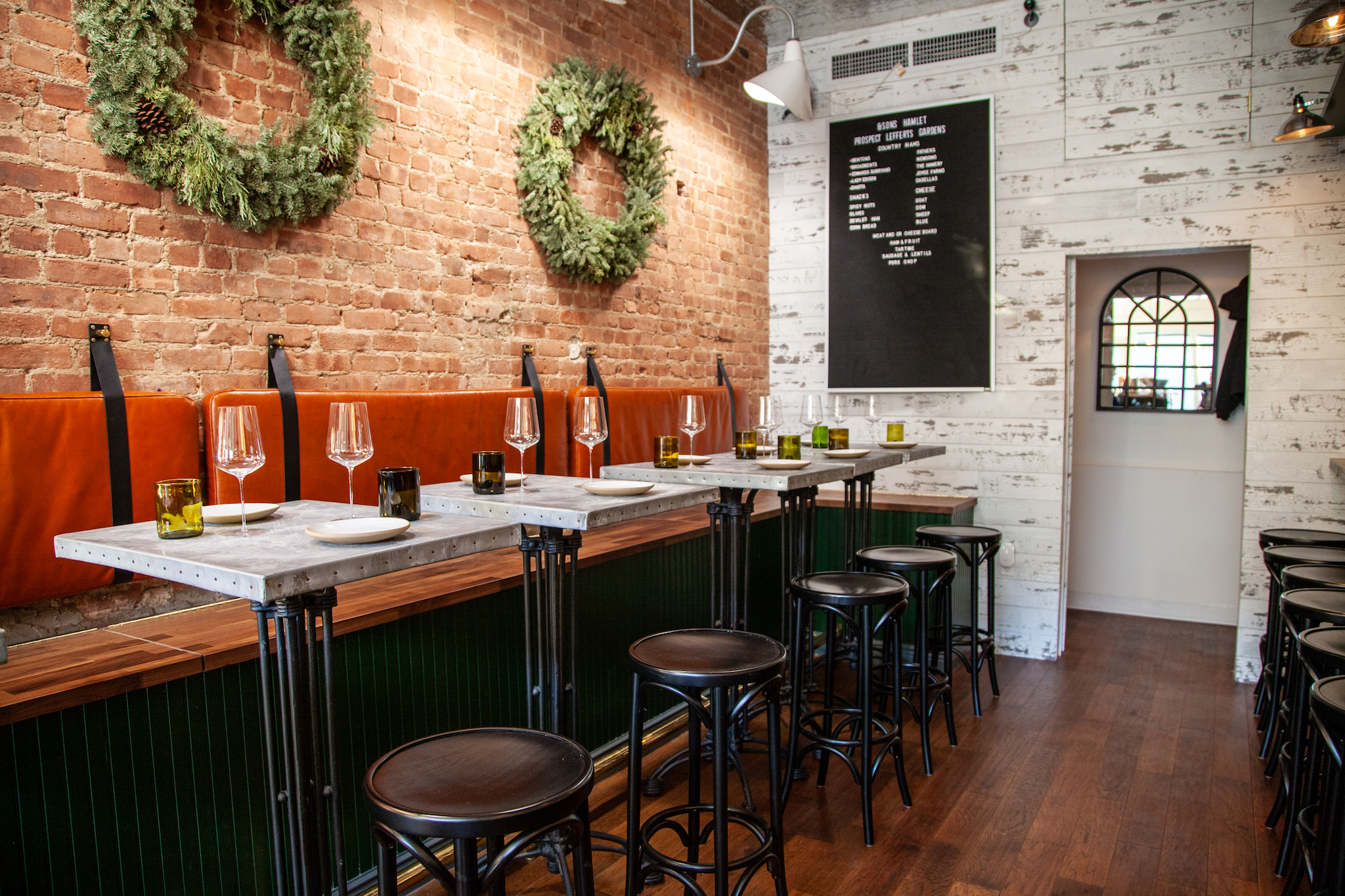 In the spring, Mack will open a larder shop next door to & Sons, where you can buy those very cutting boards, the ceramics (by Jono Pandolfi and Noble), cheeses and country hams called & Sons Buttery. Just five months ago, he quietly took over a tiny, pre-existing wine shop called Vyne Yard, where you can buy his bottles, as well as others, also in Prospect Lefferts Gardens. "This is just the beginning," he says, with a sneaky grin. It's clear, he's been looking at other neighborhood spaces to invest in, though wants to get it "right" with & Sons Ham bar and Buttery, before looking elsewhere.
"The best part, is that I'm getting to know my neighbors and have a better way to get to speak with them."
& Sons is located at 447 Rogers Avenue, Brooklyn, NY 11225 and will open this January. The & Sons Buttery larder shop will open in spring of 2020.