If you're looking to fall down a rabbit hole right now, follow the researchers at Ellis Island.
The Statue of Liberty - Ellis Island Foundation has more than 65 million pieces of data you can cull through to find ancestors who may have come through the famous immigration hub. And if that seems too overwhelming, you can hand the reigns over to its staff, which is now offering to personally help you find more information.
For just a $30 donation to the foundation—which, let's be honest, is a drop in the bucket compared to what other ancestry companies charge—they'll do the research for you.
For the Dedicated Passenger Search Session, they'll ask for a name and some other information if you have it, including their year of birth, the port of their departure and where they lived in the U.S. If successful, they'll come back with the ship's manifest that details their nationality, where they came from, their age, marital status, the ship's name and more. You'll get a free digital copy of the ship manifest displaying your family member's arrival in America, and a physical one, once the office reopens, that they'll ship to you.
(If they aren't able to find anything, you'll receive a 10-percent-off promo code for any item in the foundation's shop and some tips to help you search elsewhere.)
"The Statue of Liberty-Ellis Island Foundation created the Dedicated Passenger Search Sessions to replicate the American Family Immigration History Center visitor experience," says Suzanne Mannion, the foundation's director of public affairs. "Proceeds from the sale of these items go back to The Statue of Liberty-Ellis Island Foundation to help us fulfill our mission of restoring and preserving these two great American monuments for future generations."
And, unlike many genealogy sites, the foundation's passenger database is a free resource. If you'd rather look through its archives on your own, you can access records between 1820 and 1954, including records from Castle Clinton. All you need to do is sign up for free and search here.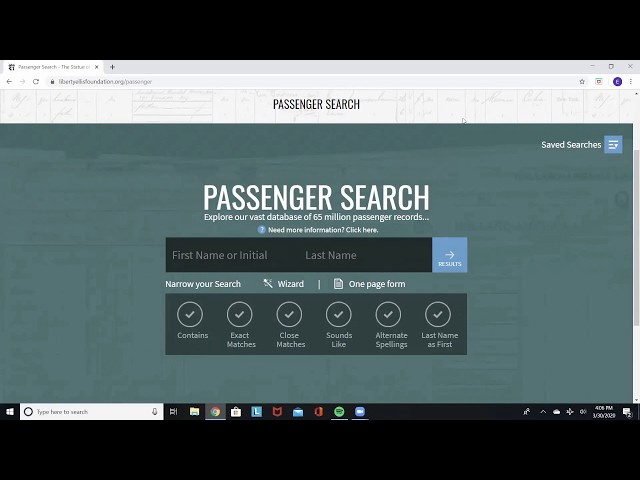 "Exploring family history is exciting, emotional and oftentimes surprising," Mannion says. "We want to make the experience possible even during these difficult times."
Most popular on Time Out
- Millions of free face coverings are being distributed across NYC this month
- You can download over 200 art books from the Guggenheim for free
- The Metropolitan Opera streams a new lineup of free performances every night this week
- The best live theater to stream online
- Ellis Island will now personally help you research your ancestors