Farmwich, a new sandwich pop-up, has debuted in the East Village at Ben's Deli Grocery. It will be open throughout January behind the deli's counter on Sundays, Mondays and Tuesdays with a menu of unique and creative vegetable-forward combinations served in-between slices of bread each day (never repeating the same one again).
Owner Ethan Blake will be joined by two other businesses taking over Ben's Deli. Wednesdays through Saturdays will be split between one pop-up using Pat LaFrieda meats (we have Pat LaFrieda stands in the Time Out Market New York) and another called Dancin' Tastebuds, offering Dominican dishes.
Though Blake's sandwiches will be more expensive than the classic bodega bacon-egg-and-cheese, at $9 and with high-quality ingredients and experimental vegan combinations, they could be a great deal (tip is already built into that cost).
Farmwich is the latest sandwich shop to open in the East Village. The neighborhood was once the home to Porchetta, which offered stand-out roast pork sandwiches. But, now, not too far away, there's Fox Face, the hole-in-wall sandwich counter serving lesser-seen-in-New-York meat (such as bison), that gained notoriety from a glowing review by The New York Times' Pete Wells; the team has plans to expand to the former site of Harry & Ida's this spring, with more offerings at their upcoming Fox Face Provisions. And, just down the street, the bodega Sunny & Annie's serves some of the city's best—behind-the-counter-offerings with playful names and, often, nods to former politicians (whatever you think about Joe Biden aside, his namesake sandwich at Sunny & Annie's with a breaded chicken cutlet is worth trying). And, of course, there's also Superiority Burger, too, where vegan-friendly sandwiches go beyond the restaurant's namesake burger. But there is still much room in the world of vegetable sandwiches, that don't lean on "fake meat" for substance.
Blake is a newcomer to the restaurant world, and with low-overhead to take over the deli on select days, it's a chance to preview dishes he hopes to someday put on his own brick-and-mortar restaurant without the commitment of rent, at least, just yet. Back in October, he stumbled into a conversation with someone who is a part owner at Ben's Deli, who then, offered up the space and "a small investment."
Prior to opening, he worked as a kitchen apprentice at a zen monastery and as a farm apprentice in the Bay Area (he also staged around the world, at places such as Mission Chinese). Those experiences have contributed to his focus on how carefully and where he sources from local farms, which is essential to his concept. Ingredients in the daily-changing plant-based sandwiches will be "grown by regenerative (beyond organic) farmers in the New York Metro area." Blake makes a point to note that even the olive oil will be from Hudson Valley, versus versions from California, more commonly seen in the city.
"My hope is to create a cuisine that is truly rooted in what the region can produce best, and everything is technically vegan, but we're not focusing on the absence or imitation of animal products, just really, really, really delicious vegetables," he says.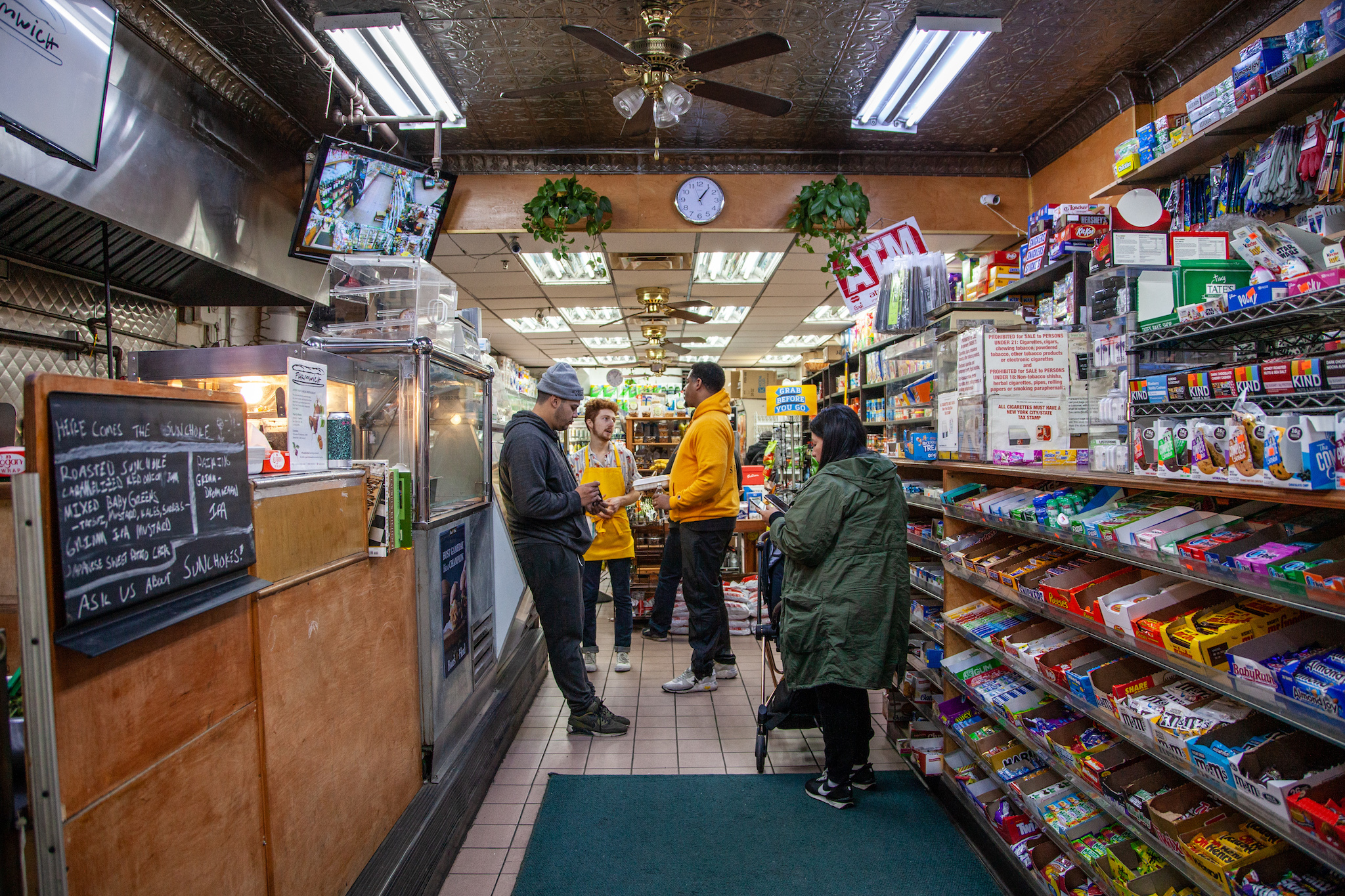 Recent sandwiches at its soft-launch included "roasted sunchokes dusted in crispy sunflower flour, mache greens, gremolata, root veggie quick pickles" a "roasted honey nut squash, miso and pumpkin seed paste (with toasted seeds from the honey nut squashes), mixed baby Asian greens, and purple cabbage kraut" as well as one with "caramelized shallot jam, sautéed broccoli rabe, orange and Japanese sweet potato mashes, Tokyo Bekana greens, radish, and cilantro-coriander vinaigrette." We're excited to check back in about what's in store in the coming weeks, as everyday of operation will be a surprise.
Farmwich sandwiches will be available inside Ben's Deli on Sundays-Tuesdays from 12-2:30pm at 32 Avenue B, New York, NY 10009.