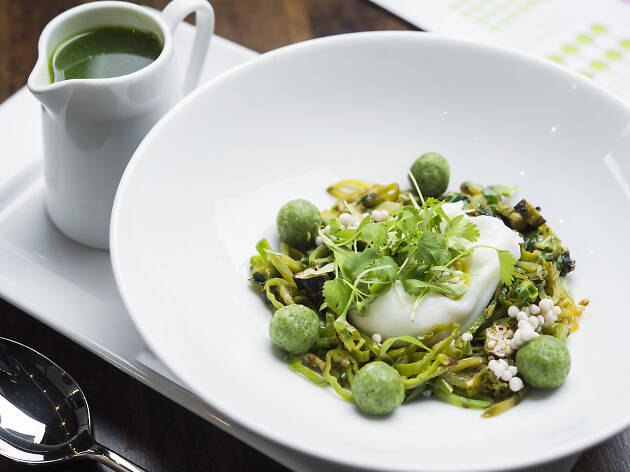 The best vegetarian restaurants in NYC
From daal to falafel, this is the final word on the best vegetarian and vegan restaurants in NYC
One thing is for sure, it's never been easier to find exciting plant-based dishes in New York. Our options go beyond veggie burgers, although NYC has plenty of those, too—we're talking about falafel joints and tapas bars and some of the city's best Indian restaurants (even some of the best Manhattan restaurants made the list). It's time that we erase the narrative that vegetarian and vegan food is a trend—even though it may seem that way on your Instagram feed—when many non-western cuisines have been experimenting with and perfecting satisfying meatless dishes for centuries.
But worry not: eating at these restaurants doesn't have to be dogmatic or leave you feeling hungry (we won't point you toward the menus' that claim to be veggie-friendly with only an option for a measely side salad). These are the best restaurants in NYC that won't have you asking, "Where's the meat?"
RECOMMENDED: See more of the best restaurants in NYC
A vegan/vegetarian concept we love so much that we welcomed them into Time Out Market
With BKLYN Wild at Time Out Market, chef Ivy Stark is embracing a healthy plant-based menu that focuses on local ingredients that are actually local—as in, Brooklyn. This way, everyone can dig in, no matter their dietary restrictions.
Best vegan and vegetarian restaurants