The best vegan and vegetarian restaurants in NYC
New York's best vegan and vegetarian restaurants, cafés and bakeries offer top-quality meat-free dishes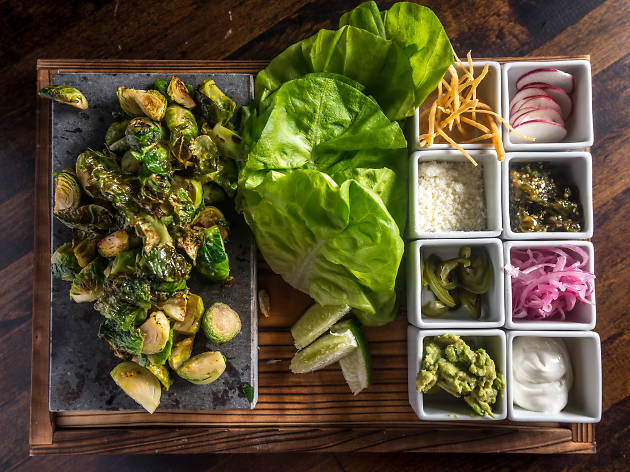 Great vegetarian food isn't hard to come by in New York—just look at the city's best vegan and vegetarian restaurants for proof. And it's more than just veggie burgers, although NYC has plenty of those too—we're talking about falafel joints and tapas bars and some of the city's best Indian restaurants. High-concept cooking to comfort foods, there are the best meat-free restaurants in NYC.
RECOMMENDED: See more of the best restaurants in NYC
Best vegan and vegetarian restaurants
See the best vegetarian restaurants in America
Herbivores, rejoice! The growing ranks of superb vegetarian restaurants across the country means you need never settle for a steamed-vegetable platter again.
Read more
Sponsored listing
Grand Central Oyster Bar & Restaurant
It may be sacrilege to say it, but it seems that the legendary 96 -year-old Grand Central Oyster Bar, located in the epic and gorgeous hub that shares its name, is running on fumes. The surly countermen at the mile-long bar (the best seat in the house) are part of the charm, but the fishy lobster roll, overly breaded fried clams and ketchup-tasting pan roast are not. Play it safe—and classic—with a reliably awe-inspiring platter of iced, just-shucked oysters (there can be a whopping three-dozen varieties to choose from at any given time, from Baja to Plymouth Rock) and enjoy the vaulted-ceiling view. As long as the station is abuzz and the oysters good—they are—the other food is really beside the point.
Venue says: "For over 100 years we have been serving the freshest oysters & seafood in NYC! Our Oyster Happy Hour features Bluepoint Oysters, $1.25/each"