The best vegan and vegetarian restaurants in NYC
24 vegetarians and vegan restaurants to try right now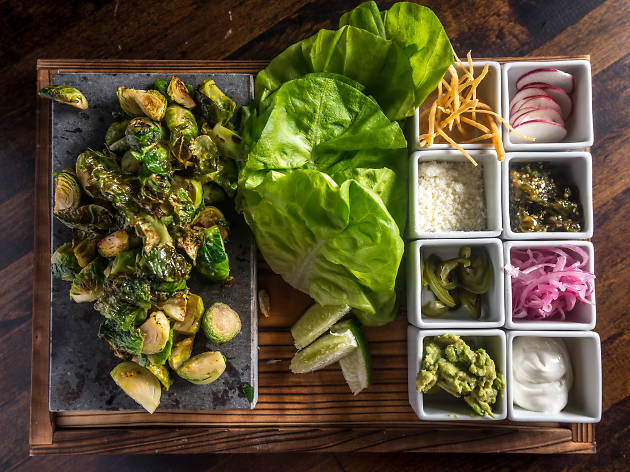 Great vegetarian food isn't hard to come by in New York—just look at the city's best vegan and vegetarian restaurants for proof. And it's more than just veggie burgers, although NYC has plenty of those too—we're talking about falafel joints and tapas bars and some of the city's best Indian restaurants. High-concept cooking to comfort foods, there are the best meat-free restaurants in NYC.
RECOMMENDED: See more of the best restaurants in NYC
Best vegan and vegetarian restaurants
See the best vegetarian restaurants in America
Herbivores, rejoice! The growing ranks of superb vegetarian restaurants across the country means you need never settle for a steamed-vegetable platter again.
Read more
Sponsored listing
Spoon Table & Bar
Forks jab and knives stab; spoons are the gentlest of utensils, so Spoon Table and Bar is aptly named. A cozy little nook nuzzled onto a desolate block abutting K-Town, Spoon is a surprisingly delightful New American eatery, featuring unfussy, seasonal comfort food. The host's greeting could use a little work, but the otherwise cheery, brightly smiling staff makes up for any irritation immediately. The room is spare but lively, a convivial energy warming the elemental decor. Concrete floors and raw timber columns complement blonde wood table tops and white-washed walls, all illuminated by some of the most flattering lighting possible from woven cylindrical fixtures. The effect is like looking through a real-life blur filter, creating flawless complexions with zero unsightly shadows. The ambiance combined with the restaurant's modest prices, danceable retro soundtrack and plates conducive to sharing makes it a great date spot. Start off with a little pickle plate full of sprightly preserved vegetables to get your appetite up and running ($10), or picnicky snack of creamy deviled eggs spiked with bacon and chives ($8). Salads are categorized as entrees for a reason: they'd be difficult to polish off on your own as a starter, so either order them to split or add a grilled protein to make them a main. Heartier options include rustic skillets like four-cheese mac, meatballs with garlic bread and a homey pot pie (each $15). The mains are slightly elevated in culinary finesse, cos
Venue says: "Comfort food. Warming adult bevvies. Caffeine by Stumptown. Book your next private party here or expert off-premise catering. B/L/D/Brunch!"