To be honest, I've always been a bit skeptical of Hudson Yards. Sure, developing the stretch of no-man's-land on the west side of town was certainly an effort that needed to be tackled but, back in 2019, when the first shops opened in the giant mall and Thomas Heatherwick's visually striking but tonally confusing "Vessel" sculpture debuted, the entire project seemed like a potentially wasted opportunity. So, when I was invited to have fun at Sky Skate, which is the highest skating rink in the Western Hemisphere at 1,131 feet in the air at the Edge at Hudson Yards, I was dubious that the activity would amount to anything worth writing about.
And yet, whether because of the unseasonably warm and very sunny November day that I chose to visit or because any sort of new opportunity in New York excites me, the experience of getting to Sky Skate and hanging out in the area felt like something that belongs on our list of best things to do in NYC during the holiday season.
The 1,024-square-foot rink on the 100th floor of 30 Hudson Yards is actually made of synthetic ice. To be direct, it's not anything special. However, the entire experience—from the grandiosity of the mall to the ride up to the top floor and, of course, the outdoor terrace right by the rink—is a memorable one.
Oddly enough, while trying not to break any bones on the zero-energy ecological rink that truly feels like skating on glass, I realized that the presence of tourists all around me and, even more specifically, the non-New-Yorky vibe of the area as a whole, is exactly what made my visit phenomenal. There is just something about seeing out-of-towners enjoy what the city has to offer that warms your heart, especially during a season dedicated to appreciation and giving back.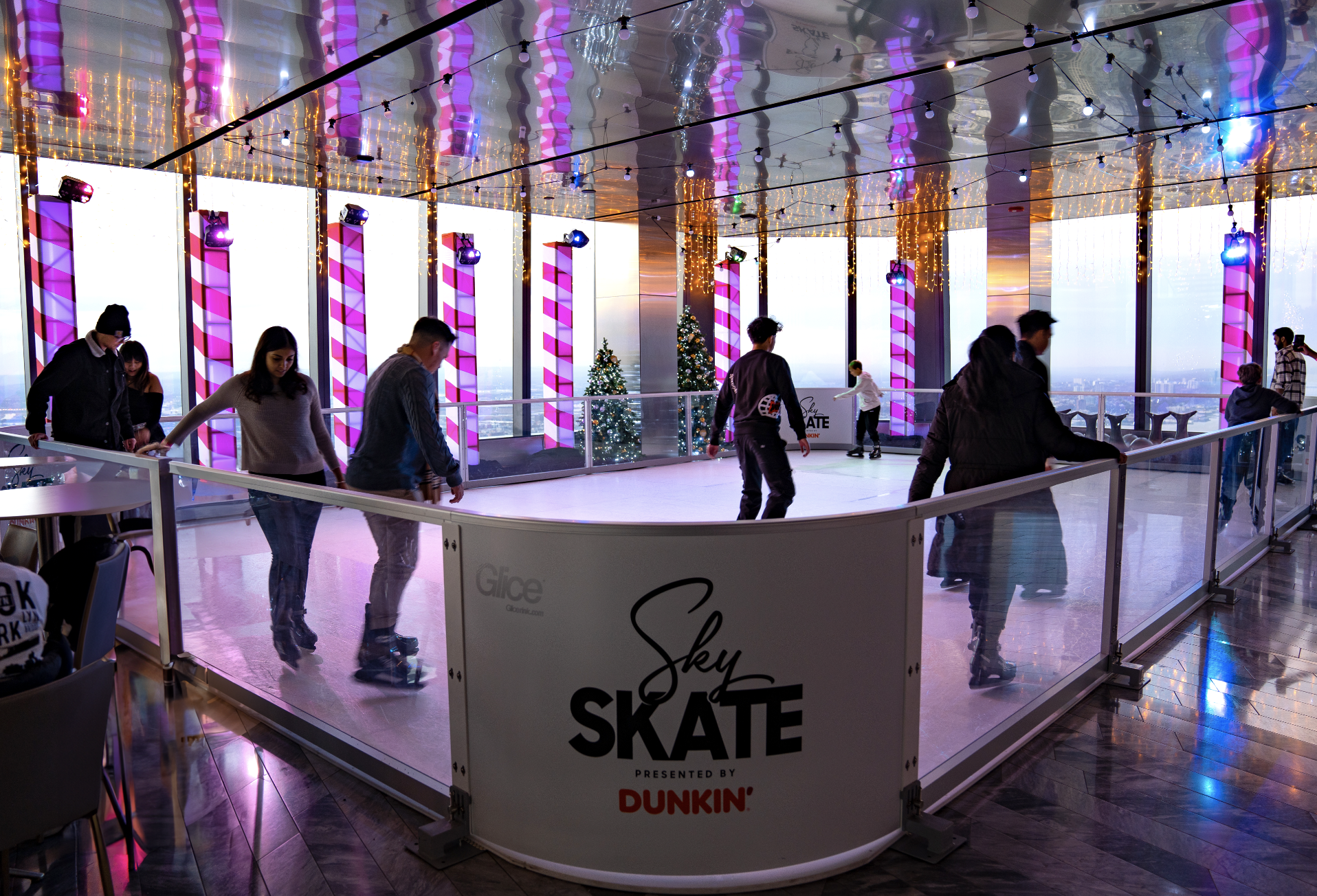 Watching folks speaking all sorts of languages take in the astonishingly remarkable and unparalleled views of the Manhattan, Brooklyn and New Jersey skylines while skating indoors or walking on the Edge is a beautiful way to remind ourselves how freaking gorgeous our city is.
If it's a dose of pure appreciation and joy that you're after, go to Hudson Yards.
But back to skating: set to stay in place through January 14, 2024, Sky Skate is a seasonal offering that folks can buy tickets for online. Each pass runs about $45 and includes admission to the Edge, a 30-minute skate experience and complimentary skate rentals.
Unfortunately for Sky Skate, part of the fun when it comes to ice skating is being outdoors—even when it's freezing.
Add to it the fact that the most popular ice skating rinks in NYC are significantly larger than the one at Hudson Yards and you certainly have yourself a different experience on the west side of town.
Is it worth indulging in it? It depends. If you're anything like this New Yorker, it's nice to be reminded of how many people love New York City—which is exactly the sort of population that seems to frequent the destination most often.
Bonus points: you'll get to tell the world that you've skated on the tallest skyscraper in the Western Hemisphere. That has to count for something.