"Let Me Tell You" is a series of columns from our expert editors about NYC living, including the best things to do, where to eat and drink, and what to see at the theater. They publish each Wednesday so you're hearing from us each week. Last month, Time Out New York Editor Shaye Weaver wrote that it's time for a train travel renaissance.
On the night of October 31, 2022, I donned my vampire teeth and headed out to the Village Halloween Parade as Nadja, one of the sassy bloodsuckers from FX's What We Do in the Shadows. In a full Victorian walking skirt that I sewed myself and long black hair pulled up in bat ear-buns, I was her.
RECOMMENDED: A guide to the Village Halloween Parade in NYC 2023
Truth be told, I've dressed as Nadja before—she is one of my favorite female characters ever: funny, loving and cruel—for various events and cons. But this night, I got to represent her to thousands of New Yorkers looking on at the parade down Sixth Avenue in Greenwich Village. I bared my teeth. I winked. I spun in my skirt.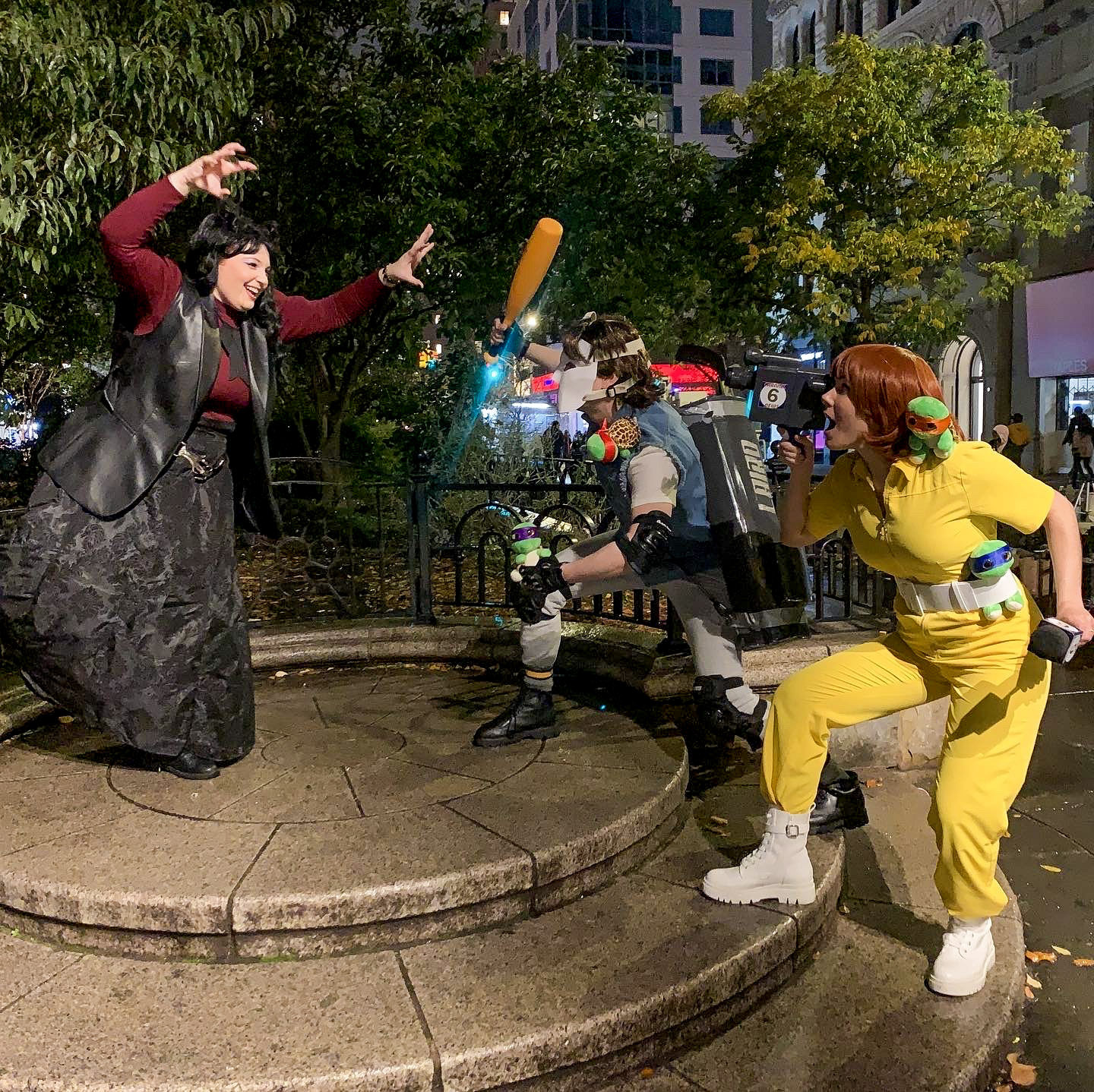 It was my very first time participating in the parade in the seven Halloweens I'd been in NYC, but already I knew I had missed out by waiting so long. Halloween is my favorite holiday, and I never miss a chance to get into costume. Plus, seeing everyone's talent and creativity on display, like Brandon Hardy and his puppets, for example, is my favorite part of it. Heck, I even got to walk beside the Ghostbusters' Ectomobile!
Being able to join in that kind of creativity and celebration is a feeling I want more of.
Having participated last year, I learned a lot about how best to enjoy the experience. Below are five tips and tricks to best enjoy the Village Halloween Parade.
1. Join in the parade, don't watch from the sidelines
Most parades you cannot simply join in on. They require clearance, a large group and a registration fee. Not here, my friend. This parade is free and open to all—just wear a costume. That's the only requirement. Why would you settle for sitting on the sidelines with an obstructed view when you can freely walk down the avenue and see all the costumes up close?
If you are going to simply watch, don't watch along Sixth between Bleecker and 14th Street—that's where the crowd gets the most dense.
2. Arrive very early
The parade kicks off at 7pm, so the parade's website says to get to Canal Street and Sixth Avenue between 6:30 and 9:30pm, but I suggest you get there as soon as possible so you're not waiting around for hours. Participants are let into the parade in groups of 1,000-2,000 people at timed intervals. That might sound like a lot of people to you, but in the grand scheme of Halloween in NYC, it's not. More than 50,000 people show up to the parade in general, for some perspective. I arrived around 7pm with friends and we were stuck in a pen like cattle waiting to get onto Sixth Avenue for over an hour in the rain. It was pretty miserable. Get there early so you can get in and get out on your time.
Alternatively, you can pay $200 for a VIP ticket to skip the line.
3. Be prepared for rain … or anything
Like I said, it rained, and a lot of costumes got waterlogged or soggy. Tuesday night has a slight chance of rain, so don't risk it, and bring an umbrella or poncho. Nothing's worse than being sopping wet and watching your makeup slough off. I'd also recommend bringing a water bottle to keep hydrated and comfortable shoes because you'll be walking a lot. Be prepared to have photos taken of you, too, especially if you show up in a convincing costume. Halloween also brings out the ghoul in some people so be hypervigilant, too!
4. Get into character
Now is your time to become your character. Walking down Sixth Avenue, you've got the attention of thousands of paradegoers, so give them something to remember or, at least, enjoy! Walk up to someone and make a crazy face. Dance along with the floats. Wave at kids. It'll be fun for you, too, to step outside your comfort zone and become someone else for one night. This year's theme is "Upside Down Inside Out."
"The Halloween Parade has always been a night of transformation, but this topsy-turvy year feels even more so in terms of realizing a dream, being who you are most authentically in your imagination," event organizers say.
5. Go with a group
I went with two friends last year, but looking back, I wish I had pulled all my friends in to go with me! If you can find a group to do a themed costume with, even better. With a group of people, you can play off one another, share in the sheer wackiness of the evening and watch out for one another. After the parade is over, Halloween out in the streets of Manhattan can get weird, after all.
Happy Halloween!