"Let Me Tell You" is a series of columns from our expert editors about NYC living, including the best things to do, where to eat and drink, and what to see at the theater. They publish each Wednesday so you're hearing from us each week.
As you may have heard, Lea Michele is currently starring in Funny Girl on Broadway. A lot of people have, in fact, heard about this. The drama surrounding Funny Girl this year escaped the tightly knit circles to which replacement-casting-in-musicals debates are usually confined. It became that rare modern phenomenon: a Broadway news story that regular people cared about.
In case you somehow missed it, the short version is this. Funny Girl, a biomusical about Ziegfeld Follies comedian Fanny Brice, had never been revived on Broadway since its original 1964 production, which helped propel Barbra Streisand to megastardom. For years, people floated the idea of a production headlined by Glee star Lea Michele—which seemed an obvious fit, since she had already performed many of the show's songs on Glee and elsewhere. But when Funny Girl did return to Broadway last March, it did not star Lea Michele. Instead, Fanny was played by Beanie Feldstein, the comedically gifted young star of the movies Lady Bird and Booksmart.
Alas: Feldstein turned out to be a poor match for her demanding role. The reviews were harsh (including mine), and the production was nearly shut out of the Tony Award nominations; a final curtain seemed imminent. That's when things got messy. Reports emerged that Funny Girl's producers had hired Michele to step into the show, and an angry Feldstein departed the production even earlier than planned—along with her costar Jane Lynch, who had costarred with Michele on Glee. The internet exploded accordingly. Michele's fans gloated that it should have been her all along; detractors raised allegations of supposed past rudeness to other actors. Tongues and fingers wagged.
Michele's supporters turned out for her: At her first performance, on September 6, she received multiple midshow standing ovations. But it wasn't just fans who were impressed; word of mouth about her performance has been loud and strong. And that is why, even months later, the questions I'm most likely to be asked by non-theater folks when they find out I'm a critic are: Have I seen Lea Michele in Funny Girl? And is she as good as people have said?
Here are the answers to those questions. Yes, I have seen Lea Michele in Funny Girl. And she's better than good. She's sensational.
I revisited Funny Girl with wait-and-see wariness. I had set my hopes too high for Feldstein in advance, and I didn't want to make the same mistake. But Michele is a wonder as Fanny. Her vocals are supple, dynamic and assured; she navigates the score with exceptional finesse, sometimes evoking Streisand's interpretations—which are, after all, stamped into the part—but never merely imitating them. Still, anyone who has followed Michele's career at all knows that she can sing. The bigger surprise, for me, is in how successfully she nails the complex acting demands of the part: the confidence and the gawkiness, the vulnerability and the pseudo-insouciant bluffing. I had worried that the performance might tip toward late-Barbra vanity; instead, it has early-Barbra gumption. When she strides forward on the stage, it's not with the entitlement of someone who owns it, but with the daring of someone who is seizing it.
With a fire now lit under its Fanny, the whole production is transformed. Everyone seems to be pushing less hard to keep the energy up; the actors—especially Ramin Karimloo as Fanny's romantic interest, the no-goodnik Nicky Arnstein—seem to be enjoying themselves a lot more, and Tovah Feldshuh, pugnacious and gravelly as Fanny's proud mother, is a delightful addition to the company. (The downside is that elements that once struck me as relatively good by comparison now seem a little outclassed: Michele's star turn deserves a larger chorus, a beefier orchestra, a less forbidding set.)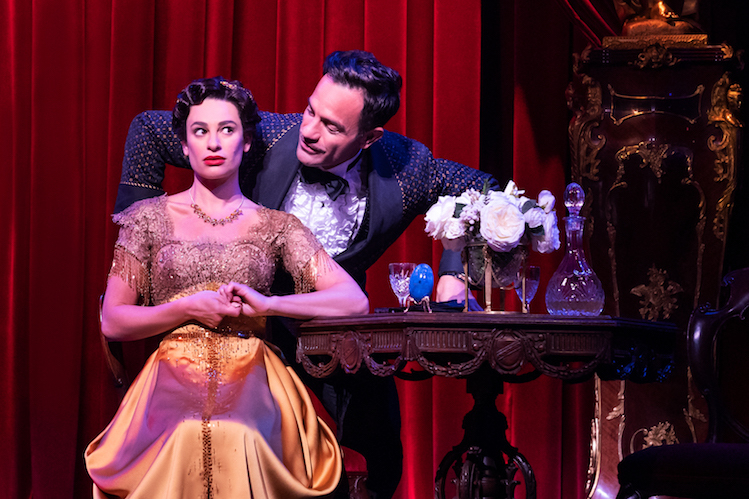 No wonder, then, that Funny Girl's fortunes have turned around. Last week, the production grossed $1,654,724, with 97.68% attendance, which is way up from $765,670 and 71.20% in Feldstein's final week. That's good news for the show's producers, but bad news for people who want to catch a rising star without emptying their pockets. Thanks to increased demand, Funny Girl's top ticket price is now the highest on Broadway—a shocking $599—and its paid-admission average ($173.71) is behind only The Music Man and Hamilton.
Happily, people who can't see Michele in person have another way to sample what she is bringing to the show. This week, the Funny Girl revival, which did not record a cast album with Feldstein, released one with Michele; you can download or stream it on the platform of your choice, and a physical CD will be available in January.
Skip ahead to the next paragraph if you don't care about the trivia-geek factor here, but: It is pretty much unheard of for a musical to record a cast album with replacements in this way. Shows have released supplemental EPs featuring their new leads (e.g. Betty Buckley in Sunset Boulevard) or even whole albums with replacement stars plugged into the original recordings (e.g. Larry Kert in Company, Brooke Shields in Grease and Wonderful Town); and replacement actors have sometimes been called to serve when the original actors were sick (1776, A New Brain) or dead (Grand Hotel). I can even think of two cases when an entire second cast album was recorded for a still-running production: Pearl Bailey's Hello, Dolly! and Vanessa Williams's The Kiss of the Spider Woman. But I can't think of any other case when a show that had chosen not to record its original cast reversed that decision for a new one.
The original 1964 cast album of Funny Girl remains the essential one—for its richer orchestral sound, among other things—but this revival recording has much to recommend it. It's interesting to compare Michele's interpretations with Streisand's; her voice is lighter, but that sometimes works to her advantage. (Her rendition of "People" sounds touchingly like a real person trying to open up, whereas Streisand's verges on sententious.) This recording also features several songs not included on the 1964 record, including a restored song for Nicky and a tap solo performed by the show's lone Tony nominee, Jared Grimes.
With the benefit of hindsight, it seems unfortunate for all concerned that Funny Girl had to push past the Beanie Feldstein stumble before landing us where we are now: with Michele giving a full-throttle star performance, and with a worthy new cast recording thrown in as a bonus. It's a happy ending. And if the end is right, perhaps, it justifies the Bean.
Time Out Tip: Funny Girl is playing at the August Wilson Theatre. You can buy tickets here.