"Let Me Tell You" is a series of columns from our expert editors about NYC living, including the best things to do, where to eat and drink, and what to see at the theater. They publish each Wednesday so you're hearing from us each week. Last month, Food & Drink Editor and Critic Amber Sutherland-Namako wrote that your favorite place is going to close, however iconic.
Picture this: You're perusing photos or videos of a restaurant or bar on whatever platform can decode whether the tables are still fixed too close together, or if this was the place that sets its desserts ablaze—and who should appear in the frame, but you. You're jammed into the banquette, fire in your eyes, the background of somebody's Big Night out. Or rather, don't picture anything, because it doesn't have to be this way.
In 2023, everybody's both the paparazzi and the star. It's been like this for quite some time (half a generation, at least), but darned if life's documentary moments don't seem to get more pronounced with every app update, iPhone upgrade, or newly erected hashtag. Although the above scenario is not yet probable for the standard hospitality guest (employees are another story, and they never be expected to act as extras in anybody's birthday baby snapshots), it is increasingly possible, and that likelihood is creeping from eye-rolling afterthought to another going-out nuisance on a list already crowded with irksome reservation roadblocks, sky-high prices and long bathroom lines.
Many of our most intimate events transpire in restaurants and bars. Happy ones. Sad ones. The weird middle occurrences we wish to forget. And I'd rather just not have the moment I mistakenly hip-checked a wine glass at the edge of one of those tight two tops, sending it hurtling to the floor with improbable force and ultimate shattering explosion that defies a layman's sense of physics, to appear in a TikTok.
My occupation has little to do with this preference. I must make a good-faith effort to dine anonymously as a restaurant critic. Yes, there are a few photos of me floating around the internet. But they are considerably more flattering than I appear in person. Given the relative gift of looking better in still images than in real life, I'm not overly concerned about being identified from some errant reel or slide. But I don't want to be memorialized as a piece of scenery in any case, and I just think that everybody deserves a break.
In this moment, everything is content, and content is a product, and the product is us. Save for the odd monetized creator, most are making us into content for somebody else's product, and their subsequent enrichment.
Take every amateur review platform, please. Bots aside, they're bolstered by the volunteer labor of users who gain little more than the occasional avatar badge for their efforts, while all that surround are the cost of doing business. A lot of that business is generated for free. It creates a situation where everybody's on some kind of clock all the time, even over those hard-earned free hours.
I'm obviously not referring to venues that invite this type of coverage. Plenty of them prominently display their varied social media handles, sometimes even inviting visitors to tag them this way and that. It's free advertising and entry-level ambitious in an ever-competitive market. There can and should be a happy marriage between those locales that solicit attention and the audience willing to comply. Some of us, however, would rather not be captured in the crosstalk.
On a more granular level, think of the people having affairs, for example. To be successful, those goofballs likely employ some of the same tricks as I to act incognito in the course of my work. Decoy email accounts and dummy phone numbers. Signal, sometimes. Visits to venues most haven't heard about yet. One photo and it's over. It's the stuff of urban legend, for sure, and who wants to be the unwitting set piece in an image, whether they're engaging in extracurricular activities or merely never intended to commit a bad hair day to camera?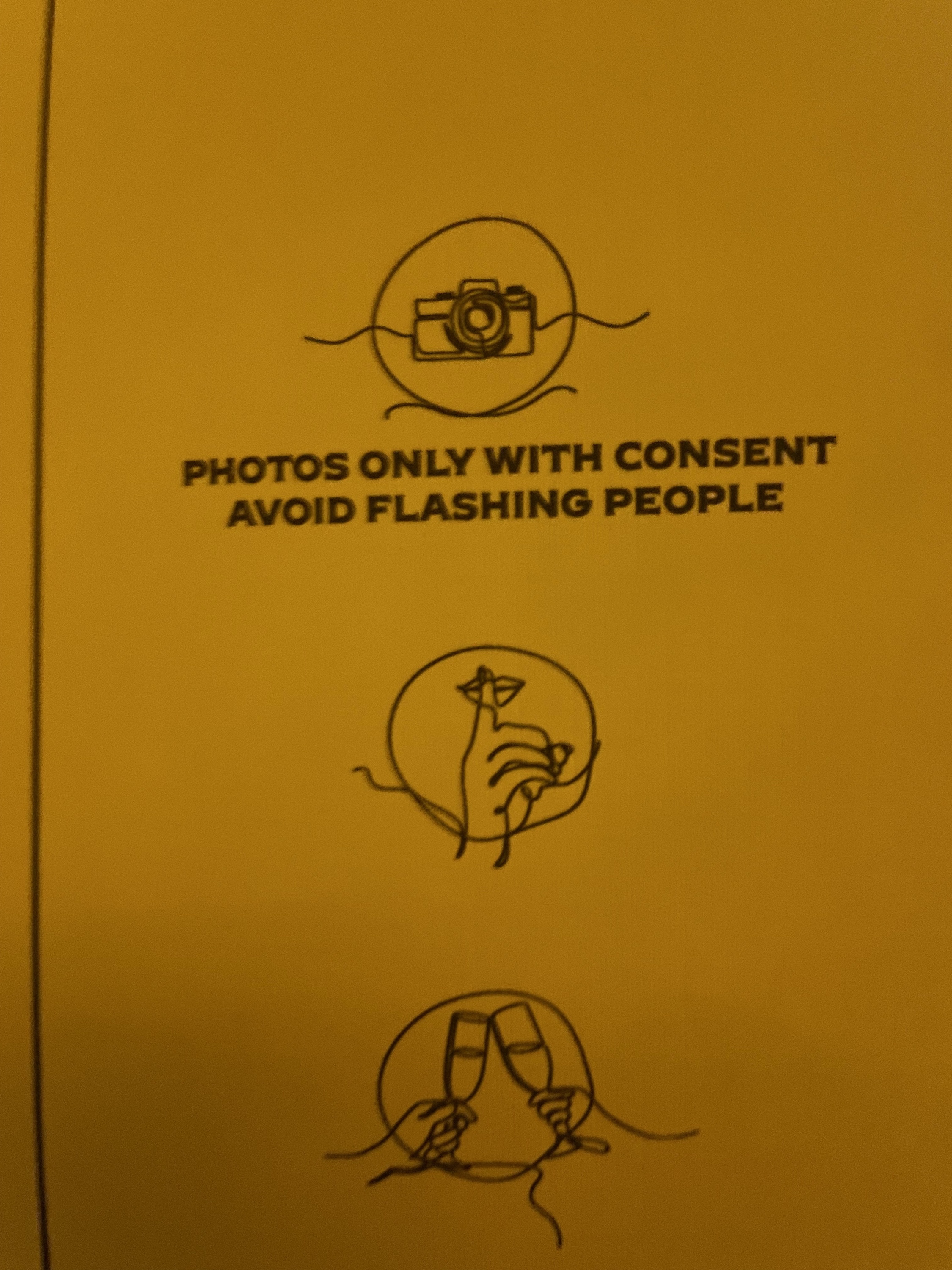 As often, there's a potential solution. Food and drink shots are fair game, as far as I'm concerned, as long as they're not identifying details of involuntary parties. And we can all aim to shoot our atmospheric shots a little bit tighter. My own profile image on this very site—a grainy still depicting somebody that looks better than I do on a good day—is, I believe, still evocative of a time, place and mood, without betraying anyone else in attendance.
Even more practical, there are places that curb this type of documentation. For years, Peachy's in Chinatown has had the flickering neon directive, "no photos, no fighting." The former is still magnitudes more common than the latter, but the gesture is admirable. Reverence, in Harlem, which I reviewed highly in 2019, instituted a no-technology policy when it opened that year. Elsewhere downtown, more recently, I was heartened to see a similar statute on the menu at a new bar called The Mulberry that read, "photos only with consent." They're all on social media to varying degrees in spite of the decrees, but I want to believe the gentle deterrence will at least make people take a wider look around.
Most things are cyclical. Food photos alone were a novelty more than a decade ago before everybody's lunch became Twitter's biggest blight. As video became ubiquitous, the practice cracked and spread even wider, like an egg yolk over a mortgage-thwarting avocado toast.
The desire to commemorate and record and capture under the eternal patina of amber, or at least a shining smartphone screen, may just fade once more. And I'll see you where it does. Maybe just not on camera.