Let it never be said that Mariko Mori lacks ambition. Recalling a memory from childhood, the artist describes an annual ritual in her native Japan in which people write down their wish on a paper scroll and hang it on a bamboo tree. "I think I was three or four, and the wish that I made was that I wanted to be a god," says Mori. "But, obviously, it didn't come true."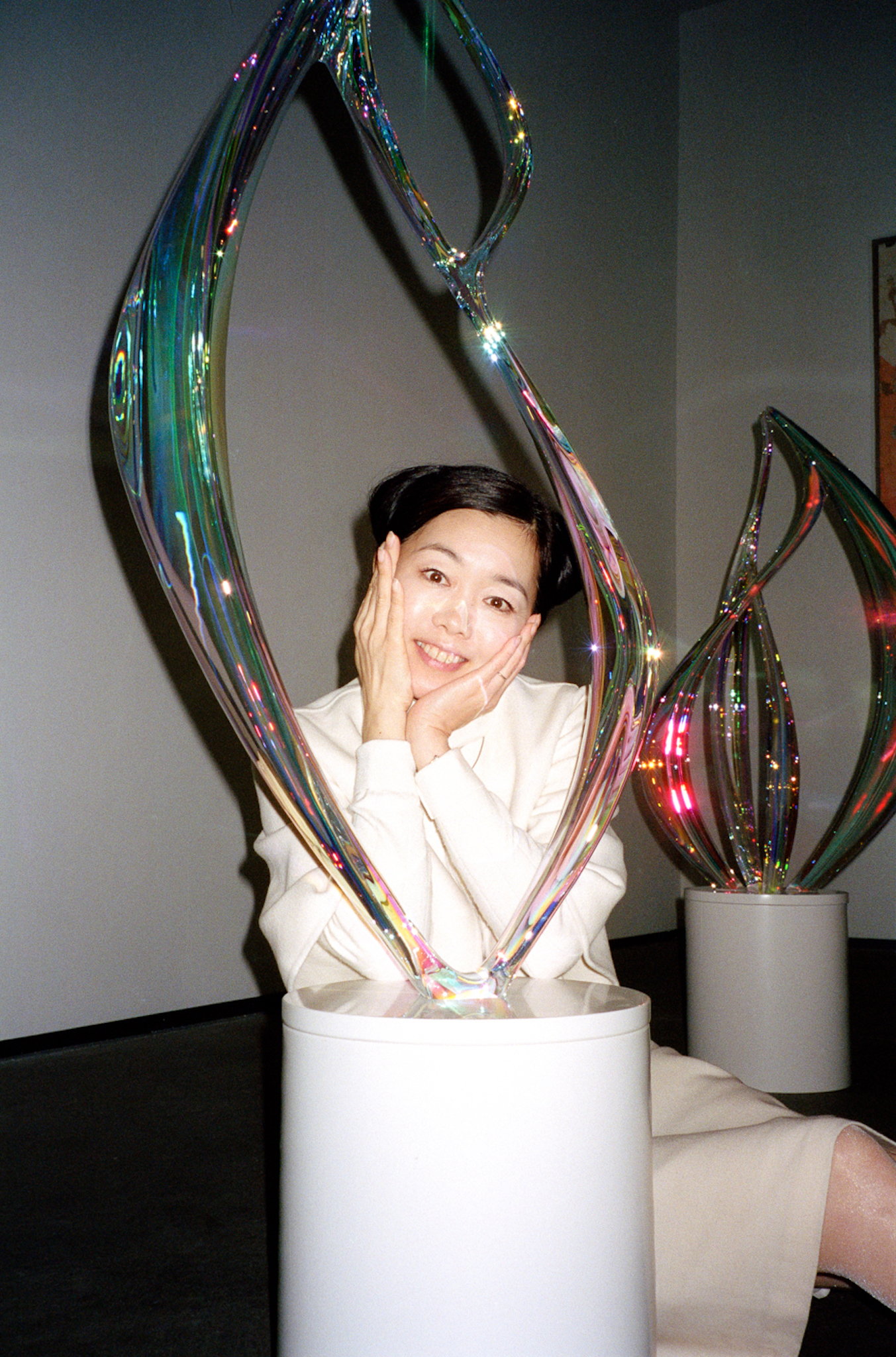 Alas, no. Instead, Mori has had to settle for a career as an international art star. For 20 years, she's dazzled gallery- and museumgoers with technofuturistic videos, sculptures and photos that combine anime and manga, Shintoism and Buddhism, into trippy fantasias that have evolved from sci-fi critiques of Japanese society into quests for the shared consciousness of the universe. "I want to make the invisible visible," explains Mori. "I want to bring into realization a vision of something that didn't exist before."
On a gray afternoon shortly before her latest show of sculptures—among them, three-dimensional Möbius strips cast in pearlescent acrylic—opens at Chelsea's Sean Kelly Gallery, Mori wears an outfit that matches the minimalist white-on-white palette of her Garment District studio. With braids wreathing her head, she looks a bit like Princess Leia, though her demeanor is somewhat more reserved than Carrie Fisher's spunky performance. In fact, her presence is as otherworldly as her thoughts, which encompass astrophysics and Buddhist philosophy. "My exhibition is focused on a vision of the universe that comes from string theory," she says, "a multiverse existing in an endless cycle where one Big Bang ends and another begins. But I'm not trying to visualize its physicality—just the flow of energy within it."
Mori, a Tokyo native, was born in 1967 to an art-historian mother and a economics-professor–turned–inventor father. In college, she worked as a model for Kenzo and also appeared in TV commercials for ice cream and watches. The experience made an apparent impact on the work that marked her NYC gallery debut in 1994: a series of photos that depict her costumed as a pointy-eared extraterrestrial in various scenarios, including one in which she offers cups of tea to passing businessmen on the street. Mori says, "That was my social comment on Japan at the time, when there were few opportunities for women."
Other ventures into cosplay include a panoramic image of Mori as a mermaid intruding upon the patrons of Tokyo's Seagaia Ocean Dome, an indoor artificial beach. "I was interested in consumerism and virtual reality, which this beach sort of is," she says. "I wanted to show how controlled reality could become actual reality for some people."
Looking back, Mori describes these efforts as being "partly cynical," a self-criticism that may account for the direction her work took at the turn of the millennium, when she began to downplay pop-cultural references. Being site-specific, her photos required location-scouting, and it was during one such expedition that the desolate beauty of places like Israel's Dead Sea triggered an epiphany regarding the all-encompassing power of nature. "I had a mind-opening experience," says Mori, adding that the encounter, combined with readings in Buddhism and Shintoism, prompted her to create art in a way that would point to nature as an avenue into "the world of deeper consciousness."
The result was a body of work in which she no longer appeared: architectural installations resembling shrines, including one remarkable—but still unfinished—earthwork on Miyako-jima, off the coast of Okinawa. It consists of a monumental pillar erected on a rocky promontory in the sea, combined with an egg-shaped dome floating below it that changes color with the tides. Once the entire ensemble is completed, the shadow of the pillar will bisect the dome on the winter solstice.
In this project, as in her latest sculptures, Mori marries science and spirituality, the far future and the distant past, to reveal the essential relationships that undergird the universe. "Everything is interconnected," she says. "We are all one—we just don't see it."
Mariko Mori's "Invisible Dimension" is at Sean Kelly Gallery Sat 24–Apr 28 (212-239-1181, skny.com).