If scrolling through social media to see pictures of cute dogs and hilarious cats is a favorite pastime of yours, then this new exhibit at Fotografiska is a must-see. Titled "Best in Show," the exhibition explores the role of furry and feathered friends in our culture through more than 100 incredible photographs.
Photos show dogs in a variety of situations, like getting baths, posing, partying, shaking their heads and even dressing up in fancy "cones of shame." Cats, rats, bunnies, birds, reptiles, turtles and fish get their moment in the spotlight, too, at this exhibition on view in the Flatiron District through January 2024.
RECOMMENDED: The best museum exhibitions in NYC right now
The show showcases works by 25 renowned photographers. That includes William Wegman's famed Weimaraner portraits, pictures by Sophie Gamand of dogs taking baths and images by the world's first professional cat photographer Walter Chandoha. From candid photos of pets at home to posh portraits of pups at the Westminster Dog Show, each image explores the unbreakable bond between humans and their pets.
In addition to photography, several videos capture pets in motion. One takes viewers up close and personal as dogs and cats shake their heads sending their glorious tufts of fur from side to side. Another presents footage of pastel-colored birds gracefully landing on a tree branch.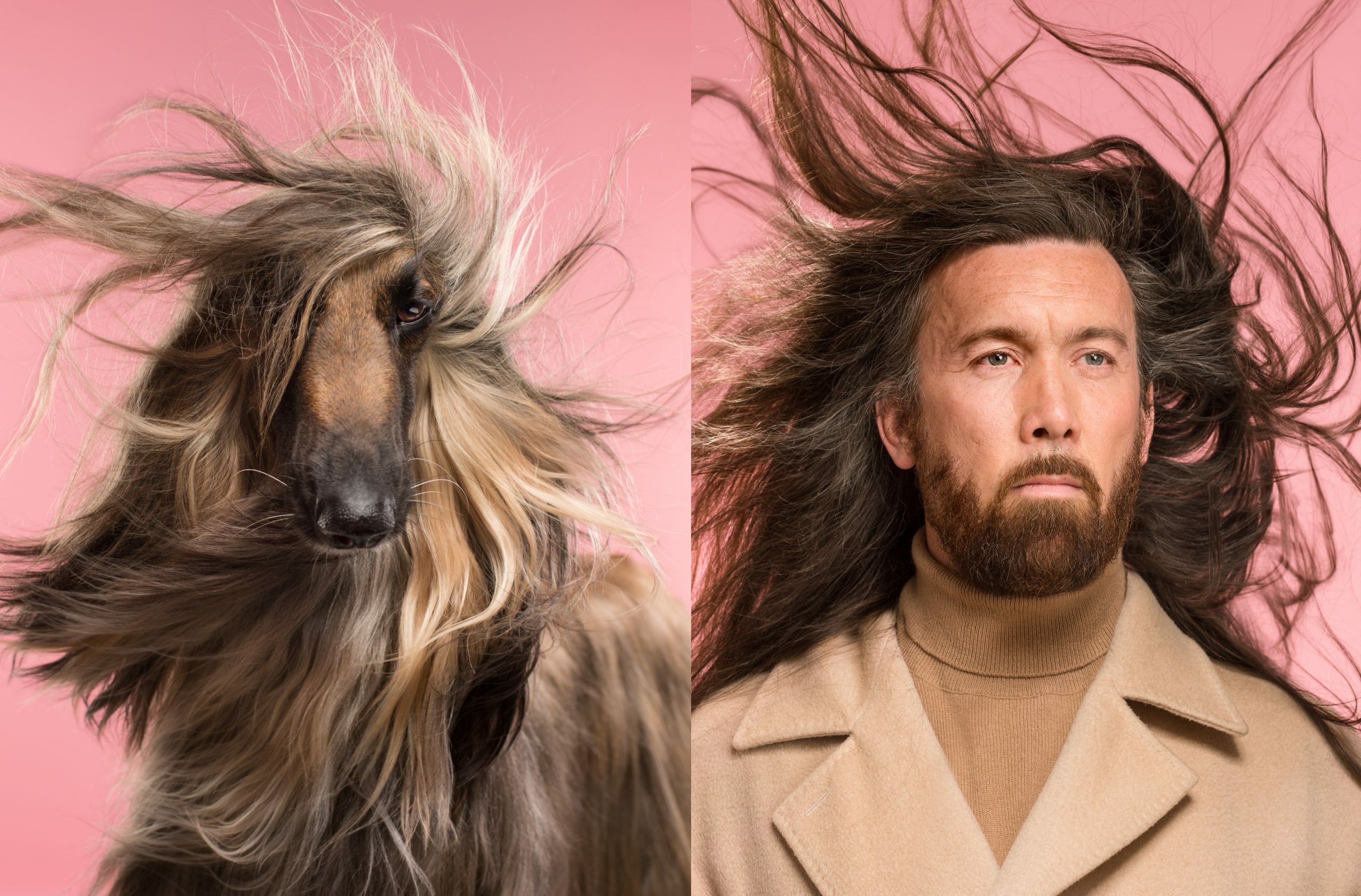 Gerrard Gethings' section of photographs depicts pets who look uncannily similar to their owners. For example, there's a man with a puffy white beard posed next to his fluffy white cat, then a man with gleaming Fabio-style locks photographed next to his dog with a very similar hairdo.
It presents a much-needed moment of levity before the next section, which explains how dogs in Spain are often abandoned or killed after hunting season ends. These photos by Martin Usborne underscore the deeper message of the exhibit: Animals depend on us to help them.
Every year, 920,000 shelter animals are euthanized in America, according to the ASPCA. Helping reduce that number has become an important mission for actress Katherine Heigl of Grey's Anatomy fame.
With her mother, Heigl founded The Jason Debus Heigl Foundation to end animal cruelty and abuse. A dollar from every ticket sold at the Fotografiska exhibition will go toward the foundation.
"For every well-loved and celebrated animal that you see in this exhibit today and for every beloved pet in our homes, there are hundreds and thousands of others languishing in our shelters across our country waiting for help and running out of time," Heigl said at an opening event for the show. "And we can help and we must help for they are the voiceless and the innocent."
For every well loved and celebrated animal that you see in this exhibit ... there are hundreds and thousands of others languishing in our shelters across our country waiting for help and running out of time.
Heigl also founded Badlands Ranch, a dog food company, which is sponsoring "Best in Show."
The "Best in Show" exhibit spans two floors of Fotografiska; paw print stickers on the floor help with guidance. In addition to photography and video, there's a multimedia installation, faux fur on some walls and even a Jeff Koons "Balloon Dog" sculpture.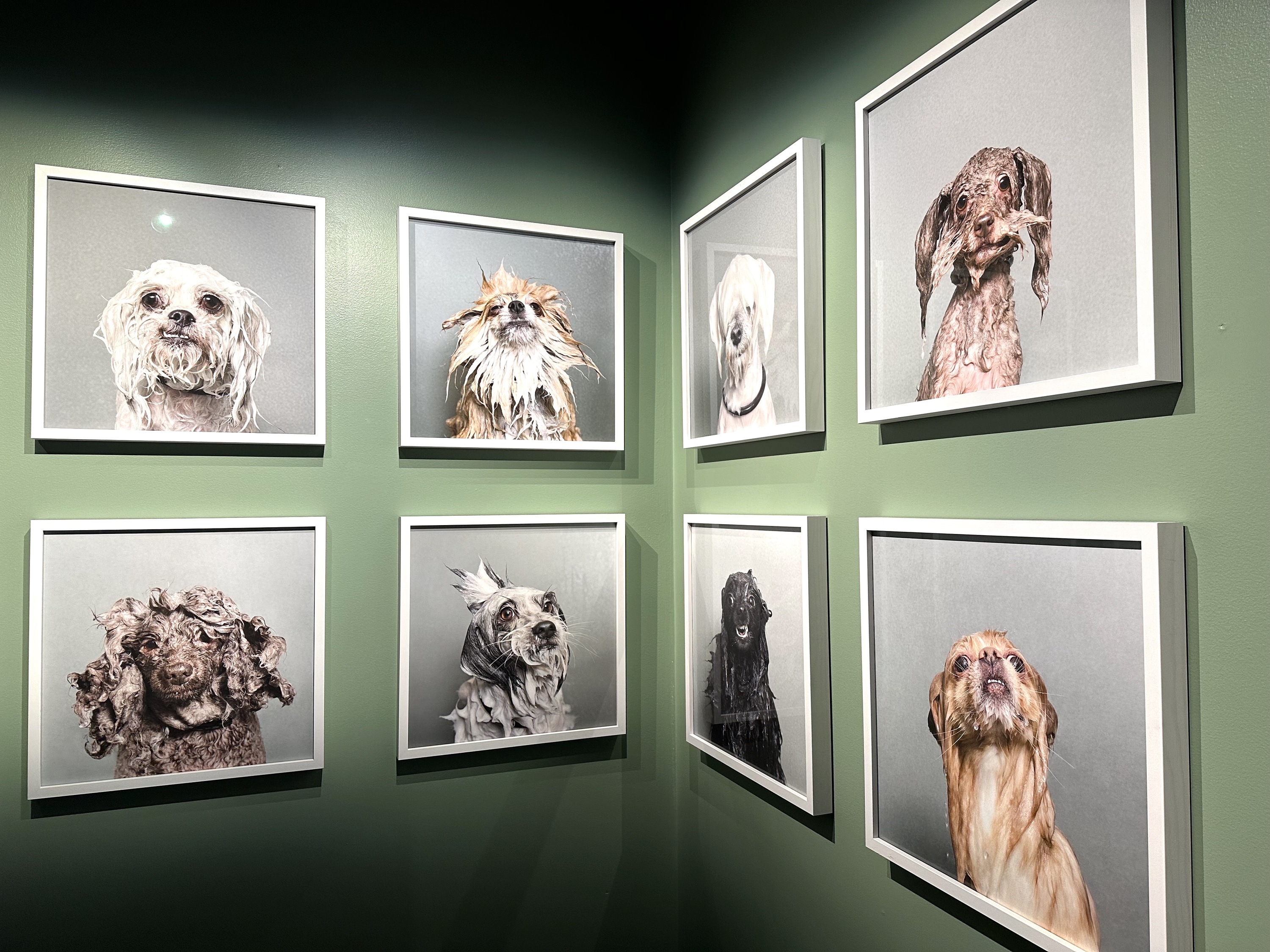 Some of the photos will make you laugh, some will make you sad, and some will make you want to go home and cuddle your pet. And if you don't have a pet, be sure to adopt from our local shelters in NYC.
"Photographers have been turning their lenses on animals since the beginnings of the medium," Fotografiska New York's Executive Director Sophie Wright said. "Of course, 'Best in Show' is meant to be fun. We want it to delight and entertain and bring smiles to your faces."
To complement the exhibit, Fotografiska is hosting several special events, including pet portraiture sessions where you can bring your own pet for a photo with a pro. Several Yappy Hour dog adoption pop-ups are also coming up, to be held at Madison Square Park. On October 15, go on a museum-wide scavenger hunt with Animal Planet's Puppy Bowl Referee Dan Schachner.
"Best in Show: Pets in Contemporary Photography" is on view now at Fotografiska, a photography museum in the Flatiron District, through January 2024. The museum is open Sunday-Wedsnesday 9am-9pm; Thursday-Saturday 9am-11pm. Tickets cost $30 adult, $20 senior/student/military/veteran.