Last month, four coworkers from Red Hook's Somtum Der opened their own restaurant in Carroll Gardens, not too far away.
"More like friends and family," Meen Srisopa, one of the new owners, describes the quartet; a fondness that permeates the operation. Here, she's joined by Wannapa Jaisaen, Ben Sangdee and chef Rachanon Kampimarn, for whom Untable is named. "We usually call him Aun," Srisopa says.
Their aim is to serve preparations unlike anywhere else, informed by both Kampimarn's professional background and personal experience cooking with his mother and uncle, presented with what the team agrees is modern appeal.
A little more than 30 days after a quiet debut, groups gather outside and hope for tables at the walk-in-only address. Even on weeknights, and even with other good and great places to eat nearby. Those crowds will only grow, as Untable is New York City's best new restaurant of the year, so far.
A recently quoted 20-minute wait ended up slightly shorter; barely enough time to finish a rosé at Bar Bruno across the street. Untable has room for 26 at two- and four-tops in the warm, inviting space, where mostly Motown fills the air. Ten more bar seats are also allocated for dining, so you'll just have to pair fantastic drinks with splendid menu items.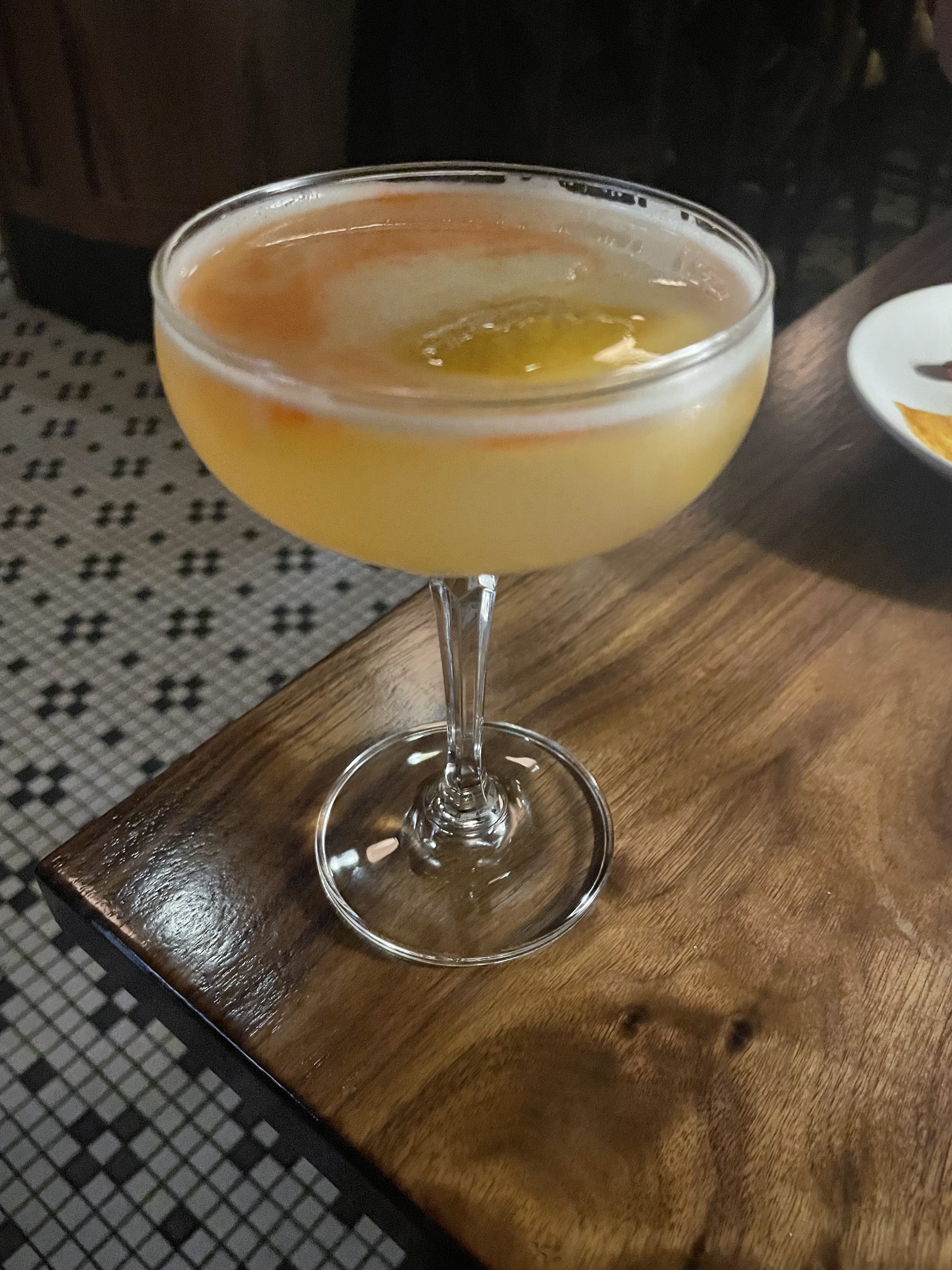 Untable's tipples are among the very few in current creation that challenge my general assertion that all the good cocktails already exist. The smoothly citrusy, vodka Ma-Krut seems like a signature, complementing everything. The Sexy Fig, with tequila, lime and bitters, is the fruity drink to which all fruity drinks aspire. And the Mean Girl's combination of sotol, cherry liqueur, Aperol, lime juice and bitters is just delicious. (All listed cocktails are $17.)
Every flavor in every recipe is also intentional, focused and orchestrated to sing. Unless it's say, a gingerbread house, I'd usually roll my eyes at foodstuffs characterized as "playful," but the tastes, textures and techniques coming out of Kampimarn's kitchen are so jubilant, the word is, at last, apt.
Start with the crab croquettes ($19/3). The golf ball-sized spheres of minced shellfish, breaded and fried to golden, are a success unto themselves. Their accompanying tom yum purée is an added triumph, layered with notes of lime and lemongrass and a glance of heat. They're topped with more lemongrass and lime leaf, crispy in their whole form, plus a dash of dried chili.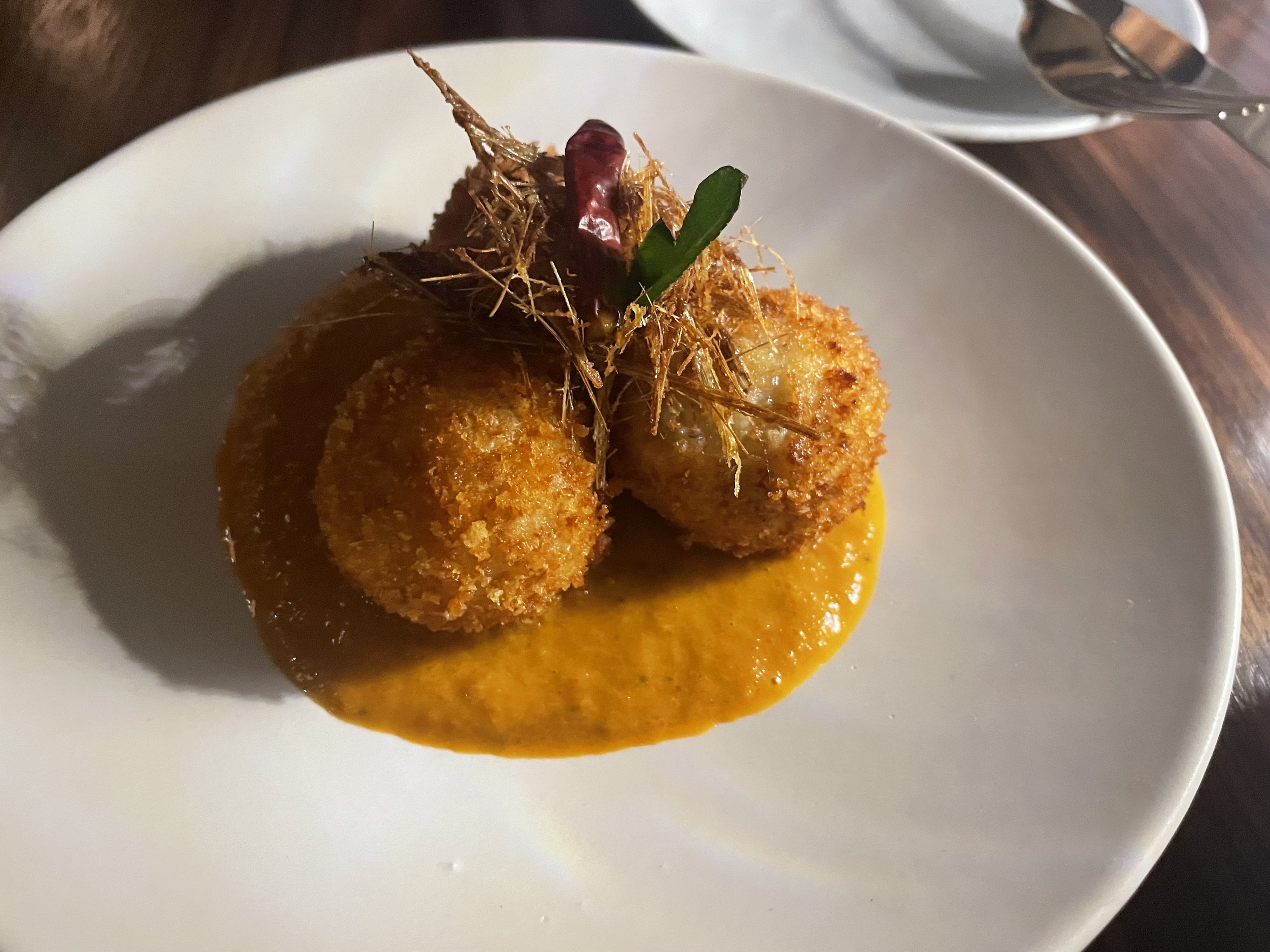 The tiger shrimp app ($19/2) is also tremendously dynamic. The duo peeks through brittle exoskeletons, with the perfect degree of yielding firmness inside. They, too, would be delightful on their own, but the bed of cashews, ginger, shallots, chili and lime, lightly bathed in a sparky dressing, sends the sum into another stratosphere, with freshness, another low heat and a rousing consistency.
You'll get at least a little spice from a lot of what they have here. The dish on everyone's lips is the "what the hell" fried rice ($26), printed with twelve illustrated chilis on the menu. Named for the staff's reaction upon first sampling, the heap is packed with several chili varieties sourced from Thailand. It's intended as intense as is, before you flick in even one fleck of the additional finely chopped fiery bits on the side.
Unadorned, to my high tolerance, it amounts to a prickly but pleasant sensation; eye-watering but not evoking rolling tears. For my husband, who's more or less at the same level, it registers with more of a scorch. And, according to Srisopa, it's manageable for most.
"Some people can handle the spicy, but some are just a baby level," she writes in an email "Eighty percent of the people that came here can handle it!! They know that is real stuff."
Now, once I add a modest measure of those additional chilis, sliced as tiny as they are, even I edge toward that other 20 percent. The whole lot, really just a couple of pinches worth, would likely send me over the day-to-day heat peak I'm used to. This DIY component works out wonderfully because, rather than the direct blaze I sometimes crave, what the hell can be calibrated just to enliven the rice and the other ingredients—another great shrimp, a small portion of sweet pork, rolled egg, onions, mango and cucumber—that surround it like a pinwheel, rather than simply torch the whole thing to double hockey sticks, nuance be damned.
Untable's "what the hell" fried rice ($26) is its can't-miss, and, like the restaurant overall, it's one of the greatest culinary hits to emerge in 2023. But there's plenty of other great stuff here, too. The Chilean sea bass ($38) is, as the fish is wont to be, depths milder. After a lemongrass, galangal and lime leaf marinade, it's oven-baked to immaculately moist tenderness beneath a taut crust and served with steamed vegetables that lately include squash, cauliflower and broccoli stacked over a tomato-based sauce that carries the combination's sole kick. The kao-soi's noodles have a lovely spring, appearing with grass-fed beef and Chiang Mai-style curry that also lands on the gentler side. There's even a kids menu, with options like an American fried rice ($18) with a choice of fried chicken or sausage, for any actual tots in attendance.
Vitals
The Vibe: A chummy, inviting, neighborhood kind of place that'll put you at ease, even as it's also poised for 'impossible table' status.
The Food: Self-described "unconventional Thai food," with crab croquettes in an unparalleled tom yum purée, tiger shrimp beyond reproach and "what the hell" fried rice that's hot in more ways than one.
The Drinks: The best new cocktails in NYC outpacing cocktail bars all over town, plus wine and beer.
Untable is located at 529 Henry Street. It is open Thursday-Tuesday from 12pm-3pm and 5pm-9:30pm.
See all NYC restaurant reviews here.