The Mister Sunday guide
Your complete guide to the weekly NYC summer party Mister Sunday, including food and drink offerings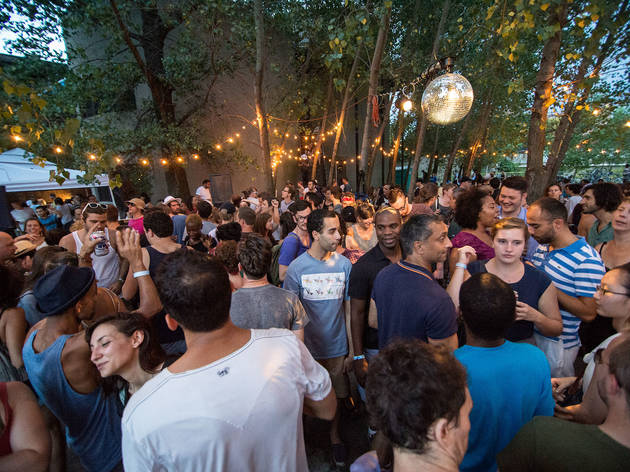 The sun is finally out and teasing you to get out and have some fun! DJs Justin Carter and Eamon Harkin know how to get a party started with a steady mix of house, funk and disco all day long. The Mister Sunday summer series, regularly one of the best parties in NYC, sets up shop every year at the outdoor bar venue Nowadays—located on the edge of Bushwick. There's plenty to eat from Arrogant Swine BBQ and Nowadays' vegan and veggie-friendly kitchen, with locally brewed beer, sangria and margaritas all on tap. The whole set up doubles as a dog-friendly restaurant too, as pooches (with leashes) are welcome. Children under 18-year-old are also invited (and free) if accompanied by an adult.
RECOMMENDED: Full guide to the best things to do outside
When is Mister Sunday?
Mister Sunday happens weekly on Sundays through the end of October. The 2019 season begins on May 12 and the last party is on October 20.
Where is Mister Sunday?
Mister Sunday takes place at Nowadays, 56-06 Cooper Ave, Queens, NY.
How do I get tickets to Mister Sunday?
Go to MisterSaturday.com to buy advance tickets, or arrive early to buy tickets at the door.
What's the best way to get to the Mister Sunday?
Take the L Train to Halsey Street—or jump on your bike (a taxi will also do just fine).
See a map of Mister Sunday
Mister Sunday 2019
Archive Mister Sunday content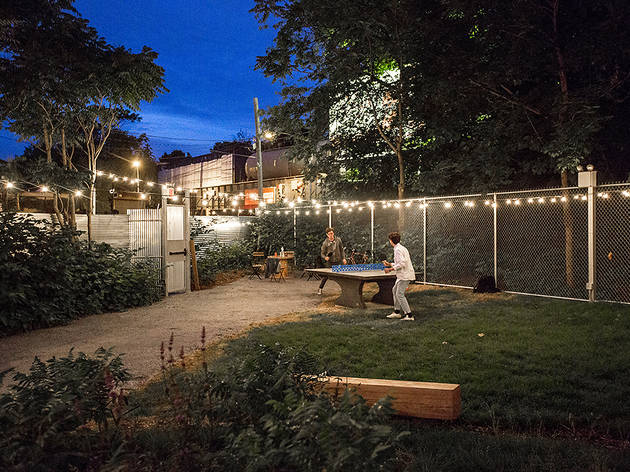 Outdoor megaspace Nowadays returns for the summer tonight!
One of NYC's best things to do outside is back for its third year as of today. Nowadays, the 16,000 sqft all outdoor Ridgewood space is part massive outdoor bar, part Smorgasborg-style food market, part dance party. With lots of places to lounge, play games, hang out with friends, it is the exact remedy for all those nights spent holed up in tiny bars in the winter. In addition to the return of the much-loved Mister Sunday series, the space is also welcoming some exciting new partnerships this season. Among these, experimental venue Le Poisson Rouge will be producing a weekly outdoor live music series. On Friday and Saturday from 8pm-2am vinyl "selectors" will be showcasing their favorite albums, so you can discover obscure music gems as you enjoy a brew with friends.   Food and drink-wise, the Nowadays food truck will now be run by Purslane – the catering company run by our partner Henry Rich, also of Metta, Rucola, June, and Fitzcarraldos. Expected later in the season are cookouts from East Williamsburg BBQ joint Arrogant Swine.   Film buffs need not be excluded from the fun either, as there will be a weekly film series in collaboration with independent documentary center Maysles Cinema, starting June 7th.   Dogs and children are always welcome, and Nowadays entrance is free every day except during Mister Sundays performances, where tickets can be purchased ahead of time here. If you can make it out early today, kick off the season at their 2-for-1 happy hour, every we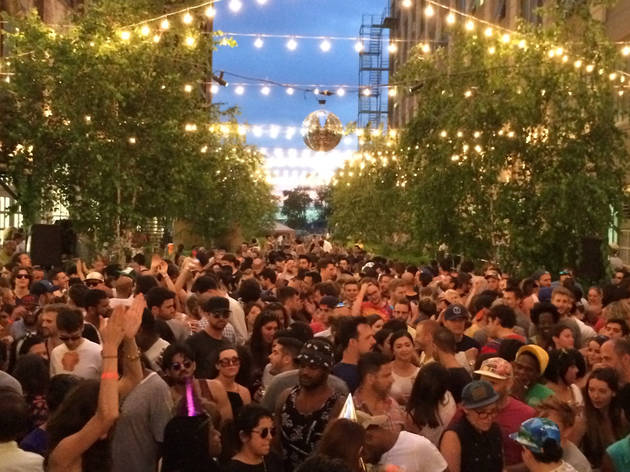 The epic outdoor dance party "Mister Sunday" is coming back with a killer opening party
Nothing beats getting out of a long winter like the combination of vitamin D and dancing-induced endorphins—and Mister Sundays has you covered for both. The hugely popular Sunday institution at Ridgewood's all-outdoor Nowadays space is gearing up for its summer lineup with an opening party on May 14th. For those who didn't get a chance to experience it last year, Mister Sunday is the open-air iteration of the popular "Mister Saturday" parties, where the best DJs play experimental (yet always highly danceable) jams to a 16,000-square-foot lot. In addition to the dance floor, the outdoor area is furnished with picnic tables and grassy knolls for lounging, food and drink vendors, and games like bocce ball and ping-pong. You can even bring your dog! This year promises new improvements to combat the long lines that arose out of the overwhelming success of last year's parties. The venue has re-introduced an RSVP system for early and discounted entry, and the dance floor is equipped with ample shade so you can keep moving in comfort. They also recently met their Kickstarter goal set up to finance the construction of an indoor space, which will mean soon the parties will be able to continue all year long. Here is the lineup for 2017:  May 14th- Mister Sunday Outdoor Season Opener May 21st- Avalon Emerson and Eamon Harkin May 28th- Memorial Day Weekend Special June 4th- Justin Carter and Eamon Harkin June 11th- Justin Carter and Eamon Harkin June 18th- Rick White June 25th -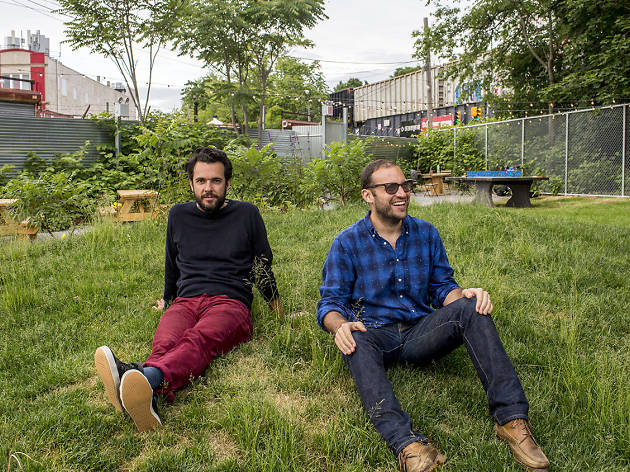 Inside Planetarium, Mister Saturday Night's immersive listening party
Walk down a dark block in an industrial stretch of Ridgewood, Queens, enter an unmarked warehouse building, walk up a few stairs, and open a door to a room swirling with rhythm. Sounds like the start of your typical underground dance party, right? Not even close. For one thing, the song that's playing is "Juicy Fruit," an 11-minute Coleman Hawkins jazz classic from 1957 that features one of the creamiest trumpet solos (courtesy of Idrees Sulieman) you've ever heard. For another, that crowd, for the most part, is horizontal, laying down on an array of blankets and intently concentrating on the music. Cell phones are off, by request, and alcohol, which is BYO, is far from the focus.  You've just walked into Planetarium, the latest venture from Eamon Harkin and Justin Carter of Mister Saturday Night/Mister Sunday fame. The event—more of a happening than a party—sprang to life last summer and is now held monthly in a private loft space. "We realized that there was this distinction between the music we play at Mister Saturday Night and the music that we play at home," says Harkin. "We're both pretty voracious collectors of records, and we have all this stuff we wouldn't play at the party—and we were looking for an outlet for that."  "Back when a Beatles album would come out, you would all gather at a friend's place...I think people miss that" That search led the pair to the idea of a "communal listening" experience. "It's not really that groundbreaking of an idea," admits Harki