Heads up! We're working hard to be accurate – but these are unusual times, so please always check before heading out.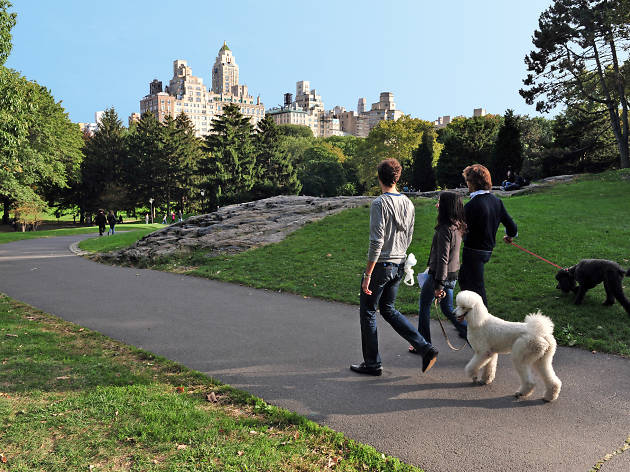 The best dog parks in NYC
Find the best dog parks in every borough, from waterside green spaces and expansive dog runs to lesser-known respites
Get that pooch out of your cramped pad and into one of these stellar and frolic-friendly dog parks. Don't have a furry four legged friend yet? We have you covered with this list of the best places for pet adoption, as well as parks in NYC and other cool things to do outside with your favorite critter.
Dubbed First Run, this East Village off-leash dog area was a pioneer when it opened in 1990. Tompkins Square Dog Run, which underwent a renovation in 2008, boasts a sandlike surface, a wading pool, picnic tables, tennis balls and lots of room for dogs to ramble, with two separate enclosed spaces for large and small canines.
Head over to Battery Park to pay tribute to the beloved labrador retriever Sirius, a Port Authority K-9 that was killed during the September 11th attacks. After showing your respects, overlook the Hudson River from benches while your pup plays on paved hills and frolics through the cratered doggy pool.
Although the area is hella busy, the double-entry gate ensures that pooches won't get on the loose at this shady, tree-strewn space. Owners can join the park's membership program for special critter-friendly events and perks like a Mad. Sq. Dogs Collar Tag.
Located in Hudson River Park, this dog run, which is split into areas for pooches both big (more than 23 pounds) and small (less than 23 pounds), has high-tech sprinklers to keep your pal cool and entertained during hot months. And for pets who'd prefer to stay dry, the waterfront spot has large rocks for playtime climbs.
This a beautiful, wide-open space has off-leash hours from 5am to 9am and from 9pm to 1pm. Oh, and did we mention the dog beach? A segment of sand is roped off just for dogs to run into the lake water and swim around on hot days.
The Dumbo doggie den at this expansive fenced-in green space has small hills covered in wood chips and grass that pup pals can roll, jump and play fetch on all day. Rover can splash around in the baby pool, too, before hanging out with his owner under the ample shade at a nearby picnic table.
Does your dog have a ton of energy? Check out Fort Greene Park, which has plenty of off-leash hours, so they can feel the wind on their fur as they races around the grassy hills.
The ground is rubber at this Dumbo go-to, so there's no mulch or dirt to muck up your puppy's paws. As far as dog park culture, the regulars here tend to be very responsible and friendly. Word to the wise, though: The run is down under the Brooklyn Bridge, so if your dog is sensitive to loud noises, it's best to steer clear.
This Bed-Stuy park is divided into two areas, but they're not segregated by dog size. The main area is larger and a bit dustier from the wear and tear of puppy paws. The smaller area is great if your dog has social anxiety or if you just want to play a bit of one-on-one catch.
This Dyker Heights fave attracts a substantive crowd because, well, the park itself is huge. It's split into two sections, one for big dogs and one for little dogs, so pup-squeaks don't have to worry about getting tackled. There are also water fountains for critters to stay hydrated, a grassy portion for a little terrain diversity and a super convenient doggy-bag dispenser.
This little annex to McCarren Park is almost entirely shaded and offers park benches for humans to sit and watch the puppies at play. The pooches here come from a range of training backgrounds, which can stir up a bit of drama, but the run is small enough that your BFF will always be in sight.
The city granted this green space a $500,000 upgrade in 2010, and it has since become a Bayside must with its scenic water views. The park's mixture of gravel and sand will make it feel like a day at the beach for your pooch, and there's plenty of free parking.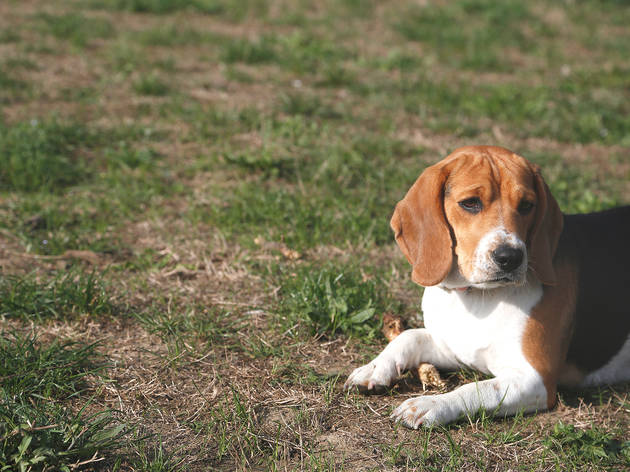 Photograph: Shutterstock
Rockaway Freeway Dog Park
Looking for ample space? With nearly two acres of grass and paved walking tracks, Queens' largest dog park has all the land you and yours could need for exercise. Its proximity to the beach is icing on the cake.
A decade in the making, Sunnyside's first dog run opened in 2013 as part of a $1.4 million overhaul. The park is bordered by plants and divided into sections for small and large dogs. Other perks include a kiddie pool for pups and nearby bathrooms for their owners.
Just a juant from the Bronx's Orchid Beach, this dog run was revamped back in 2015 to include separate sections for small and big dogs, and features doggie bags for cleanups, as well as a free-of-charge parking lot.
Fancy a workout? This 14,000-square-foot park, dubbed the Canine Court, offers agility obstacles like hoops, tunnels and seesaws that help your dog release pent-up energy.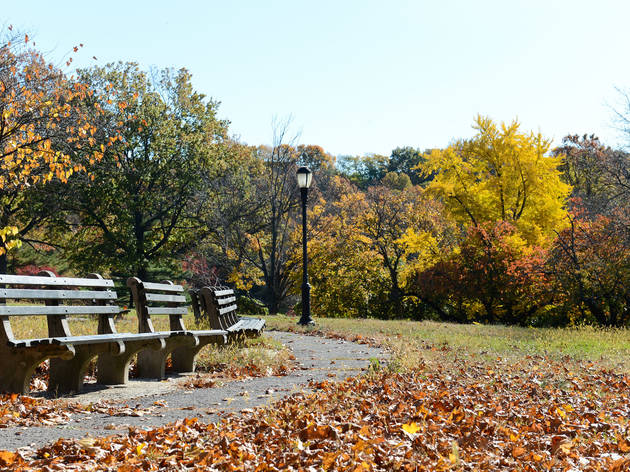 Photograph: Courtesy NYC Parks
Most dog runs are grass-free, but this spacious Staten Island spot takes a green approach with fenced-in fields and lucious trees. Pets can run off-leash through the dirt and then quench their thirst with the doggie water fountain.
Discover more fun things to do with pets