Astoria, Queens neighborhood guide
Astoria, Queens has an ever-growing collection of bars, restaurants and shops. Here are the spots that stand out.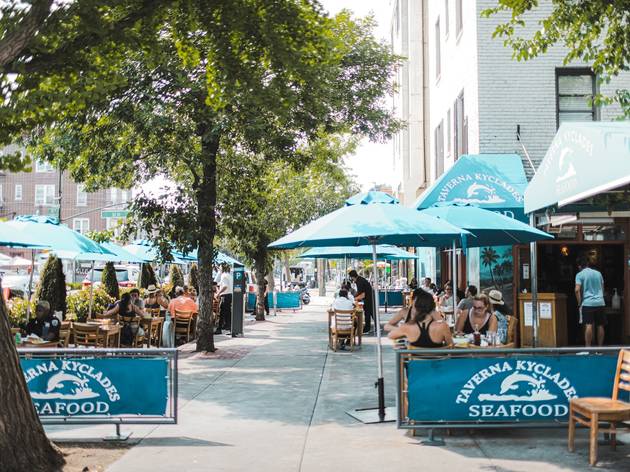 What's the deal with Astoria?
If you haven't been to Astoria, you're missing out on one of the coolest neighborhoods in the world—and NYC's coolest overall. We're not exaggerating.
The neighborhood is a melting pot of cultures with huge Greek and Middle Eastern populations and, unsurprisingly, a thriving bar and restaurant scene that there's always something new to try. Maybe you've heard of Taverna Kyclades? It's been named one of the best Greek restaurants in all of New York. In fact, some of the neighborhood's best recipes can be found in a new cookbook!
What's the best part about Astoria? Going out is budget-friendly. Prices are generally less than Manhattan's, from its menu prices to what you'll pay at its independent boutiques and record stores.
Astoria definitely gives hip Brooklyn neighborhoods a run for their money—it's more affordable and just as cool.

If you only do one thing

Grab a coffee at Astoria Coffee and walk to see the amazing street art at The Welling Court Mural Project.
Go off the beaten track

Walk to the Socrates Sculpture Garden for incredible views of the Manhattan skyline and fun art installations you can take selfies with.
On a sunny day

Go to Astoria Park for a picnic of sandwiches you picked up from The Sandwich King of Astoria.
On a rainy day
Catch stand-up comedy or a class at Q.E.D Astoria, the neighborhood's much-loved resource for all things educational and fun. You can take lessons from swing dancing to podcasting.
Get cultured

Catch a film at the Museum of the Moving Image and peruse its incredible exhibits, including the one about Jim Henson and his Muppets.
Chill out

Meet friends at the Beer Garden at Bohemian Hall for a chill night out with Czech beer and grilled bratwurst.
Nearest subway stations
Get on the N or W train and head to 36th Avenue, Broadway, 30th Avenue, Astoria Boulevard or Astoria-Ditmars stops. Alternatively, you can take the M or R train to Steinway.
What else is nearby?
Long Island City (take the train to Queensboro Plaza) is a culture hub, where MoMA PS1, Obie-winning theater the Chocolate Factory, and new writers' and artists' salon the Oracle Club are found.
Things to do in Astoria, Queens