Heads up! We're working hard to be accurate – but these are unusual times, so please always check before heading out.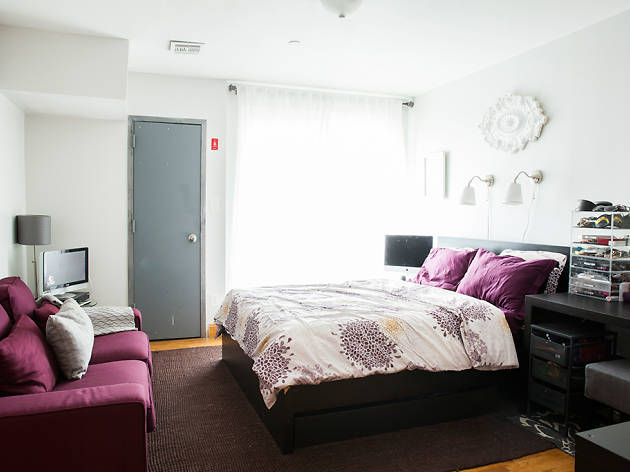 How these New Yorkers scored actually cheap, amazing apartments
We take a peek into savvy New Yorkers' awesome (and awesomely affordable) apartments. Prepare to get jealous.
Here's what we know about apartment hunting in New York: It sucks. Competition is insane (8.5 million of us are crammed into this city's bedrooms, which can be as small as 80 square feet), and flawless credit and an annual salary that's at least 40 times the monthly rent are standard leasing requirements. Plus, spending $1,000 a month for a windowless room in a sixth-floor walk-up is (somehow) considered a steal. The thought of writing a rent check that doesn't reduce you to tears sounds nice, right? Believe it or not, it's possible. We rounded up a few shrewd—and admittedly very lucky—local New Yorkers for the dish on how they scored these affordable apartments in NYC.

Photographs by David Williams

RECOMMENDED: See our full NYC apartments guide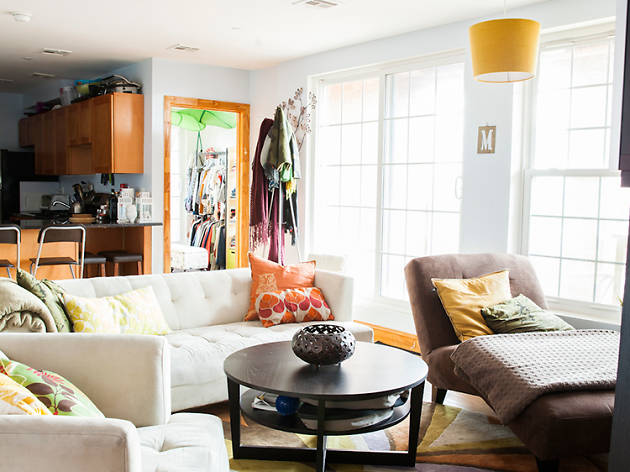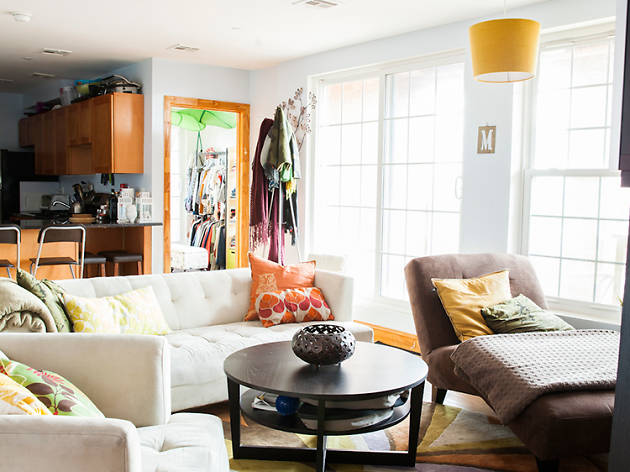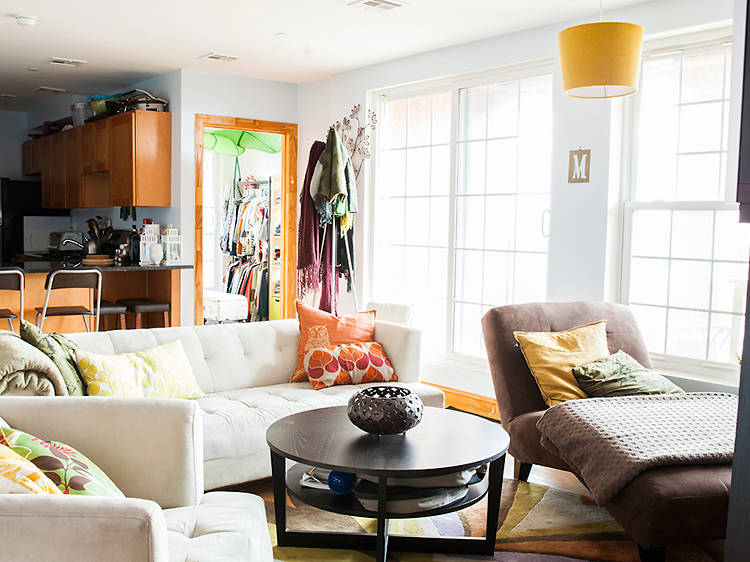 Photograph: David Williams
Three-bedroom, two-bathroom in Crown Heights, Brooklyn; $2,650 per month
Though they grew up sharing a bedroom and bathroom on Long Island, the Remy sisters, Michelle, 36, and Martine, 34, envisioned having more room of their own. What they initially wanted, however—a two-bedroom, two-bathroom—proved hard to come by. "There aren't many out there," says Michelle. "They're mostly two-bedroom, one-bathrooms." With that in mind, the two, who were living separately in Bed-Stuy, expanded their search to include three-bedrooms and spotted their current home on StreetEasy. "The moment I saw it, I knew it was what we were looking for," says Martine, noting swanky features like an en suite master bath, a washer-dryer, three balconies and an extra bedroom that she could use however she pleased. But the most impressive amenity of all? A private elevator entrance. While another would-be tenant waited outside for Martine and the broker to wrap up their appointment, Martine applied for the apartment on the spot, divulging her salary and credit history. A week later, it was officially the Remy sisters', complete with what Michelle says they "had to have": their very own bathrooms.

Key tip: Have your financial documents on you when checking out a place.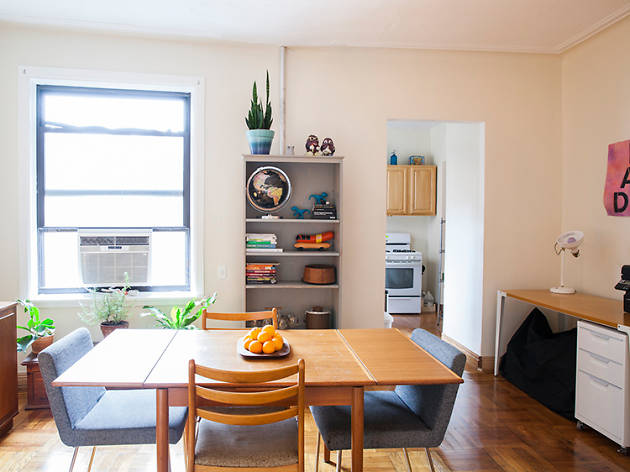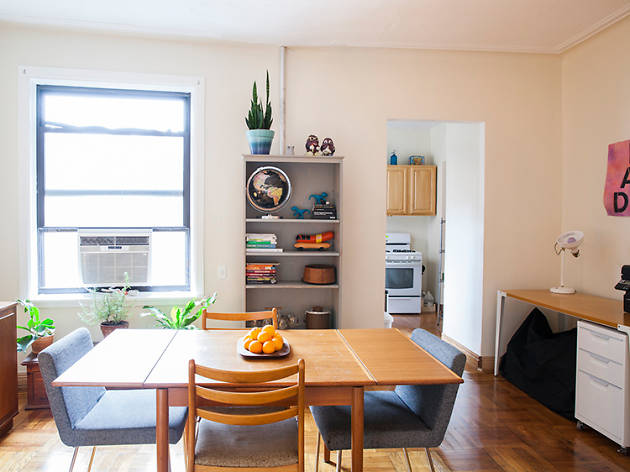 Photograph: David Williams
Two-bedroom, one-bathroom in Prospect Lefferts Gardens, Brooklyn; $1,248 per month
Alex Vessels knew it was time to move when he found himself paying $1,068 every month for a poorly lit box in a Park Slope three-bedroom. "I wanted to find one of those mythical rent-stabilized apartments," the 36-year-old says, "so I created a search for those on StreetEasy and checked it every day." Soon a promising pad appeared: a 1,000-square-footer with soaring ceilings, bay windows and two storage closets that would set him back less than $630 a month with a roommate. Damn. Vessels hit the open house prepared to win the landlord's affection. "I put together a welcome package about myself that included my résumé and a letter about why I wanted the apartment," he says. While the place ended up going to another applicant, his paperwork wasn't in vain. As the landlord's second-choice tenant, Vessels got first dibs on a unit in the building with the exact same floor plan. Due to rent-stabilization guidelines, he has the lease for life if he wants it, and the landlord has only been able to raise the monthly rent by $48 since he moved in three years ago. Vessels spruced up the already-renovated digs with dimming lights and a sectional sofa big enough for five. Oh, and it's four friggin' blocks from Prospect Park. Mythical indeed.

Key tip: Meet your prospective landlord as if you're auditioning for the movie role of a lifetime.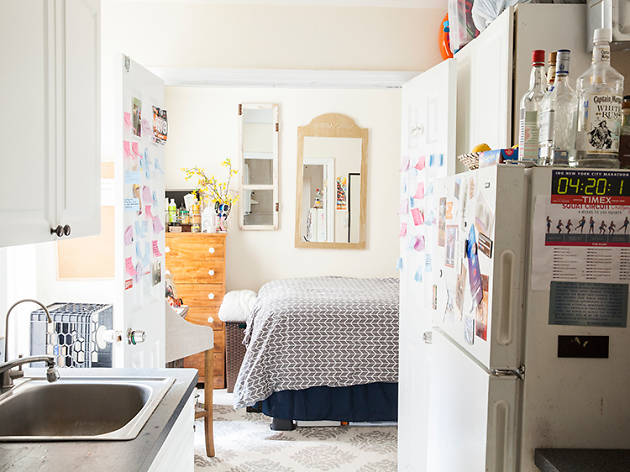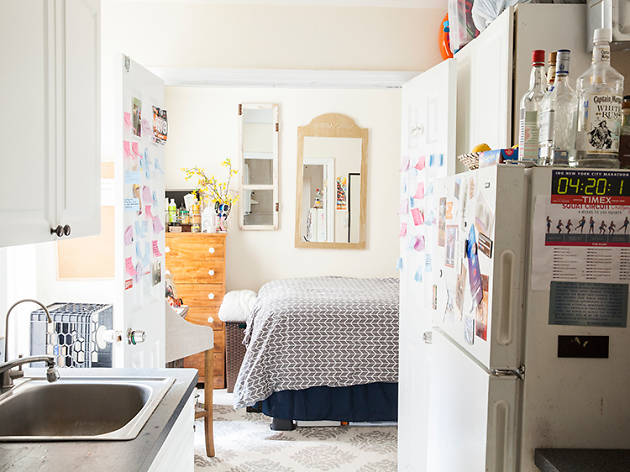 Photograph: David Williams
Four-bedroom, one-bathroom in Harlem; $2,750 per month
When Cambrey Thomas answered a call from a grad-school friend in June 2011 and heard "Harlem…$650 per month…right by Morningside Park," she staked her claim. "I said yes, sight unseen," the 28-year-old says. That the place also had four bedrooms, each big enough to fit a queen-size bed, desk and dresser, not to mention a galley kitchen and loads of natural light, was icing on the cake. So when her roommates moved out the following year, she had no problem recruiting another pal, Ashley Calloway, to move in with her and cosign the lease. "The first time I came over and saw the long hallway in the entryway, I was a little jealous," the 27-year-old says. Today, Thomas and Calloway share the space with two other roommates. Thomas's room—the biggest, where she can do a cartwheel even with her four-poster planted there—is now $771 a month, and Calloway, who painted a pink chalkboard wall in her room, pays $702. Their roomies dish out just $651 and $626. (Those are Rudy Giuliani–era prices!)

Key tip: Ask every person you know if anything is available. Under-$700 deals are out there.