10 best roasted chicken dishes in New York City
With the NoMad's burnished bird reaching iconic status, the age of the regal roasted chicken has arrived. Try these standout versions at restaurants around NYC.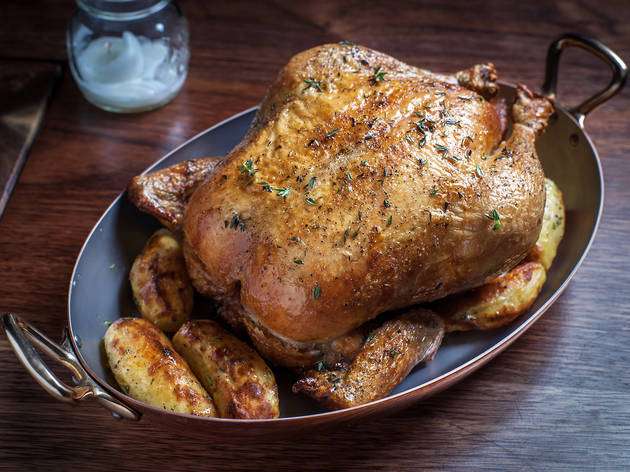 1/10
Photograph: Noah Fecks + Paul Wagtouicz
Roasted farm chicken for two with roasted potatoes, market vegetables and natural jus at Bread & TulipsAt this Italian-inflected farm-to-table eatery, chef Juan Ramale brines his Lancaster, Pennsylvania–sourced bird overnight to lock in moisture, along with the flavors of fennel and coriander. He cooks it three ways to achieve both tender meat and crackling skin: first sous vide with butter; then slow-baking it in a low-heat oven; and finally crisping the bird under a quick blast of heat in his high-firing Pavesi brick oven, imported from Modena, Italy. Natural jus from the poultry's drippings boosts the meat's succulence, and seasonal accoutrements (like potatoes scented with lemon thyme and tricolor cauliflower florets) complete the plate. 365 Park Ave South at 26th St (212-532-9100). $22 per person.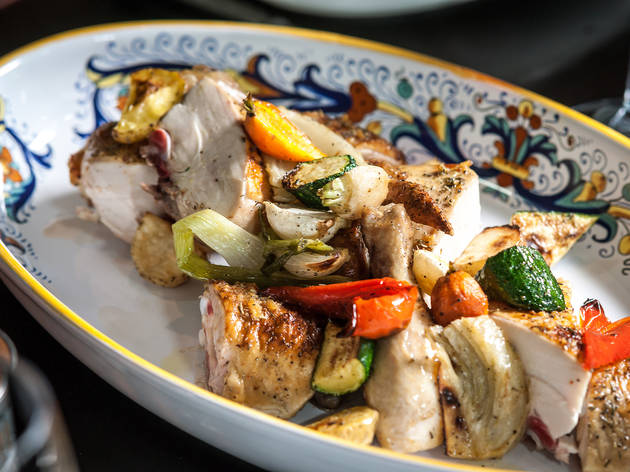 2/10
Photograph: Noah Fecks + Paul Wagtouicz
Fire-roasted garlic chicken at Locanda VerdeFor the statement bird at Andrew Carmellini's mobbed Italian brasserie, a whole all-natural chicken from Pennsylvania is brined and marinated overnight in a zingy mixture of Sicilian oregano and roasted-garlic confit. It's then cooked in a wood-burning oven to a golden-brown finish; covered in rosemary and thyme; and drizzled with pan drippings and lemon juice. Carried aloft on a capacious platter, the meat is crowned with charred, seasonal vegetables (fennel, acorn squash) that amp up the dish's smoky flavors. 377 Greenwich St between Franklin and North Moore Sts (212-925-3797). $50 for two, single portion for $25.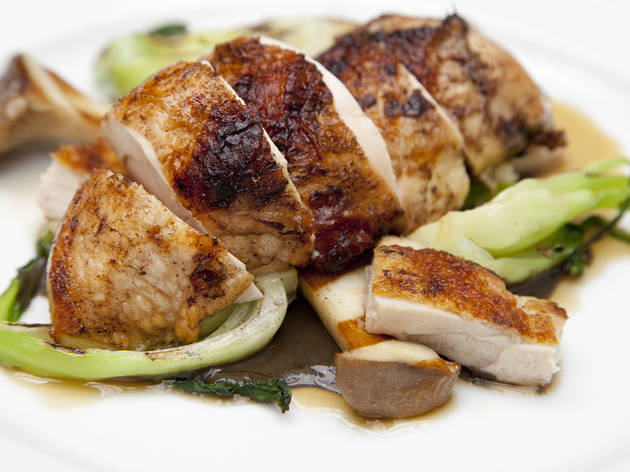 3/10
Photograph: Dominic Perri
Smoke-roasted chicken with grilled trumpet mushrooms, bok choy and huitlacoche puree at Mas (la grillade)The superb, earthy chicken at Mas (la grillade) is an exercise in restraint, employing little besides top-notch ingredients, smoke and seasoning. Chef-owner Galen Zamarra covers and wood-smokes his pasture-raised bird—from upstate farm Violet Hill—before sizzling it on the grill over a mix of apple, cherry and oak hardwoods until its skin reaches a dark, baconlike crisp. Rich and smoky, the luscious meat is sliced and placed atop a nutty-sweet puree of huitlacoche, the "Mexican truffle," and meaty grilled trumpet mushrooms. Crunchy bok choy served alongside balances the dish with a bitter snap. 28 Seventh Ave South between Bedford and Leroy Sts (212-255-1795). $34.
4/10
Photograph: Virginia Rollison
Label Rouge chicken at Il Buco Alimentari e VineriaAt this Noho offshoot of Italian eatery Il Buco, chef Justin Smillie gives new meaning to the phrase spring chicken with this bright, citrusy rendition of the poultry classic. The Label Rouge bird—a free-range chicken raised according to the highest French poultry standards—is brined in salt and sugar, rubbed with harissa and Moroccan spices, and roasted in a roaring wood-burning oven. Neatly piled on a plate, the legs, breasts and thighs boast a satisfyingly crunchy skin just shy of burnt and juicy meat that's piquant with heady spicing. The warming dish is brightened with fruity, garden-fresh flavors, thanks to velvety avocado chunks and a tangle of greens dressed in a champagne vinaigrette infused with lemongrass and chili. 53 Great Jones St between Bowery and Lafayette St (212-837-2622). $32.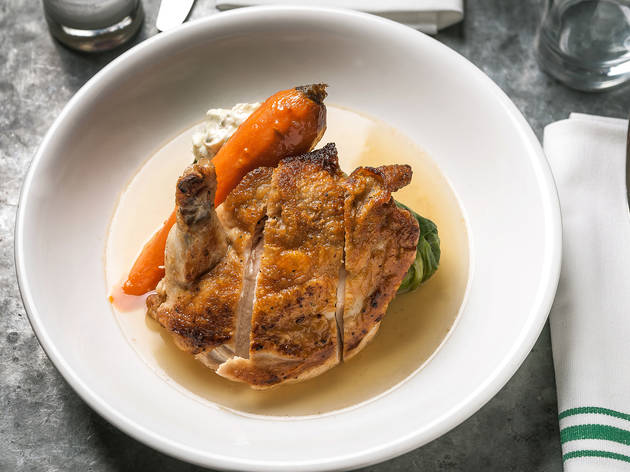 5/10
Photograph: Noah Fecks + Paul Wagtouicz
Crispy roasted chicken, stuffed cabbage and carrots at CalliopeHusband-and-wife team Eric Korsh and Ginevra Iverson punch up the soul-warming favorite—homemade chicken soup—with an upmarket play on the poultry's light and dark meat at their East Village throwback bistro. The breast is seared in duck fat in a Matfer black steel pan—a traditional French technique for producing superior caramelization—and arrives duly moist and wrapped in a thick layer of crackling-crispy skin. Served in a bowl of steaming fragrant stock, the glistening slab is accompanied by its richer counterpart: a confit of dark meat, celery root, parsley butter and chives, all wrapped in a soft cabbage leaf. 84 E 4th St at Second Ave (212-260-8484). $25.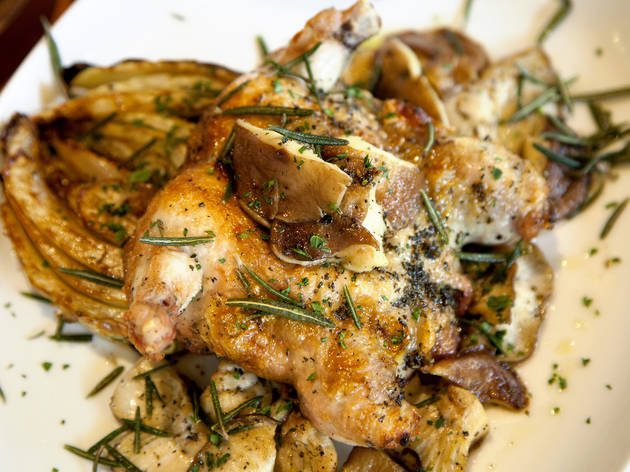 6/10
Photograph: Dominic Perri
Roasted organic chicken with Italian herbs and roasted mushrooms at RafeleNaples native Raffaele Ronca brings his family's galletto arrosto (roasted chicken)—a recipe handed down for generations among butchers and fishermen—to the West Village at his seasonal Italian spot. The toque debones an organic, one-pound poussin (from old-world butcher Ottomanelli & Sons) and marinates it for 24 hours in a fragrant herb blend of lemon verbena, garlic, rosemary and thyme. Ronca roasts the delicate poultry in a wood-fired Acunto brick oven imported from Italy, and tops the gloriously browned meat with delicate chanterelle and shiitake mushrooms. 29 Seventh Ave South at Morton St (212-242-1999). $25.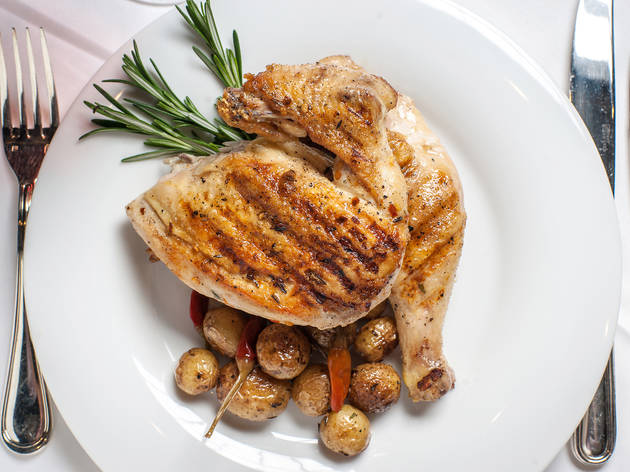 7/10
Photograph: Paul Wagtouicz
Pollo pressato at Salumeria Rosi Parmacotto Il RistoranteA sprig of rosemary sits atop every plate's napkin at Italian chef Cesare Casella's Upper East Side outpost, and the toque is known to keep a tuft of the herb in his breast pocket as well. So it's not difficult to guess how he seasons his Bell & Evans half chicken—the beautifully browned skin of the chicken is speckled with fine needles of the woody herb. Lemon juice, pungent garlic and a thick coating of cracked peppercorn also flavor the succulent meat, which bears the markings of the eight-pound iron weight used to press it while roasting in a pan. The traditional Tuscan dish gets a slight hit of spicy heat from the peperoncini garnishing the pile of roasted Vescovo potatoes on the side. 903 Madison Ave between 72nd and 73rd Sts (212-517-7700). $29.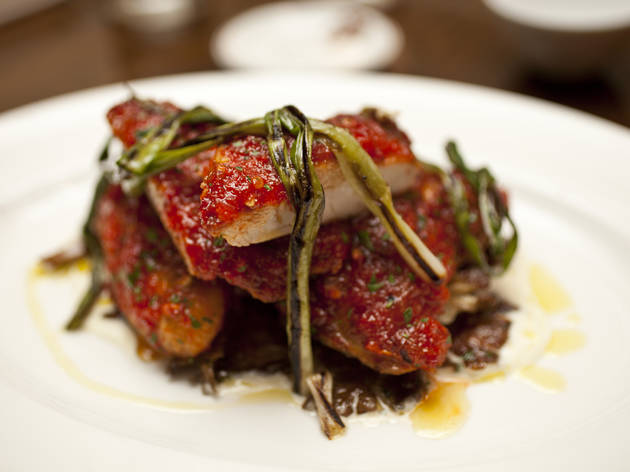 8/10
Photograph: Virginia Rollison
Guinea hen alla diavola at PerlaMichael Toscano made his name with superlative pastas and meatcentric plates at Manzo and Babbo, but the chef proves his touch with poultry via this hearty, sweet-and-sour dish. Toscano brines guinea hen—the half step between chicken and turkey—and then cooks it in a CVAP moisture-controlled oven and grills it. The dark, rich meat is slathered in a sticky diavola sauce—a cooked-down glaze of Calabrian chilies, pickled cherry peppers, honey and lemon juice—and then bolstered with charred scallions and caramelized oyster mushrooms. A tangy buttermilk crema lends a cooling counterpoint, reminiscent of an upmarket take on the blue-cheese dressing served alongside buffalo wings. 24 Minetta Ln between Sixth Ave and MacDougal St (212-933-1824). $27.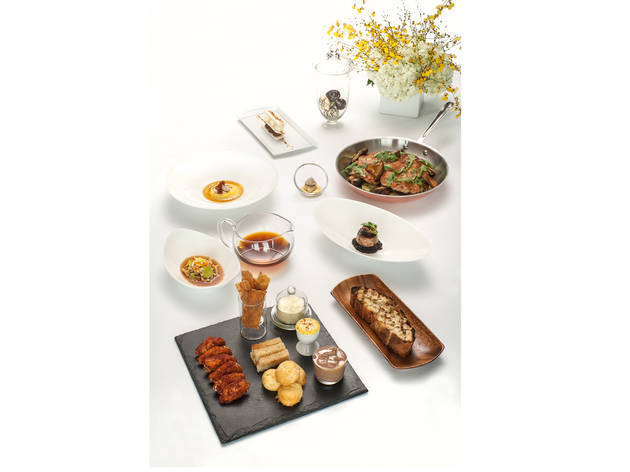 9/10
Photograph: Noah Fecks + Paul Wagtouicz
Which Came First tasting menu at A Voce ColumbusHumble roasted chicken breaks out of the rustic-Italian mold with this elegant tour de force—a tasting menu highlighting the bird's different parts—from chef Missy Robbins. The seven-course meal kicks off with a trio of decadent dips, including a lush chicken-liver mousse. A series of contrasting plates follows: chewy passatelli pasta and toothsome root-vegetable cubes bob in a soothing chicken broth; a soft round of chicken-and–foie gras sausage provides richness on a bed of earthy lentils; and bacon crumbles lend a salty crunch to a pillowy ricotta-stuffed raviolo. Two fried chicken "oysters"—the prized nuggets from divots in the bird's thighs—arrive in a pool of creamy custard, allowing you to catch your breath before the menu's finale: A whole, pan-roasted D'Artagnan bird is served in a copper skillet, nestled with bitter arugula, earthy porcini mushrooms and potatoes braised in chicken fat. Robbins closes the show with a chocolate egg hiding a fortune-cookie slip. 10 Columbus Circle at Broadway, third floor (212-823-2523). $95 per person; reserve at least 72 hours in advance.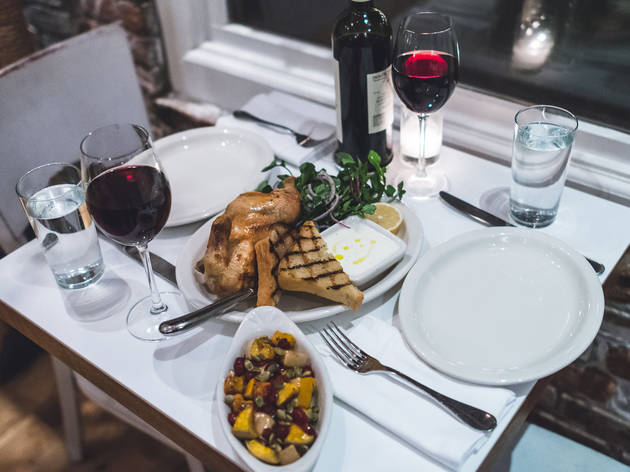 10/10
Photograph: Loren Wohl
Rotisserie chicken, watercress, yogurt, lemon and toast at 606 R&DTo maximize juiciness for her superlative chicken, Ilene Rosen (of City Bakery) brines free-range, Pennsylvania-raised birds for 24 hours, and then slowly spins them on the rotisserie for an hour. She offsets the meat's richness with tart Seven Stars Farm plain yogurt, a peppery watercress salad and fresh lemon wedges served on the side. The chicken's delectable drippings serve as butter spread over crunchy slices of sourdough toast. 606 Vanderbilt Ave between Prospect Pl and St. Marks Ave, Prospect Heights, Brooklyn (718-230-0125). Half $20, whole $30.
By

Marley Lynch, Christopher Ross and Mari Uyehara
|
Roasted chicken has long been considered the test of a good chef, a simple dish that lends itself to signature touches, like the NoMad's standout version. These ten variations on the poultry classic at NYC restaurants feature preparations that range from traditional to conceptual. As the air chills this fall, there's no better time to try them all.