A Slice of Naples opens on the Bowery
Neapolitan dough-puncher Giulio Adriani (Forcella, Pizza da Solo) focuses on al metro pies for his East Village pizzeria.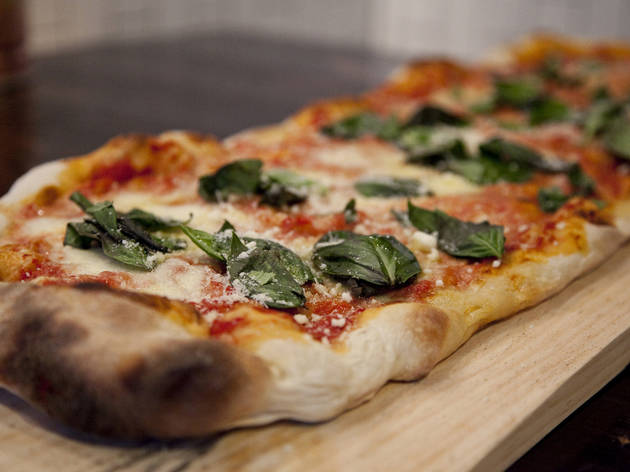 1/4
Photograph: Melissa Sinclair
Margherita at A Slice of Naples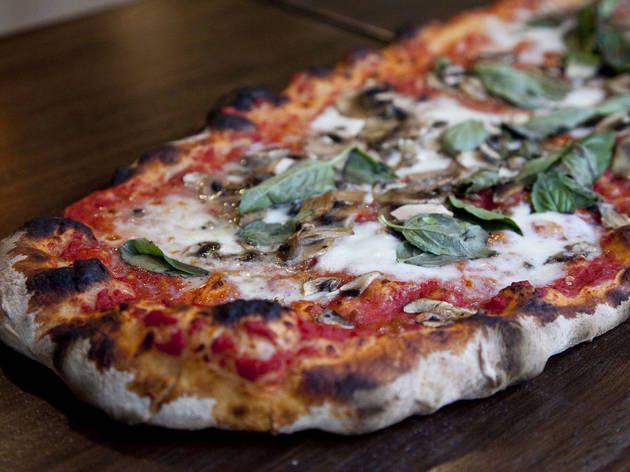 2/4
Photograph: Melissa Sinclair
Funghi at A Slice of Naples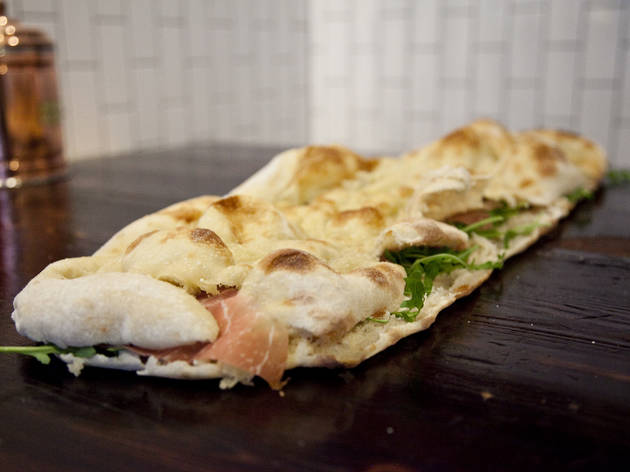 3/4
Photograph: Melissa Sinclair
Ripiena at A Slice of Naples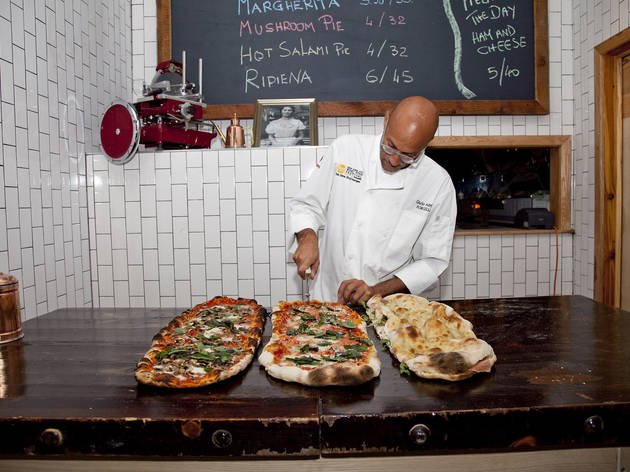 4/4
Photograph: Melissa Sinclair
After acing flash-fried pies at Forcella next door and kosher rounds at Pizza da Solo, specialty-pizza savant Giulio Adriani set his sights on pizzaal metro for this ten-seat East Village slice shop. The rolled-thin specialty is built atop rectangular, meter-long crust and slow-cooked in an imported electric oven. The Naples native turns out five varieties, including the Stracchino-cheese-and-prosciutto Ripiena and a Caprese topped with hand-pulled mozzarella, tomatoes and pesto, plus a rotating pie of the day, like a special stuffed with imported ham and mozz. Bottled Italian beers—including Moretti, Peroni and Menabrea—are also on offer in the subway-tiled space. 334B Bowery between Bond and Great Jones Sts (212-466-3300)
Sponsored listing
Tri Dim Shanghai
This Upper East Side restaurant offers a wide range of Shanghainese, dim sum and Szechuan dishes. You'll find plenty of classics among the starters, like scallion pancakes, Peking crispy duck roll, egg drop soup and steamed shrimp dumplings. As for entrees, traditionalists might go for the Szechuan-style twice-cooked pork or crispy whole sea bass. To try the beggar's chicken—a whole bird marinated in Chinese five spice, then wrapped in lotus leaves and slowly roasted—you must order a day ahead of time. Other specials, like the lion's head casserole of braised pork meatballs and cabbage, can be requested that same night. You'll probably need to order some fried rice or spicy dan-dan noodles to round out your meal, too.
Venue says: "We offer the best lunch deal in the city - $7.75 for soup or a spring roll along with an entree. Also join us for brunch on Sat or Sun 12-3"