Affordable group and party dinners
Feast with your buddies over large portions, unlimited booze or prix fixes for posses.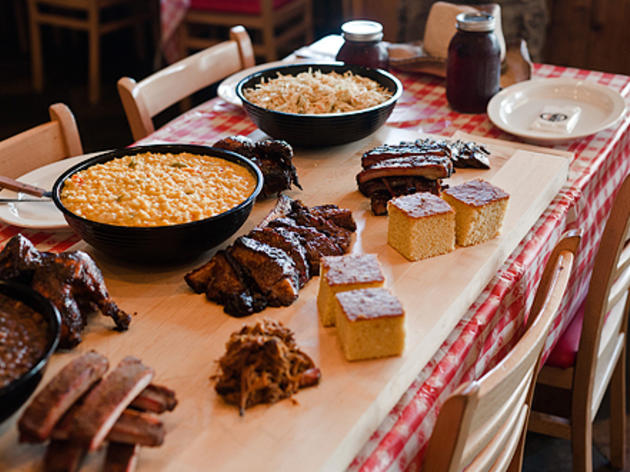 1/3
Photograph: Noah Devereaux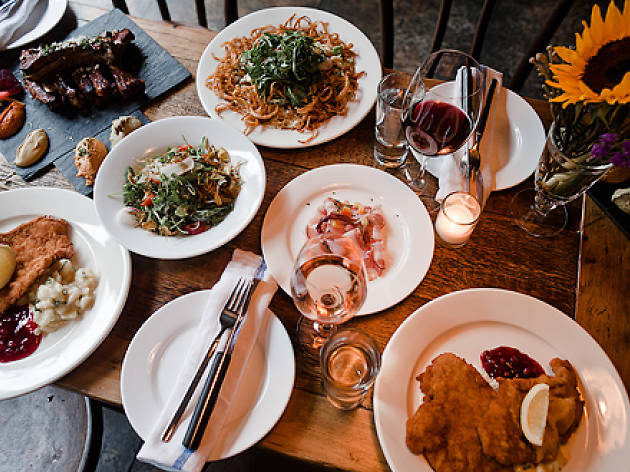 2/3
Photograph: Noah Devereaux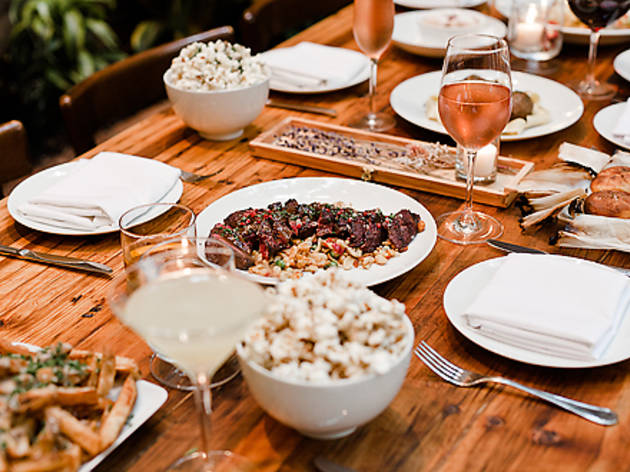 3/3
Photograph: Noah Devereaux
Char No. 4
Aim for a Wednesday-night rendezvous to score the best deal at this whiskey destination: For $22 a person, you and up to ten friends can each gorge on a heaping plate of pulled smoked lamb, cheddar-studded beef sausage, ancho-chili chicken drumsticks and baked beans. Don't worry about going broke on bourbon: The deal includes an ounce of spicy, oaky J.W. Dant, plus a can of Porkslap pale ale. 196 Smith St between Baltic and Warren Sts, Carroll Gardens, Brooklyn (718-643-2106, charno4.com)
RECOMMENDED: All our Cheap Eats listings
The Commodore
Chef Stephen Tanner deals in modern Southern comfort food: His crispy fried chicken thighs with biscuits ($11) are perfect for sharing, as are sides like green-chili hominy ($7) and black-eyed-peas over herbed cornbread ($6). A messy but delicious burger ($7), cheap canned beer (Schaefer and Old Milwaukee run $3 each) and kitschy cocktails like the Commodore (a pia colada with an amaretto float, $10) help keep the tab down. 366 Metropolitan Ave at Havemeyer St, Williamsburg, Brooklyn (718-218-7632)
Daisy May's BBQ USA
A forerunner in New York's barbecue scene, this Midtown West joint has been cooking meat low and slow since 2003. For just $150 ($25 per person), groups of six can score one of the whole, enormous pork butts, plus coleslaw, Texas toast (thick slices of soft white bread) and two sides—try the legendary sweet and rich baked beans with burned ends. Reserve your table at least one day in advance for any night of the week, and plan on plenty of leftovers. 623 Eleventh Ave at 46th St (212-977-1500, daisymaysbbq.com)
Edi & the Wolf
At first glance, $45 a head may not seem like much of a bargain, but it's a steal for a three-course Austrian feast. From 5pm onward Thursday through Saturday, this East Village newcomer will start groups of eight or more with an array of cheeses, pickled veggies and other small plates. Each diner then picks an entre—try the spaetzle with hen-of-the-woods mushrooms, or the crisp Wiener schnitzel made with heritage pork—followed by a Germanic dessert like the schokolade nuss palatschinken (akin to a chocolate-filled crpe). Pair one of the restaurant's Teutonic wines with your meal; bottles are in the $30 to $40 range. 102 Ave C between 6th and 7th Sts (212-598-1040, ediandthewolf.com)
Elsewhere
At this midtown spot, a casual dinner with the coworkers doesn't require advance planning. Split the biscuits with brown butter ($5) and a side of gravy-drenched poutine ($14) with a semihard 5 Spoke Tumbleweed cheese. Mains range from $14 to $26, but hearty options like pork sausage meatballs or hanger steak can easily feed two—and you'll find plenty of quality wines for $8 to $15 a glass. 403 W 43rd St between Ninth and Tenth Aves (212-315-2121, elsewherenyc.com)

The food at this suds haven is as well-curated as the cult-favorite beer list. Gather at least ten brew-loving pals (35 people max) and talk hops strains over one of Jimmy's pairing dinners; $45 per person buys you either six craft-beer samples with small bites, or a full three-course, three-beer meal, featuring Jimmy's creative pub fare and local, seasonal produce (braised-brisket tacos with pickled radishes were recently matched with Barrier's caramely, hops-heavy Bulkhead red ale). Cough up another $150 among the group ($15 each for ten people, less if you bring more compatriots), and a beer expert will guide you through your meal, explaining beer styles, brewing methods and your specific pairings. 43 E 7th St between Second and Third Aves (212-982-3006, jimmysno43.com)
Loreley
With 80 seats indoors and a 60-seat outdoor patio, Loreley's year-old Williamsburg location can easily fit a large group (reservations are accepted for parties of eight or more) for an affordable German feast. Various meat platters will please en masse: $16 grants each of you a plate piled with smoked sausages, weisswurst and a wiener (hot dog) with mashed potatoes and sauerkraut; another option ($19) centers on an ample brined pork shank. The vegetarians in your crew can fill up on German vegetable casserole topped with creamy curry sauce for $14 each. To drink, sample a 0.4-liter glass of light, slightly sweet Klsch beer from owner Michael Momm's native Cologne ($6). 64 Frost St at Meeker Ave, Williamsburg, Brooklyn (718-599-0025, loreleynyc.com)
Roberta's Pizza
This sprawling, super-hip ode to market cuisine and artisanal pizza is a favorite for bargain-seeking locavores. For $30 a person, groups of 10 to 18 can reserve a table in advance, then settle in for a multicourse meal: Share meats, cheeses and salads to start, three kinds of Roberta's stellar wood-oven pizza—we like the salty-creamy Specken Wolf, which pairs melty mozzarella with speck—and cookies and gelato for dessert. For an extra $10 each, the "bomber package" throws in another main, like the rich, tender pork butt. And to make the event a real celebration, an additional $20 each will buy your group two hours of unlimited beer or wine. 261 Moore St between Bogart and White Sts, Bushwick, Brooklyn (718-417-1118, robertaspizza.com)
Rye
The hefty portions at this casual-chic bistro encourage sharing among friends. Rye's meat-loaf sammie ($15), a decadent blend of duck, veal, pork and beef topped with crispy fried onions, is easily splitable, as is the rich short-rib sandwich with onion jam ($13). A side of fries is $5, while potato puree and Swiss chard each run $6. And in keeping with the restaurant's name, you'll also find plenty of well-priced quality whiskeys; sip a glass of Jim Beam or Old Overholt rye for just $8. 247 South 1st St between Havemeyer and Roebling Sts, Williamsburg, Brooklyn (718-218-8047, ryerestaurant.com)
Shanghai Tide
Hot pots bubble all over Flushing, but the massive caldron of deeply flavorful broth at this lively Chinese spot is best suited for a big crew on a budget. For just $26 each, group diners have two hours to throw back all-you-can-drink Budweiser while boiling their own heaping plates of sliced raw beef, lamb and pork—as well as gratis extras like pork meatballs, fish balls, clams, cuttlefish and veggies. 135-20 40th Rd at Main St, Flushing, Queens (718-661-4234)
RECOMMENDED: All our Cheap Eats listings
You might also like
Cheap New York: Bargain things to do in NYC
See all cheap restaurants
Free things to do in New York City
See more in Food & Drink
Sponsored listing
Paulaner
Thanks to a special licensing agreement with its namesake brewery in Munich, Paulaner brews its beer on-site in the same German tradition. The storied 265 Bowery location also gives Paulaner the same scope as most expansive Bavarian beer halls: long communal tables stretch from end to end of the space. Sip one of the five or so house beers—on a recent visit, the selection included a lager, hefeweizen, dunkel and bock (all $7 for a small, $9 for a medium, $16 for a large). Man cannot live on beer alone, so you'll probably want to order some food. Paulaner offers a wide selection of Bavarian classics, like warm pretzels ($6), bratwurst with sauerkraut ($12) and a crispy pork knuckle with roasted potatoes in a dark beer sauce ($32). Interested in taking the taste of Germany home with you? Sign up for one of Paulaner's cooking classes to learn the ins and outs of making your own sausage or strudel.
Venue says: "Book your summer celebration at Manhattan's only full-scale brewery, we offer brewery tours, tastings, and mini table kegs (also to go)!"