Best dim sum brunches
Our favorite picks for this Chinese breakfast spread.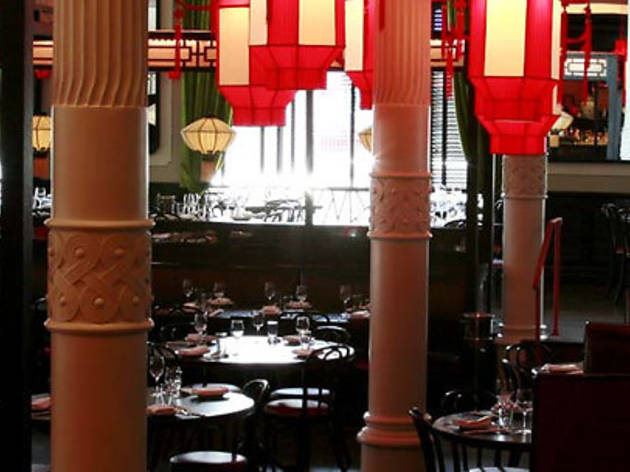 RECOMMENDED: All our listings for the best brunch in NYC
Dim Sum Go Go
The two-story restaurant is more sedate than the bustling and larger cart-trafficked establishments. It offers a creative and vegetarian-friendly menu, including dumplings innovatively stuffed with mushroom, spinach, snow-pea leaf or bamboo hearts, which sell for $2.90 during lunch and under $4 for dinner. For those without a large group who still crave variety, Dim Sum Go Go is smart to offer individual sampler platters, vegetarian and otherwise, for $9.95 during lunch and $10.95 at dinner. 5 East Broadway between Bowery and Doyers St (212-732-0796). Daily 10am–10:30pm.
Chinatown Brasserie
When Chinatown Brasserie opened in 2006, it recruited Joe Ng, one of the best dim sum chefs west of the Mississippi, from Brooklyn's World Tong. Ng offers a number of whimsical creations (like the shrimp and snow-pea leaf dumplings for $9) that are fashioned as cute creatures, complete with eyeballs. The lamb dumplings, $8, a nice twist on an old favorite, are hard to find elsewhere on the East Coast. If you need an evening fix of crispy mango and shrimp rolls, this restaurant serves its elegant dim sum all day. But you're paying a hefty premium for the sleek surroundings, the exquisite care that goes into making each piece and high-end ingredients like lobster. The prices run between $8 to $12, and go as high as $18. 380 Lafayette St between Great Jones and E 4th Sts (212-533-7000, chinatownbrasserie.com). Mon–Wed, Sat, Sun 11:30am–11:30pm; Thu 11am–midnight; Fri 11am–10pm.
Vegetarian Dim Sum House
This cash-only, no-frills, Buddhist-influenced restaurant offers vegetarians a chance to experience what they've been missing in mainstream dim sum. The menu utilizes the versatility of soy and gluten to create substitute-meat versions like mock-pork steamed buns, while also offering wholly vegetation-centered creations like treasure balls (crispy fried mashed potato). 24 Pell St between Doyers and Mott Sts (212-577-7176). Daily 10:30am–10:30pm.
World Tong Seafood Restaurant
Generally, only hard-core dim sum aficionados take the N train all the way out to Bensonhurst for World Tong, former home of Chinatown Brasserie's Joe Ng. But Ng's legacy and creativity persist. Those who make the trip and brave the mob are rewarded with a wide variety of selections that are hard to find elsewhere in the city—both savory (pork pies, pork with crackling skin) and sweet (durian pastries, mochi filled with green-tea cream). On weekdays, dim sum plates are a bargain at $2.25. On weekends, even the fanciest dishes cost only $6.95. 6202 18th Ave at 62nd St, Bensonhurst, Brooklyn (718-236-8118). Daily 8am–4pm.
You might also like
Best brunch in NYC
See more in Food & Drink
Sponsored listing
Pure Ktchn
Healthy eaters will be happy to know they have another option in Hell's Kitchen, whether you want to dine in or take your food to go. Purektchn serves up mainly vegan and vegetarian fare, though you'll find a few shrimp and tuna dishes on the menu. The restaurant uses only organic ingredients, with no added sugar or fried foods in sight. At breakfast, you might want to go sweet with an acai bowl topped with granola ($9.95) or a Green Sunshine smoothie ($7.50). For lunch or dinner, you might opt for one of their hearty salads, like the avocado-beet number or the caesar salad with coconut "bacon" and chickpea croutons (both $9.95). The menu also includes plenty of bowls, like the baked falafel bowl with beet hummus ($10.95), shrimp sushi bowl with rice  ($10.95), nori and spicy cashew sauce or the butternut squash bowl with lentils, cauliflower and kale ($10.50).
Venue says: "Vegan–friendly health food Eatery. Nothing fried, no added sugars, no chemicals, 100% pure and organic ingredients. - Dine–in or take–out."