Best french fries of 2013 in New York City
Crispy, golden and delicious—you'll find the year's best french fries at Shake Shack, Reynard and Montmartre.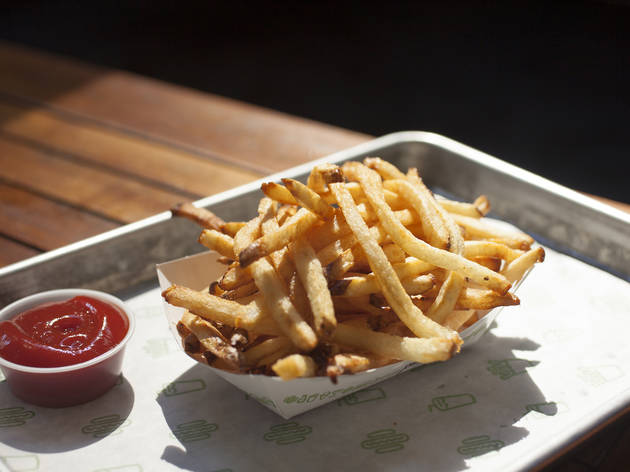 1/3
Photograph: Jennifer Arnow
In a city where excellent fries are yesterday's news, Danny Meyer's vaunted patty chain managed to make a splash when it swapped out its spuds after nine years. Long criticized by food cognoscenti for serving frozen, keeping frozen, crinkle-cut fries on otherwise fresh menu, the Shack has finally introduced hand-cut, skin-on, twice-fried Idaho russet skinnies. Available now at the UES location (followed by UWS and Grand Central by the end of the year), these beautifully golden beauties have silenced naysayers. Multiple locations (shakeshack.com). $2.70.—Stefanie Tuder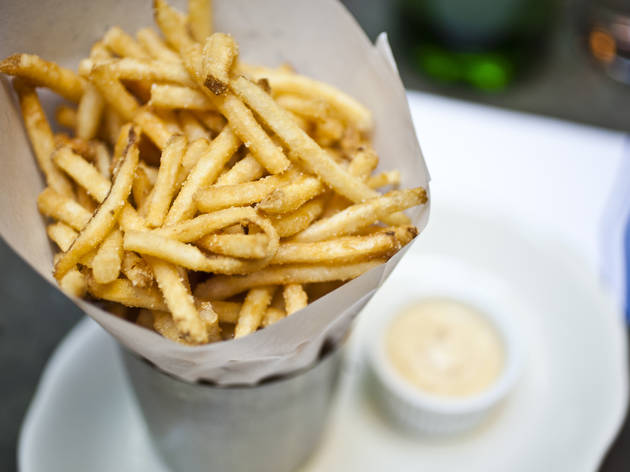 2/3
Photograph: Virginia Rollison
These slight things don't look like much, but they sure pack a punch. Tien Ho's basic technique is simple—he slices russets thinly and dunks them once in the deep fryer. The secret is in the bold spice mix: a little bit salty, a tad sweet, bolstered with pungent mustard and tangy onion powders. Served alongside a curried mayonnaise with a hint of pickled mango, these addictive wands may make you forget the purist potato versions. 158 Eighth Ave between 17th and 18th Sts (646-596-8838, montmartrenyc.com). $8.—Jasmine Moy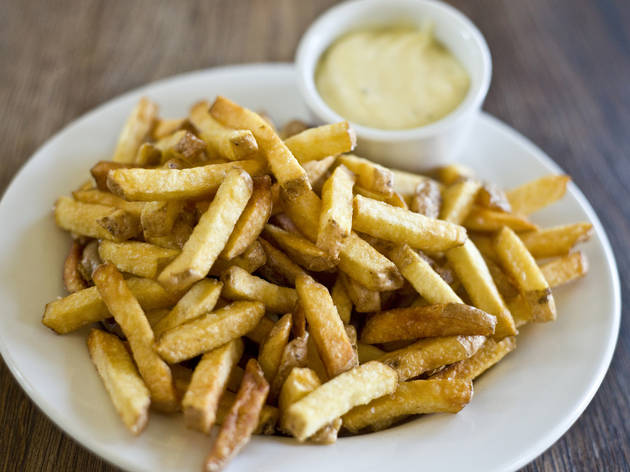 3/3
Photograph: Alex Strada
French fries at Reynard
Sourcing is the key for these bona fide pommes frites, made from Finger Lakes Farms' Yukon Golds. Chef Sean Rembold blanches skin-on slices at an extra-low temperature to achieve a creamy bite before deep-frying them to snappy snackability. True to the spot's locavore roots, the massive plate is accompanied by artisanal ketchup and house-made aioli. 80 Wythe Ave at North 11th St, Williamsburg, Brooklyn (718-460-8004; reynardsnyc.com). $8.—Soomin Shon
In August, Shake Shack rolled out hand-cut fries to much fanfare, but the crispy russets aren't the only addictive potato wands we discovered this year. Whether you like them skinny or meaty, here are top-notch french fries you don't want to miss. Start snacking!

RECOMMENDED: All 100 best dishes and drinks
Sponsored listing
BARCEY'S
Barcey's might look like just another Brooklyn cafe, but one look at the menu reveals more than the typical pastries and lattes. Sure, you've got all the usual breakfast suspects, like yogurt parfaits, smoothies, bagels and sandwiches, but there's also much more than that. Barcey's menu runs the gamut from chicken and waffles to ramen with pork belly to crab banh mi. The options largely follow a New American theme, with Filipino and Asian fusion influences. If you're in the mood for something a little stronger than coffee, order a cold beer or glass of wine. With free Wifi and plenty of outlets, it's also a convenient spot to hole up to get some work done or squeeze in some study time.
Venue says: "Delicious Filipino inspired dinner! Try our sizzling sisig with egg and San Miguel beer tonight."