Haute brew-infused fare: High-end kitchens are cooking with beer
Lowly beer gets the luxe treatment, with top restaurants cooking with beer, infusing it into decadent desserts and capping swank tasting menus with suds-inflected plates.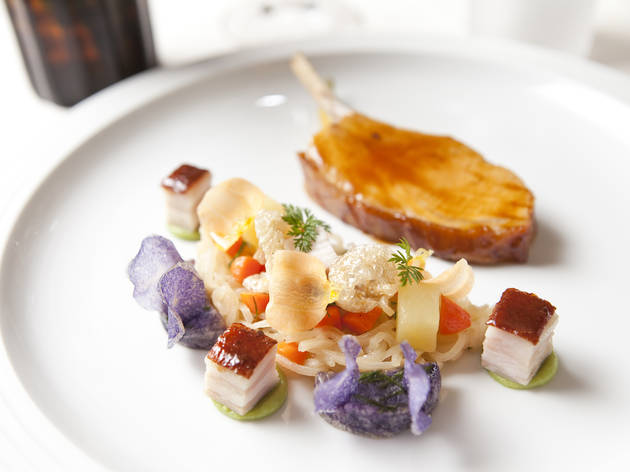 1/8
Photograph: Jessica Lin
Duo of Québec suckling pig at Daniel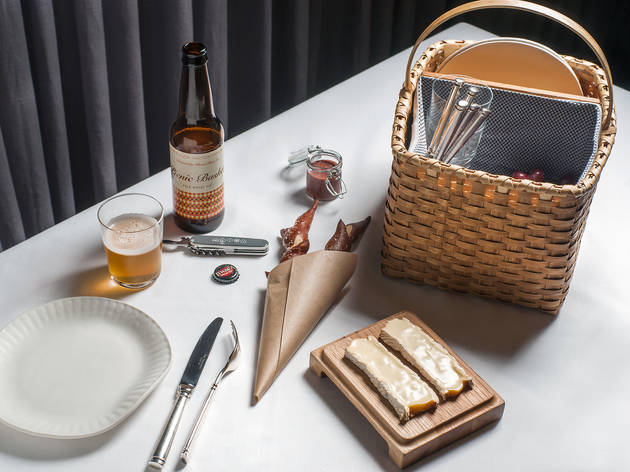 2/8
Photograph: Noah Fecks + Paul Wagtouicz
Beer and cheese basket at Eleven Madison Park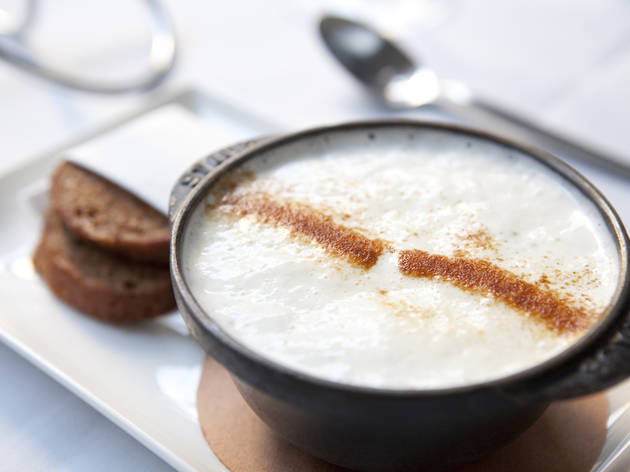 3/8
Photograph: Jessica Lin
Alsatian country soup at the Modern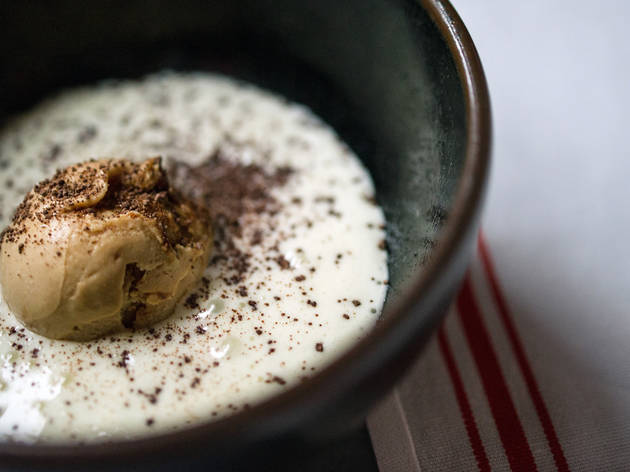 4/8
Photograph: Daniel Krieger
Beer and bread porridge at Acme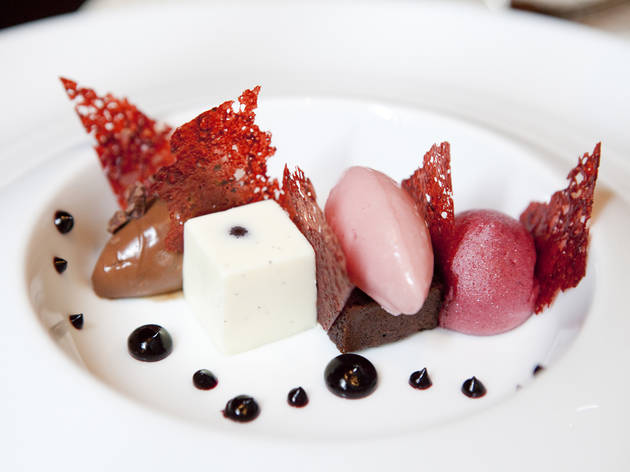 5/8
Photograph: Jessica Lin
Black forest cake at Le Bernardin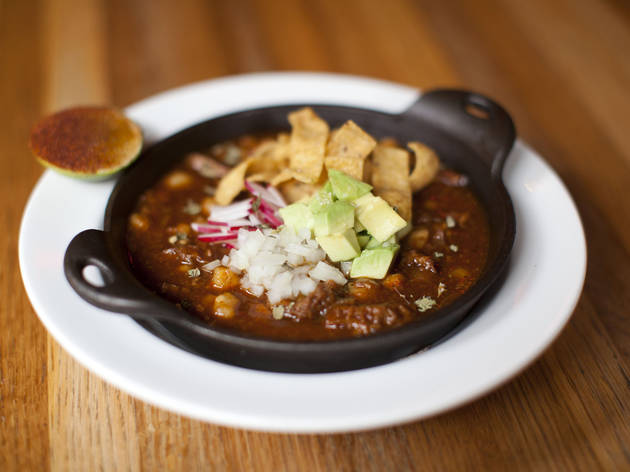 6/8
Photograph: Jolie Ruben
Barrio tripe at the Dutch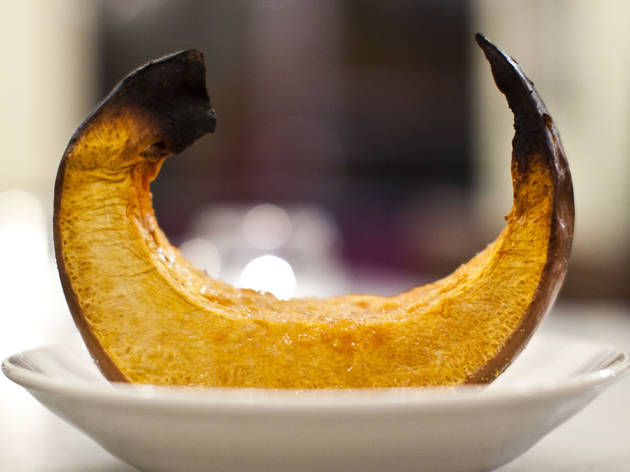 7/8
Photograph: Jolie Ruben
Ginger beer roasted pumpkin at Prune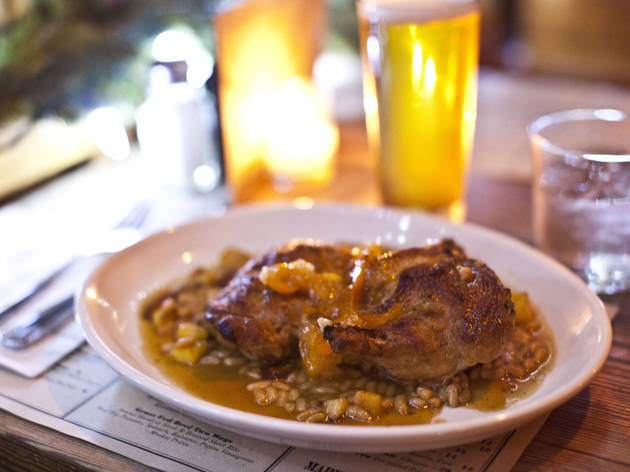 8/8
Photograph: Jolie Ruben
Beer-braised chicken at Back Forty
Compared with sommelier-plucked wine menus and mixologist-shaken cocktail programs, beer is the black sheep of New York fine dining. Not anymore—frothy brews are going five-star, with some of Gotham's best restaurants ramping up beer pairing programs—and now cooking with beer, too. From suckling pig soaked in Ommegang jus at Daniel to the lambic sorbet at Le Bernardin, beer has arrived on NYC's high-minded culinary scene.
Duo of Québec suckling pig at Daniel
At Daniel Boulud's opulent flagship, chef de cuisine Jean Francois Bruel takes Alsace's homestyle meal of pork chop, sauerkraut and beer, and turns it into a stylized composed plate. The Alsatians traditionally use white wine to macerate their kraut, paired with a hearty brew on the side, but Bruel pours the suds right in, cutting the pickled bite of the sauerkraut strands with a dash of Ommegang's fruity, aromatic Abbey Ale. The pig also gets a hoppy bath: A pork rack is roasted whole until tender, then cut into thick chops and dressed in a jus of the sweet Dubbel-style beer, shallots, garlic and onion. Crispy cubes of pan-seared pork belly, layered with indulgent slips of fat; slivers of purple potato, catching the light like stained glass; and ruffles of dried-then-fried pork skin add colorful flourish to the harmonic dish. 60 E 65th St between Madison and Park Aves (212-288-0033, danielnyc.com). $116 for three-course prix fixe.—CI
Beer and cheese basket at Eleven Madison Park
In his high-concept, tasting-menu homage to Gotham, star chef Daniel Humm swaps in a picnic basket for the usual fine-dining cheese course. Nestled in the woven black-ash hamper is a 12-ounce rustic wheat ale, made collaboratively with Ithaca Beer Company. The fizzy, slightly bitter elixir plays a role in its basket accompaniments as well: It's used to wash the gooey cow's-milk cheese, highlighting the Jasper Hill fromage's fruitiness, and substitutes for water in the pretzel recipe to add a malty tang to the knobby burnished fingers of dough. Pull the corkscrew from the basket to pop the bottle's cap and then lay out the spread on the crinkled porcelain plates, slathering butternut-squash mustard on the pretzels and nibbling on grapes in between bites of cheese and sips of beer. Granted there's no grassy knoll for this picnic, but the tony, tableclothed digs and soigné service sure beat swatting flies in Central Park. 11 Madison Ave at 24th St (212-889-0905, elevenmadisonpark.com). Part of $195 tasting menu.—MU
Alsatian country soup at the Modern
Chef Gabriel Kreuther's beer-imbued soup might look like a latte, the mini cocotte capped with a thick head of white foam and a neat cinnamon-like sprinkling. The dusting is, in fact, crushed house-made spice bread, and a coffee-colored soupe à la bière—made with Sixpoint's zippy Sehr Crisp—hides beneath the sour-cream foam. A nod to Kreuther's Alsatian roots, the warm bowl bobs with plump, pan-seared scallops, salty strips of Benton's smoked ham and slivers of celery that bolster the pilsner's sweetness. It's smartly paired with soft slices of pain d'epices (French gingerbread), drawing out the Crisp's rich, bready undertow. 9 W 53rd St between Fifth and Sixth Aves (212-333-1220, themodernnyc.com). $16.—CI
Beer and bread porridge at Acme
Mads Refslund puts a sweet twist on øllebrød—the thrifty Danish meal of stale rye scraps soaked overnight in beer and splashed with milk—with this Guinness-spiked dessert. The Irish stout's a curious choice, yet the "meal in a glass" brew results in a porridge that is surprisingly featherlight and frothy. Beer-soaked sourdough adds a bitter, tangy edge, butting against a topping of white-chocolate foam and salted-caramel ice cream. The frozen treat melts into a puddle in the middle of the warm porridge, infusing the bowl with a lush richness punctuated by crunchy, caramelized-chocolate crumbles. 9 Great Jones St between Broadway and Lafayette St (212-203-2121, acmenyc.com). $10.­—CI
Black forest cake at Le Bernardin
It may taste like the Black Forest you know and love, but pastry chef Laurie Jon Moran's deconstructed version is leagues dreamier than your average German kuchen. Named after a cherry brandy hailing from Deutschland's Black Forest region, the classic cake is traditionally moistened with liqueur, but Moran one-ups the original by cutting his dish with cherry beer. Using Base Divina, an agent for freezing alcohol, the toque turns Lindemans Kriek Lambic into an intense yet refreshing sorbet, bursting with bright black-cherry flavor and a yeasty acidity. The fruitiness of the sorbet scoop is bolstered by a dollop of cherry gelée. A molded cube of Bavarian cream mellows its sour punch, while a moist square of sticky devil's food cake and luscious Mast Brothers dark chocolate crémeux mimic the other flavors in the layered gâteau. 155 W 51st St between Sixth and Seventh Aves (212-554-1515, le-bernardin.com). $127 for four-course prix fixe.—CI
Barrio tripe at the Dutch
Snag a stool at the oak-lined bar of Andrew Carmellini's buzzy downtown den and order a beer—or, better yet, the beer-spiked tripe chili, a riff on the Mexican soup menudo. The offal, a notoriously rubbery cut, is sliced thin and stewed to suppleness in a six-hour bath of tomato sauce and Brooklyn's own Sixpoint Righteous Ale. A squeeze of chili powder–coated lime enhances the brew's tangy citrus notes, and the chiles punch up its spicy rye accents. To curb the nose-searing heat—and lend textural counterpoints—the soft stew is dotted with chewy puffed hominy, diced crisp radish and creamy avocado, and a scattering of crispy Fritos. 131 Sullivan St between W Houston and Prince Sts (212-677-6200, thedutchnyc.com). $14.—CI
Ginger beer roasted pumpkin at Prune
Tapping into the center-of-plate vegetable trend—see black carrots at Acme, a cauliflower steak at Salumeria Rosi—Gabrielle Hamilton offers a main of roasted pumpkin at her charming East Village bistro. Seemingly simple, the entrée gains depth of flavor from sharp ginger beer and slighty fruity brewer's yeast. A pale crescent wedge of pumpkin comes saturated in a shallow pool of butter and Gosling's ginger sparkler, leaving the squash pudding-soft save for its charred edges. Spicier and drier than its alcoholic cousin, the piquant soda counters the pumpkin's natural sweetness, while a sprinkling of Bragg's brewer's yeast—a by-product of beer-making—finishes the dish off with a lingering hoppy bitterness. 54 E 1st St between First and Second Avenues (212-677-6221, prunerestaurant.com). $9.—CI
Beer-braised chicken at Back Forty
Victory's hops-heavy Prima Pils goes straight from the tap to the table at Peter Hoffman's farmhouse East Village tavern. Braised in the light-bodied beer for more than two hours, the fall-off-the-bone chicken thigh and breast are infused with the lager's crisp malt flavor—a natural nuttiness well matched with a bed of grainy white-rice beans, as well as roasted turnip and rutabaga cubes. The poultry is topped with a sharp heirloom marmalade of California mandarins and limequats, a complex balance of bitter and sweet that toasts the nature of beer itself. 190 Ave B between 11th and 12th Sts (212-388-1990, backfortynyc.com) $24.—CI
Sponsored listing
Onieals Grand Street
A former brothel, speakeasy and gambling parlor, Onieals had quite the heydey during the Prohibition era. Though imbibing is legal once again, some of the vestiges of the bar's nefarious origins still survive; the tunnel that bootleggers used to use to smuggle in booze now serves as the wine cellar. With an extensive menu of beer, wine, spirits and inventive cocktails, the bar has something for anyone looking to take the edge off. These days, Onieals also serves an upscale menu of classic American dishes with hints of influence from other cuisines. At brunch, try the shrimp and grits ($15) or the omelette with goat cheese, shiitake mushrooms and asparagus ($14). For dinner, start with the filet mignon carpaccio with parmesan and horseradish creme ($19) or grilled oysters on the half shell ($15), then move on to sesame-crusted tuna with tempura green beans ($26) or hammered chicken in a shallot wine sauce ($23).
Venue says: "Wednesday's Happy Hour 4-7pm, $1 Oysters all night. Late Night Food Menu until 1am."