Heads up! We're working hard to be accurate – but these are unusual times, so please always check before heading out.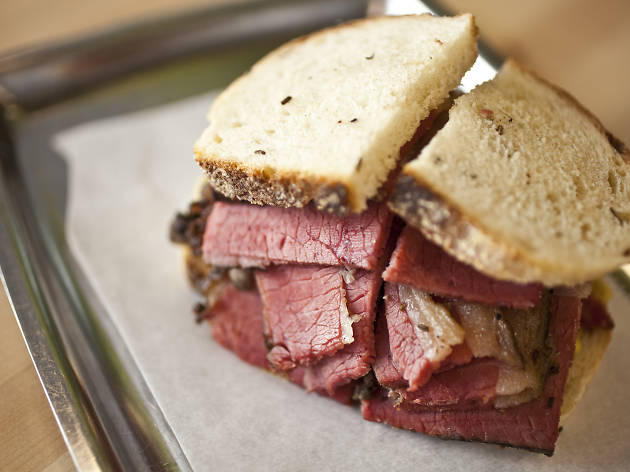 1/8
Photograph: Virginia Rollison
Smoked-meat sandwich at Mile End Sandwich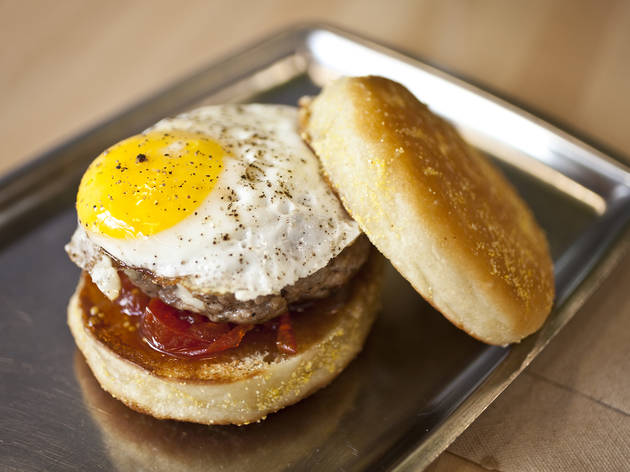 2/8
Photograph: Virginia Rollison
Breakfast Burger at Mile End Sandwich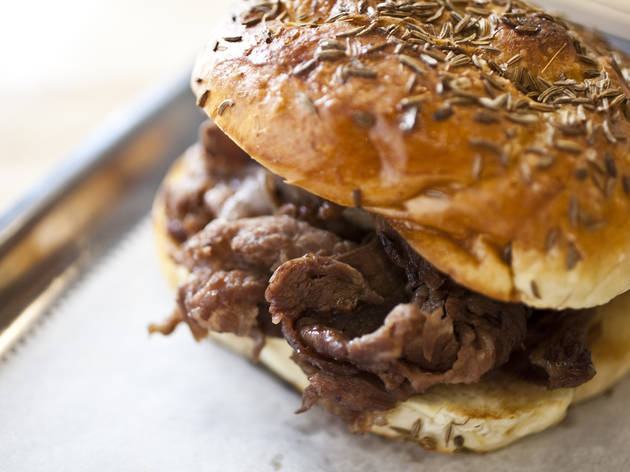 3/8
Photograph: Virginia Rollison
Beef on Weck at Mile End Sandwich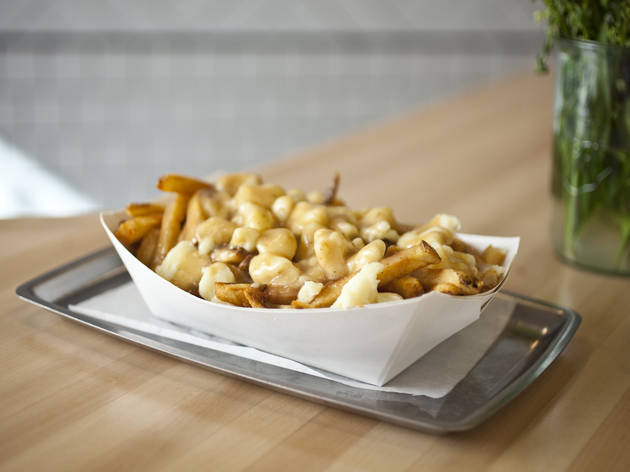 4/8
Photograph: Virginia Rollison
Poutine at Mile End Sandwich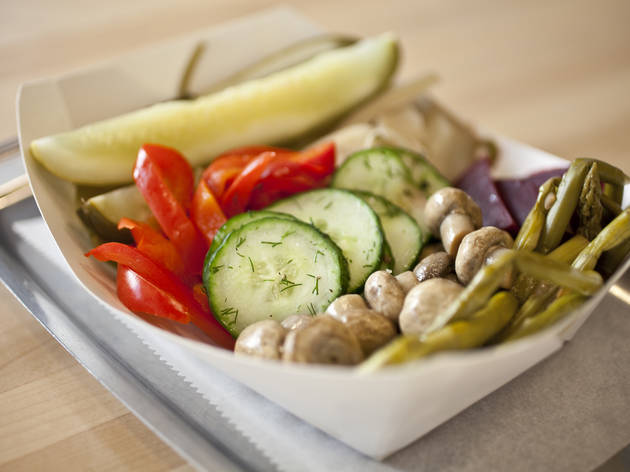 5/8
Photograph: Virginia Rollison
Pickled vegetables at Mile End Sandwich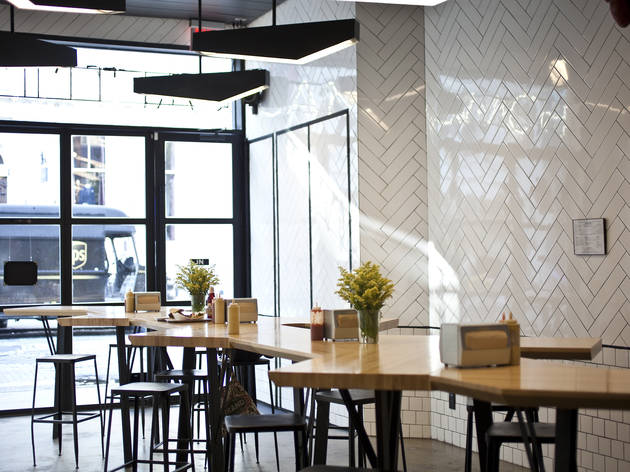 6/8
Photograph: Virginia Rollison
Mile End Sandwich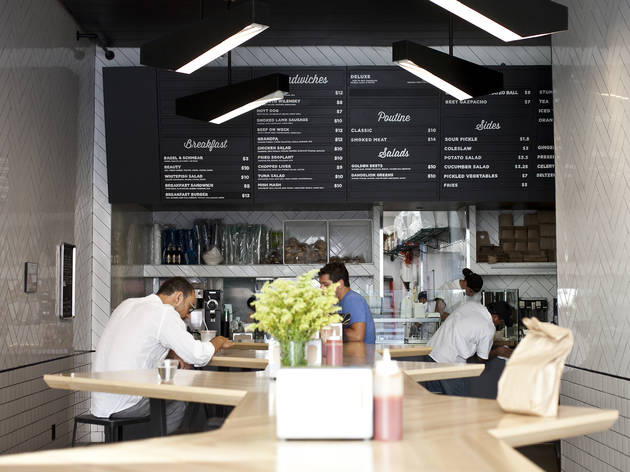 7/8
Photograph: Virginia Rollison
Mile End Sandwich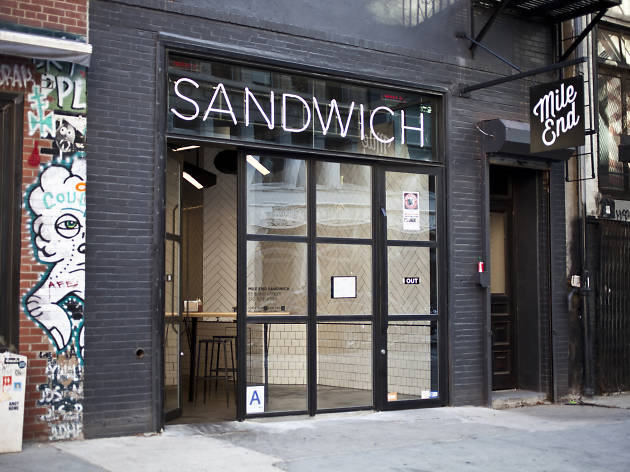 8/8
Photograph: Virginia Rollison
Mile End Sandwich
Mile End Sandwich + Lake Trout
Two new sandwich shops break the mold.
Rating: 3/5 Mile End Sandwich: 53 Bond St between Bowery and Lafayette St (212-529-2990). Subway: B, D, F, M to Broadway–Lafayette St; N, R to Prince St. Daily 10am–10pm. Average sandwich: $10.
Rating: 2/5 Lake Trout: 160 Havemeyer St between South 2nd and 3rd Sts, Williamsburg, Brooklyn (718-782-3474). Subway: L to Lorimer St. Mon–Thu, Sun noon–10pm; Fri, Sat noon–midnight. Average main course: $8.
The sandwich shop has never had it quite so good in New York. The field is crowded with purists and renegades, with star chefs and career-changing amateurs, all devoting themselves to making food fast, cheap and, most importantly, portable—so many new hoagies, cheese steaks, tortas, banh mi and stuffed Chinese buns.
Mile End Sandwich, which opened recently near the Bowery on Bond Street, follows the same lofty path paved by 'wichcraft, Saltie and No. 7 Sub, to name just a few of its epicurean forebears.
The neon-bright quick-serve operation expands a sandwich program that's already among the city's most cultish, building on the opening menu from the first Mile End, across the river on Hoyt Street. The place launched in 2009 as a Montreal-style deli serving smoked-meat sandwiches and Canadian bagels, before adding more ambitious haute juif cuisine.
At their new sandwich-centric spin-off, Noah Bernamoff and wife-partner Rae Cohen offer the classics still served at the original restaurant—the same succulent hand-cut Montreal smoked meat on Orwasher's rye, the same malty bagels (once trucked in from up north, now baked in-house) piled high with glistening lox. But that's just where it starts.
The repertoire here, not constrained by geographic allegiance, looks way past Quebec. There's a fine turkey sandwich—the Grandpa—featuring French and Yiddish accents, with turkey rillettes, smoked white meat, brown mustard and rye. A Middle Eastern number combines fried eggplant, grilled halloumi, sweet roasted peppers and warm flaky flatbread into a vegetarian sandwich that's complex and robust. Pickled veal tongue on pumpernickel tastes of the Lower East Side, amped up with caramelized onion and sweet raisin jam. And even a Buffalo expat would fall for Mile End's Roast Beef on Weck—a sandwich that's like religion in western New York—served here with shaved Wagyu, showered in fresh horseradish, on a properly salt-crusted caraway roll.
Chefly attention to detail permeates every baroque creation, delicious upgrades on old-fashioned combos. The most indulgent handful—and messiest, certainly—turns a veal sausage patty, apple butter, fried egg and house-baked English muffin into a superdeluxe McMuffin of sorts (a "breakfast burger" available anytime). The inspiration is lowbrow, the execution anything but.
The nods to junky fast food are rare, though, at Mile End Sandwich—gravy-drenched poutine is about as guilty as it gets. But some new sandwich purveyors proudly wear their allegiance to bottom-of-the-barrel tastes like Harold and Kumar chasing munchies.
Vitals: Mile End Sandwich
Eat this: Smoked-meat sandwich, Beef on Weck, bagel and lox, breakfast burger, tongue sandwich, poutine
Drink this: The sandwich shop serves only nonalcoholic beverages, including Virgil's cream soda and a not-too-sweet, tart and refreshing house-made preserved-lemon soda.
Sit here: Tall stools ring a communal table that runs down the middle of the restaurant. Those are the only seats.
Conversation piece:The Mile End Cookbook, featuring 100 recipes (including step-by-step directions for making Montreal-style smoked meat at home), has just been released.
Lake Trout, a new Williamsburg spot, could've certainly been conceived in an altered state (which is how it's probably best appreciated). The place pays faithful homage to the fry shacks of Baltimore, with greasy fast food served on soft store-bought bread. The interior looks like any old cheap-eats dive in the 'hood, with wood-paneled walls, plastic food-court seating and orders dispensed from a kitchen window by a young guy in a ball cap.
But behind the no-frills menu and decor (blown-up sports cards and graffiti cover the walls) hides some serious restaurant talent. Lake Trout is the brainchild of impresario Joe Carroll and his former pit master at Fette Sau, Baltimore native Matt Lang. Carroll, who started in the area with craft-beer bar Spuyten Duyvil before expanding to upmarket grilling at St. Anselm and serious barbecue just across the street, seems to have a penchant for blue-collar junk food (he served disco fries and Cincinnati scrapple for a while at St. Anselm). If you're not a Maryland transplant, though, his new project's appeal might not be so easy to appreciate.
Lang, a real barbecue artist, has kept his artisanal impulses in check, focusing instead on achieving drunk-food verisimilitude. The restaurant's namesake Baltimore staple—a fixture on The Wire—is served just as it might be at Snoop's favorite bulletproof haunt. Fried whiting fillets—there's no trout, or anything else from a lake—come with potato-bread slices and house-made tartar sauce. The fish, in a flour and cracker-meal crust, is fresh and crispy. If you didn't grow up on fried fish and soft slices, though, it's still pretty dull. An enormous puffy crab cake, served with more of that bread, is just as one-dimensional, swollen with stringy crabmeat and saltine crumbs. Decent fried oysters, served on paper in another make-your-own sandwich, are straight-ahead vehicles for the zingy tartar or the Mumbo sauce (a mix of hot sauce and duck sauce) in squeeze bottles along the wall.
To accompany all that golden seafood, there are fat boardwalk fries, potato wedges prepped from scratch to mimic the bagged frozen variety (they're soaked in buttermilk and cayenne, then dipped in flour and fried). Those chicken-fried spuds, and a pasta salad named for former Baltimore mayor Martin O'Malley—a lemony mix of orzo, shucked corn and chopped sugar snaps—are the closest things to vegetables at this Brooklyn grease trap.
Despite the skillful chef at the helm, none of Lake Trout's food is an upgrade on the dirt-cheap Eastern Seaboard originals—though it's not really trying to be. As a postcard from Baltimore, though, it's got some travelogue charm. Considering the talent behind the place, it could certainly be much more exciting than that. And given the competitive landscape for sandwiches these days, it probably should be.
Vitals: Lake Trout
Eat this: Fried oysters, Western fries
Drink this: The restaurant hopes to serve beer once the license comes through. In the meantime, there's all-natural root beer and orange soda in the can from Johnnie Ryan (a company owned by Joe Carroll).
Sit here: The small dining room offers bare-bones seating on orange plastic chairs attached to faux-wood tables.
Conversation piece: Among the Baltimore Orioles baseball cards on the wall, you'll find former infielder Tim Nordbrook, who coached chef Matt Lang in high school.
You might also like
Best international sandwiches in New York
Best sandwiches of 2011
Breakfast sandwiches: Five great riffs on the New York classic
See more in Food & Drink