New restaurant and bar openings: December 25, 2014–January 7, 2015
The Camlin, Momofuku Ko and more roll out in New York City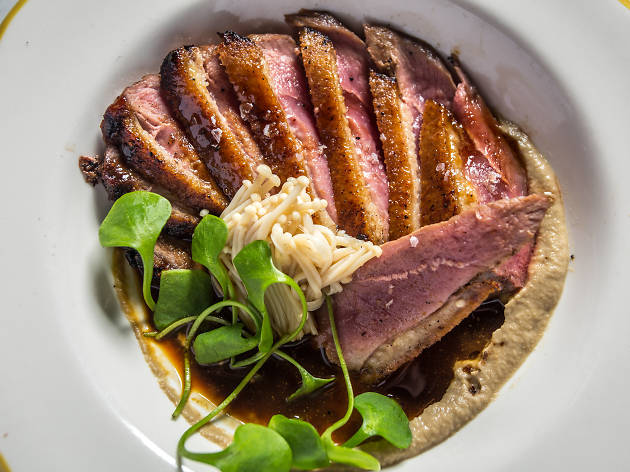 The following venues are expected to open by January 7th. Always call ahead, as openings can be delayed.
Adalya Light, coastal eats (roasted eggplant with Taleggio flatbread, grilled poussin with pickled baby carrots) dominate the menu of this Mediterranean spot from Orhan Cakir (Pierre Loti, Turks and Frogs). 55 Irving Pl between 17th and 18th Sts (646-896-1441)
BaraThe spur for Ian Alvarez and Kyle Storm's French-Japanese fusion spot isn't a hard one to pinpoint: Alvarez spent time exploring the spice-stocked stores of Momofuku Noodle Bar, while Storm did behind-the-stick duty at Gallic charmer French Louie. Those influences come together on Alvarez's culture-crossing menu, evident in dishes like steamed cockles rooted in an enoki mushroom dashi broth and finished with parsley pistou. "It would make perfect sense in both Japan and France," Alvarez says. "It doesn't need to be explained as fusion—it just works in both cultures." Similar hybrid plates include a Szechuan-peppered endive salad with pickled plum and slow-roasted duck glazed in a white-wine au jus steeped with green tea. Storm's cocktail creations keep up pace, stirring together the Loire Valley's herbal Elixir Combier with black-sesame–infused vodka for the Kuro-Mart, and house-made rice-milk syrup to counter light and dark rums in the Santiago. 58 E 1st St between First and Second Aves (917-639-3197)
The CamlinIn 2010, Eric Ripert's right-hand woman, Mandy Oser (Le Bernardin), gifted Hell's Kitchen with superior vino at iron-and-marble Ardesia, bringing El Quinto chef Amorette Casaus into the kitchen to turn over small plates like deviled eggs showered in house-pickled jalapeños. That formidable twosome is back at it again with this lighthearted, wine-loving Williamsburg den. Bottles from emerging regions, like Virginia and Canada, share menu space alongside benchmark French locales Rhône, Bordeaux and Alsace. "We're watching where inspiration is taking winemakers," Oser says. An accompanying eats docket, plastered on a chalkboard-covered wall, includes American and European cheeses, charcuterie sourced from New Jersey farms (coppa, lardo), and shareable dishes like panko-crusted chorizo croquettes and harissa-spiced lamb skewers delivered to the Cipollino marble counter and deep-gray booths. 175 Kent Ave at North 3rd St, Williamsburg, Brooklyn (718-384-4100)
Cooper's Craft & Kitchen The gastropub's Chelsea outpost offers craft beers both on tap (Tröegs Mad Elf, Smuttynose Short Weisse) and on plate, with suds-spiked dishes like beer-battered fish tacos and house-made pretzels with beer-infused cheese from chef Brendan Neville (The Smith, Cafe Luxembourg). 169 Eighth Ave between 18th and 19th Sts (646-661-7711)
Eugene & Co. Named for owner Tara Oxley's grandfather, this mahogany-paneled corner joint offers hearty, all-American fare like barbecue-sauced meatloaf sandwiches and roasted chicken with oyster mushrooms from Le Bernardin alum Savannah Jordan. 397 Tompkins Ave at Jefferson Ave, Bedford-Stuyvesant, Brooklyn
(718-443-2223)
Hunt & Fish Club NYC Like the name suggests, Southern Hospitality restaurateur Eytan Sugarman's surf-and-turf dining room offers meaty mains (bison short-rib stew, Japanese Wagyu) and seafood dishes such as king-crab scrambled eggs with caviar. 125 W 44th St between Sixth and Seventh Aves (212-575-4949)
Madiba Harlem At the uptown follow-up to his South Africa–focused Fort Greene kitchen, Mark Henegan serves an array of curries (vegetable, chicken, seafood) in addition to barbecue specialties like beef-tenderloin sausage in a pap-tomato gravy, and desserts like sticky lemon-ginger doughnuts.46 W 116th St between Fifth Ave and Malcolm X Blvd (Lenox Ave) (646-738-3043)
Momofuku KoAfter six years in a shoebox storefront on First Avenue, David Chang started thinking bigger for his 12-seat chef's counter, the most expensive restaurant of the Momofuku empire. In October, he closed the original Ko to shuffle it to a triple-the-size space just off the Bowery, kitted out with a massive dark-wood, 22-seat counter at its center. "Before, space was the ultimate limitation,"executive chef Sean Gray says. "Now, we can showcase techniques and present a fully transparent cooking process like we've always wanted." At the counter, diners can fishbowl-view the chef-servers as they prepare the entire multicourse meal—often comprising 17 dishes—from breaking down whole ducks behind a refrigerated glass wall to adding a final lick of sauce to the plate. The ever-evolving menu includes creative numbers like a matcha-tea–dusted mille-feuille, layering house-made rye puff pastry with béchamel and trout roe, and a pickled-and-pressed mackerel sabazushi drizzled with dashi ponzu. 8 Extra Pl at E 1st St (212-203-8095)
Red Stixs Michael Reda and David Lee bring their Hamptons hot spot to Manhattan in the old Chin Chin space, serving Beijing-inspired fare like salt-and-pepper calamari, soup dumplings and a seven-pound Peking duck carved tableside. 216 E 49th St between Second and Third Aves (646-964-5878)
Veronica's Joining Danny Meyer's pizza restaurant Marta in the Martha Washington hotel, this old-school lobby bar (named after Veronica Lake) serves cocktails like a vodka-and-ginger Headless Horseman and upmarket bar bites including fries with anchovy-parsley béarnaise and fennel-dusted fried chicken. 29 E 29th St between Madison Ave and Park Ave South (212-689-1900)
Sponsored listing
Blossom Ice Cream and The Poké
This Williamsburg restaurant specializes in not one, not two but three trendy foods: poke, rolled ice cream and drinks served in light bulbs. On the savory side of the menu, choose between signature poke bowls like the spicy tuna bowl with cucumber, seaweed salad, green onion, masago, furikake, wasabi shoyu and spicy mayo and the sweet chili shrimp bowl with mango, kani salad, cucumber, edamame, rice crackers, roasted sesame and sweet chili sauce (both $10.95 for a regular, $13.95 for a large). There are even a few vegan options, like the protein bowl with tofu, kale, kabocha squash, cherry tomatoes, seaweed, lime-ginger dressing and roasted sesame sauce ($12). Wash down the meal with lemonade, matcha green tea or watermelon slush served in an Instagram-friendly light bulb ($4.50 each) or go for one of the hand-rolled ice creams. Flavors include blueberry-lavender with fresh berries ($6.50), virgin mojito with fresh mint, lime and graham crackers ($6.50), chocolate with oreo, caramel and vanilla ($6.50) and vegan strawberry-rose ($7.50).
Venue says: "Mention it's your birthday for a FREE ice cream!"