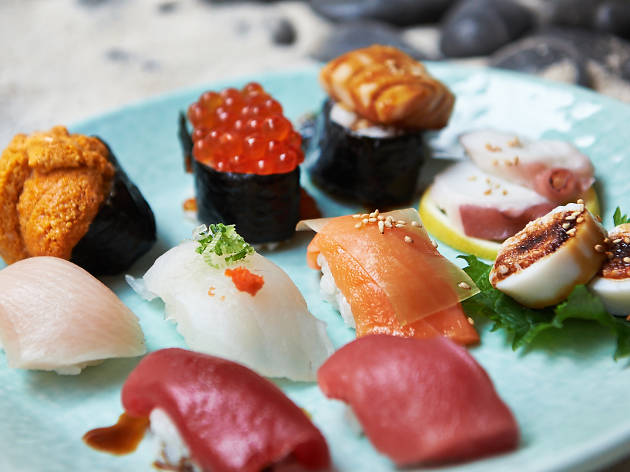 New York City has an omakase situation
It's not just one fish, two fish, red fish, blue fish for New York anymore—with omakase, we get the whole damn rainbow
Something fishy is going on in New York City. Throughout 2017, we noticed a crazy amount of omakase menus and restaurants flooding our boroughs: 21 new restaurants feature omakase, three restaurants expanded and two added special menus. That's 26 new omakase choices in Gotham. In just one year. Recently, we flagged three in just one week. Total, that's quadruple the amount of Sweetgreens and more than double the amount of Starbucks and Dos Toros openings combined. Basically, pick a week in 2017. Flip a coin. Call it. That's the odds that an omakase opened that week.
And these newcomers are not just upping the ante, but changing the game. Take Sushi by Bou from David Bouhadana: over the course of the year, his two debut locations serve 12 courses for $50, a steal in the sushi world. Other more accessible joints include Sushi Ishikawa with a $85 12-course omakase and budget-priced L.A. transplants Sugarfish and KazuNori. Not to mention Belly in Williamsburg with bacon-based omakase, and the Park Slope-based Sushi Katsuei opening in West Village with its $57 sushi omakase. On the other end of the spectrum, hot shot, top-of-the-line spots like the Michelin-starred Uchū and Sushi Amane at Mifune are serving $300 and $250 menus with golden trout roe atop jidori egg (at Uchū) and abalone in salted ice water (at Sushi Amane).
Regardless of price, the fish itself is getting more and more esoteric. Gone are the days when dragon and Philadelphia rolls are ordered en masse. Now it's more OG edomaezushi, a historic style that's typically aged, cut professionally and served nigiri-style (although, as translated, "Edomae" means fish from the Tokyo bay) to bring out the natural flavors of the fish themselves.
Chef Toshio Suzuki, who ran Sushi Zen for more than 30 years before it shuttered in 2016, and now is the chef at Satsuki in Suzuki, explains in an email, "Previously, Japanese chefs served arranged dishes (meaning, not staying true to tradition) that were oily and topped with spice just to get the people to try and eat Japanese food. Recently, we can stay true to tradition with more acceptance and understanding from the guests."
Even though the food is veering more traditional, the types of chefs are changing, like Oona Tempest, the 24-year-old female head chef of Sushi by Bae (partnered with Sushi by Bou). She also sees a similar interest in omakase. "It's crazy, it's a renaissance. Now, no one wants the California roll, they want the authentic experience of sushi restaurant in Japan. Everything's really changed. People are very educated and willing to try new things. Before, they would shy away from uni and now it's the coolest thing there is."
Whatever the reason, everyone we talked to agrees that omakase is only going to grow in the near future. Zauo, the massive Japanese chain where you fish inside the restaurant, will be serving its first-ever omakase menu when it's scheduled to open in February in Flatiron.
As Sushi Nakazawa's (the Times only 4-star sushi restaurant, and 4 stars from Time Out) owner, Alessandro Borgognone puts it: "I think this was an extremely interesting year for omakase. It's only going to get more creative, and I look forward to trying as much as I can." Plenty of fish in the sea, indeed.
Looking for more Japanese?
Whether you're craving raw-fish delicacies from Michelin-starred sushi restaurants or yakitori washed down with an icy mug of Japanese beer, we've got you covered.
Best selling Time Out Offers