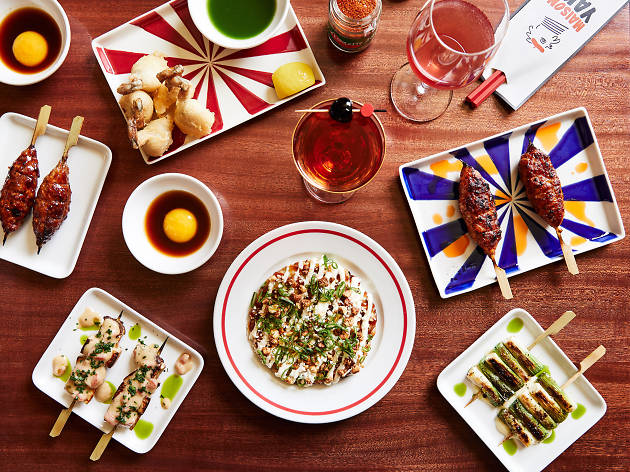 The very best Japanese restaurants in NYC
From slurp-able bowls of ramen to pristine sushi, these are the best Japanese restaurants in New York
New York's Japanese restaurant scene continues to flourish thanks to top-notch slurp shops doling out steaming bowls of the best ramen, sleek izakaya gastropubs slinging Japanese bar bites, and omakase counters presenting some of the most pristine plates we've ever seen. Whether you're craving raw-fish delicacies from Michelin-starred sushi restaurants or street-style yakitori washed down with an icy mug of Kirin, we've got you covered with the best Japanese restaurants in NYC.
RECOMMENDED: Full guide to the best restaurants in NYC
A Japanese restaurant we love so much that we welcomed it into Time Out Market
If Bessou only offered its chicken karaage and nothing else, we'd still sing its praises to no end. But this exceptional Japanese restaurant offers stellar pancakes, pickle-accented bowls and, yes, one stand-out fried poultry dish. So, naturally, we invited it to hold court at Time Out Market New York. Learn how our market curation works here, but basically we tasted its food, reviewed the eatery and had no hesitation in recommending Bessou for a spot at the market. Here's why: Bessou's clever take on Japanese comfort food has us craving dishes beyond sushi and ramen. Owner Maiko Kyogoku, who worked for hip contemporary artist Takashi Murakami, opened a stylish space in Noho that serves as an inviting stage for chef Emily Yuen's innovative plates, many of which draw from Kyogoku's family recipes. Yuen adds a modern touch to the classics with her bento bowl teeming with soy beef brisket and the chicken karaage dusted with Moroccan spices—trust us, you won't be able to resist dipping each forkful into the spicy mayo. We quickly learned that Bessou lives up to its name, which loosely translates from Japanese as second home.
Best Japanese restaurants in NYC
Still hungry? Find endless sushi restaurants in New York
Feast on as much nigiri, temaki and sushi rolls as you want at the best all-you-can-eat sushi restaurants in New York
Best selling Time Out Offers