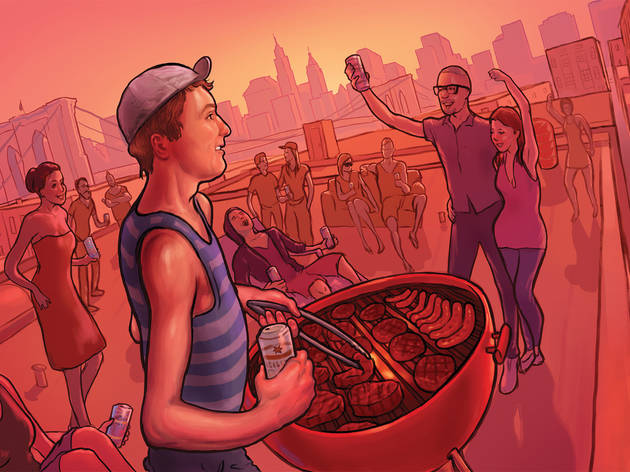 Outdoor grilling guide: NY's best butcher shops for barbecuing
Stock up for your next outdoor grilling bash with our borough-hopping guide to New York's best butchers.
Whether your next outdoor grilling party is in a park, on a rooftop or in a back garden, TONY's got your barbecue needs covered. We sought out the best butchers—from old-school meat shops to locavore upstarts—all over New York. Pop into one of these shops on your way to a barbecue in any 'hood and pick up the choicest cuts for outdoor grilling all summer long.
RECOMMENDED: Full coverage of BBQ in NYC
Why we love it: Bob Tortorello is as modest as his diminutive storefront, but as Inwood's go-to butcher for 40 years, the man certainly knows from meat. You might not immediately see what you're looking for in the small case, but ask and he'll steer you toward hidden gems, or pull choice pieces out of the locker in the rear. Tortorello carries everything from rabbit to bison, and makes his own meatballs and mozzarella, too.
Summer grilling essentials: Steak's a good bet: Tortorello air-dries his beef (sourced primarily from the Midwest) and ages it a minimum of 21 days. He favors the rib eye ($18/lb) for its extensive marbling and supremely beefy flavor. Those on the hunt for burgers won't find trays of ready-made patties here; Tortorello grinds everything to order (chuck $5.50/lb, sirloin $6/lb), allowing shoppers to customize their mixture.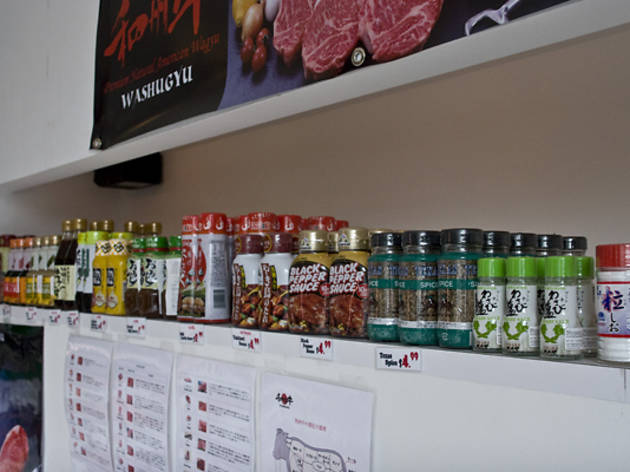 Why we love it: This narrow little shop's interior is spare and all white, to better focus your attention on the beautiful ruby-red cuts in the cases. As its name indicates, the specialty here is beef—specifically a Black Angus–Wagyu cross called Washugyu. These cattle are raised in Oregon on a strict feeding regimen modeled on Japanese practices; their diet of corn, wheat, barley, alfalfa and other grains results in densely marbled, tender and deeply flavorful meat.
Summer grilling essentials: Everything in the case will shine on the grill, but favorites include skirt ($34.99/lb), New York sirloin ($52.99) and culotte ($29.99/lb), an incredibly tender cut located near the top sirloin that is especially popular in Brazilian grilling. The bill can add up quickly, but the ground beef ($5.50/lb) is an excellent value and makes for the most luxurious hamburger patty around.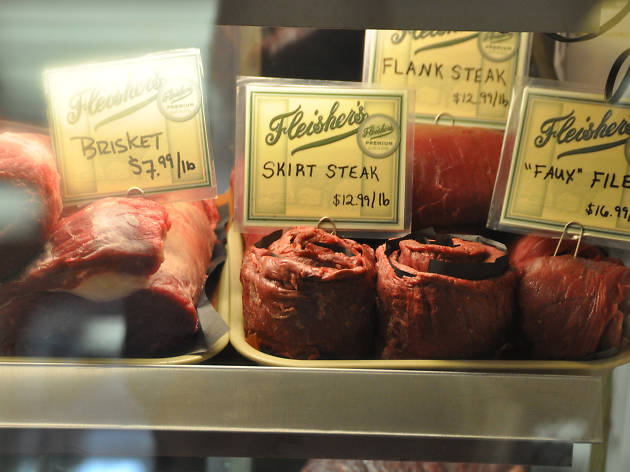 Why we love it: Joshua and Jessica Applestone work closely with local farmers (all within 100 miles of the Kingston shop) to ensure that the meat they sell adheres to their scrupulous standards. The animals are pasture-raised without hormones or antibiotics and are finished on organic grain.
Summer grilling essentials: Flatiron, London broil, NY strip—Fleisher's knows how to please steak lovers, with pristine and fairly priced cuts ($8.99–$39.99/lb). But you'll really impress your burger-obsessed friends with the proprietary beef-and-bacon grind ($8.99/lb): The Applestones blend an ideal ratio of 80 percent lean and 20 percent fatty beef with bacon ends to add an extra dimension of richness. The pork is hot smoked before it is incorporated into the ground beef so that you can safely enjoy your burgers rare.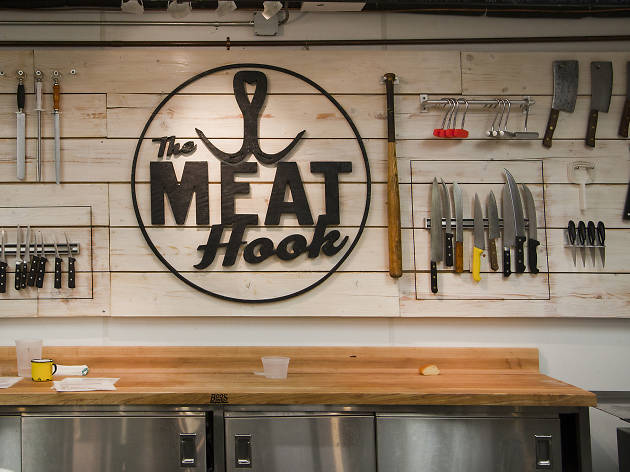 Why we love it: The feisty butchers here might like to crack wise behind the counter, but they're utterly serious when it comes to meat. The crew brings in whole animals from small local farms, and they're known for introducing novel cuts they've picked up during their research, travels and visitations from international butchers.
Summer grilling essentials: The sausages ($10.99–$12.99) are as irreverent as their makers and, at times, nothing short of genius. The French Onion variety combines pork, beef, Swiss cheese and caramelized onions with fresh thyme and marjoram; the Chicken Parm Pizza sausage traps mozzarella, Parmesan, pepperoni, tomato paste and seasoned bread crumbs with ground chicken and pork in a natural casing. You can also find the gender-normative "Man Steak" ($17.99/lb)—a Flintstonian bone-in sirloin cut two inches thick.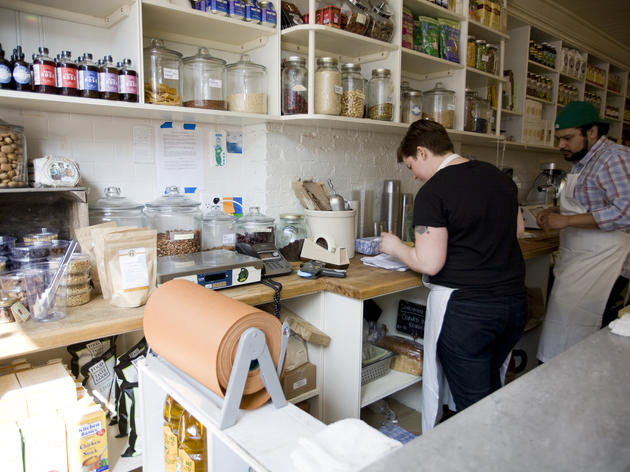 Why we love it: A true testament to the excellence of the meat at this charmingly appointed shop is that the owners use it themselves at Marlow & Sons, Roman's and Diner, their restaurants just down the block. The sourcing is local and top-notch, and like many artisanal butchers, Marlow & Daughters works with whole animals, breaking them down in-house.
Summer grilling essentials: There is always a wide range of house-made sausages ($12/lb), mostly classic, such as andouille or Italian, and a few seasonal innovations, such as this spring's creation of chicken and ramp. If you've eaten at Diner, though, you know that beef is the main attraction—the rib eyes ($29/lb) and sirloins ($18.75/lb) have been carefully aged on-site for at least a month, to develop a deeper flavor and tenderize the meat.
Why we love it: The brisk and efficient staff at this bustling Polish butcher shop operates with a kind of no-nonsense confidence developed over more than a quarter century in business. Locals line up to order pickled beets and their favorite hams, along with a rustic bread loaf plucked from a stack in the front window.
Summer grilling essentials: Get in line for kielbasa ($4.99/lb). There are five kinds, including one that's double-smoked and another packed with garlic, but the one you're looking for is the podwawelska—it's lightly smoked with a perfect balance of fat and lean meat.
Why we love it: This neighborhood grocery has been serving the Irish community of Sunnyside for more than a decade, and the expert butchers turn out reliable American barbecue standards, as well as traditional British Isles items such as bangers and blood pudding.
Summer grilling essentials: Chicken skewers threaded with peppers and onions ($4.99/lb) are popular among regulars, but don't miss the Irish back bacon ($4.59/lb). Cut in slabs, it's substantially more meaty (and less fatty) than the stuff from the belly and is especially good crisped up on the grill. Wander the aisles and fill out your feast with exotic items such as Prawn Cocktail crisps, Cadbury Crunchie bars and those deep-fried pub wonders, Scotch eggs.
Why we love it: The cheerful counterpeople at this bright and airy space are knowledgeable about the impeccably sourced meat in the case and full of solid advice about how to cook it. Owner Jake Dickson requires that the meat travel no farther than 400 miles from farm to slaughterhouse to shop.
Summer grilling essentials: Sample one of Dickson's unusual grill-friendly cuts. If you like the rich, brawny chew of skirt or hanger steak, try the chuck fillet ($17/lb), another delicious lean cut, sold here on skewers. Lamb loin chops ($25/lb) cook fast and offer a pleasing amount of tasty fat, while pork country-style ribs ($9/lb) are economical and particularly satisfying for bone-gnawers.
Why we love it: All the meat at this shop is humanely raised and sourced from three farms in the Finger Lakes and Hudson Valley. The butchers are resourceful, transforming whole carcasses into just about any cut you might want, plus sausages ($8/lb) and plenty of offaly bits (such as beef tongue, $6/lb).
Summer grilling essentials: If you're feeding a big group, get the flanken ribs ($8/lb). These long, quick-cooking strips of short rib, sliced thinly across the bone, absorb marinades beautifully and are a popular cut for Korean barbecue. Bold grill-masters will want to try the cow's heart ($5/lb). Slice or skewer it, and cook the organ directly over hot coals for an intensely beefy bite. You can also stock up on ready-made goodies such as flaky Cornish pasties ($3 each), meat pies ($5 each), and classic or spicy varieties of headcheese ($9/lb).
Why we love it: This butcher and grocery has been selling its own smoked meats and charcuterie in the traditionally German neighborhood of Yorktown since 1937, and its genteel, Old World charm hasn't changed a bit. Schaller & Weber is still the last word in sausages—with a score of international accolades and local restaurant clients to prove it.
Summer grilling essentials: With their superb snap, the wursts ($7.99/lb) are, of course, the classic choice for your bun: We like the robustly meaty and delicately spiced bauernwurst ("farmer's sausage") and bratwurst. Also try cooked and smoked items like pork chops ($9.99/lb) and slab bacon ($9.99/lb), and don't forget the mustard ($2.99–$9.99) and sauerkraut ($2.99/lb)—Schaller & Weber carries its own house brand, as well as popular German makes of both.
More grill-friendly goodies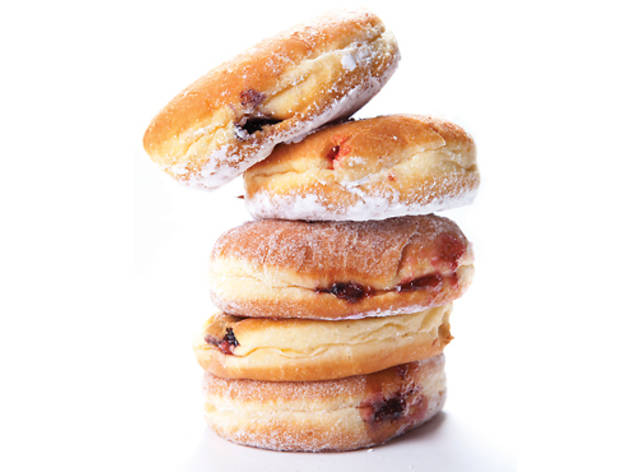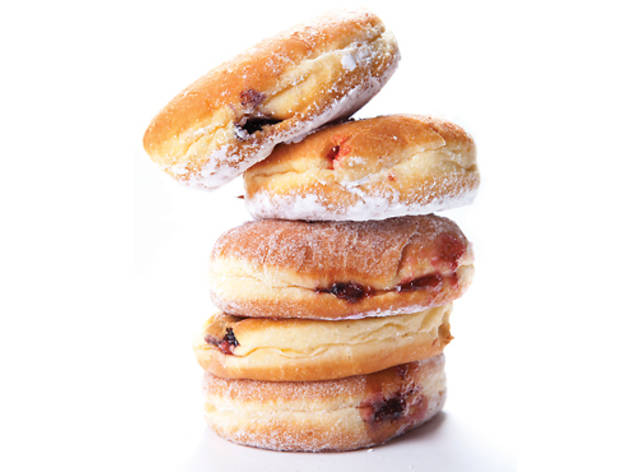 Photograph: Jakob N. Layman
Remix your routine with these unexpected items that shine on the grill.
Hamachi collar
Why it works: One of the most delicious and succulent cuts of this fish (also called yellowtail), the collar requires only salt and high heat to develop a flavorful crust. The generous amount of fat ensures that the meat remains tender and moist.
Where to get it: The Lobster Place, Chelsea Market, 75 Ninth Ave at 16th St (212-255-5672)
Jelly doughnuts
Why it works: The only thing better than a doughnut is a warm doughnut; grilling takes jelly fritters a step further, crisping the pastry and transforming the filling into molten juice.
Where to get them: Peter Pan Bakery, 727 Manhattan Ave between Meserole and Norman Aves, Greenpoint, Brooklyn (718-389-3676)
Mochi
Why it works: Grilled glutinous rice cakes are a traditional treat in Japan. Time over the hot coals gives the exterior a toasted nuttiness, making for a pleasing contrast with the starchy, chewy interior.
Where to get them: Sunrise Mart, 4 Stuyvesant St between Third Ave and E 9th St, second floor (212-598-3040) • 12 E 41st St between Fifth and Madison Aves (646-380-9280)
Stone fruits
Why it works: The sugars in peaches, apricots and plums caramelize on the grill, coaxing out an added level of sweetness and juice.
Where to get them: Fairway Market, 550 Second Avenue at 30th St (646-720-9420)
Best selling Time Out Offers