Restaurant and bar openings: January 10–16, 2013
Shigure, the Skylight Shoppe and more open in New York.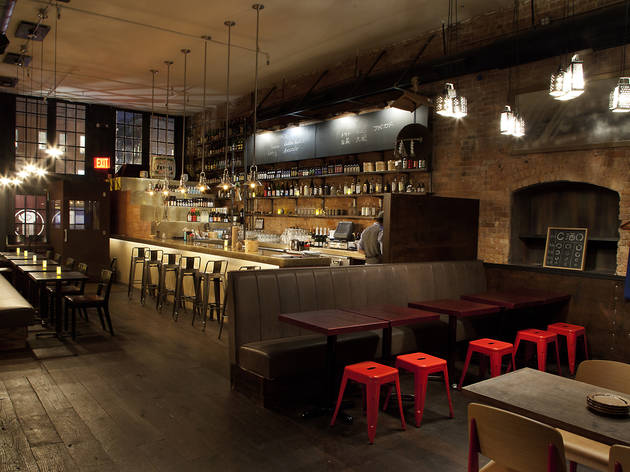 The following venues are expected to open by January 16. Always call ahead, as openings can be delayed.
American FlatbreadTribeca Hearth The highly regarded Vermont pizza company—founded in 1985 in owner George Schenk's backyard—enters the big leagues, putting its organic, wood-fired pies up against Gotham's finest. A menu of 14 pizzas, featuring dough made with artisanal flour, combine Mediterranean and American influences: The Cheese and Herb is topped with mozzarella, Vermont grana and oregano, while the New Vermont Sausage comes with house-made maple-fennel sausage and mushrooms. A New England take on a classic Japanese salad features Maine seaweed, carrots, celery and a ginger-tamari vinaigrette. In line with the chainlet's locally minded bent, 14 taps pour brews from New York and the Green Mountain State. 205 Hudson St at Canal St (212-776-1441)
The Sanctuary Lounge This upscale sports bar serves comfort food at the Sanctuary Hotel. Order a local beer or classic cocktail at the backlit onyx bar while watching the game on LED TVs, which discreetly double as mirrors when not in use. Appetizers include lobster mac and cheese and wagyu beef sliders, and entrees—strip steak, Atlantic salmon—are hot off the grill. 132 W 47th St between Sixth and Seventh Aves (212-514-6000)
Shigure Gotham's sake bars can tend toward extremes—either stiff-lipped speakeasies or brash East Village dives. This new Tribeca entry from Takahiro Okada (Decibel, EN Japanese Brasserie) and Jiro Yamada (Bar Veloce) strives to hit a middle ground, combining sleek but comfy digs with a high-minded, regional focus on drinks. Small-production distilleries are the focus of the 40-bottle rice wine list, including rare varieties of junmai daiginjoshu (the most labor-intensive, refined type of sake) and gingo-shu (a floral, highly polished sake). Find the origin of your slug on the painted map of Japan on the wall; numbered locations correspond with the menu. Drinkers can also choose from cocktails: Natty mixologists in ties and vests employ 14 types of shochu (a light, vodkalike spirit) in a selection of tipples, including a sour made with muddled Asian pear, a sugarcane-based shochu and lemon juice. Offset the booze with izakaya bites that nod to American picnic grub: A potato-avocado salad comes with a poached egg, while fried chicken is marinated with shio koji, a fermented rice-based sauce. 277 Church St between Franklin and White Sts (212-965-0200)
The Skylight Shoppe at Maloney & Porcelli Craig Koketsu (Park Avenue) pays tribute to 1950s Americana with this skylight-lit luncheonette on the third floor of the midtown steakhouse, also operated by Fourth Wall Restaurants. Sandwiches and entrées recall Eisenhower-era dishes: Oyster Rockefeller are stuffed in soft potato bun for a modern riff, while Chicago-style chopped steak is topped with French's Mustard and bread-and-butter relish. Another midcentury hallmark—classic iceberg wedge salads—come with bacon, blue cheese and red onions, or Waldorf-style with apples and walnuts. Below a red-and-white striped awning, soda jerks in white coats pull house-made flavors (blood-orange Creamsicle, Thai basil) from antique juicers at a 40-foot long counter. For dessert, there's ice cream, in varieties like Almond Joy and banana cream pie. 37 E 50th St between Madison and Park Aves (212-750-0100)
Sponsored listing
Essex
Though this Lower East Side spot also serves dinner, it's best known for its boozy brunch. For just $31.95, you get a choice of entree and as many mimosas, screwdrivers or Bloody Marys as you can drink in an hour and a half. Brunch entrees include The Aristocrat—potato pancakes topped with smoked salmon, sour cream, caviar and poached eggs—and Mexican matzo brei with scrambled eggs, black beans and avocado pico de gallo, in addition to more traditional options like omelets, eggs benedict and avocado toast. At dinner, choose from entrees such as gnocchi with tomato cream sauce and shrimp ($21), duck leg confit with baby bok choy and parsnip mash ($24) and blackened catfish with shrimp, potato and scallion hash ($22).
Venue says: "Love Wins NYC Pride Happy Hour Thurs June 22nd! Complimentary Smirnoff Love Wins Cocktail for Each Guest+Half-Price Drink Specials All Night"