Best restaurants for a Caesar salad in New York City 2012
Improve your lunchtime ritual by choosing one of these exceptional riffs on the classic romaine-and-anchovy Caesar salad.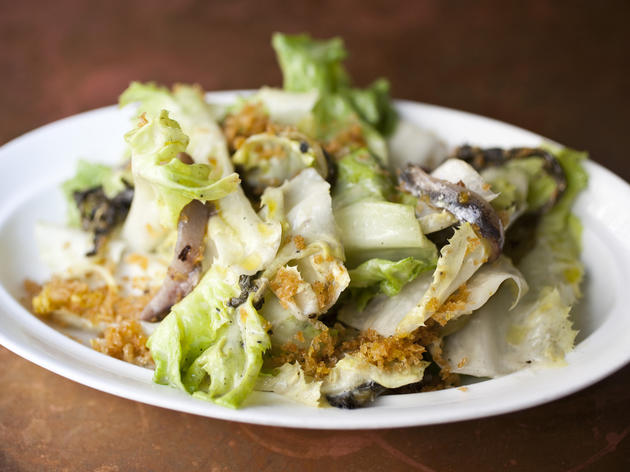 1/10
Photograph: Jolie Ruben
Escarole salad at John Dory Oyster Bar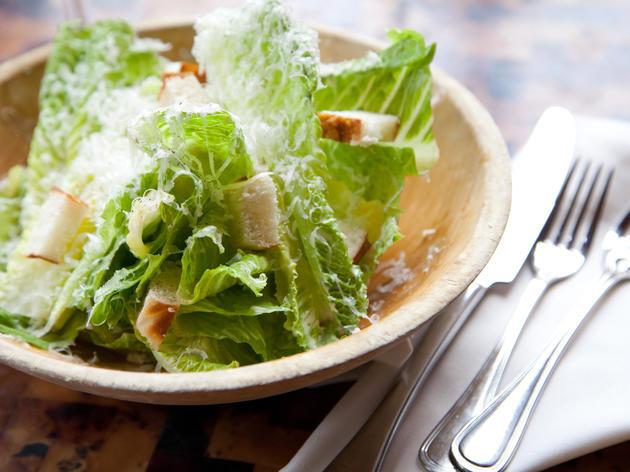 2/10
Photograph: Dominic Perri
Ensalada Alex-César cardini at Centrico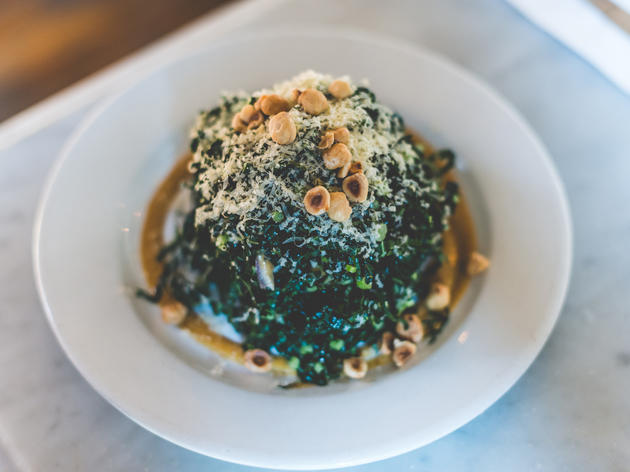 3/10
Photograph: Loren Wohl
Chopped black kale salad at Five Leaves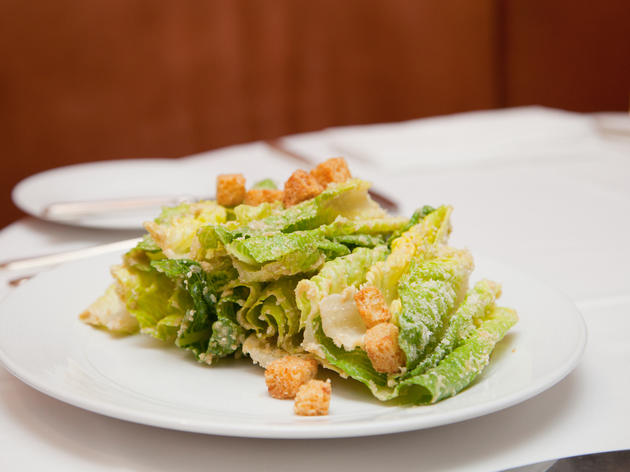 4/10
Photograph: Dominic Perri
Tableside caesar salad at Aretsky's Patroon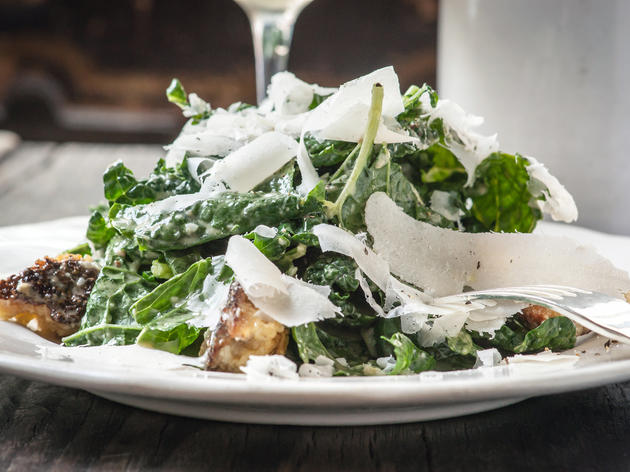 5/10
Photograph: Paul Wagtouicz
Cavalonero salad at Il Buco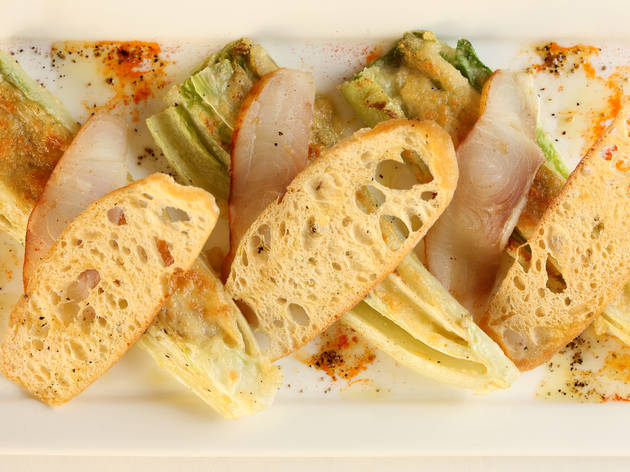 6/10
Photograph: Jay Cheshes
Grilled Caesar at Millesime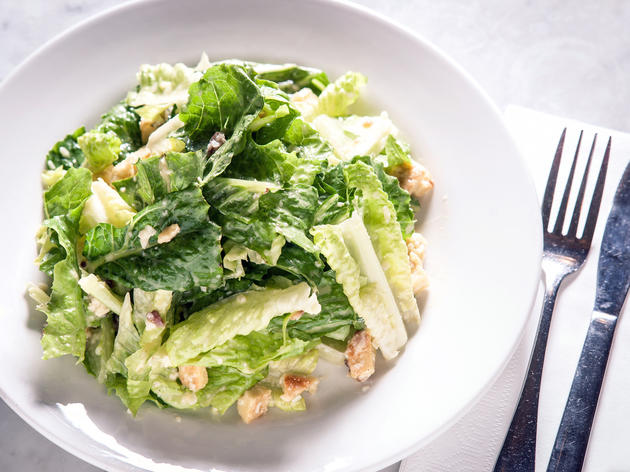 7/10
Photograph: Paul Wagtouicz
Pearl caesar at Pearl Oyster Bar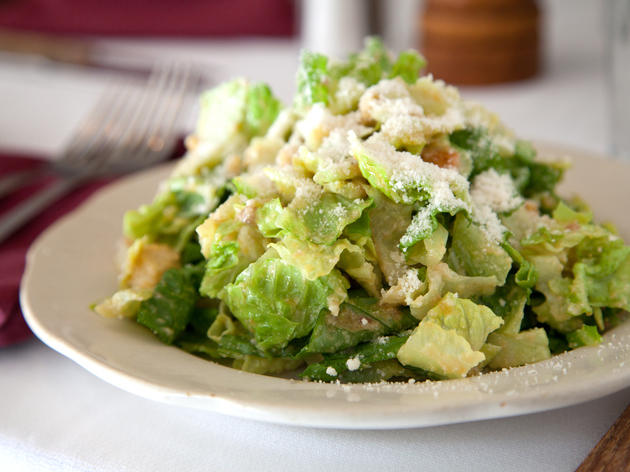 8/10
Photograph: Dominic Perri
Traditional caesar salad at Pietro's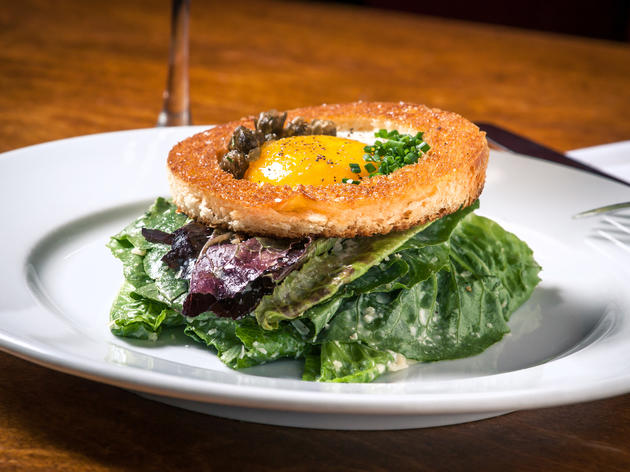 9/10
Photograph: Paul Wagtouicz
One-eyed caesar salad at the Redhead
10/10
Photograph: Dominic Perri
Caesar salad at Sacred Chow
Apologies to readers who think the Caesar was the emperor's favorite salad: Most sources agree that the Caesar salad was conceived in 1924 by a chef named Caesar Cardini in Tijuana, Mexico. The salad was created as a showcase for tableside preparation, a flourish that is alive and well in a handful of New York restaurants. Here, we've compiled our favorite Caesars, from the classic toss of romaine lettuce, anchovy and Parmesan to more impressionistic creations that employ kale, cod or even tofu to stunning effect. Did we miss your favorite Caesar salad in New York? Join the conversation in the comments section.
This palace of maritime kitsch inside the Ace Hotel deals mostly in seafood and oysters, but chef April Bloomfield's take on the Caesar salad ($9.50) is a worthy detour. Bitter escarole, tarted up with a lemony dressing, comes festooned with thin and silvery slices of pungent anchovy. A blitz of a finely ground croutons adds crunch to each verdant bite.
Read more
The Caesar grillée ($14) at this gorgeous hotel brasserie is a gutsy revision of the classic salad. Three hearts of romaine are lightly charred and served warm, spritzed with bracing lime and dusted in sharp Parmesan cheese. Instead of anchovies, the lettuce is draped with thin slices of smoked cod and crowned with lacy wafers of toasted baguette standing in for traditional croutons.
Read more
This sparse Greenwich Village spot is a vegan mecca, but the pair of Caesar salad adaptations on the menu could fool any dairy obsessive. The traditional version ($8) is made with field greens in a tangy tofu-miso dressing topped with garlic croutons. Or go for the kale variation ($8), which offers garlic-kissed cubes of tofu served over a bed of the spicy-bitter green.
Read more
Since the Caesar originated in Tijuana, it makes sense that you'd find a version of the salad—called Ensalada Alex-César Cardini ($11) in homage to its creator—on the menu at this Mexican restaurant. Here, a bed of romaine is cloaked in a tangy Parmesan-and-pepper-spiked vinaigrette and crowned with garlicky croutons. Served in a wooden salad bowl, the mix is crisp, light and revitalizing.
Read more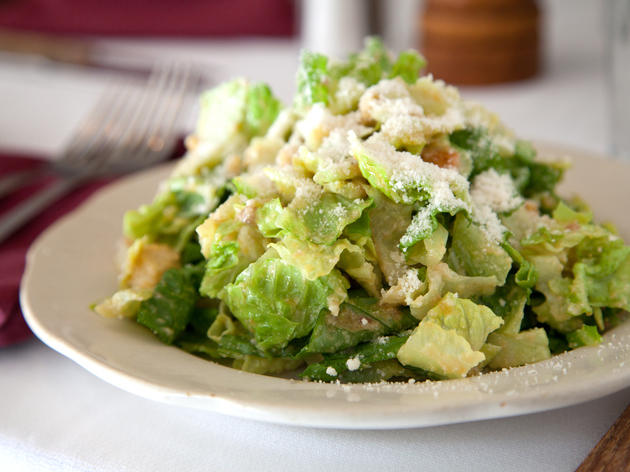 Pietro's
With its tuxedo-clad waiters and formal white tablecloths, this midtown stalwart feels like it's out of another era. The stodgy chophouse fare isn't all that exciting, but the Caesar salad ($12) is still old-school perfection: Romaine is dressed to order in a mix of egg yolk, lemon, Parmesan, black pepper, garlic and finely chopped anchovy, then topped with garlicky croutons. Each bite is a rush of tingling spice and brine. Beware: You'll be breathing fire for the rest of the day.
The cultish Caesar ($9) at this West Village oyster bar comes by way of owner Rebecca Charles's mother, who coaxed it out of a California chef 60 years ago. Juicy, crispy romaine leaves are sauced in coddled egg, a healthy dose of anchovy, a splash of lemon juice, good Parmigiano-Reggiano and a blast of garlic. English muffin croutons, baked at a low temperature until they're as hard as biscotti, punctuate the mix.


Read more
The Caesar gets a modern makeover at this Greenpoint café-bar. A mountain of finely chopped raw black kale is massaged with a spicy Caesar vinaigrette made with hot sauce, garlic, aged Gouda and two kinds of anchovies: vinegar-brined white and oil-cured black. The hefty portion ($12) comes to the table topped with more shavings of that aged Gouda, plus sweet halved hazelnuts to add a pleasant crunch.
Read more
This brick-walled East Village gastropub applies a comfort-food sensibility to its take on the Caesar salad. The One-Eyed Caesar ($10) features a bed of romaine coated in a rich, creamy anchovy-infused dressing and wisps of Parmesan cheese. The greens are showered in crispy fried capers and crowned with a one-eyed Susan—a yolky egg fried into a hollowed-out slice of baguette.
Read more
Suits and finance types favor this opulent midtown restaurant during lunch. Nab a spot on the rooftop patio, where you can enjoy the Caesar ($15), prepared tableside, without all the ambient investment chatter. The salad is simple and refreshing: Crisp romaine in a creamy lemon-and-garlic-tinged dressing is sprinkled with sharp Parmesan and golden croutons. Though listed as traditional, the salad features no anchovy, but you can dress up your greens with grilled salmon for an additional $12.
Book now
Read more
This copper-pot–embellished enoteca offers up an Italianate spin on the Caesar. The Cavolonero salad ($15)—named for the black kale that stands in for romaine in this riff—offers chewy greens doused in a lemon-and-anchovy dressing. Fat, crusty sourdough filone croutons add crunch, and a blizzard of just-shaved sharp Parmigiano-Reggiano cheese and fresh cracked pepper lends a funky bite. It's hearty enough to be a light lunch.
Read more
Sponsored listing
SOUTHGATE Bar & Restaurant
Hotel restaurants are frequently overhyped and overpriced, but SOUTHGATE Bar & Restaurant, located in the JW Marriott Essex House New York, provides not only delicious, solid fare but floor-to-ceiling views of Central Park from which to enjoy it. A shared plate of three New Brunswick Lobster Tacos ($26) is chock full of tail meat, but the bright mango pico de gallo and crunchy cilantro lime coleslaw are the stars of the show, injecting fresh flavor into what could be a tired dish (here, it certainly isn't). A black winter truffle flatbread ($19) falls, well, flat, the melted Brie rendering it soggy—the topping of roasted baby kale is delightfully airy, though. The entrees are where SOUTHGATE truly shines. Braised Angus beef short ribs ($34), served with a smoked gouda mac and cheese, shaved brussels sprouts salad and a tamarind BBQ glaze, are tender as can be—no knife needed. The gouda shone in the mac and cheese, though the orecchiette used to collect the delicious sauce were a hair overcooked. Any fish lover would not be able to resist the roasted king salmon ($42), cooked to a perfect temperature with its skin shatteringly crisp. Accompanied by a silky Maine Jonah crab risotto, jumbo green asparagus and a blood orange broth, it's a dish that guests at the table fight over.  Also, a note must be made of the striking earthenware bowls—they make each dish look even more special when presented. Service, as one would hope in a hotel, is fully hospitable without being suffoca
Venue says: "Stop by for our ALL-NEW Happy Hour menu available daily from 3-5PM for bar bites and cocktail specials on Central Park South."