Restaurant and bar openings: May 23-29, 2013
Achilles Heel, Charlie Bird and more debut in New York.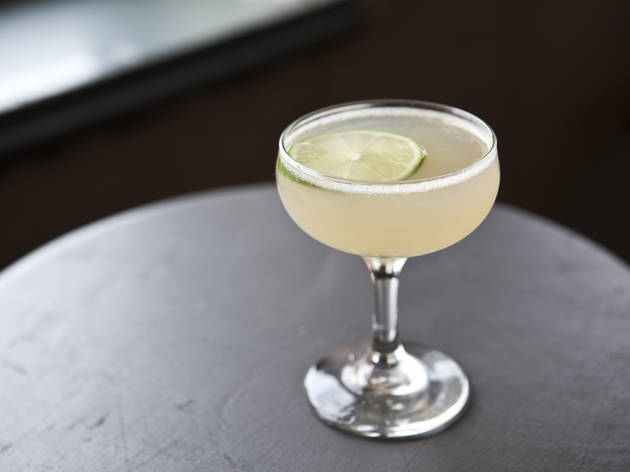 Achilles Heel Brooklyn scene-maker Andrew Tarlow (Diner, Reynards) livens the sleepy, underserved Greenpoint waterfront with a rum-soaked dive. Housed in a 1931 red-brick building, the wood-laden grog-grocery features old-school tin ceilings, original mirrors and a piano parked in a corner, an apt setting for boozy "Dead Man's Chest" sing-alongs. While it may not attract dockhands, it will draw fans of Tarlow's brand of effortlessly cool farm-to-table eateries. The small plates menu is culled from his family of restaurants: pâté, rillettes and liverwurst from renowned butcher shop Marlow & Daughters, artisanal breads and house-made butter from Roman's (the goods are all available for retail purchase, along with fresh produce and domestic cured meats). Raw bar items, Martha's Vineyard clam chowder and butter-slick sardine sandwiches fit with the nautical vibe, as do rum cocktails like a Hemingway daiquiri. Waterfront workers can fuel up in the a.m. with George Howell pour-overs or "Morning Highballs," such as a classic Harvey Wallbanger, at the hardwood bar. 180 West St between Green and Huron Sts, Greenpoint, Brooklyn (347-987-3666)
Black Tree Sandwich ShopSandwich slingers Macnair Sillick and Sandy Hall—who got their start with a pop-up at Crown Inn—go brick-and-mortar with a Lower East Side sub shop. Snag a stool at the 12-seat bar for upscale creations: house-smoked duck banh mi with duck pâté and spicy aioli; cider-braised pork belly with brown-butter applesauce; and marinated cremini mushrooms with sautéed kale and Landaff cheese. Cocktails are mixed with house-made bitters: A celery-mint variety flavors the gin-and-cucumber zipper Keep It Green, while a cherry flavor is mixed into the Under the Tree along with vodka, lovage syrup and cranberry tonic. Empire State beers (Bluepoint, Ommegang, Southampton) and wines (Channing Daughters, Paumanok) are also available. Keeping with the DIY feel, the 30-seat space is decorated with antique gilded mirrors, steel sourced from a 1940s factory and bowling-alley wood tables. 131 Orchard St between Delancey and Rivington Sts (212-533-4684)
Blue Ribbon Beer Garden The Bromberg brothers deliver an alfresco adult playground—offering brews, BBQ and Ping-Pong—with this 60-seat beer garden. The wood-paneled drinking spot—located on a second-floor terrace overlooking Allen Street—dishes up Southern comfort food, along with nostalgia-inducing games. Throw back beers both local (Brooklyn Brewery's Sorachi Ace) and foreign (Hitachino White Ale) or pour carafes of wine between rounds of Ping-Pong and board games (Scrabble, Monopoly, Operation). Underneath round paper lanterns and dangling feather ornaments, dig into plates of smoky barbecue (chicken, baby back ribs) and sides such as black-eyed pea salad and corn bread. 190 Allen St between E Houston and Stanton Sts (212-466-0404)
Charlie Bird Sax legend Charlie "Bird" Parker's spirit is as loud as a horn blare at this West Village spot. Hung birdcages call to mind the jazz great's nickname, and framed street-art photography flash on his role in Gotham's graffiti movement ("Bird Lives" was scrawled around town after his 1955 passing). And like jazz itself, this 60-seat restaurant blends grit with melodiousness. Share small plates like duck-egg toast and chicken liver underneath mismatched brick and exposed beams, or slink up to the marble bar for wine curated by sommelier extraordinaire Robert Bohr (Cru, Colicchio & Sons). Four-time James Beard nominee Ryan Hardy (of Aspen's acclaimed Little Nell) helms the kitchen, turning out American plates with Italian accents: suckling piglet with mostarda; house-made cappellacci alongside Greenmarket ramps and peas; and grilled Long Island black bass with olives, fennel and olio santo (California olive oil). A 50-seat garden out back is prime for tapping a toe to old Parker standards over rosé and oysters. 5 King St between MacDougal St and Sixth Ave (212-235-7133)
Intelligentsia Coffee Gotham's java aficionados are no strangers to cult Chicago roaster Intelligentsia. But now the Windy City powerhouse finally sets up its own shop with this first NYC outpost, a dark wood bar tucked in the lobby of Chelsea's High Line Hotel. At the counter, baristas make pour-overs with single-origin beans from one of three top-of-the-line brewers: the Kalita Wave, Cafe Solo and Chemex. Espresso junkies can order a shot pulled from the cutting-edge La Marzocco Strada EP. Pastry chef Umber Ahmad supplies sweet and savory treats from her Tom Colicchio–backed bakery, Mah-Ze-Dahr. In the evening, swap the caffeinated sips for bottled craft beers and wines. The High Line Hotel, 180 Tenth Ave between 20th and 21st Sts (212-933-9796)
Maiden LaneEast Village boozers can go on a sherry-swigging journey at this sea-inspired bar from Nialls Fallon and Gareth Maccubbin, former general managers of Parm and Torrisi, respectively. With port cities like New York and San Francisco in mind—the bar's name refers to waterfront streets—the duo crafts a wine list heavy in coastal sips (Domaine Sigalas, Casa de Mouraz). Sidle up to the ten-seat concrete-topped bar, where you can snack on light bites sourced from local purveyors: smoked and cured fish (Acme), Spanish salami (Despaña) and farmer's cheese (Saxelby). Accents such as a navy chalkboard menu and pine plank ceiling support the nautical theme. 162 Ave B at 10th St (646-755-8911)
Roti Mediterranean Grill The Chicago chain brings its health-minded Mediterranean bites to FiDi with its first NYC branch. Select a meal—sandwich, rice plate or salad—and staff will load it up with sirloin steak roti, chicken kebab or grilled seasonal vegetables. Top your plate off with a dollop of red pepper aioli, roti vinaigrette or S'hug sauce (a spicy Middle Eastern salsa)—and fixings such as feta cheese and sumac onions. 100 Maiden Ln at Pearl St (646-494-3359)
SmorgasBar Smorgasburg expands with a boozy seasonal offshoot at the South Street Seaport, outfitted with a 300-seat beer garden and eight 'burg vendors. From Memorial Day weekend through October, a dozen market favorites—including Brooklyn Oyster Party, Asia Dog, Landhaus and Pizza Moto—hawk their goods at a Front Street marketplace. Two makeshift bars—set inside and atop old shipping containers—service the 300-seat beer garden, pouring brews like Captain Lawrence Kölsch and Sixpoint Sweet Action, as well as wines and cocktails. Bartenders fizz up vodka, tequila, bourbon or rum with Brooklyn Soda Works pop (grapefruit-jalapeño-honey). Slushies from Kelvin Natural Slush Co. also get spiked with hooch for an adult icy treat. Front St between Beekman and Fulton Sts (no phone)
Tobias Rehberger Bar Oppenheimer German artist Tobias Rehberger pays tribute to his favorite Frankfurt watering hole with this pop-up bar at Chelsea's Hôtel Americano. Inspired by '60s mod decor, Rehberger has decorated the trippy, zigzagged basement in black-and-white stripes, sleek black bar stools and mirrored glass doors. Post up at a 11-seat table with a Bar Oppenheimer favorite, the Vodka Stein (made with lime and seltzer) or a passion fruit–tequila cocktail spiced with hot sauce. Hôtel Americano, 518 W 27th St between Tenth and Eleventh Aves (212-525-0000)
Watermark Bar Bouncing back from Hurricane Sandy, Abraham Merchant (Merchant Rivers House) unveiled a beer-focused waterfront bar on the restored Pier 15. On offer are sea-inspired bar bites like lobster rolls, fish-and-chips, crab cakes and shrimp cocktail with heirloom tomato gazpacho. Sip local craft beers like Bluepoint on red bar stools as you watch sports games on seven flatscreens or, better yet, take in scenic skyline views through the floor-to-ceiling windows. During the day, the bar also doles out cones of Ben & Jerry's ice cream, sorbets and frozen yogurt, fit for indulging your inner kid as you soak up rays on the outdoor deck. Pier 15 between Fletcher St and Maiden Lane (212-742-8200)
Sponsored listing
Zebú Grill
Escape the frigid temperatures and icy conditions in Manhattan for a taste of a warmer locale: Brazilian food from Zebu Grill on the Upper East Side. Pair Brazil's national cocktail, the citrusy caipirinha, with a typical bar snack of crispy hand pies called pastel filled with beef, chicken or cheese ($8.95 for three). For a heartier meal, dig into feijoada, a black bean stew with beef, pork and sausages served over rice ($25.95) or go all out with churrasco for two ($49.95). The sizzling platter filled with steak, chicken and sausage arrives with rice and beans. If you need more food, try a side of yucca fries ($6) or collard greens ($6). Looking for something sweet to finish the meal? You might be tempted by the passion fruit brulee topped with caramelized bananas ($8.95).
Venue says: "Delicious Brazilian cuisine on the Upper East Side in a hip atmosphere!"