50 best New York bars: Greenpoint
The best New York bars in Greenpoint, Brooklyn include an inclusive dive and a pro-level beer bar with a shuffleboard court.
By Time Out editors
Photograph: Mike Skigen
50 best New York bars: Enid's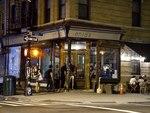 Hanging at Enid's is like being a kid and spending the weekend at the cool house down the street, where you could play the most radical video games and the parents let you drink. On Sundays, Enid's—presided over by a life-size gold camel—is the perfect mellow-date destination: Grab a cheap beer from the attractive bar staff and watch '80s TV shows or play video games. You'll never want to go home.
560 Manhattan Ave, (at Driggs Ave), 11222
More info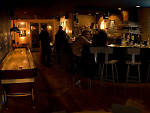 Price band: 2/4
Critics choice
In a beer scene dominated by hoppy, high-alcohol brews, credit this madcap watering hole for championing session beers, a family of brews whose lower booze content makes them ideal for extended drinking. Unlikely picks such as the 3-percent-ABV Berliner Weisse (Budweiser is 5 percent) will keep you buzzed but standing through an evening of shuffleboard. If you need something burlier, idiosyncratic draft and bottle options reflect the sharp eye of co-owner Dave Pollack. Try a treacle-kissed Carnegie Porter from Sweden or a figgy Prize Old Ale vintage from 1996.
43 Franklin St, (between Calyer and Quay Sts)
More info
---