Restaurant and bar openings: November 8–November 21
Chez Sardine, BrisketTown and more open in New York.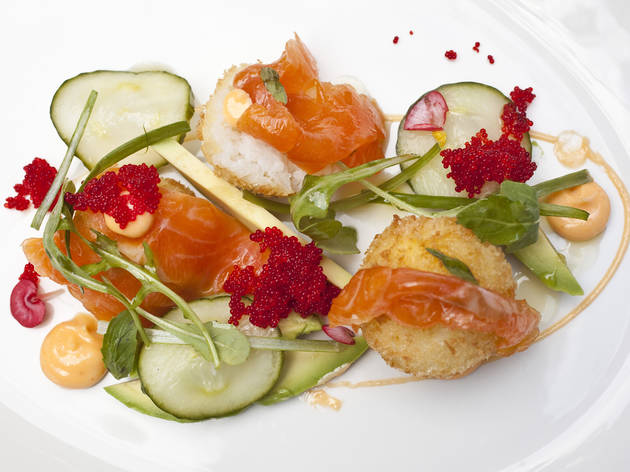 Arlington Club Chef Laurent Tourondel (BLT Steak) teams up with the TAO Group for this bi-level Upper East Side steakhouse. Expect plenty of mook bait, including a full sushi menu (including grilled lobster roll with avocado) and a design from the team behind Lavo—steel arches and brick-vaulted ceilings reference the grandness of the old Penn Station. 1032 Lexington Ave between 73rd and 74th Sts (212-249-5700)
Big Gay Ice Cream Shop The East Village's beloved soft-serve purveyor expands with a larger West Village branch. Three ice-cream machines dispense standard flavors, like vanilla and chocolate, as well as seasonal favorites such as pumpkin or peppermint. Other frozen treats, including ice-cream cakes and pies, are available all day, while early risers can find pastries and coffee. As at the first location, campy decor—rainbows, crystals and unicorns—adds sparkle to the 16-seat shop's interior. 61 Grove St at Seventh Ave South (212-414-0222)
Bill's When the iconic Prohibition-era saloon Bill's Gay Nineties shuttered in 2012, New York City lost one of its most beloved barrooms. It remains to be seen whether John DeLucie will be able to capture the magic of the old place with this bar-and-grill reboot. The chef—who made his bones reconditioning another classic restaurant, the Waverly Inn—offers steaks and burgers at his pumiced version of the classic spot. 57 E 54th St between Madison and Park Aves (212-518-2727)
BrisketTown 'Cue savant Daniel Delaney—who gained a cultish following with his online venture, Brisketlab—serves Central Texas-style smoked meat at this roadhouse joint. Inspired by Southern grocery shops, Delaney outfitted the counter-service spot with handmade benches and a glowing neon sign. The toque pulls pork and beef ribs, brisket and sausage from an ancient wood-fired smoker, which burns timber shipped in from the Lone Star State. Stuff your meat in a soft slice of homemade white bread, and get a salad or coleslaw on the side. Local and rare bottled beers are on offer, as well as Blue Bottle drip coffee. Finish your meal with homemade pie: Flavors—including seasonal varieties such as pumpkin, pecan and blueberry—rotate each week. 359 Bedford Ave between South 4th and South 5th Sts, Williamsburg, Brooklyn (718-701-8909)
Chez Sardine Unstoppable West Village impresario Gabriel Stulman, whose mini empire includes Perla and Joseph Leonard, applies his Midas touch to Gotham's latest food muse: the izakaya. At this loose interpretation of the Japanese sake tavern, chef Mehdi Brunet-Benkritly—who also mans the stove at another Stulman spot, Fedora—delivers tweaked bar fare, like a foie gras grilled cheese with house-smoked cheddar and a slow-cooked egg in bacon broth. Diners can also order creative Japanese-inspired bites, like sea urchin with house-made potato chips, and rice balls with avocado and tobiko (flying fish roe). To drink, there's a short list of dry, crisp sakes, as well as French and German wines, courtesy of beverage director Jen Sgobbo, who pulls double duty as the sommelier at Perla. The tiny 30-seat eatery is built in the fashion of a 1960s boat, with streamlined dark-wood fixtures. 183 W 10th St at 4th St (646-360-3705)
The Dalloway Literary icon Virginia Woolf is the muse of this bi-level Soho restaurant, from reality-show stars Amanda Leigh Dunn (The Real L Word) and Kim Stolz (America's Next Top Model). In the ground-floor dining room, guests can dig into dishes like chipotle-crusted ahi tuna. A fireplace and candlelit bar make for cozy digs on the lower level, where drinkers can sip cocktails whose names nod to Woolf's novels, like the To the Lighthouse (tequila, ginger, lime, jalapeño syrup and egg white). 525 Broome St between Sullivan and Thompson Sts (212-966-9620)
Finale The team behind the Meatpacking District's Catch roll out another behemoth: a 6,000-square-foot club in the three-story, multi-function space at 199 Bowery. Modeled after a padded vault, glass partitions and walls lined in tufted blue leather give the interior the look of a dark aquarium. Sip on imported beers and vodka cocktails at the rosewood bar. 199 Bowery at Spring St (212-627-1235)
The French Room at Mihoko's 21 Grams Veteran barman Raphael Reyes oversees the cocktail menu at this Flatiron bar. Look for French-Japanese tipples like the Lautrec Royal, a mixture of the Japanese plum liquor umeshu, champagne, lemon and pear juices, vodka and black lime (a Middle Eastern spice). Winos can choose from a selection of 450 bottles, plus 16 sakes. The monochromatic room—featuring white leather chairs and a marble bar—lends the space an haute cool. 16 W 22nd St between Fifth and Sixth Aves (212-741-0021)
Sen NYC The Sag Harbor sushi spot opens a 125-seat spin-off in Chelsea, serving Japanese seafood plates. 12 W 21st St between Fifth and Sixth Aves (212-288-5736)
Sotto 13 Flatiron's Bigoli reopens as a 70-seat trattoria serving rustic Italian fare. Family-sized pasta dishes (like a shrimp-studded linguine), small cheese plates and wood-fired pizzas are served at large, communal tables. Cap your meal off with a classic Italian dessert like panna cotta or tiramisu. 140 13th St between Sixth and Seventh Aves (212-647-1001)
Table Verte This narrow, brick-walled vegetarian bistro from the owners of Taureau serves tweaked Gallic dishes. Start off with a French onion soup made with a veggie stock before digging into mains like a mushroom ragout composed of morels and Portobellos. Desserts include a banana brulee sprinkled with crumbled Nilla wafers. 27 E 7th St between First Ave and Avenue A (646-671-5952)
Sponsored listing
Rochelle's
A hearty and affordable food menu served with drinks until 4:00am, 7 Days a week, in the epicenter of two of New York's greatest neighborhoods - Nolita and the Lower East Side.
Venue says: "Saturday May 6th - Leave Rochelle's Out of It 3rd Annual Kentucky Derby Party!"