Restaurant and bar openings: October 24–30, 2013
Baoburg, Kingside and more debut in New York City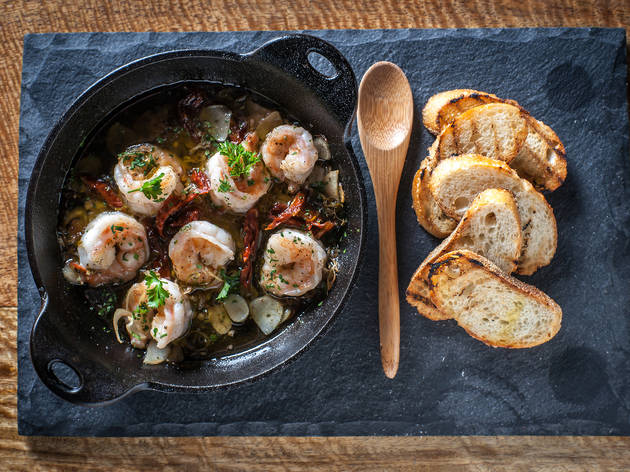 The following venues are expected to open by October 30th. Always call ahead, as openings can be delayed.
Baoburg Thai native Suchanan "Bao Bao" Aksornnan (Bar Boulud, the Mercer Kitchen) retools French plates with Asian and Spanish flavors at this 20-stool spot. Off the border-busting menu, choose from dishes like roasted octopus with edamame and chipotle bernaise; baked cod with sushi-rice mushroom risotto; and seared duck ramen with poached daikon and shiitake mushrooms. The trim wine list features nine French and Spanish selections, while cocktails are of the brunch variety (mimosas, Bellinis). Contrasting the fusion fare, the all-American digs are outfitted with mason-jar lights, sunflower-filled vases and a vintage apron. 126 North 6th St between Berry St and Bedford Ave, Williamsburg, Brooklyn (718-782-1445)
Davidovich Bakery At this Essex Street Market stand, the Queens bagel wholesaler peddles doughy rounds made the old-fashioned way: Hand-shaped, kettle-boiled and baked on wooden planks. A breakfast selection also features muffins and croissants, while whitefish salad and sandwiches like the peanut-butter-and-banana Elvis are available for lunch. 120 Essex St between Delancey and Rivington Sts (646-918-6763)
Kingside Chef Marc Murphy (Landmarc, Ditch Plains) peppers his New American menu with French and Italian accents at this restaurant inside the Viceroy hotel. In the 104-seat dining room—dressed with caramel leather banquettes and mirrored walls—the Chopped celebutoque dispatches hay-aged pecorino on toast, butternut-squash gnudi and roasted chicken with smoked chickpeas from the open kitchen. The bar program is flush with international wines, with wine director David Lombardo cheerleading halves and quartinos as he did with Landmarc's renowned half-bottle list. Also on offer are local draft beers (Southampton Double White, Captain Lawrence Pale Ale) and small-batch spirits. Viceroy New York, 120 W 57th St between Sixth and Seventh Aves (212-707-8000)
Kokum Shiva Natarajan (Chote Nawab, Chola) zooms in on India's southern Kerala region for this Curry Hill restaurant, named after the tamarind-like fruit from the Malabar Coast. Cage lamps, leather banquettes and a colorful mural of Kerala's iconic snake boats decorate the 42-seat eatery. Natarajan offers hyperregional plates like masala lamb chops, coconut-and-coriander curried crab and red-pumpkin thoran with green chilies, as well as a selection of street-style dosas, filled with spiced-potato-and-onion or Chettinad pepper chicken. To temper the heat, sip cocktails like the Tadi Fling (rum, vermouth, lime and pineapple juices) and the house quaff (kokum, cardamom-infused vodka, honey, green tea, tamarind water, lime juice). 106 Lexington Ave between 27th and 28th Sts (212-684-6842)
Little Brother Craig Samuel and Ben Grossman (Peaches, the Smoke Joint) rejiggered their Bed-Stuy café the Pantry into a spin-off of their Clinton Hill 'cue joint, Little Brother BBQ. Alongside house-baked pastries (lemon-poppyseed cake, bourbon-glazed cake), sandwiches (chopped short rib with fried egg) and coffee (Gowanus' Stone Street), the hickory-paneled space serves barbecue items like smoked pork shoulder and pork sausage. German and Belgian beers (Radeburger, Seef) and a custom-brewed SingleCut lager called Howlin' Wolf are on tap. 409 Lewis Ave at Decatur St, Bedford-Stuyvesant, Brooklyn (347-955-5366)
Patisserie Tomoko Haute pastry whiz Tomoko Kato (Bouley Bakery, Le Bernardin) crosses the bridge for this dessert tasting menu restaurant spotlighting French-Japanese confections. Snag a seat at the eight-seat horseshoe-shaped bar for a three-course prix fixe including an amuse-bouche, a choice of sweet (black-sesame crème brûlée, green-tea cheesecake tart) and petits fours like namachoko (a Japanese truffle-like confection). The pastries can be paired with wine, Toby's Estate coffee or In Pursuit of Tea brews. A to-go counter offers custom cakes, savory breads (potato-zucchini focaccia) and cookies (caramel-walnut sandwiches, mango macarons). 568 Union Ave between Frost and Richardson Sts, Williamsburg, Brooklyn (718-388-7121)
Pelzer's of Philadelphia Pretzels From baldies to salties, Philadelphia folk take their pretzels mighty seriously—the City of Brotherly Love was home to the first Pretzel Museum. Pennsylvania-born Leon Kirkland and his wife Barella twist up Philly-proud knots at this Crown Heights takeout shop. Shaped in figure eights and given a lye bath for that old-fashioned bierhaus flavor, the twists come in traditional plain or madcap flavors like everything (onion, garlic, poppy and sesame seeds), jalapeño-cheddar and Cran-Mary (cranberries, rosemary and lemon zest). Pretzel hamburger, slider and hot-dog buns are also on offer, as well as two mustards (spicy beer and champagne-honey) and Philly favorites like Peanut Chews and Tastykakes. 724 Sterling Pl between Bedford and Franklin Aves, Crown Heights, Brooklyn (718-552-2998)
Suite 36 Restaurant & Lounge Housed in a former textile warehouse, this midtown sports lounge is kitted out with a 50-foot-long marble bar, dark leather couches and 38 TVs. Gameday fans can nibble on dressed-up bar fare (lobster corn dogs, pulled pork sandwich with pineapple slaw) while sipping on craft beers (Goose Island IPA, Brooklyn Lager) or cocktails made with freshly squeezed juices from Pulp NYC. 16 W 36th St between Fifth and Sixth Aves (212-695-0036, suite36nyc.com)
Whynot Coffee and Wine At this sibling of the artsy West Village café-bar, find the same selection of Blue Bottle coffees and Mille-Feuille pastries (pistachio financiers, cheese brioche). The 2,000-square-foot space showcases a monthly rotation of local art, including the celeb-focused works of painter Jeremy Penn. 175 Orchard St between E Houston and Stanton Sts (646-682-9065)
Sponsored listing
9ten Restaurant
Located right at the base of Central Park, 9ten Restaurant serves creative American fare for breakfast, lunch and dinner. You might opt to start your day with a glass of freshly squeezed orange or grapefruit juice ($5.50) before moving on to eggs benedict with smoked salmon ($17) or blueberry-ricotta pancakes ($14). For lunch, choose from a wide variety of sandwiches and salads, like the roasted baby beet and kale salad with goat cheese ($14), the reuben served with french fries ($13.50) or the 9ten burger with bacon jam, caramelized onions, gruyere and a fried egg ($13.50). The dinner menu also a flatbread topped with wild mushrooms, swiss cheese and truffled ricotta ($13), lobster ravioli ($22), chicken souvlaki with french fries ($14.50) and a New York stip steak served with asparagus and sauteed mushrooms ($28). Finish the meal with a slice of strawberry cheesecake ($7) or a tall egg cream ($3.50).
Venue says: "Serving all day breakfast. Come enjoy eggs benedict, pancakes, and our organic egg omelettes!"