The best new cheap snacks in New York
If you're looking for a quick bite, sample one of our picks for the city's best new, fun snacks.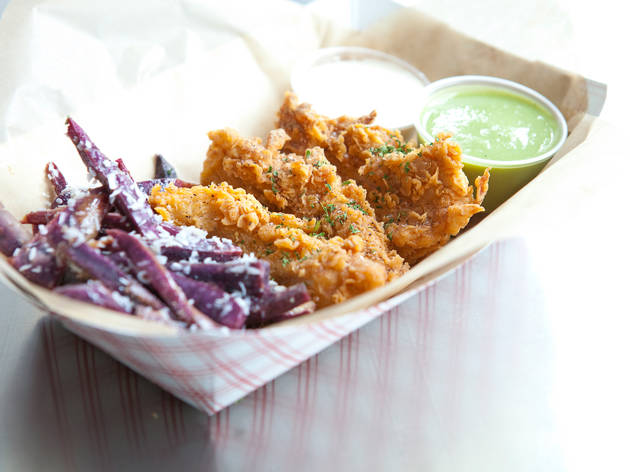 1/9
Photograph: Jakob N. Layman
Best snacks: The Finger at Sticky's Finger Joint
2/9
Photograph: Jakob N. Layman
Best snacks: Perfect Little Egg Sandwich at Dominique Ansel Bakery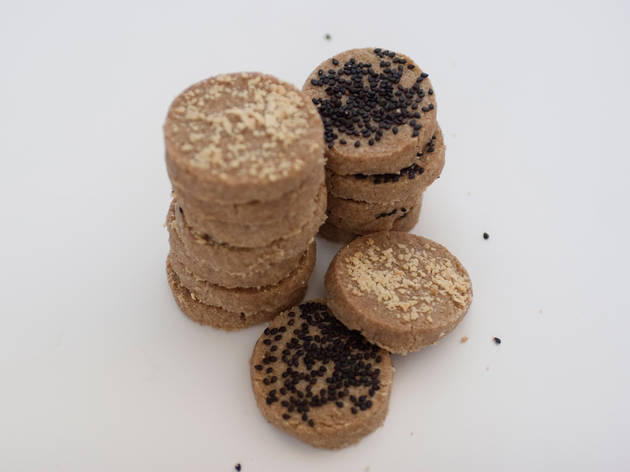 3/9
Photograph: Jonathan Aprea
Best snacks: Sandcastles at Black and Blanco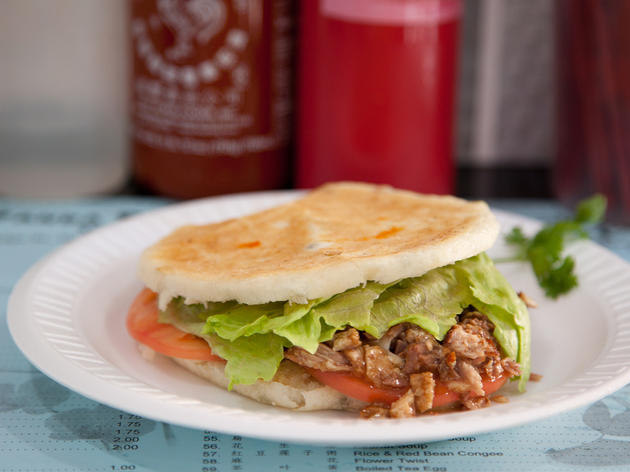 4/9
Photograph: Dominic Perri
Best snacks: Chinese hamburger with pork at Panda Dumpling House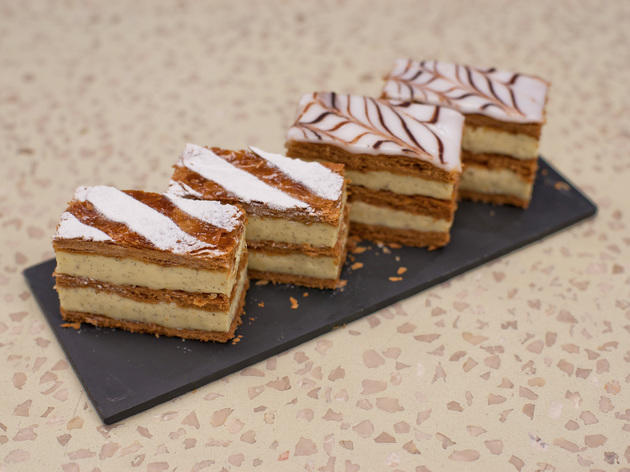 5/9
Photograph: Paul Wagtouicz
Best snacks: Mille-Feuille at Mille-Feuille bakery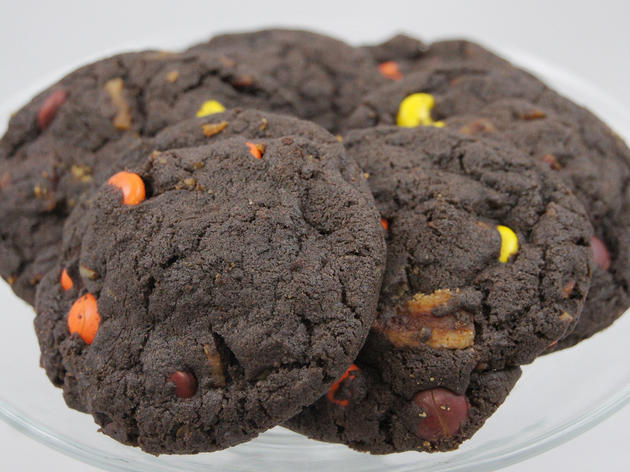 6/9
Best snacks: Chocolate Peanut-Butter Bacon Cookie at Books of Wonder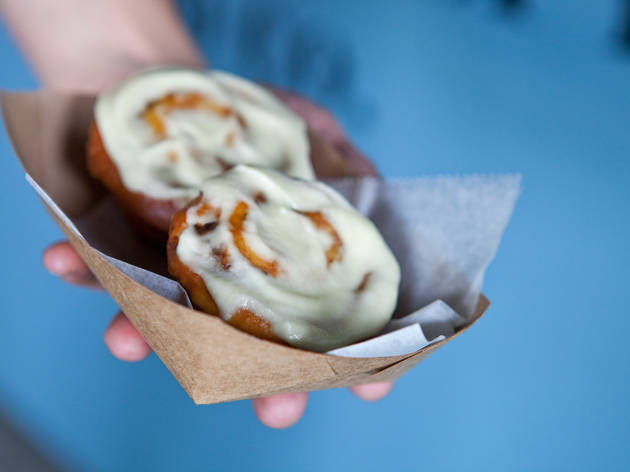 7/9
Photograph: Jakob N. Layman
Best snacks: Pork sticky rolls at Northern Spy on the High Line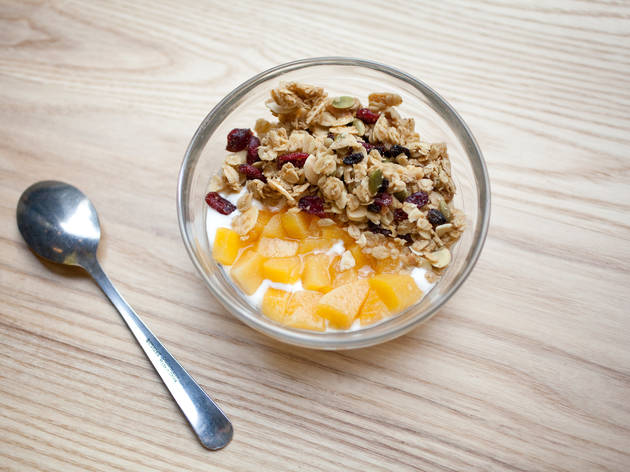 8/9
Photograph: Alex Strada
Best snacks: House-made yogurt with granola and seasonal fruit compote at One Girl Cookies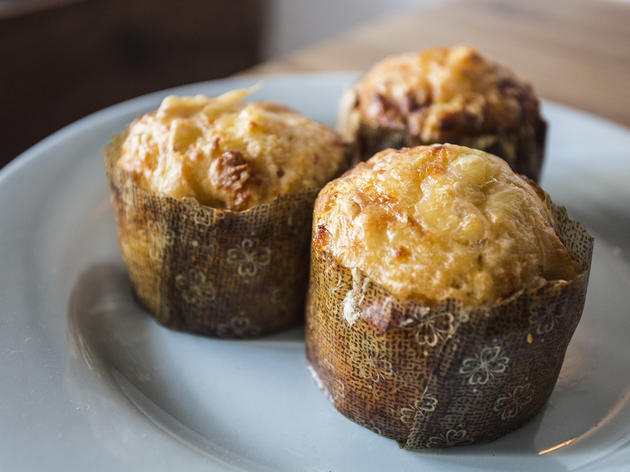 9/9
Photograph: Caroline Voagen Nelson
Best snacks: Ham-and-Gruyère muffin at The Hungry Ghost
best cheap eats in NYC
aren't limited to bigger plates: Small, affordable bites can be found at venues throughout the city, from artisanal snacks at
flea markets and food fairs
to elevated
bar grub
at nightlife spots. Check out our picks for the best cheap snacks in the city, including both sweet and savory noshes.
This month-old takeout shop serves an elevated version of the humble chicken finger, using sustainably sourced fowl and offering toppings such as candied citrus zest, and crushed pretzel and caramel sauce. But a strips emporium must be judged by the basics, and Sticky's classic battered-and-fried breasts—"The Finger"—are par excellence. Order a small ($6.75) and you'll be rewarded with three fat slabs of juicy buttermilk-marinated white meat covered with crispy-crunchy Southern-style breading that's been showered with slivers of parsley and sea salt. There are more than a dozen sauces to choose from: We like "Sticky's" (a creamy Alabama-style BBQ with a bit of heat) and "Cray" (jalapeño, cilantro, pineapple, saltines).
Read more
Standard-bearing desserts are the primary reason to pop into former Daniel pastry chef Dominique Ansel's Soho bakery. But if you're there before noon, be sure to order this aptly named breakfast creation ($5), what might happen to the McMuffin if a four-star French chef took over McDonald's. A thick square of fluffy steamed egg (laced with caramelized shallots and chives) is wedged inside a sweet brioche bun and topped with melted Gruyère.
Read more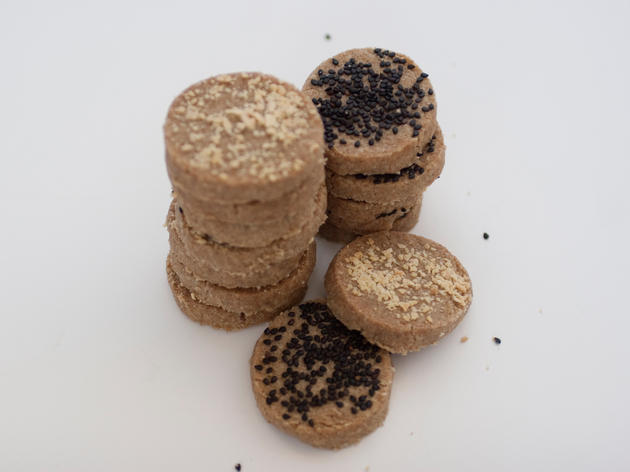 Sandcastles from Black and Blanco
Steve Blanco and Heidi Karlsen like to promote their "sandie" shortbread cookies as feel-good delights, a wheat-free dessert made with extra-virgin coconut oil and 100 percent whole-grain rye sourced from New York State. But you won't be mulling the health benefits while devouring their crumbly Moroccan-inspired Sandcastles cookies (box of seven $4.99–$5.99). Like shortbread with Fertile Crescent spicing, these crisp, buttery babies marry flavor and texture in one perfect bite. Inspired by Blanco's mother's ghoriba, the nutty confections she made in her native northern Africa, the treats come in three flavors: Vanilla is sprinkled with black sesame seeds; marzipan is flavored with almonds and topped with crushed nuts; and a maple-dusted variety is topped with crushed pumpkin seeds. • Available at Westerly Natural Market, 913 Eighth Ave at 54th St (212-586-5262, westerlynaturalmarket.com) • New Amsterdam Market, South St between Beekman St and Peck Slip (newamsterdammarket.org). Sun 11am–4pm.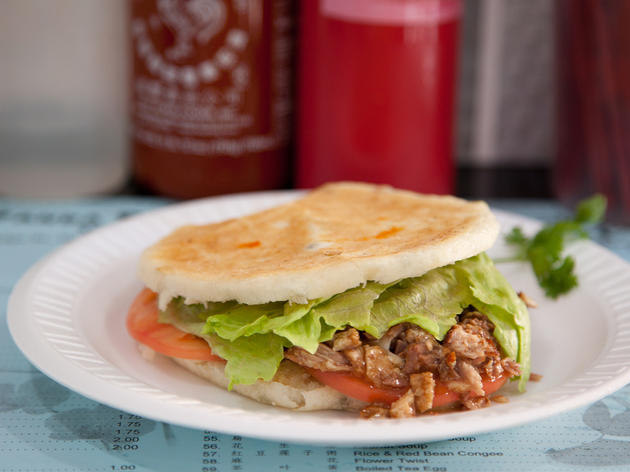 Chinese hamburger with pork at Panda Dumpling House
The dumplings ($1–$2.50) at this new Chinatown takeout spot are stellar—they're made-to-order and filled with everything from fried leeks to pork and bok choy. But for superb snacking, our money's on the "burger" ($2.50), a dense, almost buttery bun (it's practically a biscuit) that's griddled, split side to side and stuffed with sweet chunks of slow-cooked pork belly that's slathered with a tangy-sweet Asian barbecue sauce. Paper-thin slices of pickled cucumber top the creation, best enjoyed with a squirt of sriracha for extra kick. • (212-625-1115)
Owner Olivier Dessyn worked with famous pastry chef Pierre Hermé in Paris before coming to New York to bake true croissants at this unassuming spot in the shadow of NYU's Bobst Library. The namesake dessert ($4.75)—pronounced "meel-foy," it means "thousand layers"—is a neat three-layer rectangle of flaky puff pastry and crème patisserie (a luscious custard lightly flavored with vanilla bean, praline or raspberry), all of which shatters into shards of crunch and cream when you break it with your fork. To-go orders come in a little box marked MILLE FEUILLE TIME! that unfolds like the petals of a flower when you pop its top.
Read more
In May, the Baconery, once an online-only bakeshop, opened a small café in this Chelsea children's bookstore. Now kids (and parents) can stuff themselves with its pork-obsessed snacks, including bacon-flecked brownies. The savory-sweet pairing is especially tasty in the chocolate peanut-butter bacon cookie ($3.50), a chewy treat studded with chunks of the smoked meat and peanut-butter candies.
Read more
Recently, this East Village farm-to-table restaurant joined a slew of top-notch food vendors selling bites atop the wildly popular elevated park. Along with flaky buttermilk biscuits (paired with Edwards country ham or homemade seasonal jams), Northern Spy will be selling its pork-studded sticky roll ($3.75), a shopping-mall-meets-downtown-Manhattan creation that combines a soft pinwheel of yeast dough with hunks of slow-cooked, cinnamon-spiced pork sourced from Flying Pigs Farm. Before it's served, the dish is heated and topped with a glaze fortified with maple and Dijon, plus parsnip icing. • (northernspyfoodco.com)



Buy tickets
Read more
The new outpost of Dawn Casale and Dave Crofton's Cobble Hill cookie company is a soaring navy-and-white space with picture-perfect displays of pumpkin whoopie pies and red velvet cakes that channel a Martha Stewart photo spread. But each morning, you'll find a healthier nosh with the shop's bowls of homemade yogurt ($2.50) made with Battenkill Valley Creamery whole milk from Salem, New York. It's unbelievably smooth, packs just the proper amount of tang, and is especially good when topped with One Girl's house granola (oats, nuts, pumpkin seeds, currants, walnuts, dried cranberries, maple syrup and coconut) and stewed seasonal produce ($6.50) like rhubarb or apricots.
Read more
This pretty café is one of a handful of eateries now upping the culinary ante near the soon-to-open Barclays Center. Owner Murat Uyaroglu partnered with Pete Solomita, the baker from Sunset Park's Little Buddy Biscuit Company, to turn out goodies that include a suite of savory breakfast muffins. The smoky Black Forest ham, thyme and Gruyère variety ($2.75) is eggy and rich, almost like a mini quiche. Perfectly sized to eat from one hand, it's the ideal portable hangover killer.
Read more
Sponsored listing
Serenata
Restaurateur Besim Kukaj strays from his Italian-accented portfolio (Cara Mia, Gallo Nero, Il Bastardo) with this colorful, Chelsea-set Mexican eatery. From the kitchen, find shareable appetizers such as shredded beef tacos, poached shrimp ceviche and a gluten-free salad built with cactus, grasshoppers, roasted corn and cipollini onions. For a larger bite, signature entrees range from plancha-sautéed Chilean sea bass to huitlacoche (corn truffle) enchiladas.
Venue says: "Come to try Camarones en Salsa Oaxaqueña. Jumbo Shrimp, squid ink rice, chile mulato dry and Shrimp Sauce - Yummy!"