The best sandwiches in New York 2012: Burgers, melts and more
Wrap your mouth around behemoth subs, porcine melts and the year's best burger. These are the best sandwiches in New York in 2012.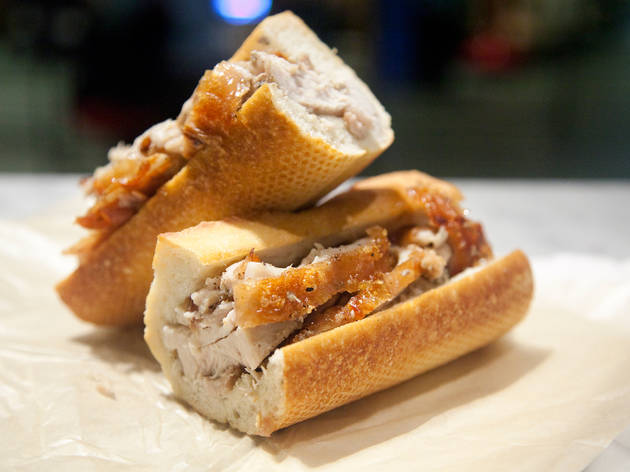 1/9
Photograph: Melissa Sinclair
Porchetta sandwich at EatalyThis Thursdays-only special, served out of the rosticceria in the back of Mario Batali's Italian superstore, manages to hit all of the high points of a sandwich with just a few well-chosen ingredients. Crackly shards of caramelized skin contribute crunch; juicy, garlic-rubbed chunks of pork provide meaty heft; and ridges of satiny fat seep into the bread, along with seasonings like oregano, fennel and massive flakes of sea salt. 200 Fifth Ave between 23rd and 24th Sts (212-229-2560, eataly.com). Small $11.80, large $14.80.—Chris Schonberger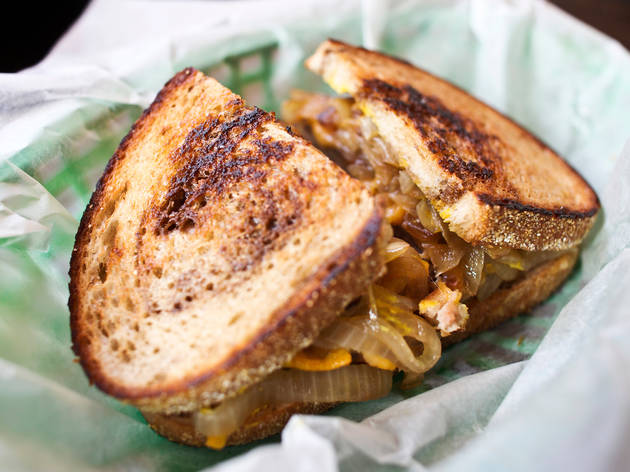 2/9
Photo: Caroline Voagen Nelson
Porky Melt at Pork SlopeA nod to chef Dale Talde's Midwestern roots, this gut-buster of a bar snack features a juicy homemade beef and pork bratwurst patty, laced with ginger and nutmeg, then smothered with griddled onions and ballpark yellow mustard. The whole meaty mess is squashed between two thin slices of Rockland Bakery rye, and is utterly delicious paired with one of the bar's many American whiskies. 247 Fifth Ave between Carroll St and Garfield Pl, Park Slope, Brooklyn (718-768-7675, porkslopebrooklyn.com). $6.50.—Jamie Feldmar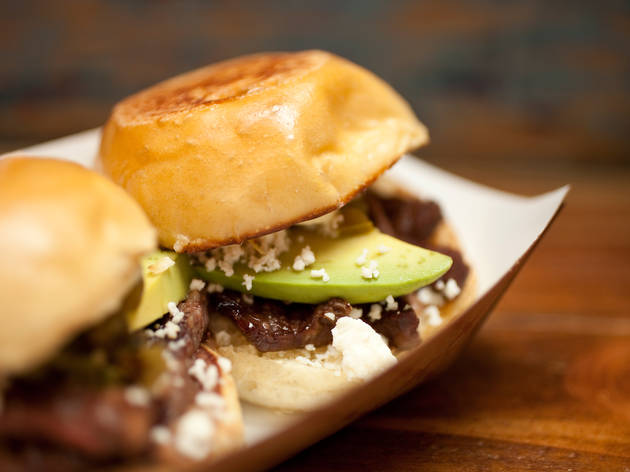 3/9
Photograph: Virginia Rollison
Carne asada tortitas at Salon HechoAmong the superior Mexican drunk snacks at this mescal-soaked spot, the mini tortas keep us coming back. Rich toasted brioche buns sandwich tender grilled strips of boneless short rib. A shower of creamy avocado, pickled jalapeño and salty queso fresco top it off. 356 Bowery between Great Jones and E 4th Sts (212-937-4245, salonhecho.com). Two for $8.—Mari Uyehara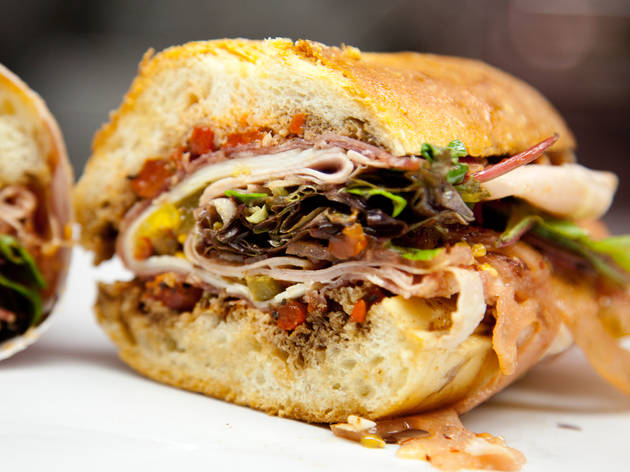 4/9
Photograph: Dominic Perri
Spicy Godfather Sandwich at Graham Avenue Meats & DeliCannoli may have been the Corleone clan's preferred foodstuff, but we're pretty sure they'd leave the desserts behind in favor of this behemoth sub. Atop a sliced Italian hero from Napoli Bakery, staffers layer paper-thin rounds of imported meats (usually some combination of mortadella, capocollo and sopressata), along with BelGioioso provolone, tomatoes, mixed greens and the secret weapon: a flurry of pickled cherry, banana and jalapeño peppers. Each jaw-stretching mouthful leaves our lips tingling. 445 Graham Ave at Richardson St, Williamsburg, Brooklyn (718-389-9777). $7.75.—Sarah Bruning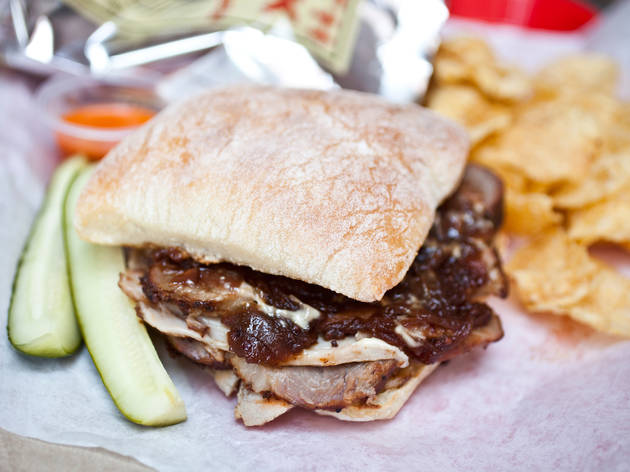 5/9
Photograph: Virginia Rollison
Rocket Pig Sandwich at Rocket PigThe sign often posted to Rocket Pig's door—out of pig!—attests to the popularity of this sandwich, which chef Ralf Kuettel envisioned as a complete meal, hitting all the tongue's flavor receptors. He uses pork shoulder and neck, sourced from local farms, rubbed in spices, and brined for three days in salt and molasses. The succulent pork is then smoked, roasted and fanned across a spread of gooey, chutneylike onion jam and spicy mustard aioli, and wedged between two flour-dusted hunks of ciabatta. 463 W 24th St at Tenth Ave (212-645-5660). $14.—Christopher Ross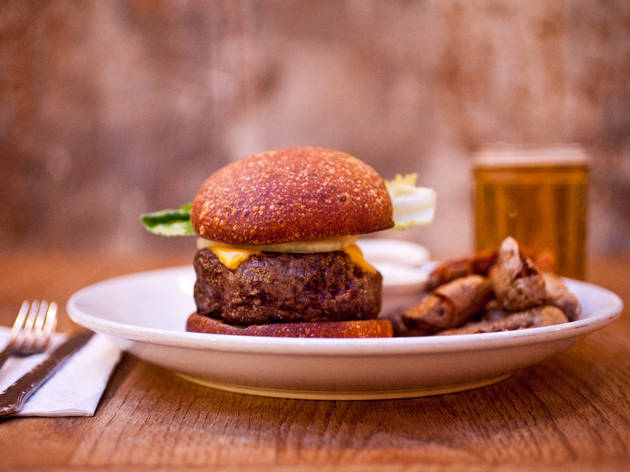 6/9
Photograph: Jolie Ruben
Burger at Roberta'sRococo embellishments abound in New York's burger wars, but this year's top patty was a minimalist coup de grâce. Chef Carlo Mirarchi pares his sandwich down to the barest of ingredients: The hefty pan-seared round—a custom Pat LaFrieda blend—bursts with deep, dry-aged flavor. The mineral-rich patty is topped simply, almost stoically, with American cheese, white onion and a crisp romaine leaf. But the buttery house-made bun puts it over the top, bolstering the meat's fatty juiciness with its own über-richness. 261 Moore St between Bogart and White Sts, Bushwick, Brooklyn (718-417-1118, robertaspizza.com). $12. Lunch only.—Mari Uyehara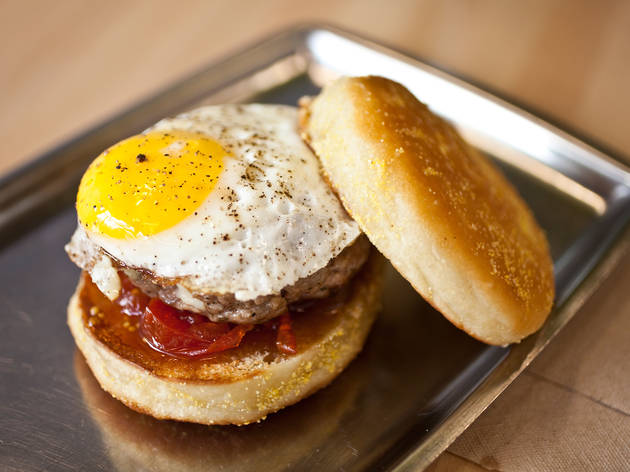 7/9
Photograph: Virginia Rollison
Breakfast burger at Mile End SandwichThis super-deluxe McMuffin puts the fast-food original to shame. The buttery, flaky house-made English muffin is stuffed with Mile End's own zingy veal-sausage patty (threaded with crushed red pepper and sage), sweet apple butter, maple syrup, sharp Canadian cheddar and a fried runny egg. It's messier than any drive-through breakfast—expect yolk and syrup everywhere—and much tastier, too. 53 Bond St between Bowery and Lafayette St (212-529-2990). $12.—Jay Cheshes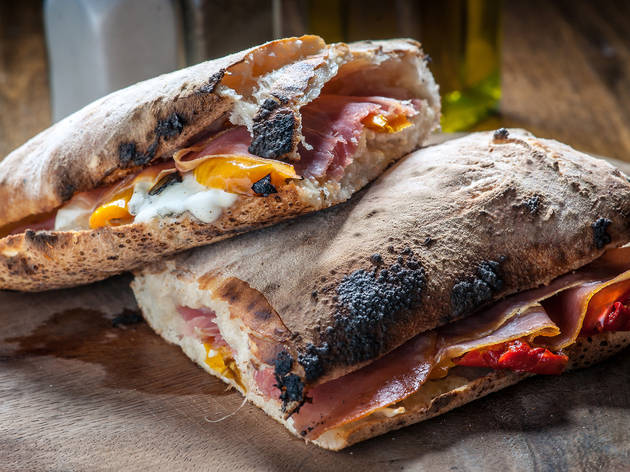 8/9
Photograph: Paul Wagtouicz
Panuozzo prosciutto bufalina e peperoni at San Matteo Pizza Espresso BarTwo oblong slabs of pizza dough, blistered in a 1,000-degree wood oven, form the vessel of choice for the Neapolitan sandwich known as a panuozzo. Our favorite at San Matteo is as simple as it is satisfying: a combination of stretchy buffalo mozzarella, salty Parma San Pietro prosciutto (sliced to order) and oil-kissed house-roasted red peppers. 1739 Second Ave at 90th St (212-426-6943, sanmatteopanuozzo.com). $15.—Jamie Feldmar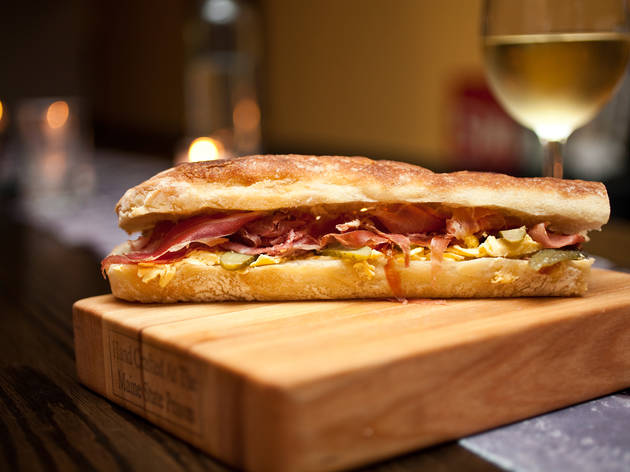 9/9
Photograph: Virginia Rollison
Surryano ham sandwich at Porsena Extra BarMelons and prosciutto have been familiar bedfellows on charcuterie plates for ages, inspiring chef Sara Jenkins to combine the winning duo between two slices of bread. Jenkins, who rose to sandwich stardom at her pork-boosting shop Porchetta, has devised another hit with this ingenious handful, which starts with a luscious homemade cantaloupe butter smeared on halves of soft stecca bread from Sullivan Street Bakery. Ribbons of rich, lightly smoked Surryano ham from Virginia and briny cornichons are the cardinal details that send this slender sandwich sky-high. 21 E 7th St between Second and Third Aves (212-228-4923). $10—Christopher Ross
RECOMMENDED: All 100 best dishes and drinks

A simple concept—bread and filling—yields thrilling results in the hands of top New York chefs. Our roundup of the best sandwiches this year ranges from the McMuffin you always dreamed of at Mile End Sandwich to a Neapolitan delicacy. Plus, try a once-a-week treat at Eataly and this year's best burger, courtesy of Roberta's.