The Feed first look: Chez Sardine
Hit-making restaurateur Gabriel Stulman's latest opening is a loose interpretation of an izakaya, a Japanese sake tavern.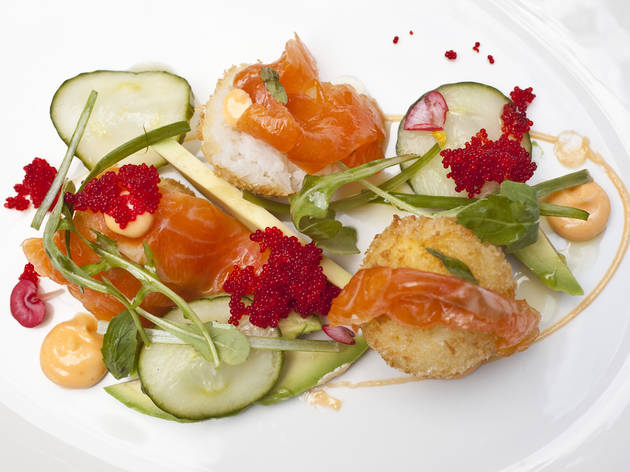 Unstoppable West Village impresario Gabriel Stulman, whose mini empire includes Perla and Joseph Leonard, applies his Midas touch to Gotham's latest food muse: the izakaya. At this loose interpretation of the Japanese sake tavern opening on November 21st, chef Mehdi Brunet-Benkritly—who also mans the stove at another Stulman spot, Fedora—delivers tweaked bar fare, like a foie gras grilled cheese with house-smoked cheddar and a slow-cooked egg in bacon broth. Diners can also order creative Japanese-inspired bites, like sea urchin with house-made potato chips, and rice balls with avocado and tobiko (flying fish roe). To drink, there's a short list of dry, crisp sakes, as well as French and German wines, courtesy of beverage director Jen Sgobbo, who pulls double duty as the sommelier at Perla. The tiny 30-seat eatery is built in the fashion of a 1960s boat, with streamlined dark-wood fixtures. 183 W 10th St at 4th St (646-360-3705)
Sponsored listing
Zia Maria
This Chelsea restaurant serves fresh, seasonal Italian fare from its brick-walled kitchen. The specialty here is the pizza: Think classic margherita ($14 for a small, $20 for a large), mozzarella with spicy sopressata and caramelized onion ($15 for a small, $25 for a large) and prosciutto with shaved parmesan and arugula ($17 for a small, $27 for a large). Diners with allergies can make any pie gluten-free (starting at $19 for a small). You might want to order a salad to share, like the prosciutto with pear and gorgonzola ($14.95), or just go all in on appetizers like arancini ($12.95), traditional bruschetta ($12.95) or polenta with sausage, mushrooms and truffle oil ($14.95). Other entrees include eggplant parmesan ($17.95), gnocchi with bolognese ($17.95) and veal piccata ($22.95). As for drinks, the bartenders will be happy to mix you anything you like from the fully stocked top-shelf bar.