The Feed first look: The Cleveland
Acme alum Ken Corrow highlights seasonal vegetables at this rustic New American restaurant.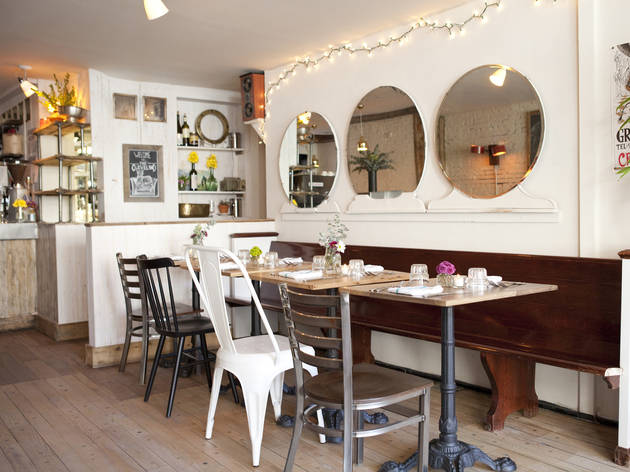 1/5
Photograph: Jessica Lin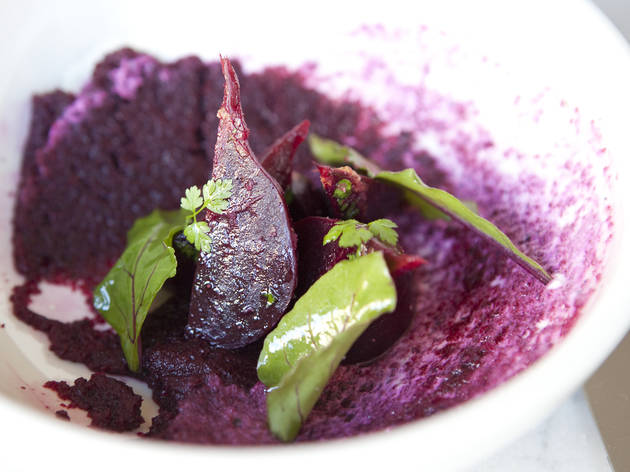 2/5
Photograph: Jessica Lin
Roasted beet salad at the Cleveland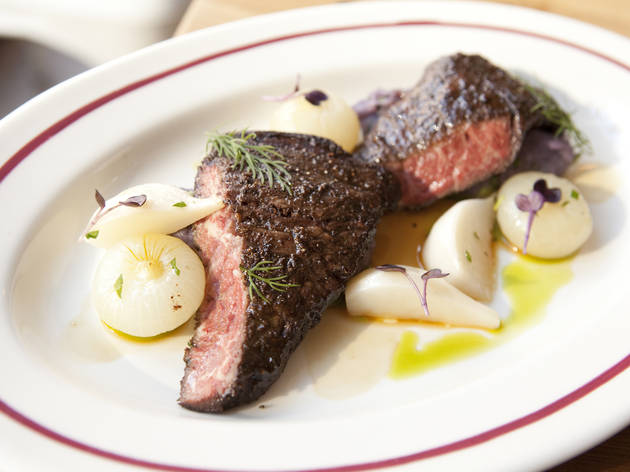 3/5
Photograph: Jessica Lin
Skirt steak at the Cleveland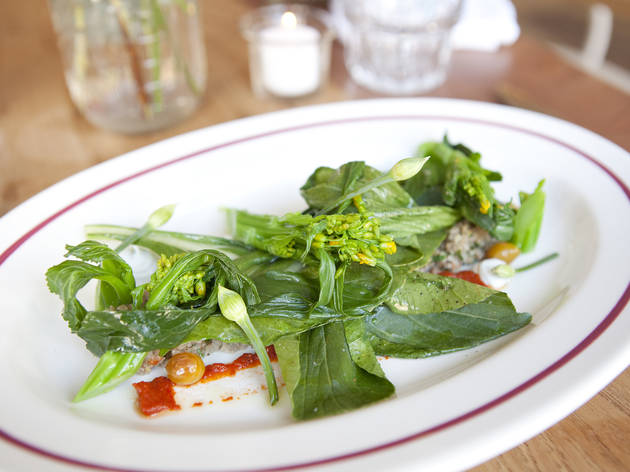 4/5
Photograph: Jessica Lin
Bulgur wheat with yuk choy at the Cleveland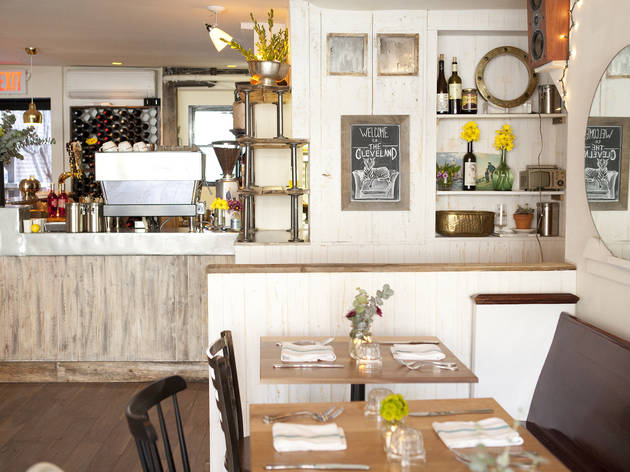 5/5
Photograph: Jessica Lin
It's no secret that haute vegetables are having a moment right now, from tableside carrot tartare at the luxe Eleven Madison Park to an artful sweet-potato-and-buttermilk plate at Blanca out in Bushwick. In this era of exalted produce, chef Ken Corrow has astutely honed his cooking chops in some au courant kitchens: Scandinavian-inspired Acme (where black carrots get their own showcase plate) and locavore haven Anella (which boasts a backyard greenhouse). Starting Monday at the Cleveland—a 36-seat diner kitted out with a zinc-topped bar and red oak floors—the toque will spotlight seasonal produce in approachable dishes. Roasted beets are served over Lebanese yogurt with herbs, while butternut squash two ways (roasted, pureed) accompanies roasted chicken. Desserts, like a sweet-potato cake with chocolate mousse, similarly display a passion for root vegetables. The menu's earthy approach is also reflected in the 14-bottle wine list, highlighting biodynamic and organic bottles. Check out the menu below. 25 Cleveland Pl between Kenmare and Spring Sts (212-274-0900)
SMALL PLATES
Chopped salad ($11)
Chickpeas, marinated garden vegetables, mint, oregano, yogurt
Bulgur wheat ($10)
Yuk choy, cranberries, hazelnuts, spicy red pepper sauce
Kale ($11)
Pears, almonds, sautéed onions
Roasted beets ($8)
Beet puree, herbed labne
Cauliflower soup ($7)
Granny Smith apple, sourdough crostini
MAIN PLATES
Rubbed skirt steak ($21)
Roasted blue potato mash, cippolini onion, parsnips, chimichuri jus
Roasted chicken ($18)
Butternut squash two ways, chicken sausage
Seared branzino ($20)
Charred eggplant, Lebanese cous cous, spicy red pepper sauce
Olive pappardelle ($15)
Tomatoes, peppers, wild oregano, black olives
Barley risotto ($16)
Shredded confit duck, braised prunes, caramelized onions
FOR THE TABLE
Sautéed kale, herbs, pears, pancetta chips ($6)
Spiced french fries with shaved pecorino romano ($6)
Yuk choy, cranberry, lemon ($6)
Sponsored listing
Ayios Greek Rotisserie
Can't afford a vacation in Santorini? Get a taste of the Greek lifestyle at this taverna in the East Village. Whet your appetite with a crispy slice of spinach spanakopita ($10), a plate of chargrilled octopus ($19) or shrimp saganaki ($18). For your main course, go casual with a chicken or pork yeeros platter served with fries, tomatoes, onions, pita and the house sauce ($14), or gorge on the rich moussaka, a dish of eggplant, potato and ground beef topped with a thick layer of bechamel sauce ($16). A whole grilled sea bass ($25) or salmon fillet ($18) might do the trick if you're craving seafood. Finish your meal with a traditional Greek walnut cake ($8) or head straight for the bar. You're going to want to taste the hard-to-find spirits like ouzo ($7) and the Greek brandy called metaxa ($14). The wine lists features mostly Mediterranean vintages, while the signature cocktail list includes themed beverages like a Mykonos Mule ($14).
Venue says: "When you mention Time Out you can have a Yeeros Pita with your choice of either a glass of house wine or draft beer for $9."