The Feed first look: The Elm
Michelin-starred Corton perfectionist Paul Liebrandt launches a casual restaurant in the King & Grove Williamsburg hotel.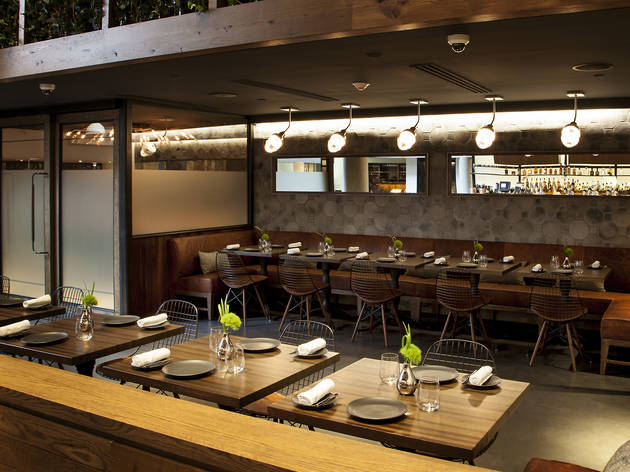 1/5
Photograph: Dominic Perri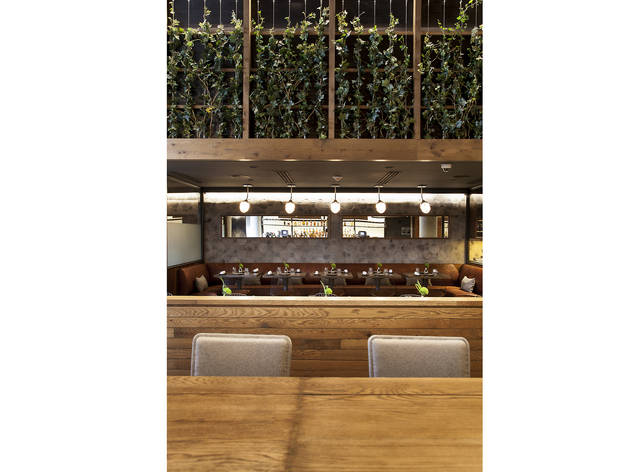 2/5
Photograph: Dominic Perri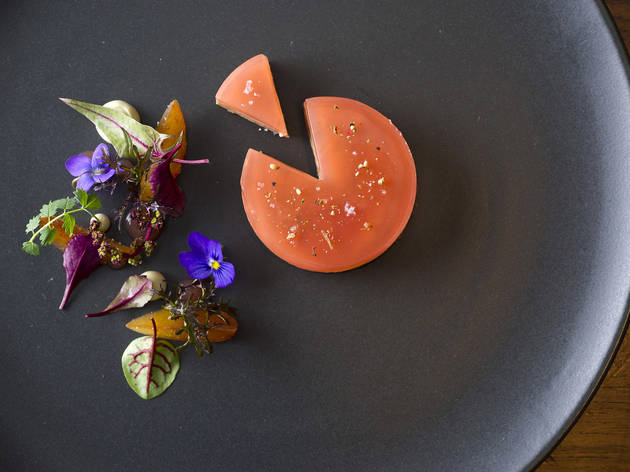 3/5
Photograph: Evan Sung
Foie gras with spiced plum gelee at the Elm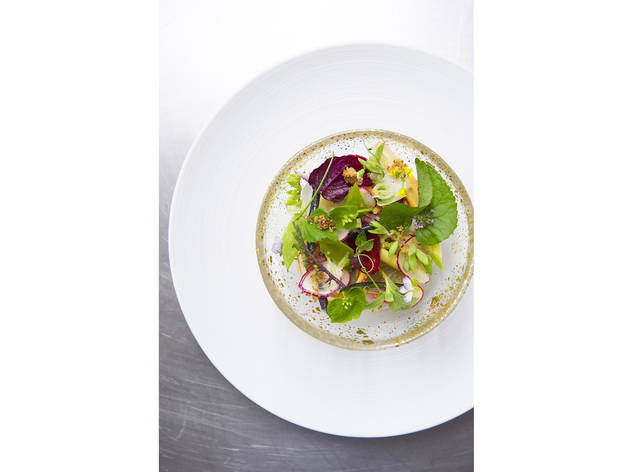 4/5
Photograph: Evan Sung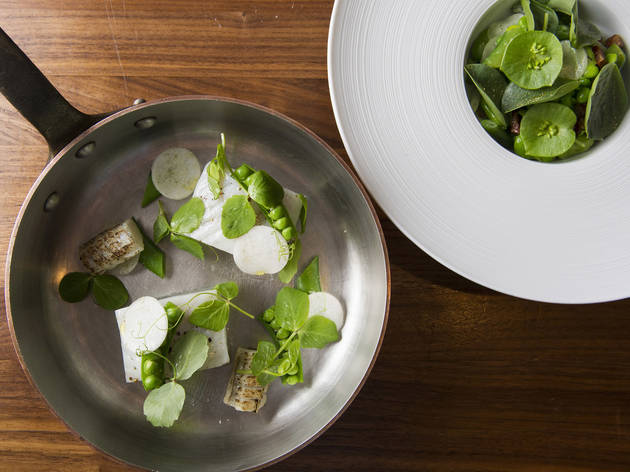 5/5
Photograph: Evan Sung
Turbot for two at the Elm
Paul Liebrandt—the meticulous, oft-polarizing mind behind the two-Michelin-starred Corton—goes casual for this 80-seat eatery. Well, casual for a tasting-menu chef who serves beet-hibiscus gelee and goat-milk Chantilly. In the short-lived Pillar & Plough space at the King & Grove Williamsburg hotel, Liebrandt and his Corton deputy Mazen Mustafa oversee a menu divided into four categories: land, sea, raw and shared. The modernist fare includes foie gras with spiced plum gelee, pistachios and chili-flecked brioche; lamb neck served alongside charred eggplant and brown-butter puree; and an Atlantic turbot for two à la française, with fresh peas, bacon and lemongrass nage. At the 12-seat bar, industry vet Johnny Swet (Rogue & Canon, Cole's Greenwich Village) created a menu of hyperseasonal cocktails, heavy on fresh vegetables and herbs. The subterranean space sports metal light fixtures and banquettes made of—what else?—elm wood. Check out the menu below. 160 North 12th St between Bedford Ave and Berry St, Williamsburg, Brooklyn (718-218-1088)

MENU

RAW
Crudités
Baby Lettuces, Summer Vegetables, Green Olive-Tuna Crème 17

Avocado
Avocado Soup, Curry Scented Cashew, Ruby Red Shrimp 15

Foie Gras
Spiced Strawberry Gelée, Pickled Strawberry, Thai Long Pepper 18

Kanpachi "Jamon"
Watermelon, Heirloom Tomato, Vadouvan Spice 17

SEA
Swiss Chard Angolotti
Lobster, Corn, Shishito Pepper 22

"Flavors of Bouillabaisse"
Halibut, Mussel, Orange Confit, Fennel Blossom 28

Gnudi
Scallop "Tom Yum" Spring Onions, Lemon Balm 20

Atlantic Skate
Romenesco, Marcona Almond, Golden Raisin Vinaigrette 20

LAND
Elysian Fields Lamb
Lamb neck Charred Eggplant Purée, Ras el Hanout Spice 26

Short Rib
Thumbelina Carrot, Argan oil PL Sauce 27

Summer Beets
Romaine, Tomato Crème, Bacon XO 22

Duck
Pickled Cherry, Hazelnut, Toasted Honey Jus 25

SHARE
Chicken
"Kiev style" 56

Turbot
Summer Bean à la française Lemongrass Nage 58

Pork Belly
"Pan con Tomate", Baby Squid, Tomatillo 58

Summer Garden
Vegetables and Fruits en cocotte 48

Sponsored listing
Zaitzeff
This Financial District outpost offers burgers for the conscious carnivore: The restaurant serves only meat that is hormone- and antibiotic-free and comes from family-owned farms. First, choose your meat: sirloin ($11 for a quarter-pound patty, $17.50 for a half-pound patty), Kobe beef ($12.95 for a quarter-pound patty, $19.95 for a half-pound patty), turkey ($9.75), grilled chicken breast ($14.50) or a veggie patty ($9.25). Then, doctor it up with toppings like bacon ($2.75), mushrooms ($3), avocado ($1.50), Vermont cheddar ($1.50) and sausage ($3). All that's left to do when your cooked-to-order burger arrives on a fluffy Portuguese roll is dig in. Still hungry for more? Order up some regular or sweet potato fries ($5.25 each). After all, you can't have a burger without 'em! To drink, Zaitzeff offers a selection of craft beers, plus Pellegrino ($1.75) and Little Rabbit sodas ($2.50).
Venue says: "Order Online Today - Get 10% off every order by using the code: ORGANIC10"