Heads up! We're working hard to be accurate – but these are unusual times, so please always check before heading out.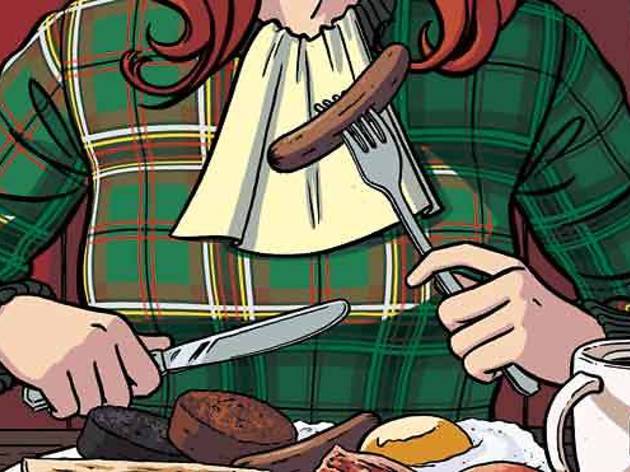 Your St. Paddy's Day
This year, fete the Emerald Isle your own way. TONY breaks down festive plans for gourmands and boozehounds alike.
THE GASTRO GEEK
You call your bacon rashers and swoon for soda bread. Track down traditional Irish treats on a borough-hopping food tour.
RECOMMENDED: See the full St. Patrick's Day in NYC guide
DIG INTO A FULL IRISH BREAKFAST
If you're serious about Irish grub, you know there's no skipping breakfast on St. Patrick's Day. You can get the traditional fry-up—eggs, lean back bacon, sausages, black pudding (blood sausage), white pudding (made with pork and oatmeal) and tomato—at most Irish pubs, but it takes a studied practitioner to make one that meets old-country standards. The Fitz (687 Lexington Ave between 56th and 57th Sts, 212-355-0100), a pheasant-wallpapered nook in the Fitzpatrick Manhattan Hotel, has 20 years of experience serving its standard full Irish ($19). Order your egg fried; puncture the plump yolk, and use it to coat the squat bangers and gently spiced white pudding. If you wait until the weekend to celebrate St. Paddy's, screw the utensils, and instead tackle the inspired Irish breakfast roll ($10) at Sweet Afton(30-09 34th St at 30th Ave, Astoria, Queens; 718-777-2570; available Sat, Sun 11am--4:30pm). This Gaelic gut-bomb features sliced pork sausage, Irish bacon, a fried egg and two rounds of seared black pudding shoehorned into a buttery country roll, with baked beans and a juicy grilled tomato on the side. For an extra $2, you can get the sammie smothered in melted Irish cheddar and scallions.
STOCK YOUR IRISH PANTRY
To find supplies for a proper St. Patrick's Day feast, skip Whole Foods and make your way to Sunnyside, a longtime Irish stronghold in Queens. There, you can rub shoulders with homesick expats at Butcher Block (43-46 41st St between 43rd Ave and Queens Blvd, Sunnyside, Queens; 718-784-1078), a neighborhood grocery store that packs its shelves with labels like Marmite, Paxo and Cadbury. At a meat counter along one wall, men in white aprons dole out black pudding and cuts of beef popular across the pond, like shin and round steak. You'll also want to raid the tea aisle and the fridge toward the back, full of imported breads, including Irwin's potato farls. But the most enticing draw for St. Paddy's bingers is the bounty of Anglo junk food: colorful cardboard boxes brimming with crisps in flavors like prawn cocktail, copious chocolates (Wispas, Twirls) and house-made sausage rolls.

THE EVENT FOR YOU: IRISH COOKING CLASS
Learn to whip up classic Irish dishes at a hands-on cooking class and tasting. You'll make favorites like soda bread and corned beef with cabbage, then dig into the results, alongside beer and Michael Collins whiskey. Ger-Nis Culinary & Herb Center, 540 President St between Third and Fourth Aves, suite 2E, Gowanus, Brooklyn (347-422-0337). Thu 17. 6:30--9:30pm; $50.
RECOMMENDED: A guide to St. Patrick's Day in NYC
THE STUDIED BOOZER
You enjoy a crackling fireplace and a quiet read of Yeats. These transporting tipples will help set the mood.
SIP A STANDOUT DRAM
As with tequila, Irish whiskey has seen its good name dragged through the mud. But there's more to the country's hooch than bargain-bin Jameson. That same storied distillery steps up its game for the Jameson Gold Reserve(available at Heights Chateau, 123 Atlantic Ave between Clinton and Henry Sts, Brooklyn Heights; 718-330-0963; $59.99), a creamy, honey-kissed blend which offers a fine entre into the singular pleasures of Irish whiskey. Michael Collins Single Malt(available at Union Square Wines & Spirits, 140 Fourth Ave at 13th St; 212-675-8100; $49.99), meanwhile, is a ten-year-old beauty that delivers dark-fruit notes, a pleasing sweetness and a wisp of smoke. Finally, Connemara Peated Single Malt(available at Astor Wines & Spirits, 399 Lafayette St at 4th St; 212-674-7500; $44.99)—a rare breed of heavily peated Irish whiskey—goes all out in its pursuit of smoke, producing a fiery dram tamed by underlying hints of caramel.
EXPLORE STANDOUT STOUTS
A "pint of plain" is imperative on St. Paddy's Day, but garden-variety Guinness isn't the only Irish stout worth sipping. Last fall, one of the brewery's rarer releases—the burly Guinness Foreign Extra (available at Whole Foods Bowery Beer Room, 95 E Houston St between Bowery and Chrystie St, 212-420-1320; 4-pack $8.99)—returned to U.S. shores for the first time since before Prohibition. A higher alcohol content and extra hops historically helped the stout keep during long journeys from Dublin; today, those practical tweaks to the recipe make for beer-nerd manna, accentuating the brew's complexity and drawing out its roasted malts and bittersweet finish. Dublin's Porterhouse Brewing Company also has a number of NYC newcomers in its stable, all of which are now on tap at its first stateside pub, the Porterhouse at Fraunces Tavern(58 Pearl St between Broad and Water Sts, 212-968-1776). Sample the house varieties in a tasting flight (three eight-ounce pours for $16): Start with the mild Plain Porter; then move on to the bolder Wrassler's XXXX Stout and—our favorite of the bunch—the smooth, slightly tangy Oyster Stout.
THE EVENT FOR YOU: WHISKEY TASTING
Explore Irish spirits at a whiskey seminar hosted by Chelsea Wine Vault pro George Summer. He'll speak about the country's distilling heritage and guide you through six pedigreed pours.Chelsea Wine Vault, 75 Ninth Ave between 15th and 16th Sts (212-462-4244). Thu 17. 6:30--8pm; $75.

RECOMMENDED: A guide to St. Patrick's Day in NYC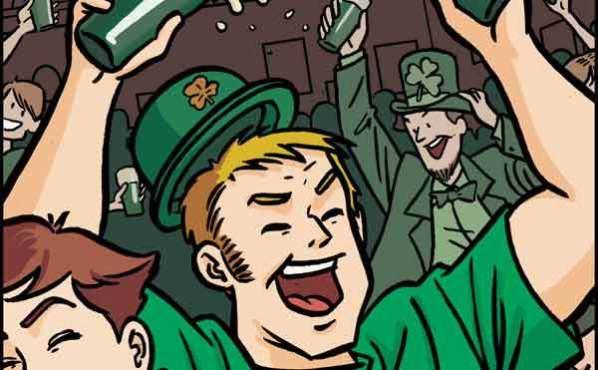 THE GUINNESS GUZZLER
You just want to get wasted. We get it. Here's where to find the craic, and where to recover the next day.
GO ON AN AUTHENTIC PUB CRAWL...
Sure, you could get loaded at any number of shamrock-covered watering holes around town. But those who want to add a little authenticity to their debaucherous wanderings should set their sights on Sunnyside and neighboring Woodside, where thick brogues still punctuate the pub banter. Here are your marching orders: Start a couple blocks from the 7 train's 61st St--Woodside stop at Sean Ogs(60-02 Woodside Ave at 60th St, Woodside, Queens; 718-889-3499), where a cathedral-style ceiling marks the pub as a fine spot to worship the splendor of a well-poured pint. Next, settle into the trapped-in-time barroom at Donovan's Pub(5724 Roosevelt Ave at 58th St, Woodside, Queens; 718-429-9339), and pick up some pointers from old-timers who know a thing or two about a bender. Stay for a few jars, but make sure you end up at Gaslight(43-17 Queens Blvd between 43rd and 44th Sts, Sunnyside, Queens; 718-729-9900). At this raucous tavern, expats hoist pints of the dangerously poundable house beer—Gaslight Lager ($4)—to the sounds of live bands playing Irish folk tunes.
...THEN CURE YOUR HANGOVER
In addition to a hearty fry-up (see "The Gastro Geek"), you'll need some Irish-style hair of the dog to coax yourself back into the land of the living. At Fort Defiance(365 Van Brunt St at Dikeman St, Red Hook, Brooklyn; 347-453-6672), owner and barkeep St. John Frizell elevates Irish coffee ($10) with his meticulous preparation: Counter Culture's chocolaty Toscano blend is brewed to order in a La Marzocco espresso machine, then spiked with Powers whiskey and topped with heavy cream and freshly grated cinnamon. Across the river, Manhattanites can go for the off-the-menu rendition ($10) at Ditch Plains(29 Bedford St at Downing St, 212-633-0202)—a generous mug of dark-roasted La Colombe coffee kicked up with Bushmills and crowned with sweet whipped cream. If you can't stomach the hard stuff first thing, the frosty Guinness Float ($9) at Southern Hospitality BBQ(645 Ninth Ave at 45th St, 212-265-1000)—a pint of Guinness crowned with two scoops of vanilla ice cream—should soothe your throbbing temples.

THE EVENT FOR YOU: ST. PADDY'S DAY PARTY
Ulysses channels the auld sod by carpeting Stone Street with real grass for a tented, all-day festival. Fuel up with a gratis Irish breakfast (8:30--10am); then throw back Guinness ($7) and Jameson ($8) till the wee hours. At 6pm, take a break from boozing to dance a jig or two with an Irish-American jam band. NO COVER Ulysses, 58 Stone St at Hanover St (212-482-0400). Thu 17. 8:30am--4am.
RECOMMENDED: A guide to St. Patrick's Day in NYC