Heads up! We're working hard to be accurate – but these are unusual times, so please always check before heading out.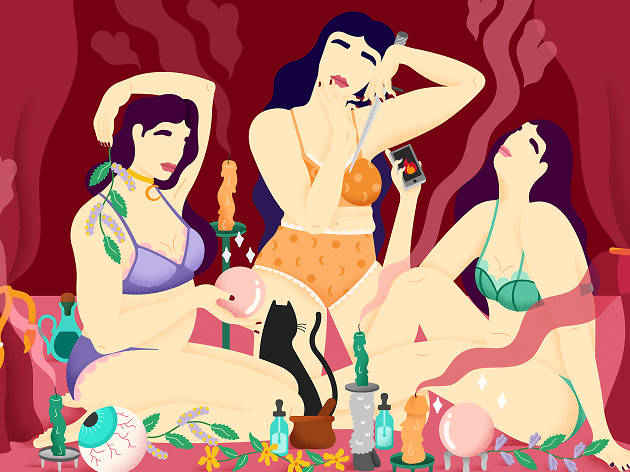 Witchy ways to find love in NYC
Meet the enchantresses whose potions, incense, candles and spooky techniques are helping New Yorkers up their dating games
Ah, the lengths New Yorkers will go to nab that special someone in the city. These days it's not just about optimizing your Tinder profile with the perfect pics. As these witches attest, New Yorkers are resorting to a slew of spells to find what they're looking for—whether it's a casual hookup or a long-term partner. Find out how to get in on the spooky fun below. And for more New York dating goodness, check out the city's best sex shops, a report on how locals are having sex right now and our regularly updated sex and dating column.
Witchy ways to find love in NYC
Ask the three witches working behind the counter of Enchantments, the city's oldest occult store, how frequently they're called on for dating help, and you'll get amused expressions in return. It turns out that the search for love is the biggest driver of traffic to this East Village shop.
"A lot of people tell us that they're just not meeting the right one," says one of the store's resident witches, who goes by the nickname "Wendy."
The Enchantments team's antidote to the often bleak, exhausting experience that is dating in New York City comes in the form of custom-made candles, available with countless engravings, aromas and coats of incense. The Midnight candle, made of red wax and dressed in black-opium incense, is believed to intensify your sexiness. Or, if endless bad first dates are getting you down, give the Catch a New Love candle a whirl. Are you mostly in the market for a good time, no strings attached? The genitalia candles here have your number.
But Enchantments isn't in the business of just snapping fingers, so to speak, and making your deepest desires appear.
"Love magic generally starts with yourself," explains Stacy Rapp, another witch and the owner of Enchantments. "We try to get people to focus on self-love and acceptance in order to attract someone." That means if you come in complaining about being ghosted or wanting your ex back, you'll probably walk away with a self-esteem kit.
"We're really about empowering you rather than pretending we do some kind of arcane lore," adds Wendy. "You know, less Harry Potter, more Practical Magic."
If you're having trouble dating, change your scent. At least that's the advice of Elizabeth Barrial, founder of Black Phoenix Alchemy Lab, who has been creating unique fragrances meant to help improve people's love lives for decades.
"I take historical, anthropological, mythological and pop-culture concepts and try to translate them into scent," she says, claiming that whether you're looking for a one-night stand or the one, she has the right bouquet for you.
It all started when the NYC-born and L.A.-raised Barrial picked up a book by occult writer A. E. Waite when she was 10. She then promptly skipped school to head to an occult center in Hollywood, where she demanded the shop owner explain what Waite's dense prose actually meant. After gaining an apprenticeship at the store, Barrial began experimenting with her own scents and oils, and the seed for her now-successful business was planted.
So what the hell are in these potions? A self-described polytheist, Barrial uses ingredients like cubed oil ("good for stimulating lust") and patchouli ("an earthy scent for a gentler love") as well as honey, carbon-dioxide extract and many other items to create essential oils to wear on the skin, put in a bath or place on a candle or in a conjure bag (a small velvet pouch filled with items to suit your needs).
"It's just as relevant to set up a love spell or use a potion as it is to go to the gym or put your makeup on or work on the things that make you charismatic to others," says Barrial. "It's all part of adjusting your opportunities; you might as well load the dice. And if you don't have space or privacy to set up an entire working altar, just do the best that you can do." Some things are worth making room for.
We've all probably asked the question: Does anyone actually find love on dating apps? According to Melissa Madara, a self-identified witch and owner of Bushwick occult shop, Catland, there's plenty of hope out there. You just need a little magic.
Madara's online-dating hacks, dubbed "Tinder Witchcraft," aim to help singles land exactly the kind of loving they seek. Want good sex? Try dusting yourself with the damiana herb, a powerful aphrodisiac. Need better online matches? Dab a little love-and-attraction oil onto your phone before swiping. "Taking a magical approach to online dating encourages people to ask what they're looking for," says Madara. "Half of the consultations become a therapy session."
At Catland, walls are lined with jars of herbs, rocks and powders, each promising tantalizing results. For the big L, burn Venus incense, made from licorice root, elderberry and plantain. To wash away baggage (read: that ex you never got over) and protect yourself, light a "love-uncrossing" candle.
Back when she was online dating, Madara test-drove many of the store's spells.
"For me, witchcraft is practical," she says. "Online dating sucked; there's just a lack of romance. I wanted to make it a little bit more romantic."
Of course, you can't totally rely on magic to improve your dating game.
"If people approach online dating with an intentional mind-set, they're going to get better results," explains Madara. "You're going to be in control of your own search—and that's something that's going to work, whether you use magic or not."
Looking for a tarot card reading?
From tarot card readers to mediums, we've done the research and tracked down the top psychics in New York