Heads up! We're working hard to be accurate – but these are unusual times, so please always check before heading out.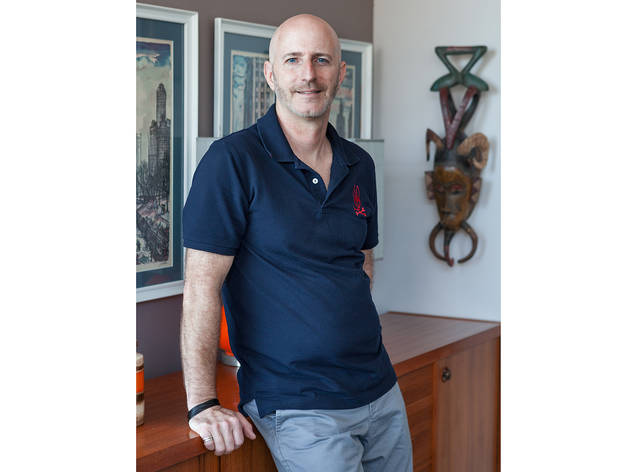 1/18
Photograph: Jakob N. Layman
When digital-content strategist Chris Haines relocated to New York from Washington, D.C., in 2008, he traded a 1,000-square-foot duplex in Adams Morgan for a 545-square-foot rental in Midtown East. "There are carve-outs in the walls, so I tried to apply color to show that there were different shapes and make the place seem larger," he says of his space-maximizing strategies. The catch is that Haines is color-blind. "It doesn't mean that I don't see color, but I see every color differently than you do. I don't make any paint choices or major expenses without sign-offs from several friends."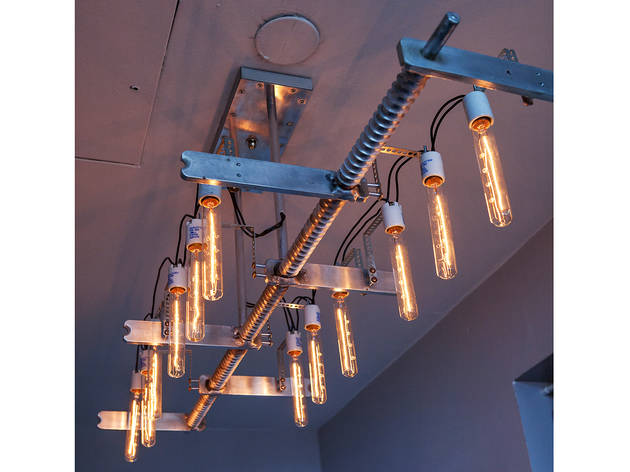 2/18
Photograph: Jakob N. Layman
A postindustrial chandelier by lighting designer Rick Singleton (ricksingletonlighting.com) hangs in Haines's entryway. Most of the D.C. craftsman's pieces utilize found objects. In this instance, a silver-plated armature forms the base for tubular bulbs.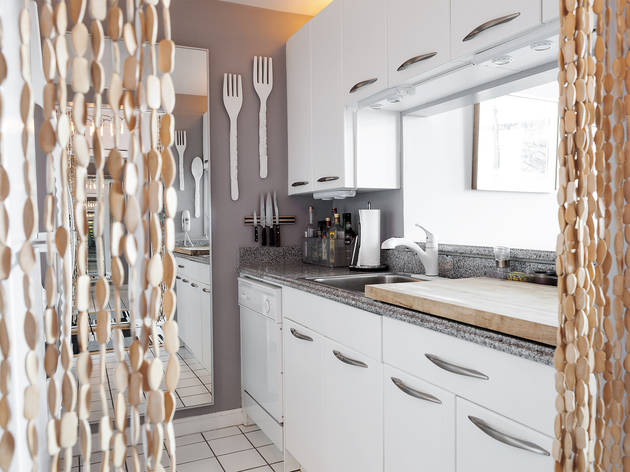 3/18
Photograph: Jakob N. Layman
Natural birch beads that were a gift from a friend festoon the entrance to Haines's kitchen, one of his favorite areas in the apartment. "I love to cook, and [I can] do everything in here,'" he says of the sizable setup. To give the room extra depth, Haines placed a full-length mirror on the far wall. "It makes the room seem twice as big," he notes. Another trick: installing string lights above the cupboards and tap lights from Home Depot (locations throughout the city; visit homedepot.com) below. "They illuminate the room, but they're not as harsh as overhead fluorescents."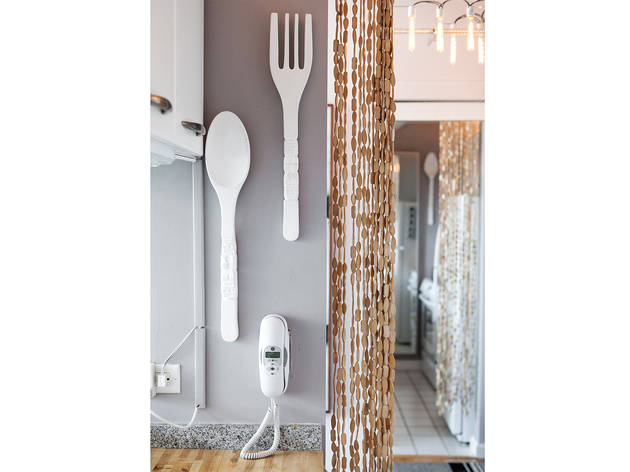 4/18
Photograph: Jakob N. Layman
Oversize carved-wood utensils that originated in the Philippines but were purchased from West Virginia thrift store the R.A.G. Shop (magsdot.com/ragshop) denote Haines's love of foreign cultures. "I painted them white to make them stand out," he says of the three forks and three spoons hung on either side of the kitchen.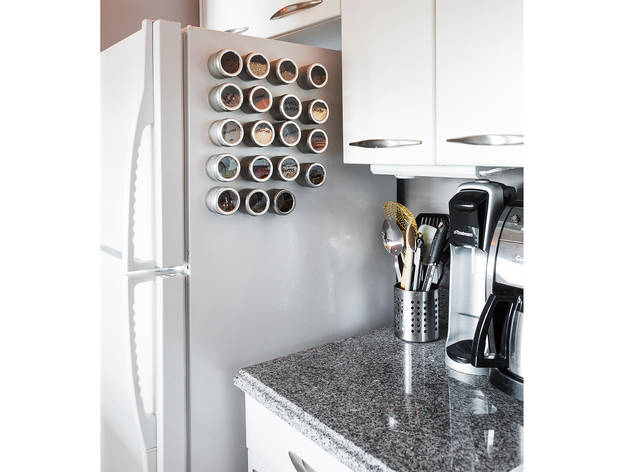 5/18
Photograph: Jakob N. Layman
A serious home cook, Haines bought a set of magnetic spice canisters from the Container Store (725 Lexington Ave at 58th St • 629 Sixth Ave between 18th and 19th Sts • 212-366-4200, thecontainerstore.com) to hold his myriad seasonings.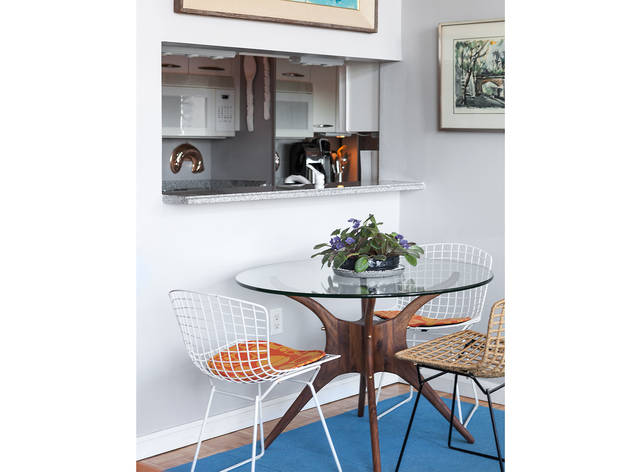 6/18
Photograph: Jakob N. Layman
Three Knoll Bertoia chairs—procured from Maryland vintage store Old Glory Antique Marketplace (oldgloryantiques.com)—encircle an Okto-B walnut-and-glass round table from Organic Modernism (locations throughout the city; visit organicmodernism.com). He wrapped twine around one of the chairs to integrate the natural fibers found elsewhere in his apartment. Watercolor and oil paintings purchased on eBay (ebay.com) contrast the more contemporary dining set.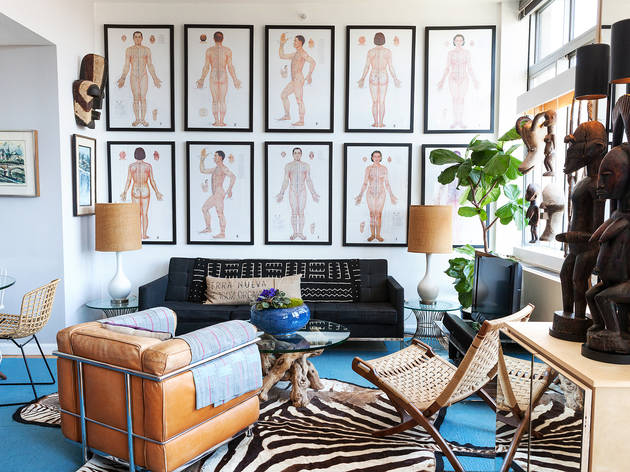 7/18
Photograph: Jakob N. Layman
Acupuncture posters from herb shop Lin Sister (4 Bowery between Doyers and Pell Sts; 212-962-5417, linsister.com) cover the wall above Haines's couch. "I think I'm really drawn to figurative art because I work from home on the 52nd floor, where I don't see any people all day," he reflects. The assortment began with three—enough to fill a small wall in his former D.C. apartment—and has stretched to 14 in order to cover the double-height wall in Haines's current penthouse pad. "I ended up having them framed in museum glass because they fade so quickly," he says of the diagrams, which he had mounted by Decor Art Gallery. Haines procured the side tables and lamps from a now-defunct flea market on West 25th Street, which has since been replaced by apartment buildings.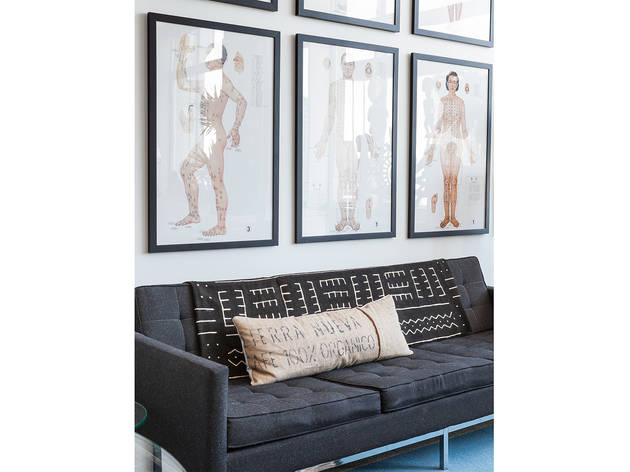 8/18
Photograph: Jakob N. Layman
Natural and offbeat materials appear throughout Haines's abode: A piece of rough-hewn cotton mudcloth from eBay retailer Hand It to You (stores.ebay.com/hand-it-to-you) lies against a Florence Knoll-inspired couch that Haines inherited from a friend who was moving. Etsy seller Susana DeVoe (makegood.etsy.com) crafted the lumbar pillow from a reclaimed burlap coffee-bean sack.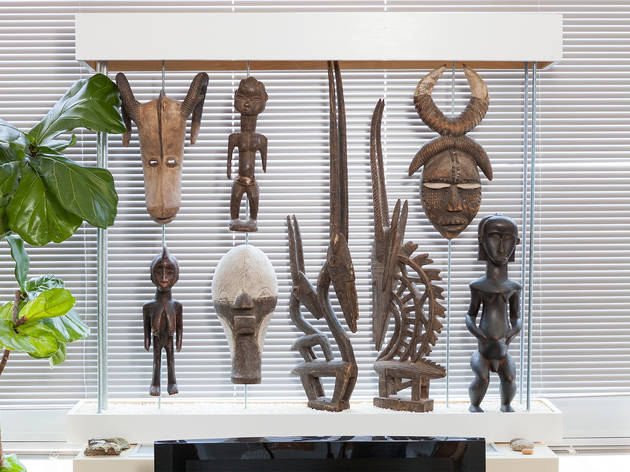 9/18
Photograph: Jakob N. Layman
Though Haines draws design inspiration from a number of cultures, a noticeable portion of his place displays African touches. "[I love that the] aesthetic is modern and organic, which perfectly embodies my sense of style," he says. "It's also an affordable way to get one-of-a-kind pieces, since they're mostly made for the tourist trade." The majority of the handcrafted statues and masks on display, including those in this case that Haines constructed himself, have an unexpected provenance: Chelsea Mini Storage (626 W 28th St between Eleventh and Twelfth Aves; 212-564-7735, chelsea-mini-storage.com). While in Aspen for a wedding, Haines toured the studio of a friend's friend, who happened to be a curator of African art. "Everyone kept referring to Chelsea Mini Storage, and [it turns out] that African craft dealers have their stuff packed in there," he explains. "You go in with a flashlight, they pull out their wares, and you buy what you want. They all have meaning, in terms of what tribe they're from and what they represent, though I'm not sure what that is." Haines purchases most of his pieces from an art dealer named Alpha (917-806-1800), but a few are from Mamadou Bary (347-549-6249).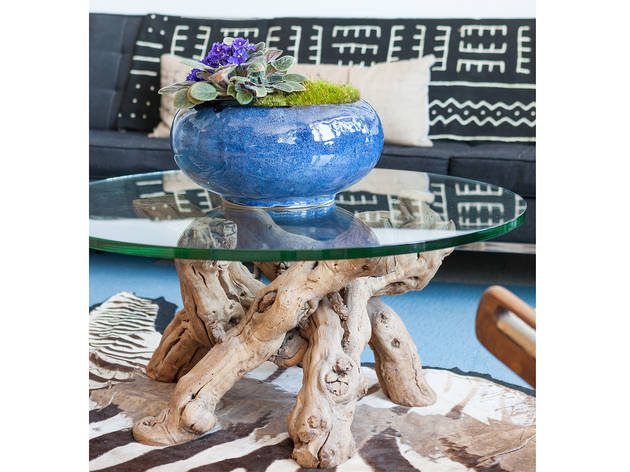 10/18
Photograph: Jakob N. Layman
This twisted-wood table base came with Haines's former West Virginia home. It's topped with a blue glazed pot, whose contents—moss, rocks and a bit of dirt—also hail from Haines's Southern hillside retreat, while the tuft of African violets was grown from a single leaf given to him by a custodian at U.S. News. Haines uses a zebra rug from the Evolution Store (120 Spring St between Greene and Mercer Sts; 212-343-1114, theevolutionstore.com) to help define the living room area.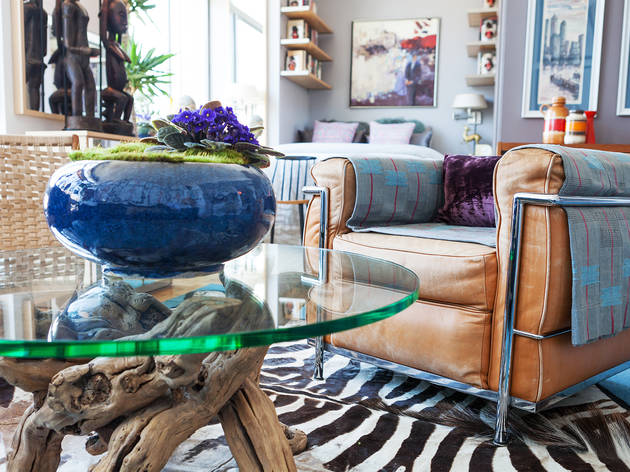 11/18
Photograph: Jakob N. Layman
"I like to find things that are inexpensive, but every once in a while, you've gotta splurge," says Haines, referencing this gently worn vintage Le Corbusier chair from the erstwhile flea market on West 26th Street. He accents the leather armchair with patterned Yoruba cloth from Nigeria—purchased from African art dealer Alpha—and a Maison des Vacances pillow from Calypso St. Barth Home.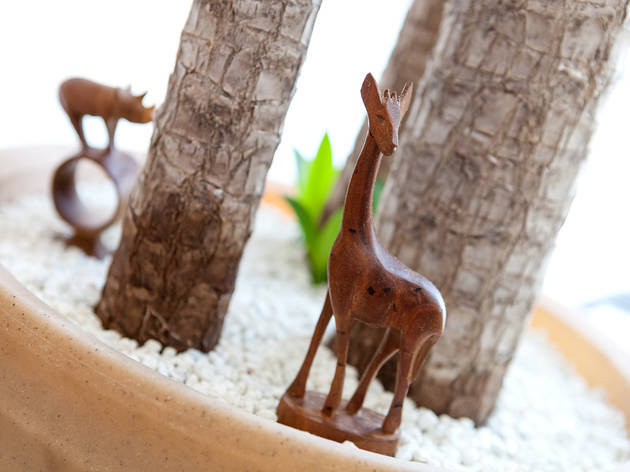 12/18
Photograph: Jakob N. Layman
Aquarium stones from 38 Aquarium (371 Broome St at Mott St, 212-966-0397) add texture to the base of potted Yucca trees. The rugged terrain serves as a backdrop for vignettes Haines created with tiny African wooden animals that were given to him by his grandparents.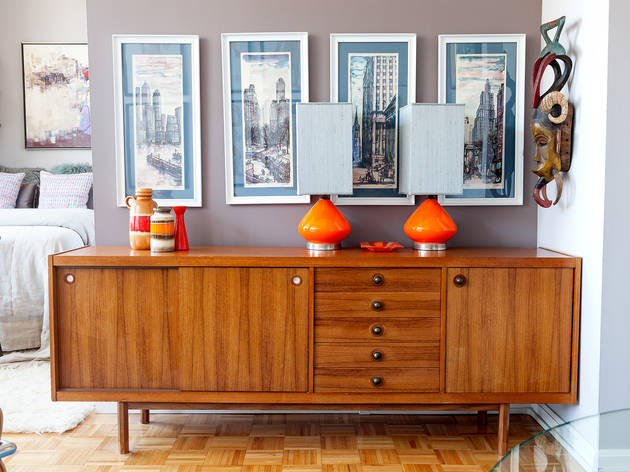 13/18
Photograph: Jakob N. Layman
Once he got his first sizable paycheck, Haines made a few big-ticket purchases, including this midcentury-modern credenza from the now-closed Chelsea flea. "As soon as I accepted the apartment, I asked the agent to run upstairs with a measuring tape to make sure it'd fit along that wall." In the same corner, Haines placed several New York cityscapes he found on eBay, a tangerine-hued glass dish from his parents and a pair of orange glazed ceramic lamps sourced from the same extinct market.
14/18
Photograph: Jakob N. Layman
A trio of Scheurich vases Haines acquired at thrift stores around the city, including Goodwill (locations throughout the city; visit goodwill.com), rests atop his prized buffet.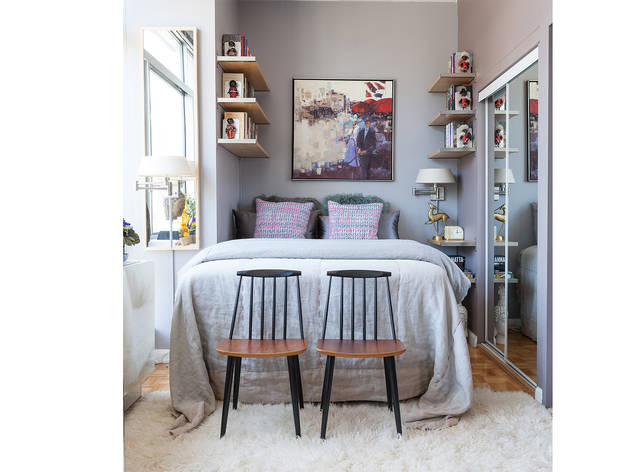 15/18
Photograph: Jakob N. Layman
To create a defined bedroom area, Haines first set off this alcove with a white rectangular Flokati rug (flokatirug.net). He then placed a Four Seasons Hotels mattress (fourseasons.com) on top of a custom platform frame from Gothic Cabinet Craft(locations throughout the city; visit gothiccabinetcraft.com). "You have to have [the mattress] shipped to one of the hotels and pick it up from there," he notes. "I knew one of the marketing directors for the company and asked her where I could buy one. It's really comfortable." JLA Home sheets bought at Bed, Bath & Beyond (locations throughout the city; visit bedbathandbeyond.com), a Calypso St. Barth Home duvet, plus John Robshaw (johnrobshaw.com) pillows, complete the bed. Two Tapiovaara (ilmaritapiovaara.fi) chairs, which Haines discovered at the R.A.G. Shop, sit at the foot of the bed. Haines selected the large painting—another eBay find—for its midcentury aesthetic.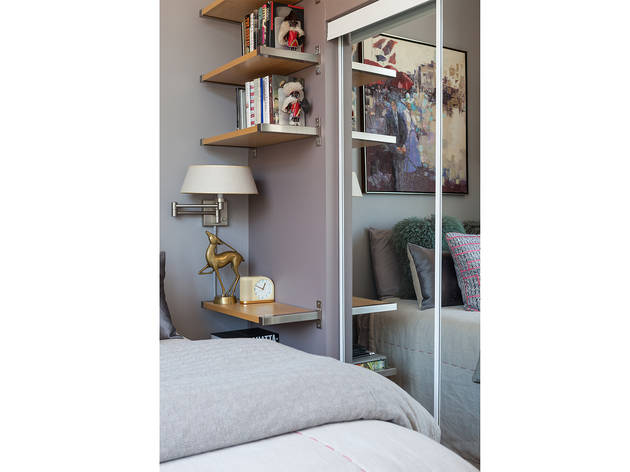 16/18
Photograph: Jakob N. Layman
Growing up in Northern California, Haines honed his craftsmanship skills by working on projects with his father. "When I bought my house in West Virginia, I had to do a lot of [carpentry] myself," he says. "I'm not a pro, but I can come up with an idea and execute the basics." To give his New York pad a more luxe feel, Haines replaced the standard closet doors with sliding mirror panels. "I went to a Lowe's (locations throughout the city; visit lowes.com) in New Jersey, got one of the prefabricated sliders and cheated [the size] by hanging it onto a painted board," he explains. "If I got custom pieces, it'd be $1,000. This was $100." Petite Ekby Järpen birch veneer shelves from Ikea (1 Beard St at Otsego St, Red Hook, Brooklyn; 718-246-4532, ikea.com) hold Haines's collection of non-fiction books, which are framed by dolls his grandparents brought back from a trip to Kenya. His Big Ben Moon Beam bedroom clock is a vintage-style reproduction from Restoration Hardware (935 Broadway at 22nd St; 212-260-9479, restorationhardware.com), while the brass gazelle was purchased at a Goodwill in California, where Haines grew up.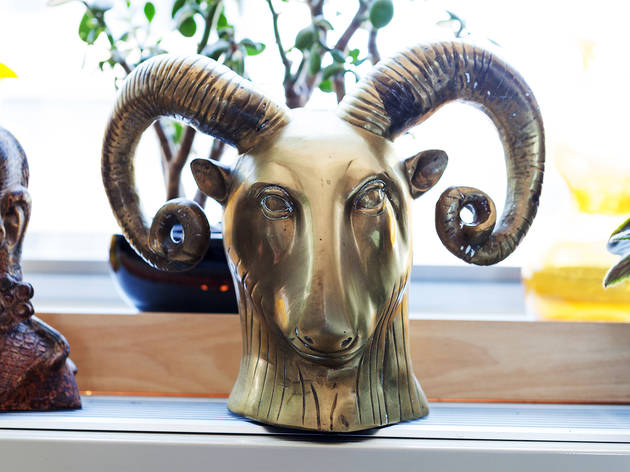 17/18
Photograph: Jakob N. Layman
Haines ordered this brass ram's head from eBay as part of a brief aesthetic foray into the Hollywood Regency era. "It was a passing phase!" he jokes.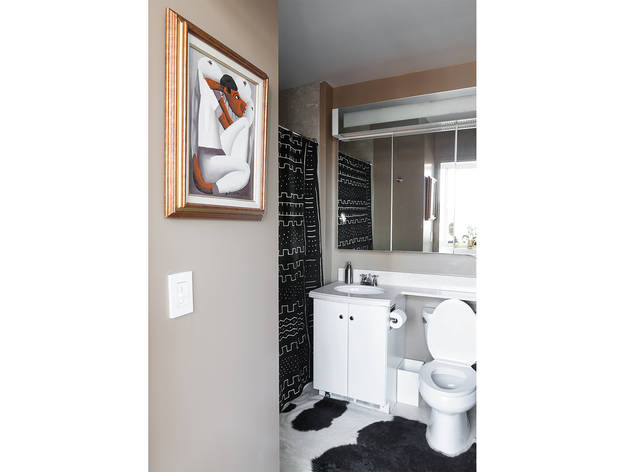 18/18
Photograph: Jakob N. Layman
Haines again utilizes African mudcloth from eBay seller Hand It To You—this time as a handmade shower curtain. The bathroom rug, which he cut from a cowhide he found on Cowhides International (cowhidesinternational.com), is another DIY project. He found the primitive art hanging on the wall at an antiques mart in Palm Beach, Florida.
Apartment tour: Studio in Midtown East
Digital-content strategist Chris Haines packs his NYC penthouse with exotic accents from unexpected sources.
Midtown East
apartment. He shops at
flea markets
and
home-decor stores
such as
Calypso St. Barth Home
to create his midcentury–inflected abode filled with African art.
Love the look? Get it here!

Broome Lampshades 325 Broome St at Chrystie St (212-431-9666, lampshadesny.com) Haines favors custom, adjustable lighting for its more subtle characteristics and spruces up most of his flea-market finds with shades from this affordable shop. "They turn things around really well," he enthuses. "Every time I go in there, people think I'm a designer and start asking me to pick shades for them."

Calypso St. Barth Home 407 Broome St between Centre and Lafayette Sts (212-925-6200, calypsostbarth.com) This home-decor branch of the upscale chain stocks bedding, housewares and tabletop items with an elegant, island-tinged sensibility. "The items are nice but casual," he enthuses. "It's not fussy."

Decor Art Gallery 555 Third Ave between 36th and 37th Sts (212-725-6787, decorartgallery.net) Though this shop specializes in posters and framing services, the skilled staffers can also size glass. "A friend of mine told me they cut mirrors, so I went there to get custom pieces made for my closet doors," notes Haines.
You might also like
Apartment tour: 1BR in the West Village
Apartment tour: 2BR in Chelsea
Apartment tour: 3BR loft in Greenpoint
See more in Shopping & Style