The best cheap clothing stores in NYC
The best cheap clothing stores in NYC have everything from vintage duds to one-of-a-kind outfits. Start shopping.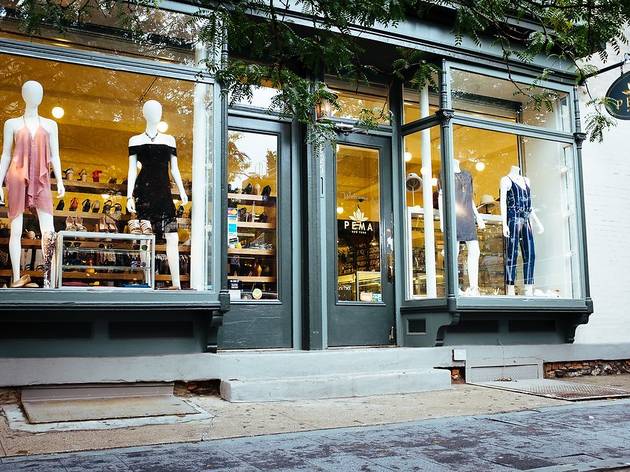 Cheap clothing stores in NYC (yes, they exist) are here to make living on a budget a little less complicated. You can always cut back on fancy spa treatments and expensive cocktails in NYC, but clothes remain a necessity. So whether you're looking for high-end labels at 30 percent off or printed tees for under $10, these thrift stores and cheap clothing stores have you covered. Literally.
RECOMMENDED: Full guide to shopping in NYC
Best cheap clothing stores in NYC
1
In business since 1993, INA is one of the most reliable consignment shop chains in the city. Priding itself on accepting only the highest-quality items for resale, its racks are full trendy steals from brands like Stella McCartney, BALLY, Pucci and Chanel. Various locations (inanyc.com)
Read more
2
At Housing Works, you can actually feel good about shopping—all profits go toward helping the homeless and those with AIDS. But beyond its charitable mission, Housing Works is a great place to offload goods while simultaneously scoring vintage garb from labels like Givenchy, DVF and Gucci. Various locations (housingworks.org)
Read more
3
In business for more than 45 years, Gabay's is a genuine bargain-shopping institution. And with of-the-moment pieces from high-end labels like Gucci, Balenciaga and Celine for up to 30 percent off, it's no surprise that dedicated fashionistas have been flocking here for years.
Read more
4
This chain of shops from Wendy Chung is known for trendy pieces at mid-range prices, making it the ideal spot to snag of-the-moment pieces without breaking the bank. As an added bonus, all items are curated from Japan, Korea and Hong Kong, so you know you're getting something unique. Various locations (212-229-9922, thinkcloset.com)
Read more
5
This stunningly sleek boutique will make you double-guess the affordable price point. Even though the space is distinctively high-end, you can find off-the-shoulder body-con dresses, patchwork bomber jackets and grommet-studded booties for less than $50 each
Read more
6
A bargain hunter's dream, this colossal department store stocks labels like Lanvin, YSL, Marni and Rebecca Taylor for up to 70 percent off. When the OG location in the Financial District turned 50, it opened a second one on the Upper West Side to bring you twice as many clothes and accessories for a steal—and there's a Brooklyn one on the way in fall 2016. Various locations (c21stores.com)
Read more
9
Known for cute, of-the-moment fashions at affordable prices, this is the perfect outlet for picking up cheap garb without the department-store fuss—almost everything is priced under $50. Various locations (necessaryclothing.com)
Read more
10
After years of anticipation, Bloomingdale's finally opened an outlet store last year to much acclaim. The praise is for good reason—you can snag overstocked clothing, shoes and accessories for 25 to 50 percent off. 2085 Broadway (212-634-3190, bloomingdales.com)
Read more
Show more
Looking for more bargains in NYC?
What can $12 get you in this town? Plenty! Discover hundreds of cheap things to do in New York City.
Read more