Cheap things to do in NYC
Enjoy the city without blowing out your budget with these cheap things to do in NYC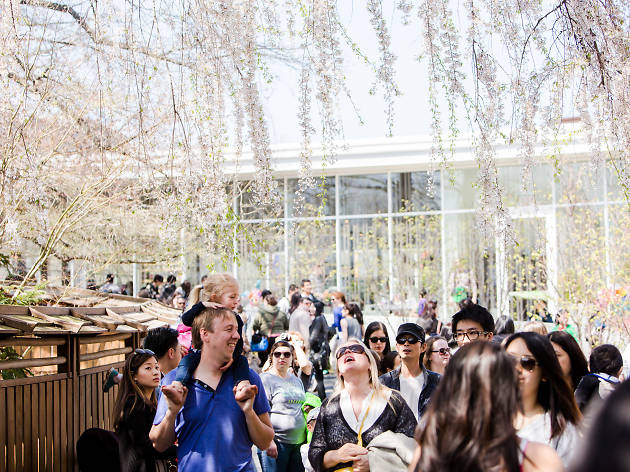 Fact: NYC living comes with a hefty price tag. But thankfully there are plenty of cheap things to do in NYC that'll make you feel like a baller. It's totally possible to visit some of the top New York attractions, devour cheap eats and in general have a kickass time without going into credit card debt. And it doesn't stop there: We've even got cheap date ideas and ways to score cheap Broadway tickets.
RECOMMENDED: Full guide to the best things to do in NYC
Best cheap things to do in NYC
Attractions, Parks and gardens
Visiting the stunning 52-acre Brooklyn Botanic Garden usually sets visitors back $15 each, but on Friday mornings, access to all its gardens and conservatories is yours for zilch. The Desert Pavilion, the Japanese Hill-and-Pond Garden, and the Aquatic House and Orchid Collection are exquisite sights to spend some time on. But come springtime, an even bigger draw lies in the Cherry Esplanade and its rows and rows of bright-pink blossoms, which typically hit peak bloom in late April.
Price: Free
Not only is there no two-drink minimum— there's no cost at all. The bi-level East Village bar 2A's weekly comedy showcase even serves free pizza. Beyond the perks for the broke-ass set, this stellar night tenders rising stars, such as recent guests Aminah Imani and Christi Chiello, and the current musings of hilarious hosts Jill Weiner and Jeffrey Emerson.
Price: Free
Sure, you could pay a hefty fee to get to a skyscraper's observation deck, but some of the best views of the city can be seen from the water. And from late spring to early fall, the Downtown Boathouse offers free-of-charge 20-minute kayaking sessions in which you can paddle around the Hudson River, snap pics of the Instagram-worthy West Side and then watch the likes roll in.
Price: Free
Party Like It's 1999 at the Bell House is basically a huge #TBT in real life—or #TBT IRL, if you want to be annoying about it. Each bash celebrates a different artist at their oh-so-'90s best (Janet Jackson, Third Eye Blind, Mariah Carey and, on April 14, Backstreet Boys) and provides the perfect soundtrack for storming the dance floor to wave your hands in the air like you just don't care.
Price: Free
While most of the city's Friday-night dance spots blast the latest from Cardi B or the Weeknd, the subterranean Lower East Side dive bar Home Sweet Home spins obscure old-school soul and rock & roll joints from the 1950s and '60s. The long-running Shakin' All Over Under Sideways Down, helmed by DJ extraordinaire Jonathan Toubin, is the kind of sweaty affair where you glance around and realize every single person in the place is busting a move—in other words, a perfect way to blow off steam from the workweek.
Price: Free before 11pm, after 3am $5
Movie theaters, Independent
With its chic Art Deco flourishes, the Bushwick movie-theater-cum-restaurant Syndicated has way more personality than your run-of-the-mill megaplex. Not only that, a ticket to a screening sets you back as little as four bucks—that's less than a small popcorn at your average NYC chain theater, folks. This ain't some janky screen in the back of a bar, either: The dine-in cinema seats up to 60 people and shows classic favorites (like, say, Boogie Nights) for less than $5, as well as first-run films for a still-cheap $7.
Price: $4-7
Attractions, Historic buildings and sites
These days, New Yorkers feel real estate envy for the penthouse apartments foreign millionaires buy their newborn children. But if you want to see what would've popped on Pinterest in days of yore, head to the Bronx and take a tour of the Van Cortlandt House Museum. The gray fieldstone mansion, built before the Revolutionary War, served as the influential Van Cortlandt family's homestead until the late 19th century. None other than George Washington himself spent the night here.
Price: $5
Museums, Special interest
The newish flagship of the International Center of Photography promotes thinking about the world beyond yourself. So, as you tour the modern space, you not only spy interesting images but also pieces meant to raise awareness about pressing social issues. Take, for example, "Then They Came for Me" (through May 6), an exhibit that documents the incarceration of Japanese-Americans during World War II. After 6pm on Thursdays, the center slashes its usual $14 fee to a suggested donation of $5.
Price: $5
9
Photograph: Courtesy Overthrow NYC
As with most trendy fitness classes in NYC, a session at Overthrow Boxing Club costs about $30. But on Monday nights, the studio offers a donation-based class at both its Brooklyn and Manhattan outposts, with proceeds benefiting Planned Parenthood and the ACLU. So, for a fraction of the regular price, you can get in a tough workout and support two worthy causes.
Price: $5
As the saying goes, the way to get to Carnegie Hall is practice, practice, practice. The other way is to just show up at the box office with a Hamilton. This New York institution offers deep discounts on day-of tickets to Stern Auditorium/Perelman Stage concerts. Rush tickets are just 10 bucks—even for sold-out events—and, starting at 11am on the day of the show, are available on a first-come, first-served basis.
Price: $10
Show more
More cheap things to do
Things to do, Walks and tours
Things to do, Classes and workshops
Show more