Heads up! We're working hard to be accurate – but these are unusual times, so please always check before heading out.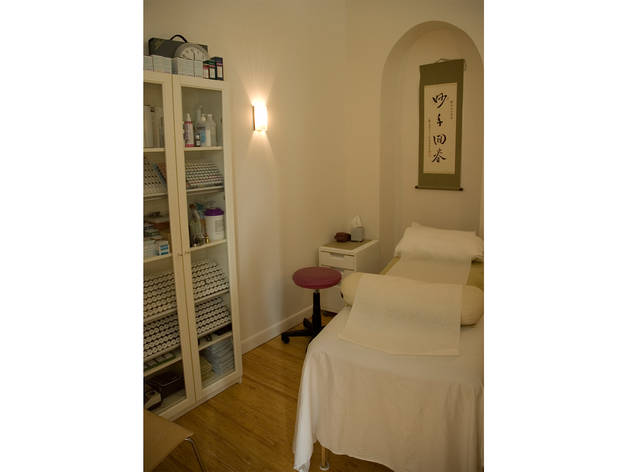 1/5
Moroccan Red Clay treatment at Cecilia Wong SkincareSummer sun can leave your face feeling drier than sandpaper. Rehydrate parched skin with this seasonal, ultramoisturizing facial, available at Cecilia Wong's holistic skin-care sanctuary through November 1. The service incorporates many organic products from Wong's eponymous line, starting with a citrus-scented gel cleanser that's followed by an antiaging black currant serum, applied via lymphatic massage and stress-melting acupressure. The heart of the hour-long treatment is a restorative Moroccan red clay mask, blended with anti-inflammatory cherries and soothing yogurt. To help everything sink in, you'll sit under an LED light for 20 minutes before Wong administers her newly launched Capillary Strengthening Serum using an oxygen spray. Finally, a jade roller—an ancient tool Chinese emperors used to promote smooth skin—is employed to help the lightweight moisturizer, eye cream and sunscreen penetrate. 224 Fifth Ave between 26th and 27th Sts, third floor (917-596-5206, ceciliawongskincare.com). 60mins, $180.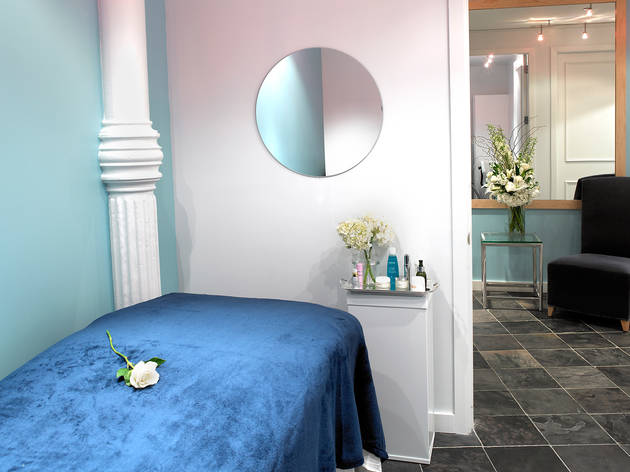 2/5
Peace, Power, Glow facial at BluemercuryThis express facial was designed to showcase Bluemercury cofounder Marla Beck's new M-61 skin-care line of natural products and caters to time-strapped New Yorkers. The half-hour treatment may not include extractions, but it packs a serious punch: Your technician begins by massaging on one of M-61's three sulfate-free cleansers, depending on your skin type. Next, your dermis is exfoliated using peel pads before a brightening vitamin C face mask is applied for two minutes. A duo of plumping serums is the final step in creating a dewy visage—our tester's face boasted a smooth glow for a full week afterward. 2305 Broadway between 83rd and 84th Sts (212-799-0500) • 1311 Third Ave at 75th St (212-396-1500) • 865 Broadway between 17th and 18th Sts (212-243-8100) • bluemercury.com. 30mins, $60.
3/5
Face Time OM4 men's facial at EquinoxAlthough facials have traditionally been the domain of women, Equinox offers an organic cleansing variety intended especially for the oilier chemistries of men's skin. The 50-minute session incorporates Organic Male OM4 products, developed for thicker skin ravaged by daily shaving and testosterone production. It begins with a marine mineral green-tea-scented cleanser, followed by a close examination of problem areas coupled with extractions. Additional balms are applied: a pH-restoring balancer, a gentle bioactivating exfoliant and the coolest-smelling sunscreen ever, alive with jojoba oil and chamomile. The total effect leaves your face zinging with health and softness. As a bonus, the first 100 people who book the facial and mention TONY will snag a free Organic Male OM4 Citrus Bamboo resurfacing scrub (worth $40). 97 Greenwich Ave at 12th St (212-620-0103, equinox.com/clubs/greenwich). 50mins, $165.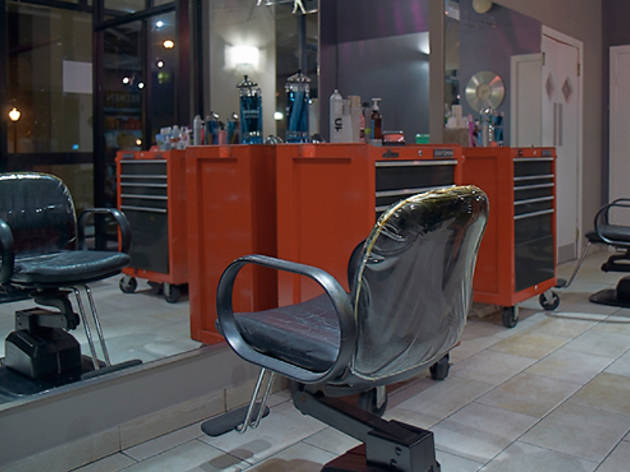 4/5
Platinum facial at Vince Smith Hair ExperienceGold particles, diamond dust and pulverized pearls—the stuff of little girls' dreams—are key ingredients in this rejuvenating facial. Owner Vince Smith started offering the service—the first spa treatment at his 20-year-old namesake hair salon—after discovering Mica Beauty's new line of Jewels skin-care products, which incorporate each of the precious materials. Smith himself performs the facial while you're sitting in a salon chair, and begins by applying a gold exfoliating peel, which you can see working as dead skin actually beads off. A pair of masks containing ground diamonds follow: the first one foamy and purifying, the second warming and restorative. Smith provides a final polish using an advanced antiaging serum and nourishing antiaging cream, as well as pearl-infused under-eye serum. Whether the effect is due to the residual precious materials or buffed flesh, you'll leave with glowing skin. 300 Rector Pl at South End Ave (212-945-1590, vincesmithhairexperience.com). 60mins, $60 (normally $150). Mention TONY to receive this discount through Oct 31.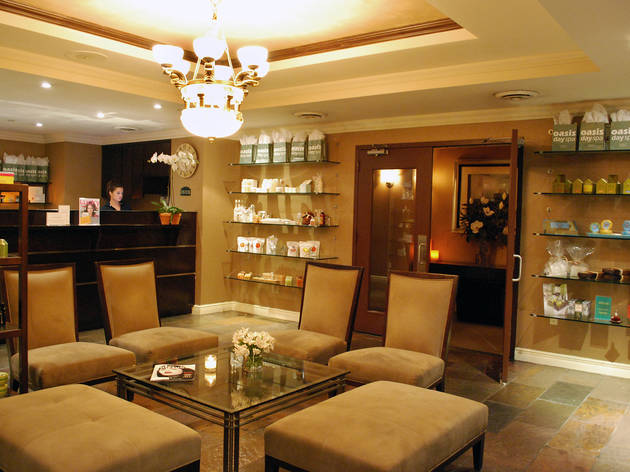 5/5
Damage-defying facial at Oasis Day SpaDays spent in the sun may imbue your skin with a radiant tan, but those UV rays actually strip your mug of its much-needed moisture. Each step in this replenishing treatment uses Cosmedix products to help rehydrate your complexion and reverse solar damage. An initial cleanse removes makeup and impurities, and provides a blank slate for the following step: an exfoliation with lactic acid from yogurt and salicylic acid from pumpkin seeds, plus antioxidants from cranberry extract and vitamin C. Painless extractions nix black- and whiteheads, while a soothing facial massage increases blood circulation to your muscles. The real magic comes in the form of the facial's namesake mask, which pairs mild alpha-hydroxy acids (culled from wine, apples and yogurt) with rich vitamin E and acidophilus, a bacteria that works to brighten and smooth your skin. Hydrating eye cream and a final slick of moisturizer lock in the fresh, healthy glow. 1 Park Ave at 32nd St, lower level (212-254-7722, oasisdayspanyc.com). 75mins, $155.
Best new facials for fall 2012
Face fall with a healthy glow, thanks to these newly launched facials from NYC spas and salons.