The best options for flower delivery in NYC
Send flowers to celebrate a birthday, treat your mom this Mother's Day or simply to surprise someone special in NYC
We've all had that moment of panic when you realize there a really, really important event around the corner and you still haven't bought a gift. It's okay, relax, we are here to help. These choices for flower delivery in New York City are the perfect last-minute problem-solvers. That's right, these online flower stores offer convenient ordering, super quick delivery and, most importantly, jaw-droppingly beautiful arrangements — basically, if you're in a pinch, they are an absolute lifesaver.
Even better, we're living in the 21st century, so online, contact-free ordering makes getting flowers pretty damn seamless. Many businesses will even drop them off the same-day. If you're looking for something to brighten up your place, a bouquet of peonies or an air-purifying snake plant might be just what's in order. So, no matter where, when or why you need flowers asap, here are our favourite options for flower delivery in New York City.
Reading this too late and already spaced on the big event? Say you're sorry to that special someone with a delightful dinner sent their door from one of the best takeout and delivery restaurants in NYC.
This article includes affiliate links. These links have no influence on our editorial content. For more information, click here.
Best options for flower delivery in NYC
The French sensibilities of founders' Olivier Plusquellec and Louis Brunet translate into their elegantly wrapped arrangements of eco-friendly flowers. Every bouquet is hand-tied and then packaged in a stylish purple box with a single rose on top and sent out for delivery (same day in New York and Chicago). Right now they have partnered with their suppliers in Holland to deliver flowers straight from their farms to your door, anywhere in the US.
UrbanStems
You know all those mind-blowingly beautiful bunches of flowers that people post all over Instagram? Yeah, they are probably from UrbanStems, which has a reputation for rustling up unique arrangements and potted plants that are bang on-trend. They have an awesome array in vibrant styles that you'll really want to flaunt at home right now. Prices vary, (You're looking at spending $55 at least), but their seasonal-flower selection is seriously impressive.
The flower company is also making it easier for New Yorkers to cheer each other up by sending out free bouquets of flowers each Friday. "In this uncertain time ... we wanted to provide a way to connect and send a free bouquet to someone who needs a little extra joy," the company wrote on Instagram. Starting this week, the Stay Connected with Stems program is now reaching as far as nationwide. So, to send love to your personal hero, you can enter for a chance to send a bouquet by filling out this Google Doc on why the recipient should get one—maybe it's for your best friend who checks in on you every day or a loved one working on the frontlines.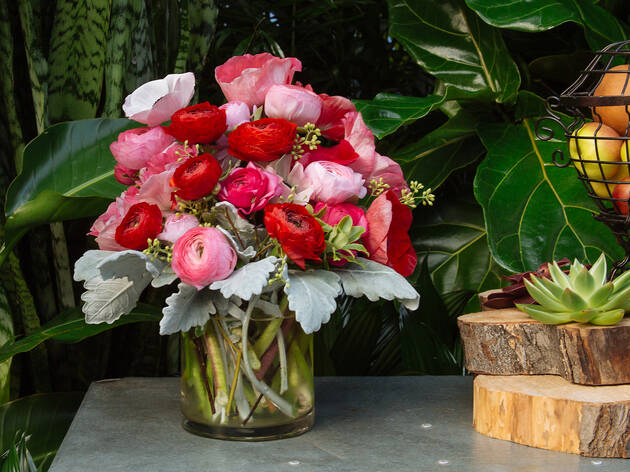 Photograph: Courtesy Floom/Plantshed
You won't find any carnations or baby's breath here. Oh no. Instead of relying on the same old filler flowers, Floom sources top-end arrangements from local New York florists. Options vary by the day and zip code, but when we did a search, we found everything from a succulent terrarium to orange calla lilies inside a glass bowl. And if you've totally spaced on a birthday? No worries, some of the florists offer same-day delivery (if this is the case the product will show an "Available Today!" tag, fyi). But be sure to order before 1pm. Phew.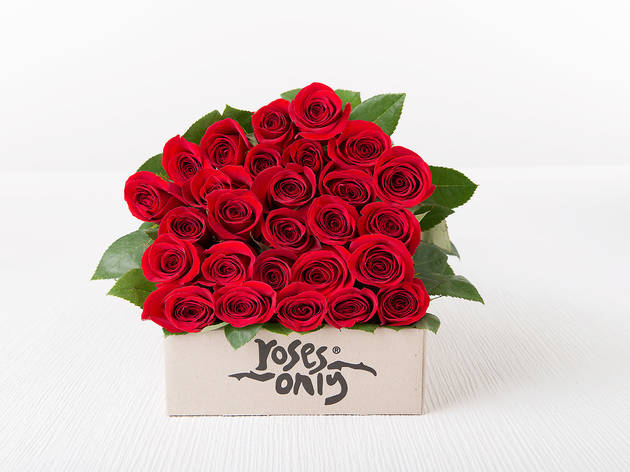 Roses Only
A favorite of talk-show host Ellen Degeneres, Roses Only is (unsurprisingly) entirely dedicated to the rose. Choose from differently-sized boxes– most commonly bunches of 12, 24 and 50 – and a variety of colours, including everything from traditional, romantic reds to blushing pinks. You can also purchase gift sets with chocolates as well as the impressive inifinity roses; specially-treated real flowers which can last for an entire year.
Looking for a truly original arrangement? Stems Brooklyn will create a bespoke garden bouquet just for you. Their style tends toward rustic, unconventional designs, but you can request any feeling you want—romantic, elegant, classic, sweet. They'll also deliver a custom flower crown that's perfect for birthday parties, weddings and other special occasions.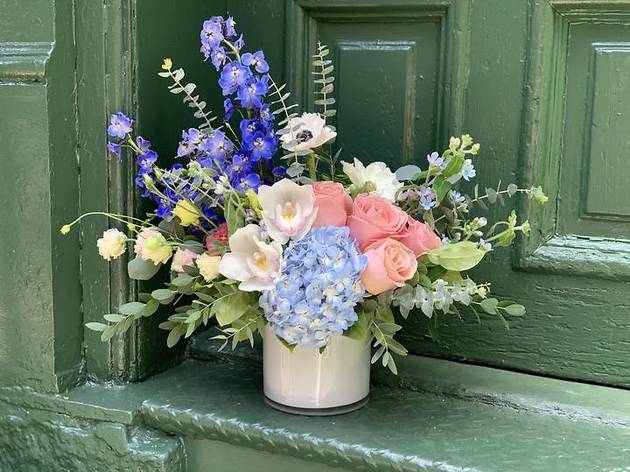 Image: Julia Testa Florist
With shops in both Brooklyn and Soho, Julia Testa's designer flowers are available across NYC with same-day delivery. They might not be the most budget-friendly of the bunch – most arrangements cost more than $75 – but man, oh man, are they beautiful. And, if you're on the artsy side, you could even save some cash in the long run by taking one of their workshops and learning how to do your own arrangements. After all, what's more special than receiving hand-made flowers?
Photograph: Courtesy Blossr
This New York delivery service isn't about over-the-top arrangements. Instead, Blossr's motto is that one should experience flowers in their purest form: naked and unarranged. So, consider this the perfect treat for minimalists. To order, choose from a small but gorgeous range of buds or greenery like the Orange or Dusty Pink Ranunculus, Salmon or Deep Red Anthuriums, Sweet Pea or Monstera Leaves. Blossr's blooms start at an affordable $30 and come with a white vase (small, medium or large) of your choice.
For every Blossr order, $2 will be donated to The Okra Project, a collective that is addressing the global crisis faced by the Black Trans community.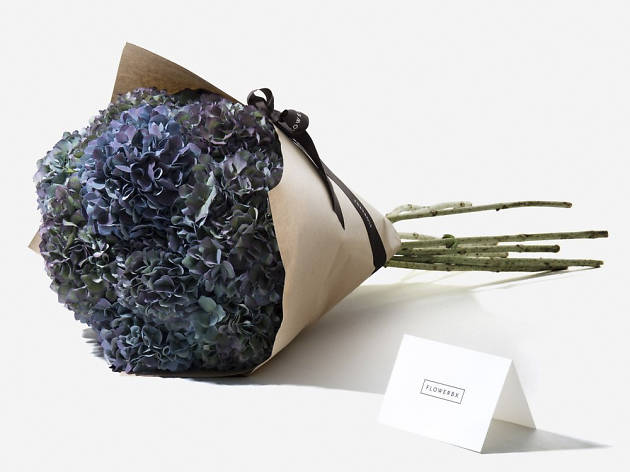 Photograph: courtesy FLOWERBX
These blooms aren't on the budget end of bouquets, but there's good reason for that. They're stunning. Browse online by shade and occasion, and you can get vases, candles and scented oils before you check-out, too.
Founded by Eliza Blank in New York City, The Sill, which ships all over the US, is perfect for starting your own home plant oasis. They specialize in indoor plants and potted plants—think: a big, leafy plant for your bedroom or a small waxy succulent for your night table. There's no denying plants make people happy and it feels good to be in charge of nurturing something—go ahead, you know you want to name it.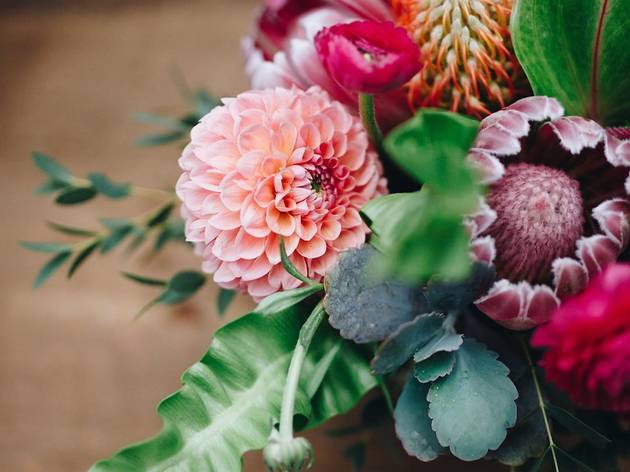 Courtesy Plant Shed NY
PlantShed hand-delivers flower arrangements anywhere in NYC, and offers same day drop off. That way, you can deliver yourself a bouquet for an immediate pick-me-up, or if you immediately need to say sorry to a partner or roomie after a fight while working from home together, you can do that too.
Show more