The best options for flower delivery in NYC
Send flowers to celebrate a birthday, treat your mom this Mother's Day or simply to surprise someone special in NYC
We've all had that moment of panic when you realize it's almost your anniversary, Mother's Day or someone's birthday and you still haven't bought a gift. But take a deep breath, because these options for flower delivery in NYC are the perfect get-out-of-jail-free card. That's right, these online flower shops offer easy ordering, speedy delivery and some seriously stunning arrangements – and they're a total lifesaver.
Thankfully, we're also live in a time where the online, contact-free process makes ordering flowers pretty seamless. Many companies will even deliver same-day. If you need something that will even bring positivity into your home, a bouquet of peonies or an air-purifying snake plant might do the trick. Whether you want to deliver springtime straight to your apartment, to a friend, significant other, or to mom for Mother's Day, here are a few options below still ready to deliver in New York City.
Best options for flower delivery in NYC
UrbanStems
Get 20% off doubled bouquets with code: Doubles20
Have you ever seen insanely designed floral arrangements on social media? It was probably UrbanStems, which is known for crafting unique bouquets and potted plants that always feel on-trend. They have a great selection in vibrant styles that you'll especially want to flaunt at home right now. Prices vary, (with cheaper bouquets that run about $55), but their seasonal-flower selection is impressive.
The flower company is also making it easier for New Yorkers to cheer each other up by sending out free bouquets of flowers each Friday. "In this uncertain time ... we wanted to provide a way to connect and send a free bouquet to someone who needs a little extra joy," the company wrote on Instagram. Starting this week, the Stay Connected with Stems program is now reaching as far as nationwide. So, to send love to your personal hero, you can enter for a chance to send a bouquet by filling out this Google Doc on why the recipient should get one—maybe it's for your best friend who checks in on you every day or a loved one working on the frontlines.
The French sensibilities of founders' Olivier Plusquellec and Louis Brunet translate into their elegantly wrapped arrangements of eco-friendly flowers. Every bouquet is hand-tied and then packaged in a stylish purple box with a single rose on top and sent out for delivery (same day in New York and Chicago). Right now they have partnered with their suppliers in Holland to deliver flowers straight from their farms to your door, anywhere in the US.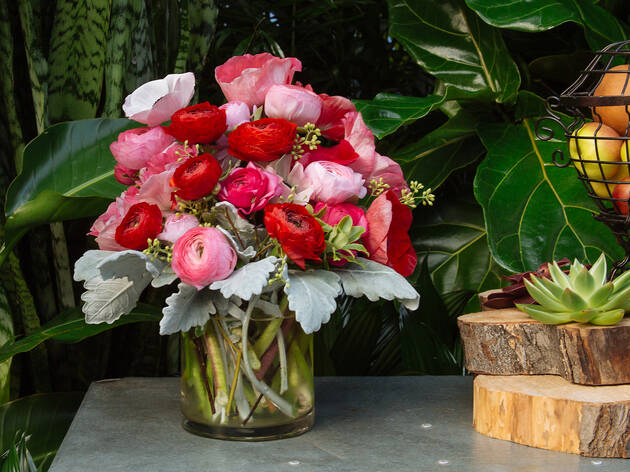 Photograph: Courtesy Floom/Plantshed
You won't find any carnations or baby's breath here: instead of relying on generic filler flowers, Floom sources high-quality arrangements from local New York florists. Options vary by the day and zip code, but on a recent search, we found everything from a succulent terrarium to orange calla lilies inside a glass bowl. Accidentally forgot a major birthday and looking for somewhere that does same-day delivery? No worries. Some of our florists offer same day delivery, if this is the case the product with show an "Available Today!" tag. Be sure to order before 1pm. Phew.
Looking for a truly original arrangement? Stems Brooklyn will create a bespoke garden bouquet just for you. Their style tends toward rustic, unconventional designs, but you can request any feeling you want—romantic, elegant, classic, sweet. They'll also deliver a custom flower crown that's perfect for birthday parties, weddings and other special occasions.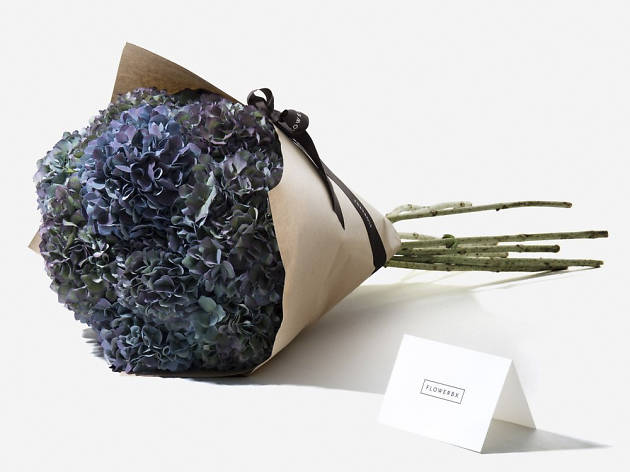 Photograph: courtesy FLOWERBX
These blooms aren't on the budget end of bouquets, but there's good reason for that. They're stunning. Browse online by shade and occasion, and you can get vases, candles and scented oils before you check-out, too.
Founded by Eliza Blank in New York City, The Sill, which ships all over the US, is perfect for starting your own home plant oasis. They specialize in indoor plants and potted plants—think: a big, leafy plant for your bedroom or a small waxy succulent for your night table. There's no denying plants make people happy and it feels good to be in charge of nurturing something—go ahead, you know you want to name it.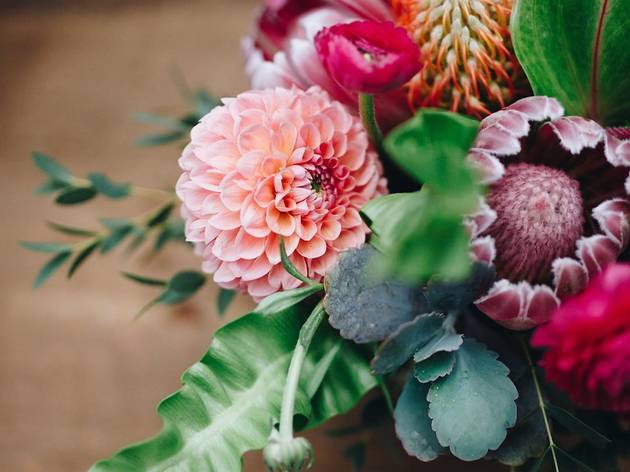 Courtesy Plant Shed NY
PlantShed hand-delivers flower arrangements anywhere in NYC, and offers same day drop off. That way, you can deliver yourself a bouquet for an immediate pick-me-up, or if you immediately need to say sorry to a partner or roomie after a fight while working from home together, you can do that too.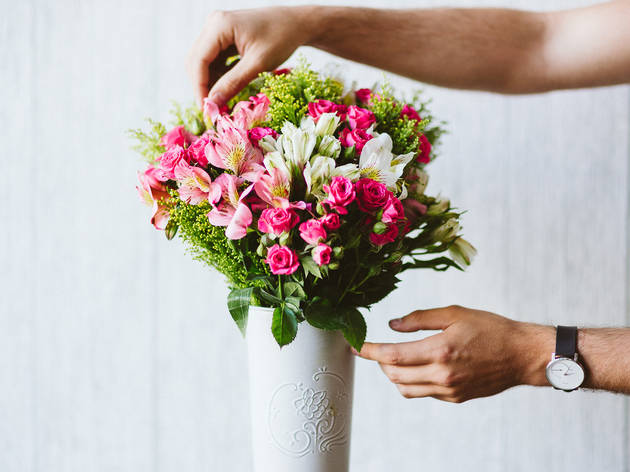 Photograph: Courtesy The Bouqs Co
This eco-friendly company sources its flowers direct from farms to eliminate the middleman and guarantee that your blooms start out fresher and last longer. You can also opt for an arrangement custom-designed and hand-delivered by a local florist in your area, if you'd like something with a bit more pizazz. Plus, you can subscribe to receive responsibly sourced blooms year round or buy a subscription for your flower-loving friends to enjoy. Sweet.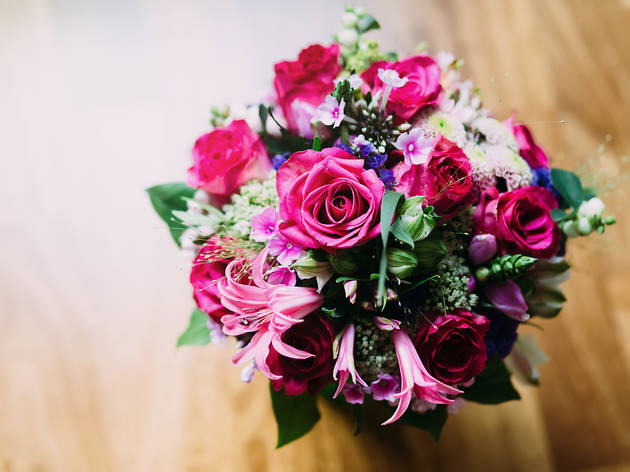 Photograph: Shutterstock
Not only does this online retailer offer a wide selection of floral arrangements under $30, but it also guarantees same-day delivery on nearly 300 bouquets. All you'll have to do is order by 3pm. Oh, and if you're squeezing the pennies, there's usually a discount or two on offer. Sah-weet.
Photograph: Courtesy Blossr
Due to the current state orders, Blossr has temporarily suspended operations.
This New York delivery service isn't about over-the-top arrangements. Instead, Blossr's motto is that one should experience flowers in their purest form: naked and unarranged. So, consider this the perfect treat for minimalists. To order, choose from a small but gorgeous range of buds or greenery like the Orange or Dusty Pink Ranunculus, Salmon or Deep Red Anthuriums, Sweet Pea or Monstera Leaves. Blossr's blooms start at an affordable $30 and come with a white vase (small, medium or large) of your choice. Deliveries go out every Friday, so get that #FloralFriday hashtag ready and make sure to tag @blossrnyc on the 'gram.
Show more
Need to plan a romantic date?
Send a flower delivery to celebrate a birthday, commemorate an anniversary or just surprise someone special