Heads up! We're working hard to be accurate – but these are unusual times, so please always check before heading out.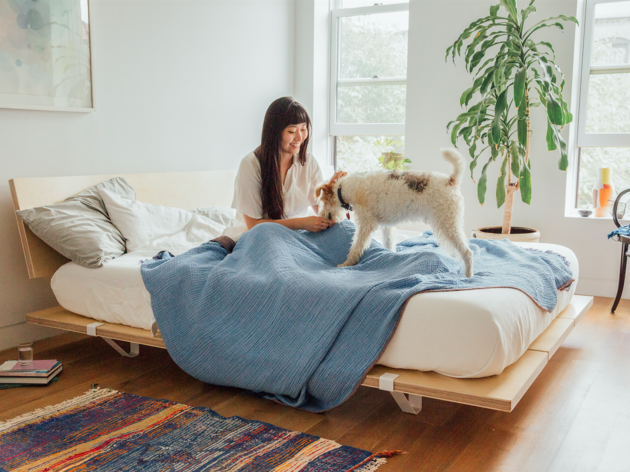 8 home products to help New Yorkers sleep better
We may live in the city that never sleeps, but you do need to rest sometime—these products make catching Z's easier
It's certainly hard to tire of the city that never sleeps, but maybe New York's famous catchphrase shouldn't be taken so lightly? According to results from our Time Out City Index survey last year, 49 percent of New Yorkers said they were sleep deprived. The living situation in Gotham isn't always ideal for snoozing. Some of us live in an apartment with an rambunctious roomie (if not multiple), or on a street that is right next to an outdoor subway platform with multiple dive bars and restaurants underneath. Either way, you probably aren't getting as many hours as you would like. Luckily for you, we found 8 home good products that can help you rest a bit easier in the Big Apple. No, they won't fix your insomnia or stop your neighbor's dog from howling at 2am, but they will definitely make sleepy time a bit more enjoyable.
8 products to improve your sleep in NYC
Photograph: Courtesy Floyd Home
A good night's rest starts with a sturdy surface to lie down, and we think you'll snooze even better on this beautifully minimalist birch platform bed. Best of all, it's easy to install and move around, which is essential for any New Yorker who tends to move around a lot. And if your living situation is that noisy, you may need to start apartment hunting, like, yesterday. The Floyd Platform Bed; starts at $495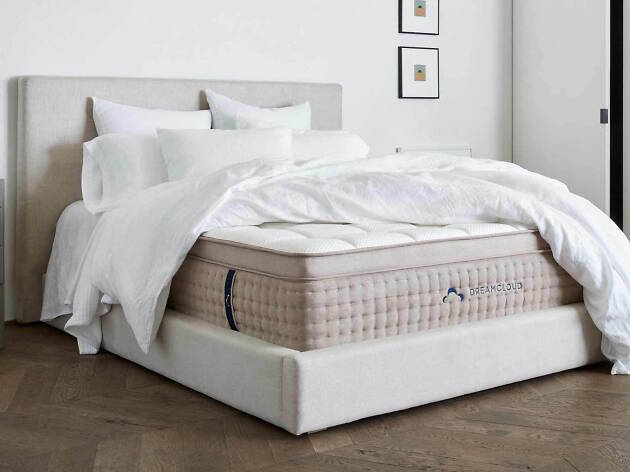 Photograph: Courtesy DreamCloud
DreamCloud is an aptly named brand. Without sacrificing it's firmness and support, sleeping on the super-soft, memory foam pad does feel as if you're resting on a cloud. And the built-in pillow top is made with cashmere blend, making the experience feel extra luxe. Even if you spent the night at an elegant, five-star hotel, you would still be itching to get home to sleep on your DreamCloud. DeamCloud Sleep; starts at $899 for a Twin XL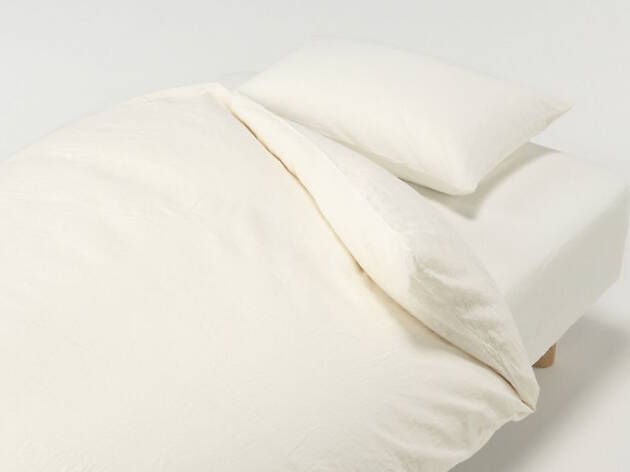 Photograph: Courtesy MUJI
Sleeping on clean, cotton sheets makes all the difference when catching those Z's. Thanks to home good stores like MUJI, you don't have to spend a lot to get the best quality. Since the brand's environmental-friendly bedding comes pre-washed, your simplistic fitted sheet will be extra soft and cozy for bedtime. MUJI organic washed cotton-fitted sheet; $42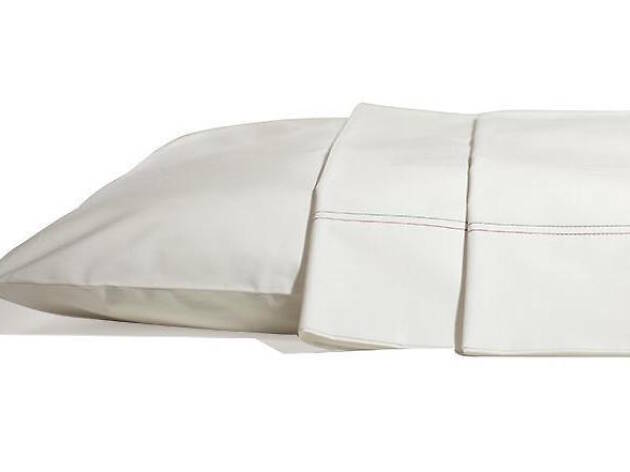 Photograph: Courtesy Alterra Pure
Speaking of five-star hotels, these organic cotton pillow cases are better quality than any you might find at such an establishments (that is, unless the hotel uses Alterra Pure pillow cases). The brand goes above and beyond to provide you with 100-percent organic cotton threads—even the fiber and finishing stages for the pillowcases are produced sustainably and ethically. Alterra Pure organic cotton pillow cases; $30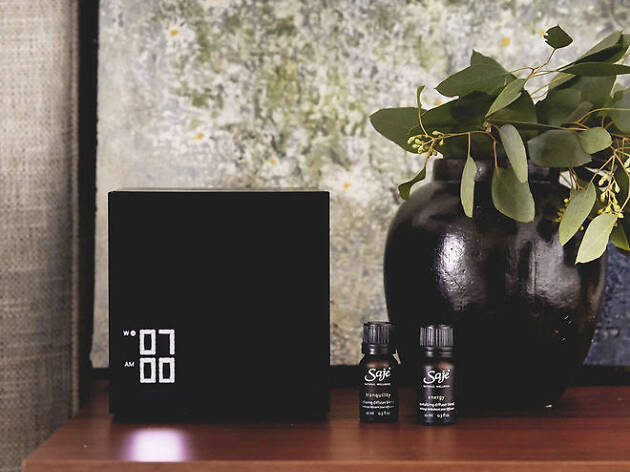 Photograph: Courtesy Saje
5. The alarm clock diffuser
Never underestimate the healing and restorative powers of essential oils. Now, thanks to wellness brand Saje, you can wake up to the aroma of your favorite blends. The clock comes equipped with two tanks (East and West) and a timer you can set for morning and night. Wake up with some zesty orange oil in the AM and unwind with lavender in the PM. Saje Aroma Time; $190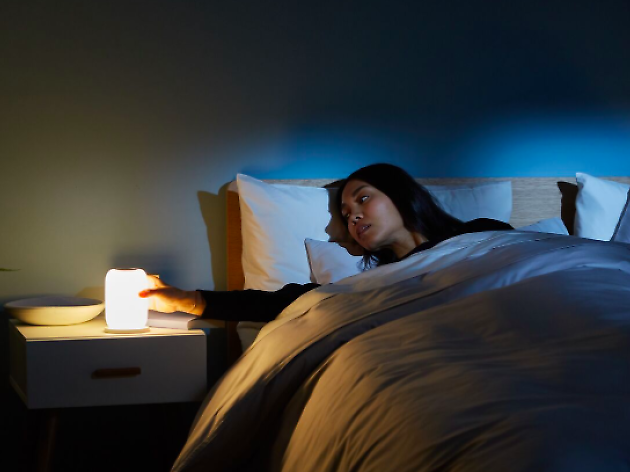 Photograph: Courtesy Casper
This infamous mattress brand has reached glow up status now that it has debuted—yep, you guessted it—beautiful light fixtures that work like magic. The light was designed to make sleepy time come easier, as the light's warm glow softly lulls you to sleep. Over time, the bulbs dim automatically (as if by magic) so you can conk out without having to get out of bed and flip a switch. They turn on simply by flipping the cylinder over, and you can set them to wake you up using their soft tone that is comparable to the morning sun. If you don't have a window in your bedroom (a common horror of NYC-living) this one's a game changer. Casper The Glow Light; starting at $99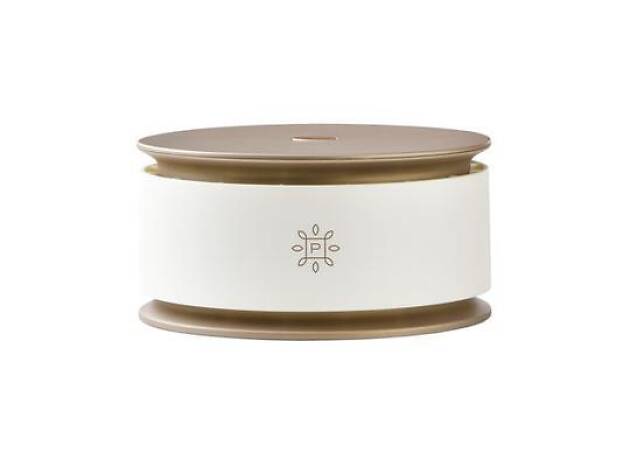 Photograph: Courtesy The Pure Company
7. The portable air purifier
Go above and beyond to rid your room of toxins with this easy-to-transport purifier that uses ion technology to obliterate your space of mold spores, bacteria and loud roommates. (Okay, the last part is a lie, but it will filter out all that bad, hard-to-detect stuff.) You can also use the brand's pure essential oils (they're chemical-and-filler-free!) with the device to make your surroundings smell divine. The Pure Company portable air purifier; $99
Photograph: Courtesy Bose
8. The noise-canceling technology
For folks who are easily disturbed by the tiniest amount of noise, Bose has created a pair of wireless earbuds that block out unwanted sound and play soothing tones that will put you right to sleep—like counting sheep. Don't worry: they come with a built-in and friendly wake-up alarm to ensure you're never late for your morning meeting. Bose noise-masking sleepbuds; $213
Want to spruce up your digs event more?
Spruce up your apartment with furnishings, art and unique pieces from the best home decor stores in New York