Heads up! We're working hard to be accurate – but these are unusual times, so please always check before heading out.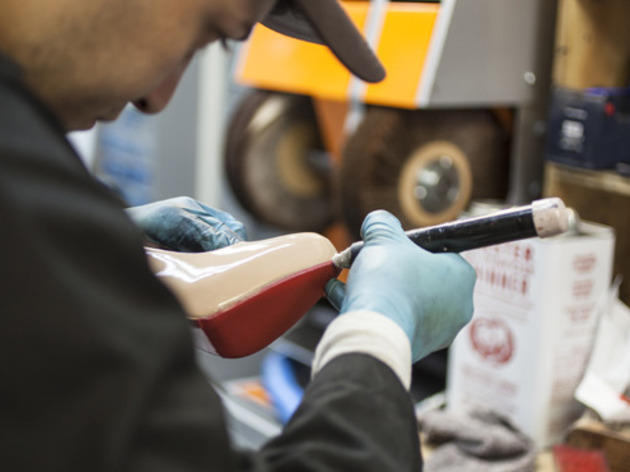 Find the best shoe repair in NYC
You're finally admitting that it's time for that much-needed shoe repair? NYC has the sole-saving solution.
A great look starts with your shoes. So what do you do when you can't find a replacement pair on any online shopping sites? If your favorite boots (obtained from one of the city's best boot shops of course) are looking tattered and you need a shoe repair, NYC has tons of fix-it spots whether your shoes are suffering from weather damage or you're taking care of your investment and want to see them go the distance. The only downside is that you won't have a reason to go shopping at shoe stores anymore.
The best shoe repair in NYC
A total fave with locals, Clever Vercosa's Williamsburg shop tackles handbags, jackets, zippers and shoes, of course. His secret, after 15 years in the business? Customers come back because he does whatever they want, from polishing shoes to tailoring leather coats. 103 N 10th St, Brooklyn (718-599-7463). Mon–Fri 8am–7pm, Sat 9am–5pm, Sun 11am–5pm.
Owner Yakub M. has been in the shoemaking business for more than 36 years, first learning the craft as a teenage footwear designer in Russia. His shop, which opened in 1991, is celebrated for churning out high-quality and long-lasting repairs, such as custom stretching ($8), resoling ($20–$35), and restitching loose or broken seams ($5–$15). Yakub offers same day service for most refurbishments, so you'll have your heels, boots or any other type of footwear returned within hours. Be sure to bring cash: It's the only payment this old-school cobbler accepts. 229 Sullivan St between Bleecker and W 3rd Sts (212-673-6230). Mon–Sat 8am–6:30pm.
3. Roma Shoe Repair & Shine
Trust the 52 five-star Yelp reviews: This 27-year-old institution is beloved by New Yorkers for its consistent craftsmanship and friendly staff. All services, including sole and heel repairs ($45–$95), zipper replacements ($25–$35) and recoloring ($20–$65) come with a gratis shoe shine (normally $3–$10), and are generally completed within three days. First-time customers can mention TONY for 15 percent off all services costing $50 or more through June 30. 16 Court St between Montague and Remsen Sts, Brooklyn Heights (718-509-5410). Mon–Fri 8am–6:30pm.
Jay Hernandez's year-old business has quickly gained popularity as one of Brooklyn's most trusted repair shops. Hernandez has been doing shoe and bag restoring for more than 30 years, and can mend basically any footwear damage, such as heel replacements ($7–$25) and stretching ($12–$25). 980 Manhattan Ave between Huron and India Sts, Greenpoint, Brooklyn (718-383-0065). Mon–Fri 7:30am–7pm, Sat 9:30am–6pm.
This shop's nearly perfect online-review track record doesn't lie—Mina Polychronakis's family-run establishment is really one of the best around. The staff caters to a handful of repair needs, including sole replacements ($8–$65) and recoloring ($30–$150). Turnaround is fairly fast; expect most repairs to be completed within two days. On-the-spot shoe shines ($3–$10) are perfect for a touch-up during your lunch break. 63 Wall St between Hanover and Pearl Sts (212-938-0199). Mon–Fri 7:30am–6pm, Sat 10am–4pm.

Loyal customers have flocked to Albert's Shoe Repair for 15 years, first coming for Albert's handiwork and now for that of Albert's nephew, Alex. Alex spent years working with European craftsman before taking over the family business and prides himself on giving each project the utmost care—even those that seem beyond a fix. 3096 36th St, Queens (718-278-0832). Mon–Sat 8am–7pm.
Jim's has been around since 1932. The family-owned business caters to all shoe-repair needs, including resoling ($38–$85), stretching ($10) and heel height adjustments ($18). The store also specializes in creating custom inserts ($13–$17) to ensure comfort and wearability. Feeling lazy? You can even mail in your shoes to be fixed. 50 E 59th St between Madison and Park Aves (212-355-8259, jimsshoerepair.com). Mon–Fri 7:30am–6:30pm, Sat 9am–5pm.
JFD Shoe Repair opened in 2006—rumor has it the name is derived from the owner's children's initials—and since then it's built a giant fan base of Upper East Siders who need their fancy bags and shoes perked up. After a treatment here, your shoes will look fresh-outta-the-box new. 208 E 87th St (212-369-8137). Mon–Sat 7am–7pm.
This uptown establishment may be at Manhattan's northernmost end, but in-the-know patrons make the trip from all over the island for the stellar service. Zack, who's been in the business for more than 20 years, claims he can do anything you want with shoes—that includes same-day service and a free shoe shine with any repair. 838 W 181st St (212-927-1441). Mon–Fri 8am–7pm, Sat 9am–5pm.
This no-nonsense shop, owned by cobbler Alex Semkhayev, offers a variety of repair needs at reasonable prices. Simple services, such as shoe shining ($5) and elastic replacements ($8–$18), are done on the spot. More complicated repairs, including mending heels ($15) and replacing soles ($8–$85), take around one week to complete. That may seem like a long time, but trust us, it's worth the wait for Semkhayev's high-quality work. 116 Fourth Ave at 12th St (212-533-8530). Mon–Fri 8am–7pm, Sat 9am–6pm.
Celebrated shoemaker Emily Putterman refers her students to this 20-year-old Greenwich Village staple for quick, inexpensive shoe repairs. Owner Hector Sanchez offers a variety of repair and reconstruction services, including leather resoling ($80), restitching loose or broken seams ($10–$40), and leather conditioning ($6). Be warned: The customer service isn't always the warmest, but Hector is reliable for durable fixes. 11 Greenwich Ave between Christopher and 10th Sts (212-727-1237). Mon–Fri 7:30am–7pm, Sat 9am–6pm.

Those seeking care for high-end heels should head to this boutique specializing in the repair of luxury kicks (Christian Louboutin and Manolo Blahnik send customers here). Owned by French brothers Carlos and David Mesquita, the shop tends to pretty much all shoe-maintenance needs, including heel repair ($14–$40), sole replacement ($45–$120) and leather restoration ($45–$65). Handbag repairs—including hardware replacements ($24), zipper repair ($48) and relining ($180)—are also available. 55 W 55th St between Fifth and Sixth Aves (212-262-4823, leatherspa.com). Mon–Fri 8am–7pm, Sat 10am–6pm.

Opened nearly 100 years ago by Bernhard Nelson, this repair shop specializes in resoling, a 19-step process in which the pros here remove the soles, footbeds and heel bases, and replace all of them to ensure longevity. Choose between the standard resoling package ($90), which includes the polishing and conditioning of the shoe's upper, or the complete package ($120), which also features a waterproofing treatment and complimentary cedar shoe trees to ensure footwear keeps its shape over time. Other repairs—including color refinishing ($20–$25) and heel replacements ($50)— are also available. 140 E 55th St between Lexington and Third Aves (212-750-0818, bnelsonshoes.com). Mon–Fri 7:30am–5pm.
14. Angelo's Shoe and Leather Specialists
This 40-year-old repair shop is a favorite among those seeking care for luxury goods (Barneys famously sends its clients here). Typical footwear repair services, such as height adjustments ($8–$15), custom refitting ($35–$75) and heel repairs ($25–$35) are offered, plus the shop will fix basically any leather or suede item. Bring in bags for cleaning and conditioning ($35–$65), or have broken hardware replaced ($8–$35). Browse its leather-care guide online to learn how to best treat for your goods between visits. 666 Fifth Ave at 52nd St, lower level (212-757-6364, angelosleathercare.com). Mon–Fri 7am–6:30pm, Sat 10am–4pm.

Check out these vintage shops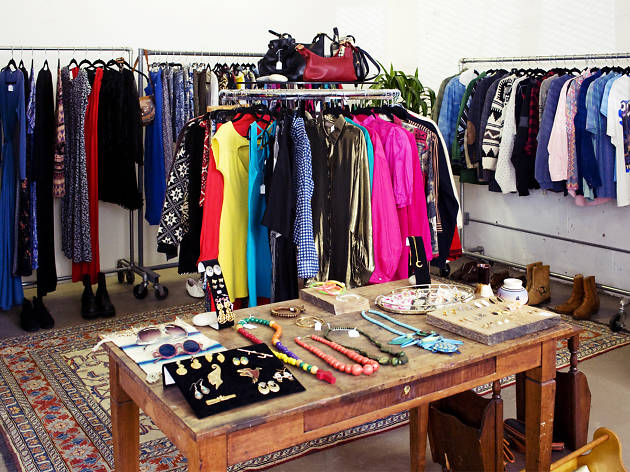 Find classic pieces, retro treasures and great deals at the best vintage clothes shops in NYC