How to get free Shakespeare in the Park tickets
If you're looking for Shakespeare in the Park tickets, follow our tips for seats to Central Park's best outdoor theater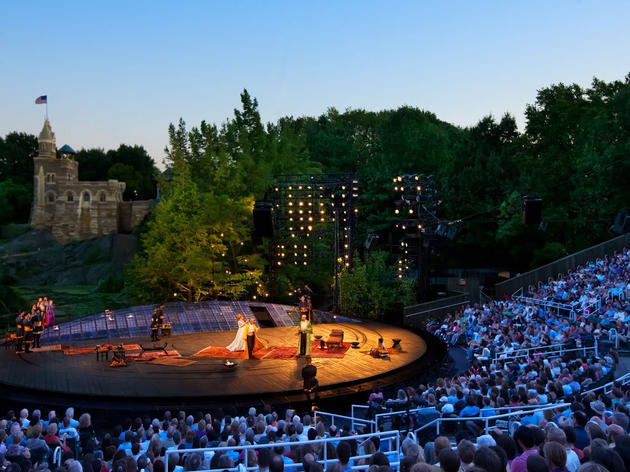 Every summer, people flock to Central Park in New York to score Shakespeare in the Park tickets. This beloved annual traditional is produced by the Public Theater at the Delacorte Theater in the park. While you could stay at home and stream one of the best Shakespeare movies of all time, the live outdoor theater experience is so unique. This year's productions are an all-female The Taming of the Shrew, directed by Phyllida Lloyd and starring Tony Award winner Janet McTeer, and Troilus and Cressida, directed by Daniel Sullivan. As has been the case since Shakespeare in the Park began in 1962, the Public distributes free tickets, but only the most dedicated will be able to secure seats.

RECOMMENDED: Complete guide to Shakespeare in the Park

How to get Shakespeare in the Park tickets from the Delacorte
Tickets are distributed in front of the Delacorte Theater on a first-come, first-served basis at 12pm on the day of the show, so you'll have to wait in line—likely for a long time—if you want to get in.

Central Park doesn't open until 6am, but although the Public Theater doesn't condone it, it is legal to camp out before then by the park entrance at Central Park West and 81st Street. A line monitor from the Public will escort any early birds in when the park opens. We recommend this option only for the extremely desperate; otherwise, arrive no later than 10am to give yourself a chance at tickets, though it would be wise to get there much earlier if you can manage to drag yourself out of bed.

In order to endure the hours-long wait, you'll need a chair or a blanket, something—a book, an iPod—to occupy yourself and breakfast (bring food, or if you prefer, Michael Psilakis and Donatella Arpaia's Kefi will deliver its excellent Greek fare to the Delacorte). Also make sure to bring an umbrella in case it rains, but don't worry, shows are very rarely rained out. Consider braving drizzle and choose a wet day to wait on line; there will probably be less of a turnout, which will increase your chances of nabbing a ticket.

Tickets are limited to two per person, and the number of available tickets varies from day to day. There's no cutting, saving spots or leaving the line for any extended length of time. Patrolling Public Theater staff will ask you to give up your spot in line if you breach any of these rules.
How to get Shakespeare in the Park tickets in the outer boroughs
There are alternative ways of securing tickets if you'd prefer to avoid this (totally worth it) ordeal. Vouchers are made available in each of the five boroughs on specific days between 12pm and 2pm (while supplies last). These vouchers can then be exchanged for tickets at the Delacorte between 4:30pm and 7:30pm.
How to get Shakespeare in the Park tickets via the online lottery
The Public continues its partnership with TodayTix, who will now be offering the exclusive Mobile Ticket Lottery for Free Shakespeare in the Park, replacing the virtual lottery from previous years. Tickets will be distributed by random mobile lottery on the TodayTix app each date that there is a public performance at the Delacorte Theater.
How to pony up for Shakespeare in the Park tickets
Or you can turn your back on fickle Lady Luck and purchase a Summer Supporter Ticket. A tax-deductable donation of $200 to the Public will net you one reserved seat for either play (although only a limited number of these tickets are available).

The Taming of the Shrew plays May 24–June 26. Troilus and Cressida plays July 19–Aug 14.
See more outdoor activities in NYC
There are so many great reasons to get outdoors this season—poolside cocktails, a cool night flea market, tacos on the boardwalk and much more
Read more