Heads up! We're working hard to be accurate – but these are unusual times, so please always check before heading out.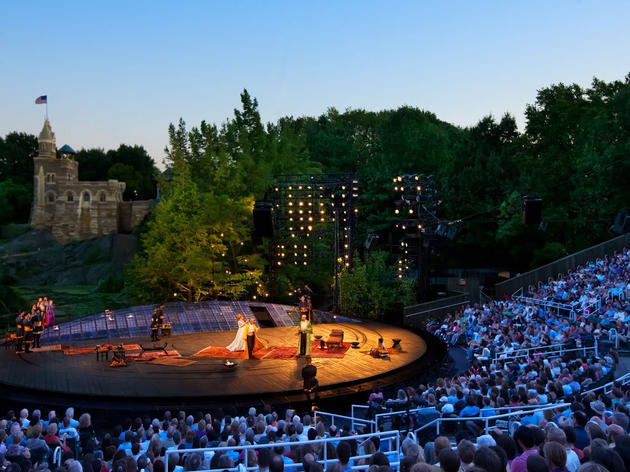 How to get free Shakespeare in the Park tickets
Get free Shakespeare in the Park tickets by following our tips for seats at Central Park's best outdoor theater
UPDATE: Due to the current health crisis, the 2020 season of Shakespeare in the Park has been canceled in its entirety. The announcement was made on April 17, 2020.

Every summer, people flock to Central Park in New York to score Shakespeare in the Park tickets. This beloved free annual tradition is produced by the Public Theater at the open-air Delacorte Theater. Sure, you could stay at home and stream Shakespeare movies, but the live outdoor theater experience is unique—and certainly one of the best free things to do in NYC. This year's Shakespeare in the Park productions are Richard II, playing May 19 through June 21, and As You Like It, playing July 14 through August 8. As has been the case since Shakespeare in the Park began in 1962, the Public distributes free tickets, but only the most dedicated will manage to get seats.

RECOMMENDED: Complete guide to Shakespeare in the Park
1. In Central Park at the Delacorte
Tickets are distributed in front of the Delacorte Theater on a first-come, first-served basis at 12pm on the day of the show, so you'll have to wait in line—likely for a long time—if you want to get in. But it's worth it.
Before you go, you'll need to register for a Public Theater Patron ID. Click here do that.

Central Park doesn't open until 6am, and although the Public Theater doesn't condone it, it is legal to camp out before then by the park entrance at Central Park West and 81st Street. A line monitor from the Public will escort any early birds in when the park opens. We recommend this option only for the very desperate; otherwise, arrive no later than 10am—though we recommend much earlier—to give yourself a chance at tickets.

In order to endure the hours-long wait, you'll need a chair or a blanket, something to occupy yourself and probably something to eat. Make sure to bring an umbrella in case it rains—but don't worry, shows are very rarely rained out. Also, there will probably be a smaller turnout if it's drizzling, which will increase your chances of snagging a ticket. Lines also tend to be shorter toward the beginning of a given show's run, before the reviews have come out and word of mouth has spread.

Tickets are limited to two per person, and the number of available tickets varies from day to day. There's no cutting, saving spots or leaving the line for any extended length of time. Patrolling Public Theater staff will ask you to give up your spot in line if you breach any of these rules. There are separate lines for senior citizens (65 and older) who require accessible seating and for patrons with disabilities. (For the latter, attestation to the need for accessible seating is required.)
There is a standby line at the Delacorte each night for tickets that have gone unclaimed. If you're lucky, you may be able to scoop up seats half an hour before the show, though you'll want to get there a while before then to secure a decent position in line.
2. Via the mobile lottery
The Public continues its partnership with TodayTix, which offers an exclusive mobile lottery for Free Shakespeare in the Park (replacing the virtual lottery from previous years). Tickets are assigned by random draw on the TodayTix app on each date that there is a public performance at the Delacorte Theater. You can enter the lottery for one or two tickets between midnight to noon on the day of the show; if you win, you'll be notified between noon and 2:15pm, and must confirm your tickets through the app within 45 minutes. Winners can pick up their tickets at Delacorte between 5pm and 7:30pm; unclaimed tickets are forfeited to the standby line.
3. Downtown at the Public Theater
Visit Shakespeare in the Park's home base, the Public Theater, to enter the in-person lottery that is held on every show day. Sign-up starts at 11am and the drawing is at noon. (If you're rich and don't want to leave anything to chance, you can guarantee yourself a ticket by making a tax-deductable donation of $500 or more to the Public Theater. That will earn you a single reserved seat for either play of the summer season, but only a limited number of such tickets are available.)
4. In the outer boroughs
Vouchers are made available in boroughs other than Manhattan on specific days between 12pm and 2pm (if supplies last that long). These vouchers can then be exchanged for tickets at the Delacorte between 5:30pm and 7:30pm. Visit the Public's website for a complete distribution schedule.
Richard II plays May 19–June 21. As You Like It plays July 14–August 8.

See more outdoor activities in NYC
There are so many great reasons to get outdoors this season—poolside cocktails, a cool night flea market, tacos on the boardwalk and much more