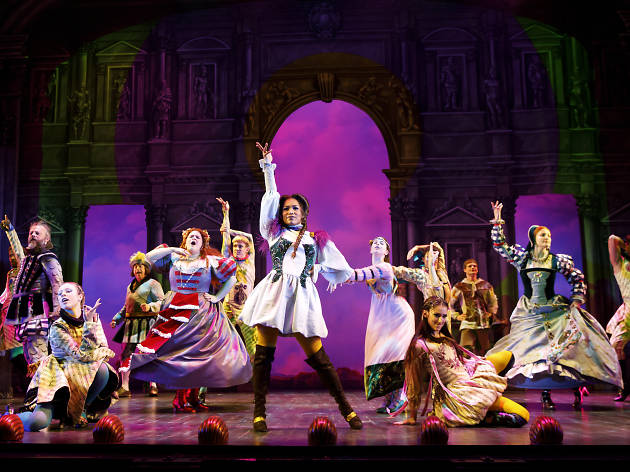 Time Out says
Friendly warning! We're working hard to be accurate. But these are unusual times, so please check that events are still happening.
Go for the Go-Go's, stay for the zany Elizabethan ribaldry
Theater review by Adam Feldman
To enjoy Head Over Heels, which offers quite a lot to enjoy, it is probably best to kick up your heels and put your head on hold. That's not to say that this saucy, boisterous musical doesn't have a brainy side, starting with its ambitious crossbreeding of four time periods: It grafts a 2010s queer sensibility onto songs from the 1980s—by the all-girl pop-punk quintet the Go-Go's (plus two hits from lead singer Belinda Carlisle's solo career)—and fits them into a 16th-century story that is set in ancient Greece. The dialogue, in iambic pentameter liberally sprinkled with thou and thee, contrasts amusingly with the unornamented lyrics of such go-to Go-Go's bops as "Vacation," "Our Lips Are Sealed" and "We Got the Beat."
But at heart the show is a campy romp. Loosely adapted from Sir Philip Sidney's Elizabethan prose adventure Arcadia, the musical spins a complicated tale of romance, lust, intrigue and cross-dressing. (Its original book, by Avenue Q's Jeff Whitty, was extensively rewritten by James Magruder.) Stubborn Basilius (Jeremy Kushnier) and his frustrated queen, Gynecia (a smashing Rachel York), rule a kingdom blessed by "the beat," a divine gift that keeps their realm in a happy groove. Their beautiful but vain daughter Pamela (the big-bodied and big-voiced Bonnie Milligan, in a triumphant Broadway debut) refuses to marry; her overshadowed sister, Philoclea (the affecting Alexandra Socha), is courted by a passionate shepherd, Musidorus (played with fine comic sinew by Andrew Durand). After an ominous warning by the new Oracle of Delphi (RuPaul's Drag Race alumna Peppermint), they all tramp off on a voyage of discovery, trailed by loyal servants (Tom Alan Robbins and Taylor Iman Jones) and by Musidorus, disguised as a sexually irresistible Amazon.
There is only so deep a Go-Go's musical can go, and director Michael Mayer keeps the surface glimmering—with help from a chorus of eight courtiers, who execute Spencer Liff's swift, sassy choreography in imaginative costumes by Arianne Phillips. Broadway traditionalists may not approve, but that feels like part of the point. Head Over Heels is a fantasy and celebration of nonconformity, and it puts its casting where its mouth is with an ensemble that is diverse in race, gender and size. Honoring the beat, in this merry Arcadia, means making room for different drummers.
Hudson Theatre (Broadway). Music and lyrics by the Go-Go's. Conceived and original book by Jeff Whitty. Adapted by James Magruder. Directed by Michael Mayer. With ensemble cast. Running time: 2hrs 15mins. One intermission.
Follow Adam Feldman on Twitter: @FeldmanAdam
Follow Time Out Theater on Twitter: @TimeOutTheater
Keep up with the latest news and reviews on our Time Out Theater Facebook page
Details