Broadway review by Adam Feldman
There is always a chance, in a theater production, that things will not go quite as smoothly as planned. A missed cue, a forgotten line, a malfunctioning prop: These can be forgiven by an audience, and can even provide an amusing reminder, as exceptions that prove the rule, of how impressively hard it is to carry off any live show without a hitch. It is my duty to report, however, that the recent performance I attended of J.M. Barrie's Peter Pan, performed by England's visiting Cornley Polytechnic Drama Society, was plagued by a mounting series of calamities so severe that it was a miracle the production could continue at all. Frankly, I was concerned at numerous junctures for the physical and emotional safety of the actors. Yet many of my fellow audience members responded to the mishaps onstage—including potentially life-threatening accidents—with bursts of laughter.
I do not wish to add to the humiliations of this well-intentioned company—whose members larkishly assume false names in the program—by rehashing their debacle in detail, though in retrospect one wonders if it was wise to present their show under the title Peter Pan Goes Wrong. Like Bad Cinderella, the name proved all too apt. An air of amateurishness set in from the start in pre-show announcements by stage manager Chris Leask, who was later obliged by circumstances to step into the production, and co-directors Henry Shields and Henry Lewis, who also starred in the play. (Shields maintained some poise as Mr. Darling and Captain Hook, but Lewis's heavyset frame landed him in unfortunate squeezes throughout the night.)
Barrie's child characters are all played by adults: Greg Tannahill as the adventurous Peter, Charlie Russell as a rather grand Wendy, audience favorite Matthew Cavendish as the enthusiastic Michael, Jonathan Sayer as little John and the painfully shy Ellie Morris as a Lost Boy named Tootles. (Sayer is not off book, and the large headset that feeds him his lines is prone to loud feedback.) They are joined by Nancy Zamit in multiple roles, including Mrs. Darling and Tinker Bell. In a casting coup, a bonafide American celebrity—Neil Patrick Harris, who proves an excellent sport—serves as the story's narrator through April 30; other performers will take over his chair after that.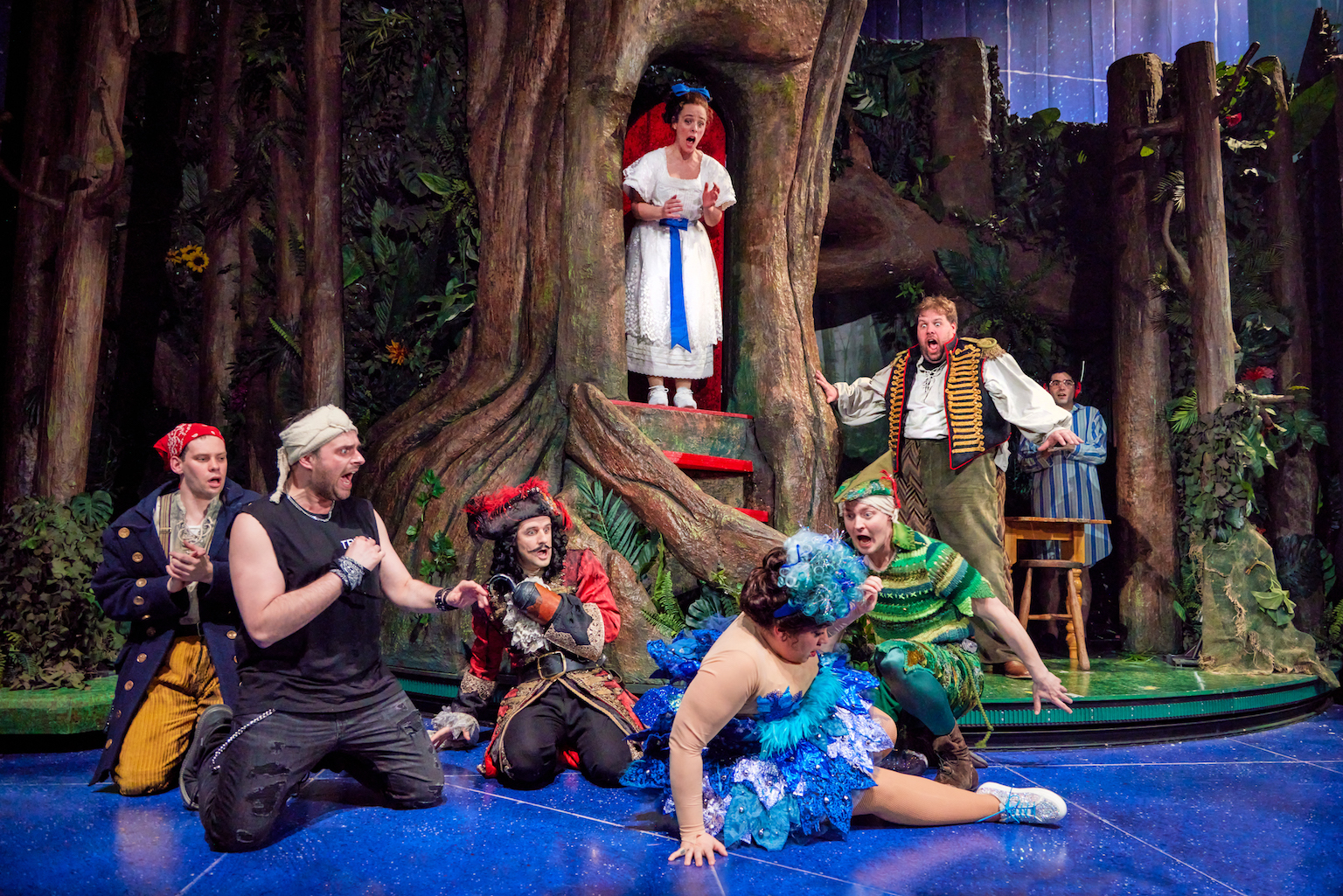 Peter Pan Goes Wrong | Photograph: Courtesy Jeremy Daniel
One might think that the Cornley Polytechnic Drama Society would have learned from the catastrophes that befell its last Broadway venture, which has since transferred to New World Stages. But here, again, one encounters many of the same problems. When I saw the show, key elements of Simon Scullion's overambitious rotating set fell apart nearly instantly, sometimes gravely endangering the actors. Not since Spider-Man: Turn Off the Dark have suspension effects seemed so perilous: This Peter Pan simply doesn't fly. Roberto Surace's costumes and Ella Wahlstrom's sound design were unreliable at best, and often much worse. And although it seems unbelievable, reports indicate that the production has been beset by such troubles throughout its run.
The best way to enjoy Peter Pan Goes Wrong, in fact, may be to take it as some kind of comedy of errors. And even as I drafted worried letters in my head to Actors' Equity and the International Alliance of Theatrical Stage Employees, I was unable to resist joining the laughers in the audience on frequent occasions: Seeing actors desperately commit to going on with a show is a reliable comic hook, even if they lack the initial dignity that could make the fails even funnier. Yet as in Cornley's last show, the game resilience of the actors—as they suffer through relentless variations on disaster slapstick—gets a little tiring, at least for me, when offered in a two-hour dose. They push through the pain and keep on pushing, but the fun of watching them peters out.
Peter Pan Goes Wrong. Ethel Barrymore Theatre (Broadway). By Henry Lewis, Jonathan Sayer and Henry Shields. Directed by Adam Meggido. With ensemble cast. Running time: 2hrs 5mins. One intermission.
Follow Adam Feldman on Twitter: @FeldmanAdam
Follow Time Out Theater on Twitter: @TimeOutTheater
Keep up with the latest news and reviews on our Time Out Theater Facebook page
Peter Pan Goes Wrong | Photograph: Courtesy Jeremy Daniel