Heads up! We're working hard to be accurate – but these are unusual times, so please always check before heading out.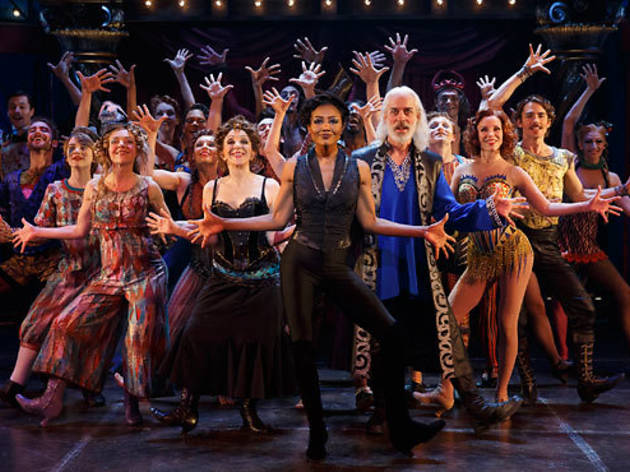 1/8
Photograph: Joan Marcus
Pippin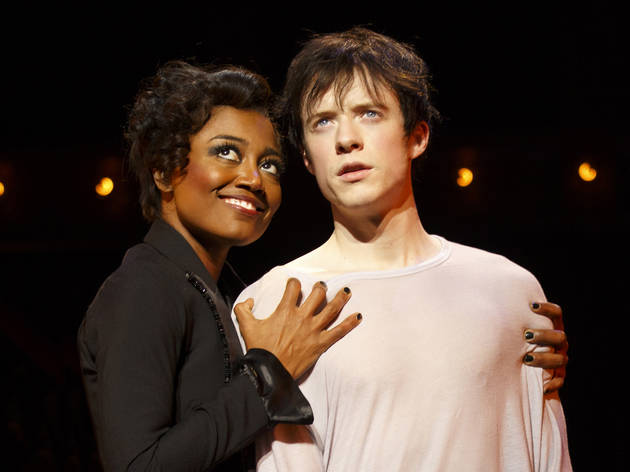 2/8
Photograph: Joan Marcus
Pippin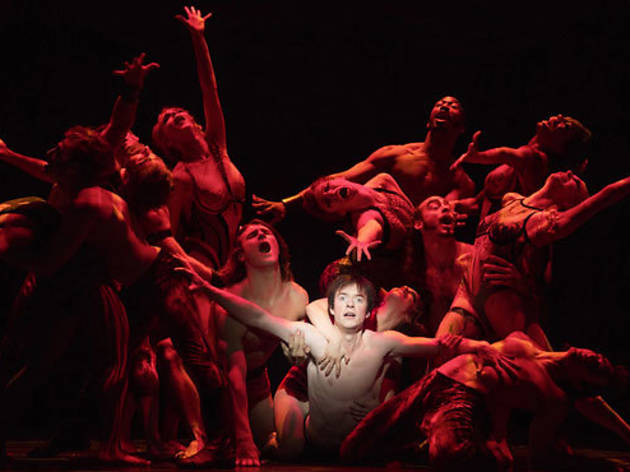 3/8
Photograph: Joan Marcus
Pippin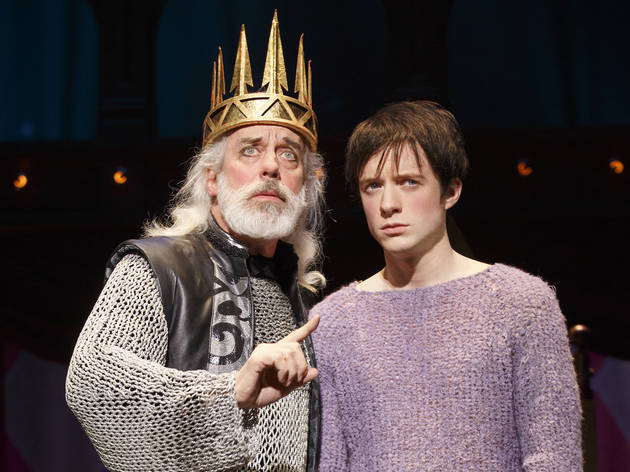 4/8
Photograph: Joan Marcus
Pippin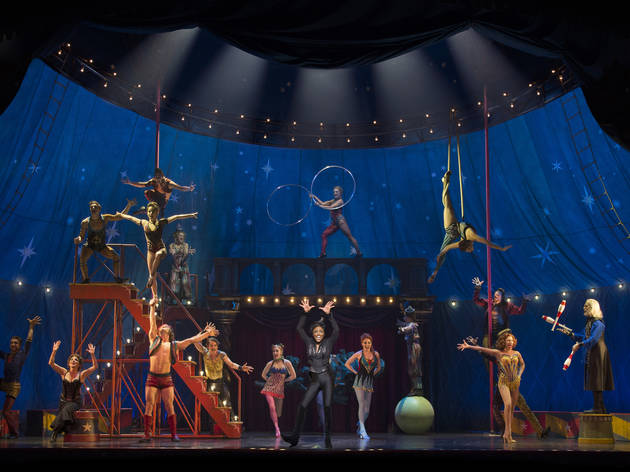 5/8
Photograph: Joan Marcus
Pippin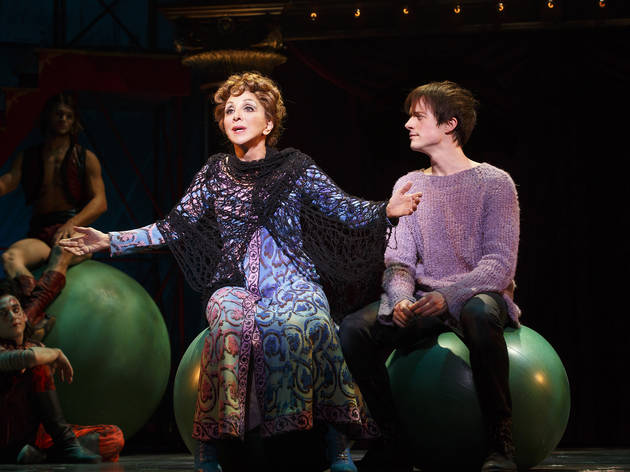 6/8
Photograph: Joan Marcus
Pippin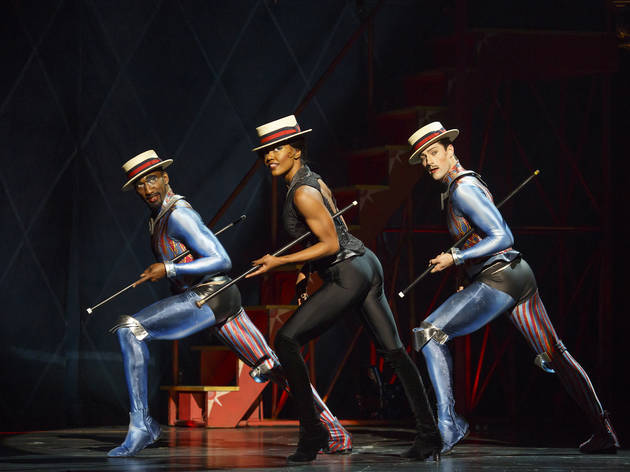 7/8
Photograph: Joan Marcus
Pippin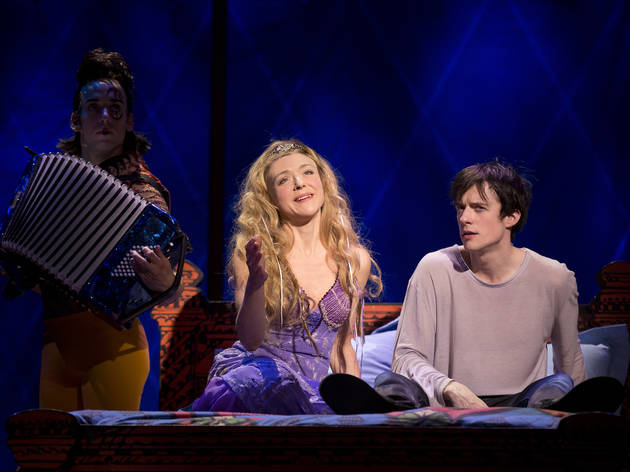 8/8
Photograph: Joan Marcus
Pippin
Pippin on Broadway: Tickets, reviews and video
The greatest show on earth—or Broadway, at least—may be this circus-filled 1970s musical classic.
Pippin on Broadway tickets
Buy Pippin tickets at Telecharge
Pippin on Broadway show information
Music Box Theatre. Book by Roger O. Hirson. Music and lyrics by Stephen Schwartz. Dir. Diane Paulus. With Matthew James Thomas, Patina Miller, Rachel Bay Jones. 2hrs 30mins. One intermission.
Oh, what a circus! Oh, what a show! Pippin has come back to town, in a revival that gives a spectacular twist to Bob Fosse's famous dark-vaudeville staging. Stephen Schwartz and Roger O. Hirson's 1972 musical parable traces the tortuous journey of a young prince named Pippin (Matthew James Thomas) as he tries to make his life feel special through war, sex, power, love or a single grand theatrical burnout; a sexy troupe of showmen, helmed by the flashy Leading Player (Patina Miller), guides him through his existential travels and travails. In this version, the players include spry circus folk (such as acrobats, trapeze artists and jugglers), whose feats provide a backdrop of wonders for Pippin's peregrinations. But this production, directed by Diane Paulus (Hair) with an assist from Gipsy Snider (of the Canadian neocirque troupe Les 7 doigts de la main), offers more than flexible derring-do. Schwartz's score is a trove of catchy pop-rock melodies, and Chet Walker's choreography is full of clever tributes to Fosse's snazzy style. The current cast features Broadway vets Terrence Mann and Charlotte d'Amboise, as well as a show-stealing Andrea Martin as Pippin's naughty granny and the enormously lovable Rachel Bay Jones as the woman who may be his best chance at lasting contentment. (Martin, alas, left the run for a TV gig.) "We've got magic to do," sings the chorus in the opening number, and this Pippin delivers the old hocus-pocus with plenty of fresh tricks up its sleeve. —Adam Feldman
Did you see Pippin? Tell us what you thought

Read our full review of Pippin and see detailed showtimes

Nominated in the 2013 Tony Awards. See our complete guide to the Tonys
Pippin on Broadway review
Ladies and gentlemen, step right up to the greatest show of the Broadway season: Diane Paulus's sensational cirque-noir revival of Pippin. Here, in all its grand and dubious glory, is musical-theater showmanship at its best, a thrilling evening of art and craftiness spiked with ambivalence about the nature of enthrallment. Chet Walker's dances, which retain the pelvic thrust of Bob Fosse's original choreography, are a viciously precise mockery of showbiz bump and grind, enacted by a sexy, sinister, improbably limber ensemble (in skintight carnival gear and medieval costumery). Circus elements created by Gypsy Snider—acrobatics, aerialism, contortionism, juggling, hula hoops—build momentum toward what the ringmaster assures us is "a climax you will remember for the rest of your lives." That just might be true.
Beneath the production's over-the-big-top trappings is Roger O. Hirson and Stephen Schwartz's 1972 musical, a slight but resonant parable stuffed with delightful songs. A pretty youth named Pippin (the creamy-skinned Matthew James Thomas, appealingly ingenuous) embarks on a journey to find meaning in his life, guided by the predatory Leading Player (a ferocious Patina Miller, with two rows of teeth agleam and hips that snap like switchblades). First he seeks fulfillment in battle, like his kingly father (a droll Terrence Mann); then he samples pleasures of the flesh, urged on by his grandmother Berthe (comic marvel Andrea Martin, in a knockout scene that earns a midshow standing ovation). But Pippin's picaresque stalls in Act II, when he meets a widow, Catherine (the superb Rachel Bay Jones, in a lovable and expertly layered turn). Somehow sunny and cloudy at once, Jones grounds Pippin in a reality beyond the Leading Player's groovy hard sell, and the show's messages—about the perils of personal exceptionalism and the lures of empty celebrity—come through with force in the end. Yet for all its skepticism about entertainment, Pippin offers it par excellence. Number after number stops the show, but the show goes insistently, dazzlingly on.—Adam Feldman
See detailed Pippin showtimes

Follow Adam Feldman on Twitter: @FeldmanAdam
Pippin opening night cast & crew
• Matthew James Thomas as Pippin
• Patina Miller as Leading Player
• Terrence Mann as Charles
• Charlotte d'Amboise as Catherine
• Rachel Bay Jones as Fastrada
• Andrea Martin as Berthe
• Andrew Cekala as Theo
• Ashton Woerz as Theo
• Diane Paulus - Director
• Roger O. Hirson - Book
• Stephen Schwartz - Music and Lyrics
• Chet Walker - Choreography in the style of Bob Fosse
• Gypsy Snider - Circus Creation
• Bob Fosse - Original choreography for "Manson Trio"
• Scott Pask - Scenic Design
• Dominique Lemieux - Costume Design
• Kenneth Posner - Lighting Design
• Jonathan Deans - Sound Design
• Garth Helm - Sound Design
• Barry & Fran Weissler, Howard & Janet Kagan, Lisa Matlin, Kyodo Tokyo, Inc, Allan S. Gordon, Adam S. Gordon, Corey Brunish, Brisa Trinchero, Tom Smedes, Peter Stern, Broadway Across America, Independent Presenters Network, Norton Herrick, Allen Spivak, Rebecca Gold, Joshua Goodman, Stephen E. McManus, David & Jill Robbins, Bryan & Margie Weingarten, Philip Hagemann, Murray Rosenthal, Jim Kierstead, Carlos Arana, Myla Lerner, Hugh Hayes, Jamie Cesa, Jonathan Reinis, Ben Feldman, Sharon A. Carr, Patricia R. Klausner, Square 1 Theatrics, Wendy Federman, Carl Moellenberg, Bruce Robert Harris, Jack W. Batman, Infinity Theatre Company, Michael Rubenstein, Michael Alden, Dale Badway, Ken Mahoney, The American Repertory Theater, James L. Simon, Alecia Parker - Producers